On a brilliant Saturday morning mirroring idyllic Wurstfest weather, a gaggle from statewide tourism outlets previewed and pre-tasted New Braunfels' signature event. 
Since their last event, organizers have had to deal with a fire and the COVID-19 pandemic which canceled 2020's Wurstfest, but Saturday's tour was sort of an unofficial countdown to rebooting the city's 10-day Salute to Sausage — and its 60th anniversary salute starting Nov. 5 and ending Nov. 14.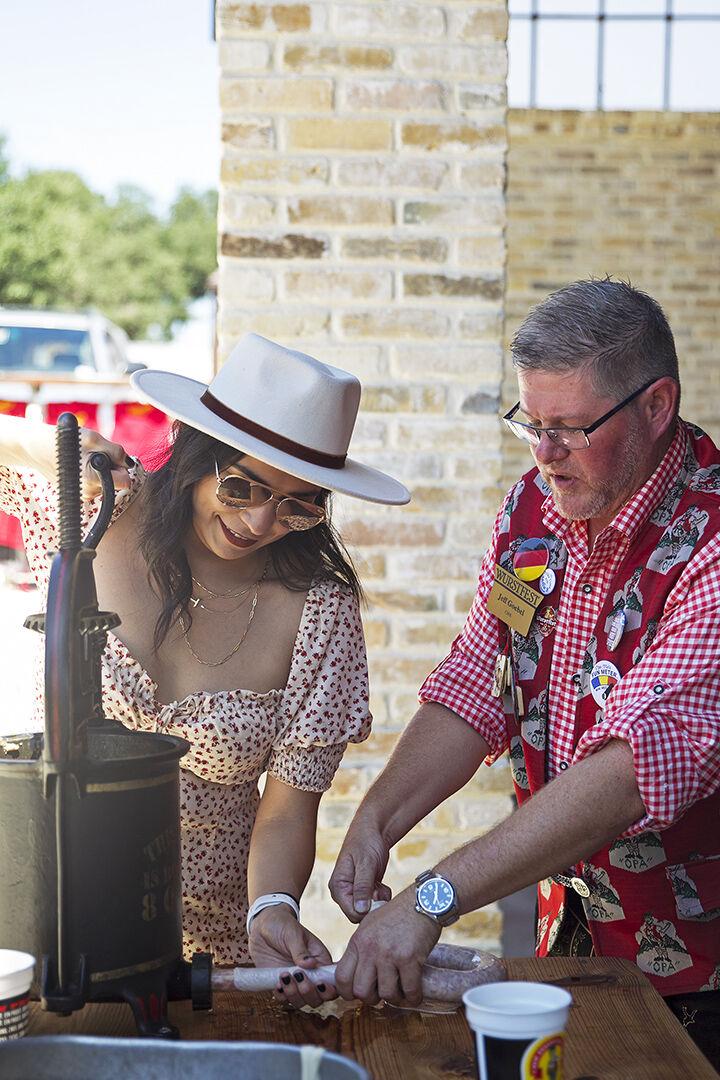 "I'm happy to have you guys here today as this year is a special year because it will be our 60th festival," said Dan Tharp, Wurstfest Association director and marketing committee chair, who led Saturday's two-hour tour of renovated Wurstfest facilities almost wiped out by fire nearly two years ago. 
"This is about getting the good word out," he added during the tour. "I would say we're in great shape. We're putting on the final touches on everything and getting it buttoned up for a successful 60th festival."
The Wurstfest Association and Greater New Braunfels Chamber of Commerce's Convention and Visitors Bureau hosted an entire weekend for a dozen-plus writers and bloggers throughout the state who tout statewide food and travel destinations.
"There were 11 travel and leisure influencers from across Texas invited to attend the Wurstfest 2021 sneak peek as part of the New Braunfels Convention & Visitors Bureau's support of New Braunfels' largest festival celebrating its German heritage," said Melissa Welch-Lamoreaux, principal with San Antonio-based Loud and Clear Communications. "That, along with its 60th anniversary and the rebuild of the new Marktplatz, made the timing perfect to host this first-time event."
Tharp gave a brief Wurstfest 101 on aspects most New Braunfelsers already know — such as since its founding in 1961 the event serves as non-profits' biggest fundraisers of the year.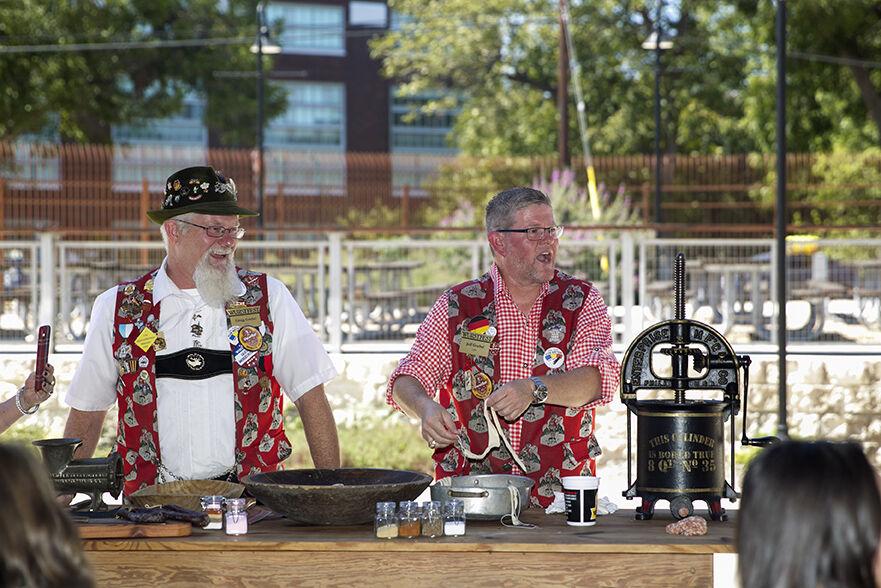 "This is about getting the good word out," Tharp said. "I would say we're in great shape for this — we're putting the final touches on everything and getting it buttoned up for a successful 60th festival."
Byrne Construction Services led the design-build renovation, assisted by MarmonMok Architecture. The $12 million rebuild blends the best of the old with the new. Despite the new features, and ongoing utilities construction, Wurstfest's grounds and aesthetics remained largely the same as when the festival moved to the site near Landa Park in 1967.
The most noticeable change erased the enclosed Marktplatz vendor area, which is now accessible only through open-air breezeways. Folks will now line up for food, drinks and souvenirs through vendor compartments in three separate sections, with the two closest to Gate 3 separated by an area to be filled by commemorative bricks purchased for $100 and $250 each.
"It is helping offset what was spent to restore the facility," Tharp said of the fundraiser, which has been accessible online and will return during the festival. "It was an expensive rebuild for us and this project will help with that rebuild. There's been a ton of interest in this fundraiser. Each one of the bricks sold will become a permanent part of Wurstfest history."
Tharp and many among a contingent of accompanying Opas and Omas — some clad in traditional lederhosen and dirndls — remarked the fire, occurring days after the 2019 festival, might have been a blessing in disguise.
"It all came together really, really well," Tharp said. "We were able to improve on the amount of restroom space, the amount of (infrastructure) support for the vendors, and improve (pedestrian) traffic flow. I think people are really going to love it."
One area that wasn't part of the tour was the one many wanted to see. The lights were off inside the Wursthalle, smoke-damaged in the fire but now but restored and separated from the Marktplatz. Inside the famed dance hall are the family crests symbolizing 150 of 260 links to past, present, and yes, future Wurstfests.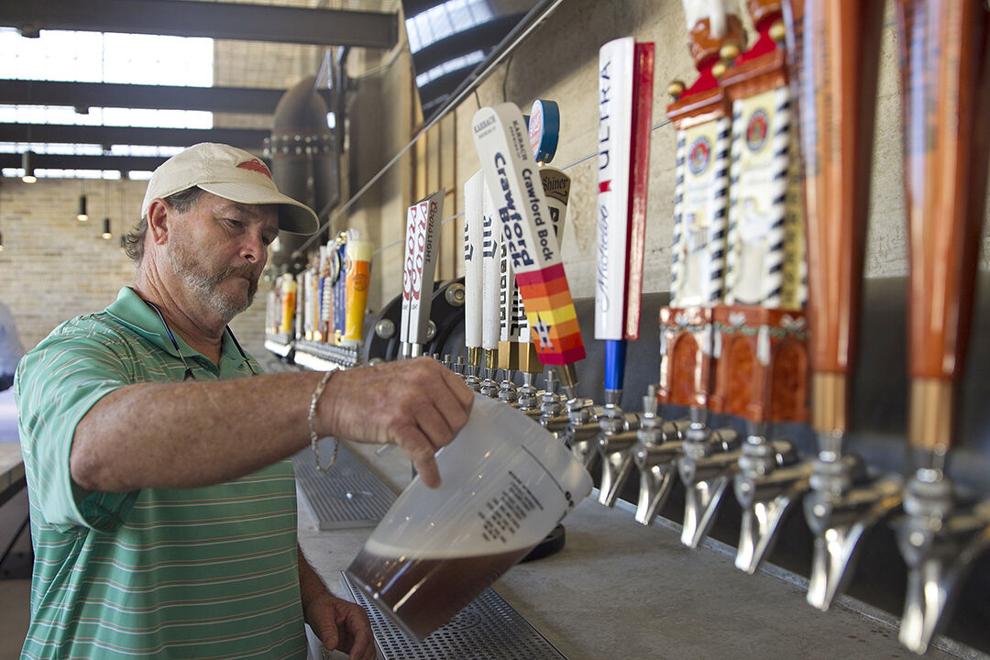 Apart from the tour were mostly unnoticed changes, such as the expanded restrooms, improved drainage, rebuilt sidewalks and stairways leading down to the Comal River across from the vendor parking area, There are newly blacktopped pathways linking the new buildings, and work is wrapping on a new parking lot adjacent to a relocated Gate 3 entrance at the corner of Elizabeth Avenue and Hinman Island Drive.
Bob Goebel, a Senior Opa whose sons Gregg and Jeff, also event Opas who helped guide Saturday's tour, offhandedly suggested Backsteinplatz, German for brick plaza, as a possible name for the brick area. 
Goebel said nothing can match the sights, sounds and smells of Munich's Oktoberfest, the local redesign offers an experience unique to its sister event here in New Braunfels.
"I have a lot of confidence in the folks who designed it and I think they knew what they were doing, which is why I'm not going to throw rocks at them," Goebel said. "I think this is great, compared to what it was in 2019, and it's a great improvement.
"They certainly put a lot of effort into it — I can't speak for the whole bunch (Wurstfest officials) but I'm excited."
Wurstfest President Randy Rust and this year's Grosse Opa, Wayne Classen, agreed. Both will soon be making rounds throughout town, hawking the 60th anniversary event. 
"You can spot me by the feathers in my cap," Classen said of his duties this year. "I've found out that if someone is not having a good time, the first thing you check is their pulse."
Classen joked Rust selected him as this year's ceremonial leader "because he saw me dance — which is good for a lot of laughs. But we're here to have fun and make sure that everyone else has fun — that's my job."
Rust said he's looking forward to his first Wurstfest in his second year leading the association.
"I'm the only current year president that got to do it twice," he joked. "I'm not sure whether it was meant to be that way but it's really been fun – and it's also been a challenge."
He urged locals to attend the festival during the weeknights.
"From Monday through Thursday, the lines are going to be shorter and it's free — you can save $25 per person," he said before the guests dined on sausages and pork chops on sticks, and reubentashens — a new Wurstfest dish of pastrami, sauerkraut and cheese served on top of a slice of dark pita bread. 
"We will have the same entertainment during the course of the week that we have on the weekends — just with smaller crowds. It's just a family atmosphere that we're trying to build."
Rust said the two-year wait for Wurstfest has made a new generation anxious to experience it.
"We have to get the young kids involved," he said. "At the fair parade yesterday, all the young kids were hollering 'Wurstfest, Wurstfest!' which was great because that's what it's all about – keeping the next generation involved."