Nothing says "we're back" after two years of intermittent lockdowns like filling up your stomach with gourmet nibbles before getting absolutely cross-eyed under the sun. Anything worth doing, of course, is worth doing well. Which is why we'd like to bring the return of Wine Island Sydney 2022 to your attention.
Once again to be hosted on Sydney's Clark Island, this decadent weekend of all weekends is currently scheduled to make its epic comeback on March 2022 – a date that doesn't technically fall within the parameters of summer but we'll classify as summer for the purpose of framing next year's Wine Island as a "summer blowout."
"Sydney-siders have been slipping into their tropical best and trading in the bustling city life for an idyllic day in vino paradise at the award-winning Wine Island Sydney since 2015," notes the official site description.
"It's a three-day food and wine festival that attracts wine connoisseurs and adventurous day-trippers alike to this small and picturesque island on the harbour, as it's transformed into a luxurious oasis."
---
---
RELATED: Sydney Harbour Will Become A Swimmer's Wet Dream With Floating Pools
Come March 2022, you'll be afforded the opportunity to work your way through an entire litany of wine stalls being manned by local and international producers: Chateau Tanunda, Dal Zotto, Hungerford Hill, Kirrihill Wines, Nepenthe, Thomas Wines, Tulloch Wines, Rosabelle, Silent Noise, Winmark Wines, and more.
For those of you looking for a bit of variety, fear not. You'll also be able to tie one on with help from the Archie Rose Gin Bar, Fever-Tree Island Spritz Bar, 4 Pines Beer Garden, Brix Distillers, Ned's Whisky, and Grainshaker Vodka, just to name a few.
As for the matter of eats, obligatory dozen oysters from East 33 and cheese platters from Artisan Cheese Room aside, there'll be some verifiably tasty nibbles from the likes of Joey's Lobsters, Olio Kensington Street, BL Burgers, with dessert treats to cap it all off.
And for those of you interested in activities aside from solely consuming food + drink – sounds fake but OK – associated masterclasses, alcohol-fuelled art classes, discos, treasure hunts, and so forth will also be on offer.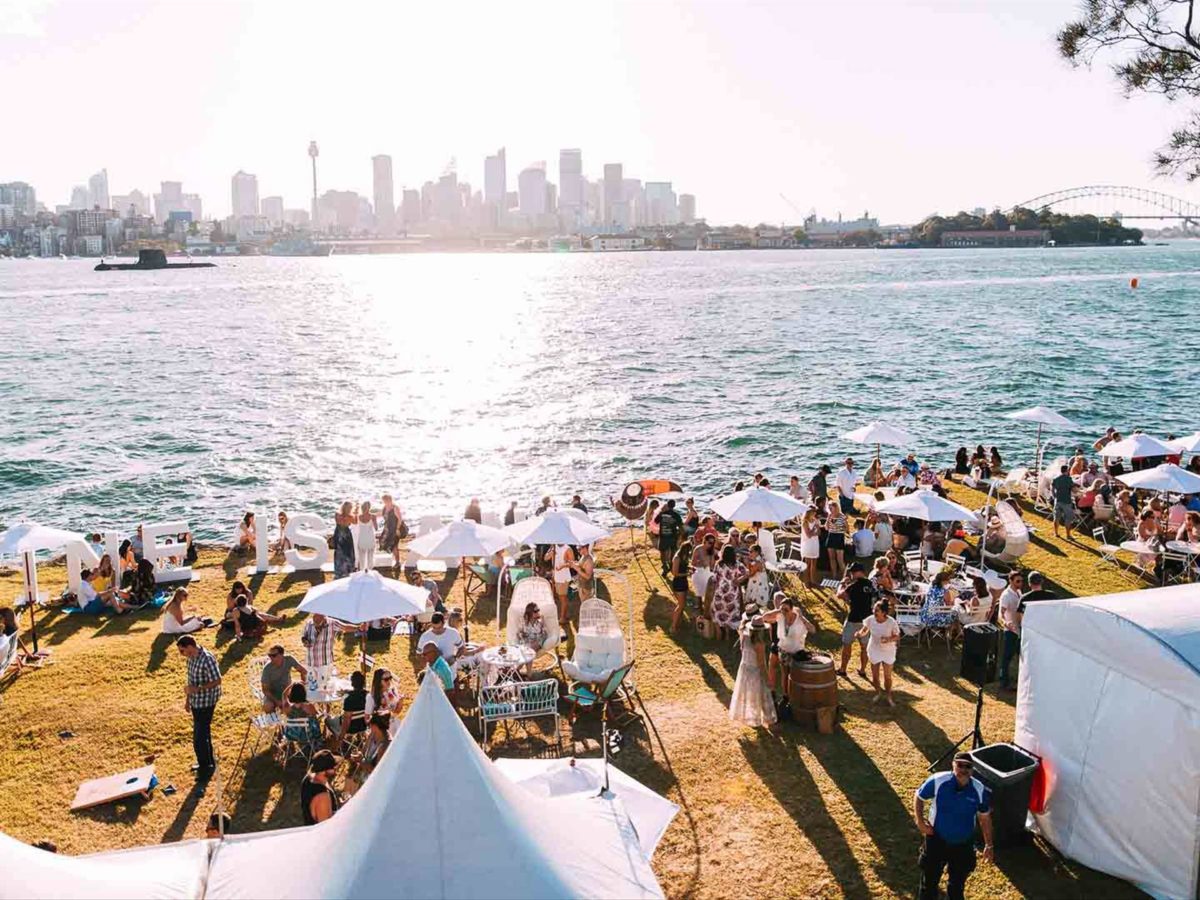 Wine Island Sydney 2022 has scheduled lunchtime (10 AM – 2 PM) and sunset (4 PM – 8 PM) sessions from Friday the 18th of March to Sunday the 20th of March – ticket presale opens this Monday at midday.
General Admission (5-star): $109
– Entry for your chosen day & session
– Return ferry transfer to / from King Street Wharf & Wine Island
– 1 x cocktail on the Fever Tree Ferry to Wine Island
– 5 x 30ml wine tastings on Wine island
– 1 x Wine Island branded tumbler & access to complimentary wine education masterclasses
VIP (7-star): $209
– Entry for your chosen day & session
– Return ferry transfer to / from King Street Wharf & Wine Island
– 1 x cocktail on the Fever Tree Ferry to Wine Island
– 10 x 30ml wine tastings in GA Area & unlimited in VIP area
– Access to the 7 Star premium Area which includes unlimited tastings at the East 33 Oyster Bar & Rosé Garden Bar (also includes white, red, sparkling options) + premium uninterrupted views of the harbour.
– 1 x meal voucher (to be redeemed from any food stall except oysters & cheese)
– 1 x Wine Island branded tumbler, tote bag, water bottle, & access to complimentary wine education masterclasses