On the face of it, Supernova is a road movie that takes us past the peaks and wide meres of the Lake District. But it's also a film that navigates its way through a landscape of love, loss and the emotional impact of one of the most serious health issues of our time. It stars Colin Firth (Pride & Prejudice, 1917) as Sam, a classical pianist, and Stanley Tucci (Big Night, The Devil Wears Prada) as Tusker, a novelist who has been diagnosed with young-onset dementia. The couple have been together for decades, are facing a seismic shift in their relationship, and have decided to embark on one last journey together. Accompanied by their dog, Ruby, they head out in their camper van (a Fiat Autotrail Cheyenne) to revisit old haunts and meet up with friends and family, culminating in a comeback recital for Sam.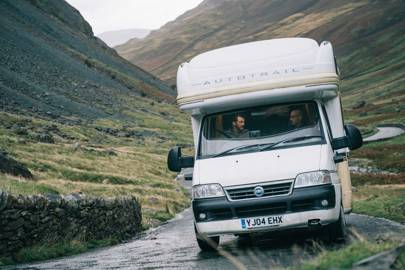 'They're on a big, emotional journey, and it seemed appropriate to mirror that with a literal journey,' says Harry Macqueen, Supernova's writer and director, who spent three years working closely with dementia sufferers and their carers. 'I was really interested in road movies anyway, and in slightly perverting that genre. But it felt interesting to tell what is, essentially, a domestic drama in a slightly more unique way.'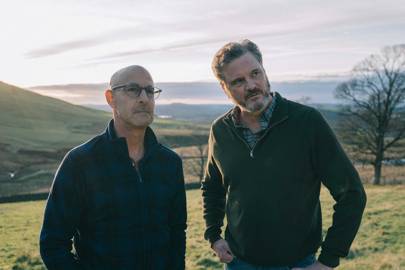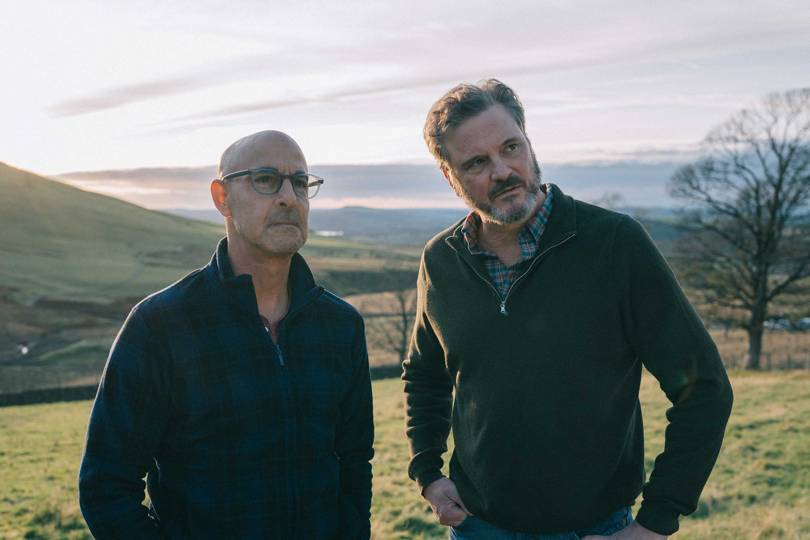 THE LAKE DISTRICT

For Supernova, the production team were based up in north Cumbria at the disused Cumberland pencil factory in Keswick, built in 1916 with a striking Art Deco façade, and which used the local graphite mines for its raw materials. It was here that the set for the couple's camper van interior was built. Visitors can pencil in a couple of hours at the Derwent Pencil Museum here and marvel at the 26ft-long yellow pencil on display – the museum itself appeared in Ben Wheatley's 2012 comedy-horror Sightseers. An early stop for Tusker and Sam on their journey is Cafe Sixty Six – named for the A66 – in Appleby, and the historic town of Sedbergh, which is actually in the Yorkshire Dales National Park but close to the eastern Lakes and dwarfed by the Howgill Fells – which hiking pioneer and author Alfred Wainwright described as looking like 'a herd of sleeping elephants'. For Tusker and Sam, though, it's the more prosaic sight of the Spar supermarket – in whose car park they spend the night – that grabs their attention.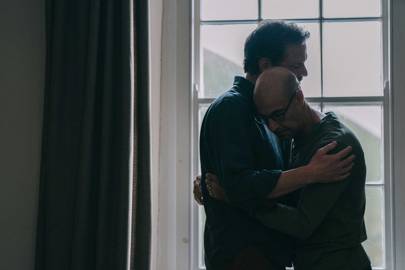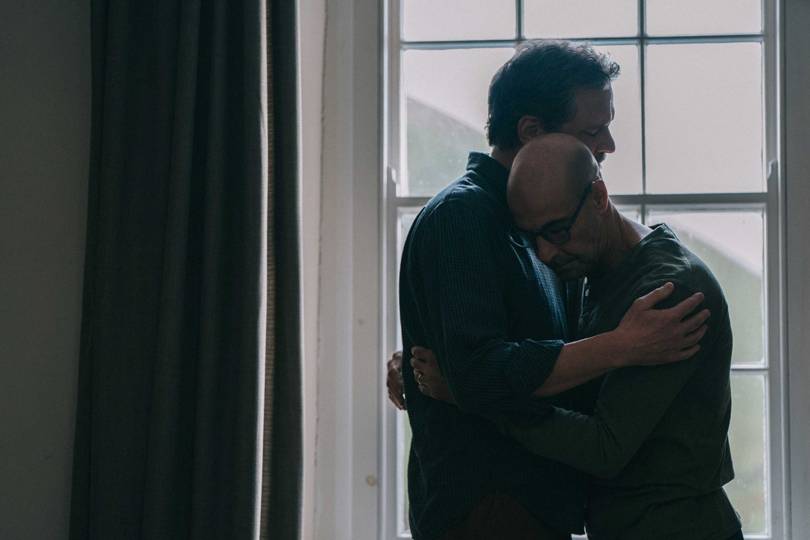 Many of the landscape shots were filmed around Bassenthwaite Lake, and some of the most dramatic driving shots were at Honister Pass – the legendary, snaking road that connects Buttermere with the Borrowdale valley and rises up to 1,167 feet to a former slate mine that can be visited via a National Trust car park. (Sir Christopher Wren used Honister slate in his designs for Kensington Palace.) The four-mile-long Bassenthwaite Lake is famously the only body of water officially called a 'lake' in the Lake District, with its shallow waters drawing wild swimmers, The Lakes Distillery attracting others, and the fish in the lake bringing in rare wild ospreys, which were re-introduced here in 2001.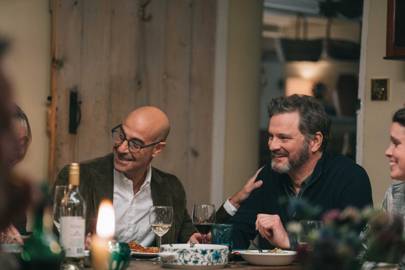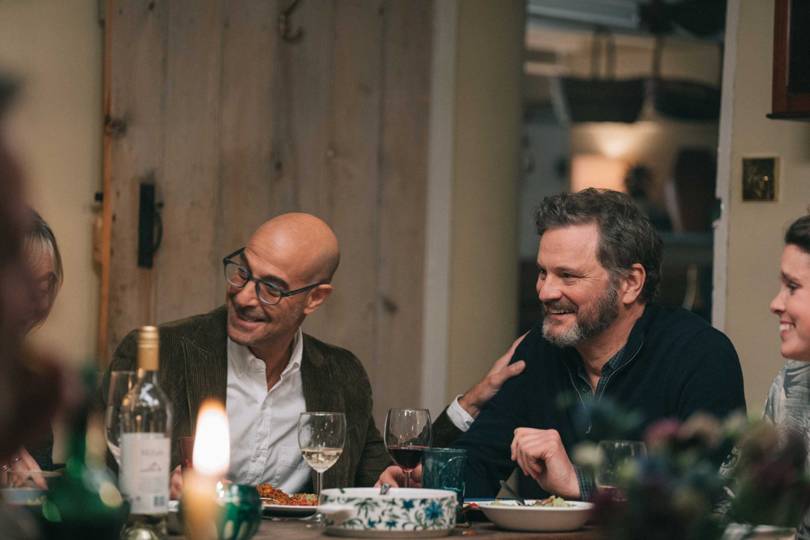 During their journey, the pair park their Fiat camper van for a few days near Lorton, south of Cockermouth, for a party with Sam's sister Lilly (Pippa Haywood) at a private family home called High Rogerscale. Nearby is the tiny Sandybeck Meadow National Nature Reserve, which is scented by wildflowers in the summer. The final scenes of the movie were shot at a secluded holiday cottage called The Dash, near Bassenthwaite – a family-owned farmhouse sleeping eight, which can be rented out for a staycation just a short walk from the Whitewater Dash waterfall and mighty Skiddaw mountain.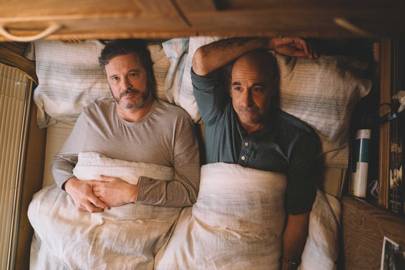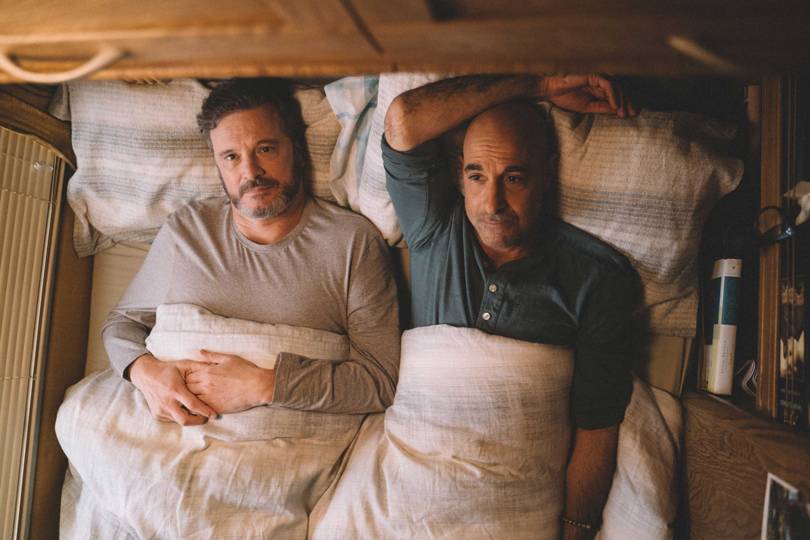 'It was an almighty nightmare filming in the Lake District,' says co-producer Tristan Goligher. 'I actually found it surprisingly difficult at times, given the terrain and the size of the roads. British country roads do not lend themselves to moving a film unit around, and though we were relatively small, we weren't that small. We had vehicles sliding off roads and getting stuck in mud, and we had to build a special track to get the equipment out to some of the locations.' The weather for which the Lake District is known was a recurring element during filming. Supernova's renowned cinematographer, Dick Pope (a Mike Leigh regular, who has worked on Vera Drake, Secrets & Lies and Mr Turner, among others), recalls a defining moment while filming. 'It had been raining so hard and so constantly, and yet this one morning – and we were up there really early to capture it – the weather was glorious, absolutely glorious. I'd never seen the fuss about the Lake District until the revelation of seeing this camper going down to the lakeside on this joyous autumnal morning.'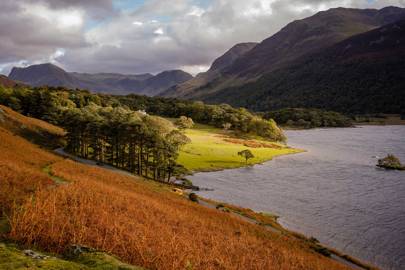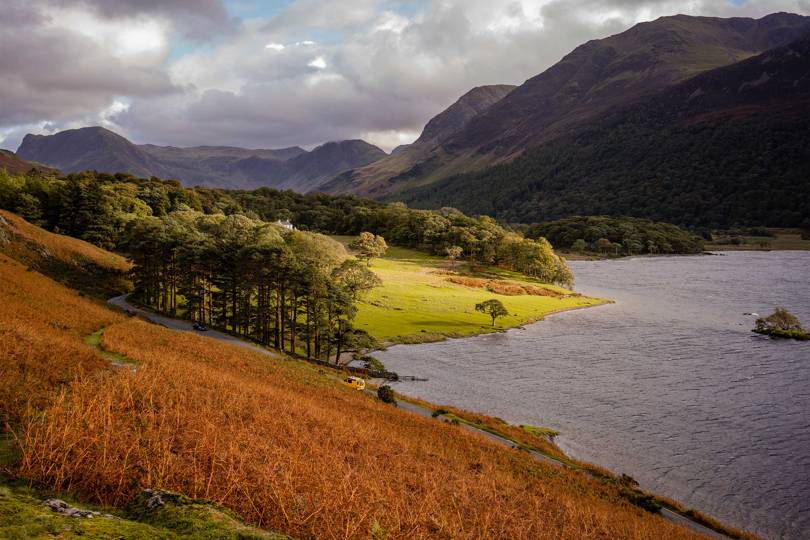 THE LAKE DISTRICT IN FILM

Cumbria has a special place in the UK's collective psyche. We think of it as a wild place for untrammelled adventures and lyrical freedom, inspired in part by a nostalgia curated by Edwardian classics such as the books of Beatrix Potter and Arthur Ransome. (In reality, much of it has been shaped, and its wilderness eroded, by sheep farming.) Of course, its landscape also belongs to Wordsworth, who was born in Cockermouth and whose daffodils were spied on the banks of Ullswater, and to fellwalking champion Alfred Wainwright, who mapped out 214 peaks and whose advice that 'there's no such thing as bad weather, only unsuitable clothing' rings as true now as in the 1950s.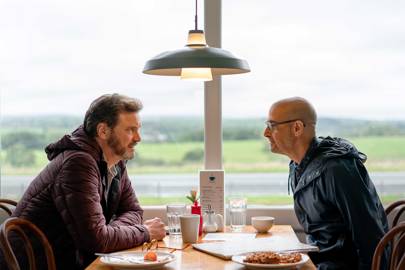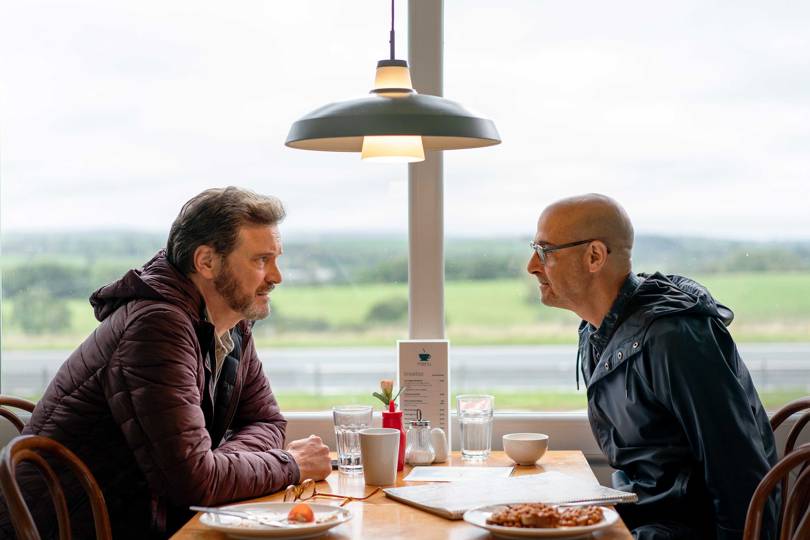 In cinema it appeared, predictably, in the 2018 Peter Rabbit film and its sequel – both a mix of live action and CGI – and in Miss Potter, the 2006 biopic of Peter's creator, starring Renée Zellweger and shot in Loughrigg Terrace and Loughrigg Tarn, Grasmere and Coniston's Yew Tree Farm, which belonged to the writer in the 1930s. And it was the natural setting for both the 1974 and 2016 versions of Swallows and Amazons, which were filmed around Coniston. On TV, the six-part Deep Water, starring Anna Friel and based on the novels of Paula Daly, played out its tempestuous domestic dramas against the watery backdrop of Windermere, while David Lean's marginally more restrained Brief Encounter (1945) was partly filmed on a bridge in Ambleside (although its famous train-station scene was shot further south at Carnforth in Lancashire).
Another great British road-movie-of-sorts, Withnail and I, whose two protagonists 'go on holiday by mistake', was partly filmed at Crow Crag, otherwise known as Sleddale Hall in Cumbria, and Haweswater Reservoir. And while the Lakes are cast against type in Star Wars VII: The Force Awakens, standing in for the planet Takodana, it's still the glorious scenery that bewitches – as the Millennium Falcon flies over a conjoined Derwentwater and Bassenthwaite, Rey (Daisy Ridley) says, 'I didn't know there was so much green in the whole galaxy!'
'Supernova' was released in UK cinemas on Friday 25 June 2021
Like this? Now read:
13 things to do in the Lake District
The best Airbnbs in the Lake District