United Airlines is breaking the mold when it comes to airline lounges with its newest grab-and-go concept at Denver International Airport. It is the first domestic airline to create such a lounge designed for on-the-go travelers, which United says is of particular interest to frequent travelers. A recent survey of United MileagePlus members showed that more than half of club visitors like to take a drink or snack away with them.
United Club members and eligible international travelers can stop into the lounge to grab fresh sandwiches, salads, snacks, fresh fruit, soft drinks and juice, coffee or tea, and water to take "guilt-free" for their flights. This type of lounge is sure to please those that are rushing between flights, but still want to grab a bite to eat or drink along the way. The lounge was designed to complement the existing range of lounges in Denver with two in the B concourse and a new lounge coming to the A concourse.
What is United Club Fly?
Some travel writers have dubbed it "United Club Lite" since this lounge is a scaled-down version of the standard United Club. There's none of the typical large seating areas, bathrooms, full bar service or customer service desk. Instead, it's purely a convenient food and beverage stop, much like a neighborhood deli or marketplace.
United chose to open the first United Club Fly in Denver because nearly two-thirds of the airline's customers are making connections there, but they've hinted at opening at other locations in the future.
The lounge, which is located near gate B61, is especially convenient to where many of the carrier's regional jets park. Because passengers may need to rush to their next flight or wait for bags to come off some of the smaller planes, they might not have enough time to grab a bite to eat. That's where United Club Fly comes in.
United Club Fly design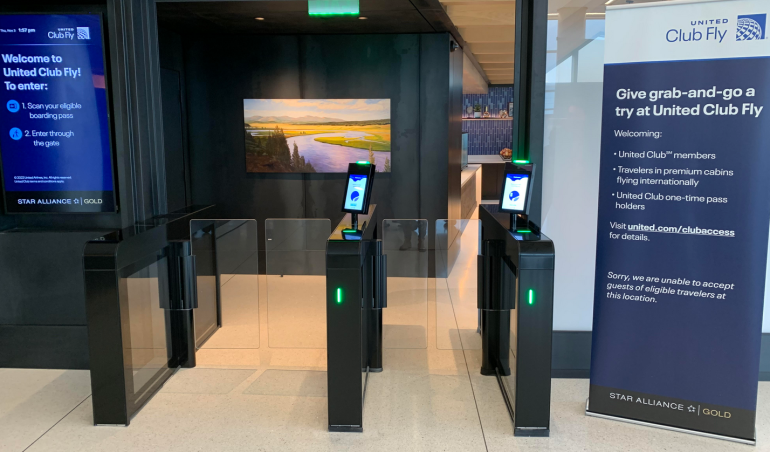 Eligible visitors scan their boarding pass at the automated entrance gate where they then pass a small seating area with decorative, faux fireplace. All of the furnishings in the lounge were sourced from Colorado.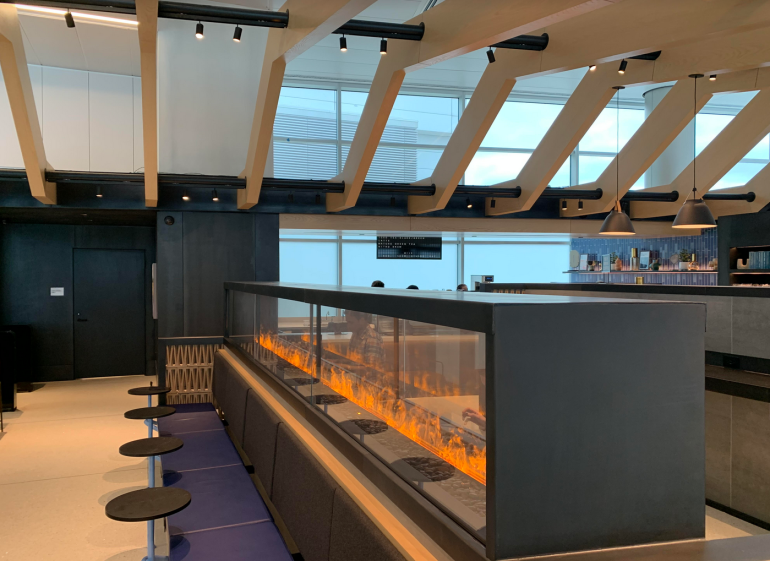 The lounge is designed to be a fast experience for visitors with a one-way flow that brings people into one entrance and out of a different exit. This helps to prevent bottlenecks, although guests can linger and power up devices if they need to. USB-A and USB-C outlets are available throughout the lounge.
The space showcases a regional design. The look resembles a ski chalet, from the shape of its roof to the faux fireplace inside. Frosted glass windows give the illusion of falling snow.
United Club Fly food and drinks
A barista coffee bar makes specialty coffee drinks. For those that prefer not to wait, there are self-service machines brewing specialty Illy coffee drinks.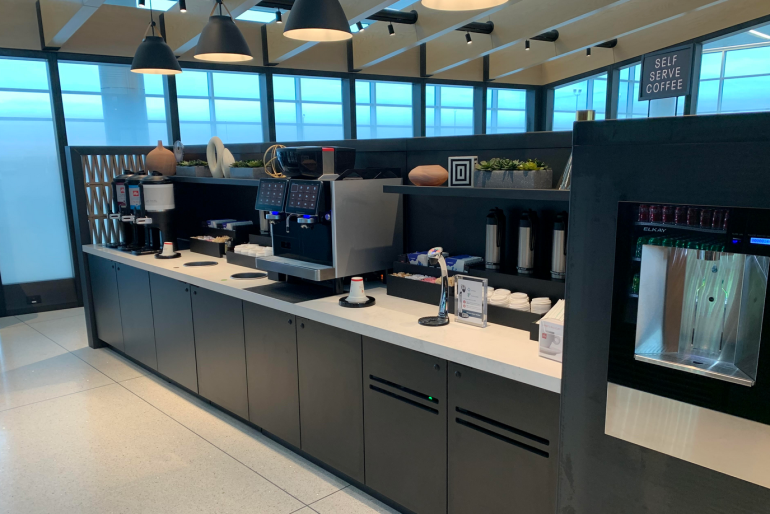 Refrigerators stock a wide array of soft drinks, juices and smoothies. A refillable water bottle station is sure to be a big hit, too. Other snacks on offer include various sandwiches, wraps, salads, hard-boiled eggs, crudité and cut fruit.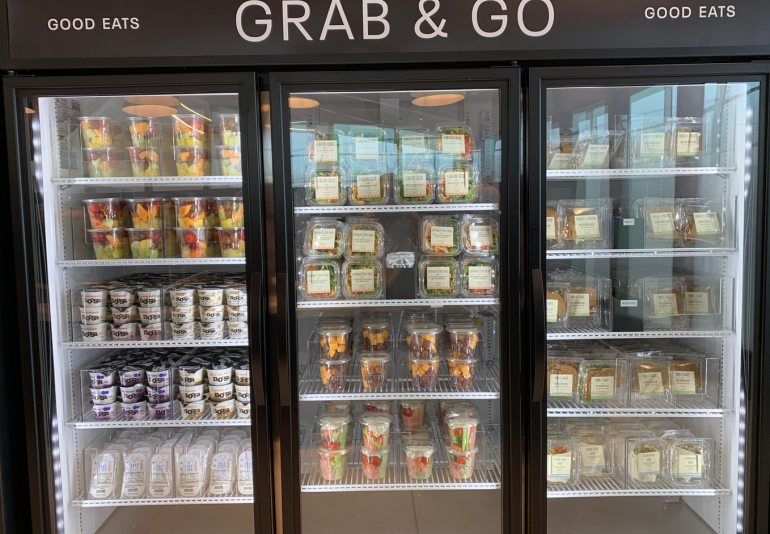 United intentionally chose snacks that are easy to consume on the go, including on the airplane. Many regional jet flights do not have food for sale onboard, which can be difficult for hungry flyers with short connections.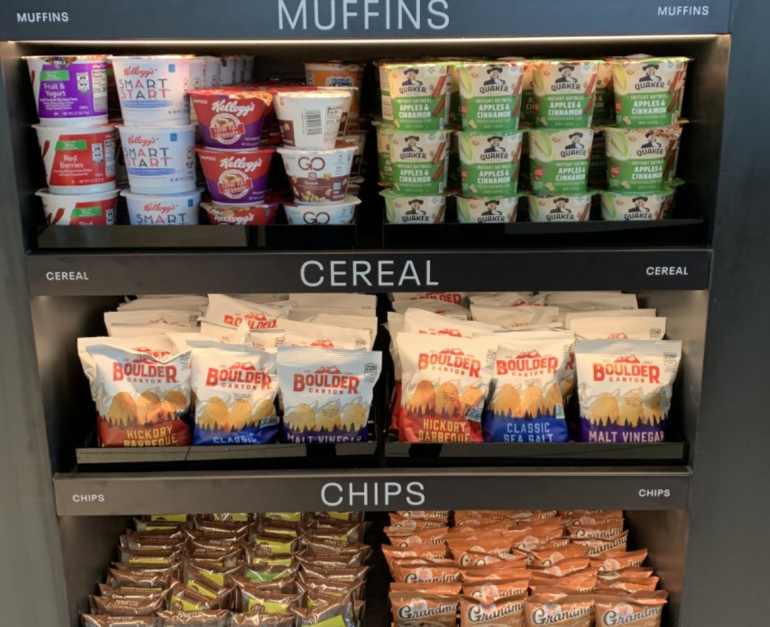 Another important consideration for the lounge menu is to provide easy-to-eat snacks that won't create a mess for aircraft cleaners. If people leave food debris, crumbs and trash onboard, it will take cleaners longer to refresh the plane and could potentially delay the flight.
United plans to offer a revolving menu of options throughout the year, citing that an important customer demand is variety when in lounges or onboard the aircraft. For the first few months of operation, United is monitoring how much is consumed and at what time of day to get a better idea of the popularity of each item.
Who can use it?
Others can access United Clubs, too. If you have Star Alliance Gold status and are traveling internationally, you can use the club during your same-day international flight. Premium cabin passengers with a same-day international flight on United or other Star Alliance carriers or premium transcontinental flight on United.
One important caveat is that eligible passengers are not able to bring a guests at all. That's different than the typical United Club guest access policies. However, because United Club Fly is designed for people to grab-and-go, it's easy enough for people with club access to take snacks and drinks to bring back for other travel companions.
What other lounges offer grab-and-go snacks?
While United is the first domestic airline to offer such a grab-and-go concept, Star Alliance partner Air Canada has a similar marketplace at Toronto Pearson International Airport where eligible passengers can take snacks and non-alcoholic drinks to go.
Certain Capital One credit cardholders passing through Dallas/Fort Worth International Airport can visit the credit card company's first of many airport lounges. In it, a refrigerated station has snacks, sandwiches and non-alcoholic drinks that eligible visitors can take with them if they're in a hurry. Capital One is planning additional airport lounges in Washington-Dulles and Denver.
United believes this type of lounge concept is scalable in other airports where it makes sense, but first, the carrier is working to get employee and customer feedback.
Get snacks on the fly at United Club Fly
At Denver International Airport, travelers can visit the new United Club Fly. This express lounge offers grab-and-go snacks and drinks for travelers with United lounge access who need a quick place to grab a bite to eat. It's designed for the many flyers connecting through Denver. It's a nice perk for those with United Club membership and can help passengers create their own mini picnic in the sky on their next flight.
How to maximize your rewards