Winter is fast-approaching, meaning that many are stress-prepping for the holidays while bundling up for frigid weather. But some adventurous spirits are looking to break the monotony of shoveling snow by globetrotting to a paradise with warm seas and winter sun.
Sally French, travel expert at NerdWallet, wrote to Newsweek with some tips for winter travel.
"Sometimes adjusting your travel schedule by just a day or two can save you hundreds of dollars in airfare," French said. "Especially if you're able to work remotely, extending your trip and sprinkling in that workcation can be worth it (and allow you to spend more time in the warmth)."
When traveling to warm-weather areas, French encourages looking beyond booking a standard hotel room, where resort fees are often tacked on. Check out Airbnb as a cost-effective alternative, she said, adding that "the more adventurous might try renting an RV."
"If you're traveling someplace warm, you won't need all the boots and jackets you'd otherwise wear in December," French said. "Use this opportunity to ditch the rolling suitcase, which can become cumbersome at the airport."
Bulky checked bags and carry-on luggage can also cost you money and have you vying for overhead bin space, she added.
"Use your warm-weather weekend to experiment with traveling with a backpack only," she said. "You'll find you can move around more nimbly and you won't get stuck waiting for your bags at the luggage carousel."
Newsweek also spoke with three other travel experts for their top seven winter travel destinations.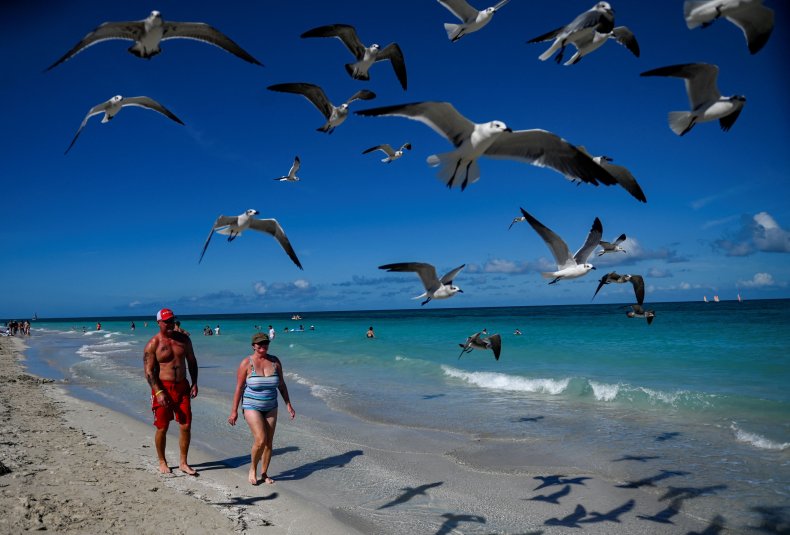 Ravi Roth
This travel influencer loves to explore destinations near water, be it an ocean or a pool. Ravi Roth told Newsweek that bustling LGBTQ+ scenes and delicious vegetarian dining are present in most of his picks.
It's a great time to travel, now that the COVID-19 pandemic has waned, Roth said.
"I think we've all realized that we don't have to wait until we're 40 or 50 to go to that bucket-list destination," he said. "You don't have to wait until you have a certain amount of money in the bank, because nothing's guaranteed."
Santiago, Chile — The lively city of Santiago has a rich history and features to-die-for nightlife and tons of delicious food, Roth said. It's also close within driving distance of the colorful seaport town of Valparaíso and the jaw-dropping Andes Mountains.
Palm Springs, California — "It's a city that is accepting to all," Roth said of Palm Springs, California. "It's always giving warm weather and epic hotels with pools. A great spot for families, solo travelers or couples."
South Beach, Miami — Revelers will love Miami, where you can "swim all day and party all night," Roth said. But the city is also famous for its vast array of ethnic cuisine, its storied history, fun thrift-shopping and cutting-edge high fashion.
Los Cabos, Mexico — Roth said resorts like the Hacienda Del Mar are the perfect escape for those seeking out "the ultimate blue water, divine sunsets and a pampered experience."
Uluwatu, Bali — "Yes, getting there is a cost, but once you're in Bali, it is so affordable," Roth said. "I highly recommend Uluwatu for the vegan/vegetarian food, the yoga and meditation, the surfing—even though I can't surf—the gorgeous temples and a great spot to recharge during the winter months."
Cape Town, South Africa — Although flights to Cape Town can fetch high prices, Roth said that when you land, you definitely won't regret it. This South African city boasts hiking, wineries, beaches and high fashion, and it's quite affordable once you're there, thanks to the exchange rate.
Kauai, Hawaii — Going anywhere in Hawaii can be a wonderful experience, Roth said, but sunny Kauai is something else. There, you'll have a blast "chasing adventure" and "making your Instagram look like you're in Indiana Jones meets Jurassic Park."
Annie Davis
As president of Palm Beach Travel, Annie Davis has earned plenty of stamps on her passport. Her boutique travel agency is a favorite of celebs and the ultra-wealthy elite.
Davis told Newsweek that the appeal of winter travel is escaping the frosty air to pursue warmer climates—and it's a time when plenty of people are looking to go abroad.
"Our phones start ringing when the first snowfall lands up north," Davis said.
British Virgin Islands — Davis wrote to Newsweek that more than 50 islands, cays and inlets compose this stunning Caribbean nation. You'll love your time there, whether you're up in a treehouse suite at a secluded resort, unearthing a gold coin during a snorkeling trip or lounging on a beach featuring tranquil grottos.
The Florida Keys — "Whether you land in Miami or Key West, you already feel like you are in the tropics," Davis said by email. Bridges connect the islands that make up the Keys, and it's fun to rent a car and pop into local bars, shops and waterfront restaurants. It's also great for people of varying price points.
Cuba — This destination is trending high in recent days. "With so many flights and unique cultural tours, visit Cuba while it is still brimming with charm, history, art, color and personality," Davis said. There, you can rest your head in a unique vacation home, scope out historic hotels and visit spots where Hemingway and other old-timey stars used to dance the night away while sipping on Mojitos.
Tahiti — Davis explained that Tahiti is French Polynesia's most populous island. "Wander through waterfalls in the dense lush rain forests and cool off in one of a myriad of clear blue lagoons," she said. "A quick flight to Bora Bora and a stay in an over-the-water bungalow should complete your bucket-list trip."
Maldives — Each year since 2020, the Maldives has been the globe's hottest travel spot, Davis said. It features more than two dozen natural atolls and a reef that could rival the Great Barrier Reef in terms of diverse marine life and vibrant coral.
Dubai — Dubai is synonymous with luxury, and rightfully so, Davis said. You don't want to miss out on shopping at the massive Dubai Mall—purported to be the world's largest—and basking in the city's opulence. You can even seek out adventure on a desert safari. "Insider tip: Visit the top of the world's tallest building, the Burj Khalifa," she added.
Fiji — Fiji rests to Hawaii's southeast and to the north of New Zealand, and fewer than a third of its more than 330 islands are inhabited, Davis said. An "untouched paradise," she noted that Fiji features "world-class diving, water sports, pristine soft white sand beaches with crystal clear blue waters and lush tropical rainforests."
Katherine Fleischman
Travel journalist and publicist Katherine "Kat" Fleischman is an American living in Italy with a wealth of knowledge of the world's top resorts, luxury hotels and villa rentals. Her PR firm, Do Tell PR, homes in on travel, fashion and food "inspired by the global-citizen lifestyle of the modern-day millennial," according to her website.
Fleischman told Newsweek that winter travel is perfect for those who want to avoid the sky-high temps during a summer's jaunt abroad.
"It's nicer to do that activity in the sun but not like burning scorching heat," she said, "so I think that's one of the benefits of traveling during the holidays."
Nassau, Paradise Island, Bahamas — A trip to this paradise has you feeling like you've been "transported to another universe," Fleischman wrote to Newsweek. "A turquoise paradise with translucent waters, laid back vibes, delicious food and an entirely new and exciting culture, Nassau Paradise Island is the ideal stop for a luxury vacation in December."
Mexico — For the perfect getaway to escape your cold-weather prison, visit Mexico and its inviting waters and warm sun, Fleischman said. She noted that party-lovers will adore Tulum, and those looking for a laid-back vacay can kick back in Holbox. Meanwhile, Riviera Maya's blue caves are positively show-stopping.
Phi Phi Islands, Thailand — Fleischman describes Thailand's Phi Phi Islands as "one of the most rare natural paradises on Earth," where the water is crystal-clear and warm. "It has soft sand and white beaches overlooking an emerald sea, and if you are into snorkeling and scuba diving, an incomparable coral reef and spectacular cliffs," she said.
El Nido, Philippines — Escape the dreary holiday weather in the States for El Nido's warm waters, Fleischman said. There, you can take a traditional boat out for a fun sea adventure and gorge yourself on authentic food. Those looking to relax can also sign up for a "massage with a view of the ocean."
Miami, Florida — Given that it's her hometown, Fleischman knows a thing or two when it comes to beautiful Miami. She describes it as a bustling city rich in culture, plus it's home to some of the hippest clubs and restaurants.
Cape Town, South Africa — Like Roth, Fleischman picked Cape Town, South Africa, as one of her top seven spots. "Whether it is riding the cable car up Table Mountain, or spotting penguins at Boulders Beach, exploring Nelson Mandela's cell on Robben Island, or visiting wineries or safaris, you can always count on perfect temperatures during the December season," she said.
Cartagena, Colombia — This gem features plenty of warm warm and sun, making it perfect for a beautiful boat ride, Fleischman said. Many travelers choose this location to ring in New Year's "because the colorful streets are lined with local restaurants and culture, and there is a ton of nightlife and beaching during the day."
Do you have a travel or nature story to share with Newsweek? Do you have a question about vacation destinations? Let us know via science@newsweek.com.