There's no denying that heading to a far-flung destination with your bike can be a logistical nightmare. Whether it's for your ritualistic annual cycling holiday or training camp, or you're looking at your first time cycling on foreign soil, the job of getting yourself, your kit, your bike and everything else you may need from point A to a very distant point B can be challenging and expensive. 
For some, that means flying with your bike and the ensuing difficulty of dismantling it and packing it into a bike box. For others the difficulty lays in getting everything loaded onto – or into – your car for a road trip. Whatever you're facing, there are ways to make it work, of course, but then there are ways to make it easier. 
Here at Cyclingnews we've travelled with a bike many times and there are many things we've learned along the way; pointers that can make things as straightforward as possible. 
It's Travel Week here at Cyclingnews. It also happens to be Monday while I'm writing this, so-called Blue Monday in fact, it's raining outside and the forecast is for a temperature plummet that will leave us all riding indoors for another week. That all adds up to a perfect recipe for daydreaming of warmer weather, of sunshine, of wearing shorts and drinking café bombons in Mallorcan cafés. 
If you're planning your next big trip to sunnier climates and you're wondering how to make the process as simple as possible, here are our top tips. 

If you're flying, but not regularly, hire a bike box
If your upcoming trip is a one-off or a rare occurrence, then spending hundreds on one of the best bike travel cases won't represent good value for money. You may be able to buy second-hand and save some cash, but this comes with risks, and you might not want risk when it comes to packing up your pride and joy. 
Luckily, many local bike shops and cycling clubs – as well as clubmates if you ask nicely – will let you borrow a bike box for a small fee. And if you can't get one there, Bike Box Alan will let you hire theirs. 
Sure, if you fly regularly, buying one of the best bike travel cases will work out better value in the long run, but for infrequent flyers, this is a no-brainer.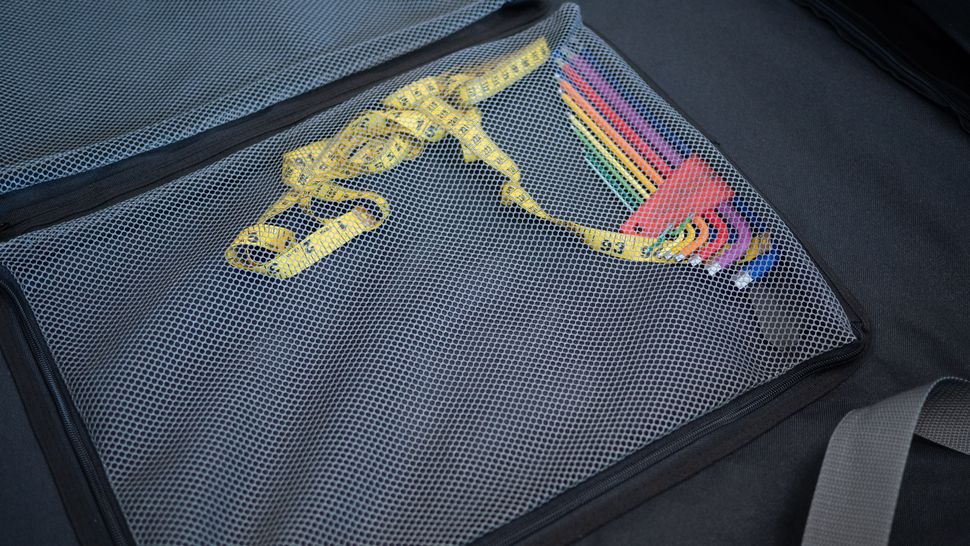 If you're taking your bike in a bike box, you'll need to disassemble it somewhat. Some simply require the removal of wheels and pedals, while others need a lot more. Whatever the extent, make a note of the tools you use when disassembling it, the tools you'll need to reassemble it, and any consumables you're using. You'll need them to build and then repack your bike during your time away. 
For example, if you remove your pedals, take the hex key or spanner used so you can fit them again. If you remove your rotors (a good tip to avoid them bending), don't forget the lockring tool. If you choose to zip-tie anything into place, don't forget snips to cut them free and spares for the return leg. Keep a note of what you're using, and then wrap all the tools in bubble wrap or an old towel securely and pack them in with the bike. 
The most important tool of all is your torque wrench. The last thing you want on the first descent on unfamiliar roads is to find your handlebars aren't secure.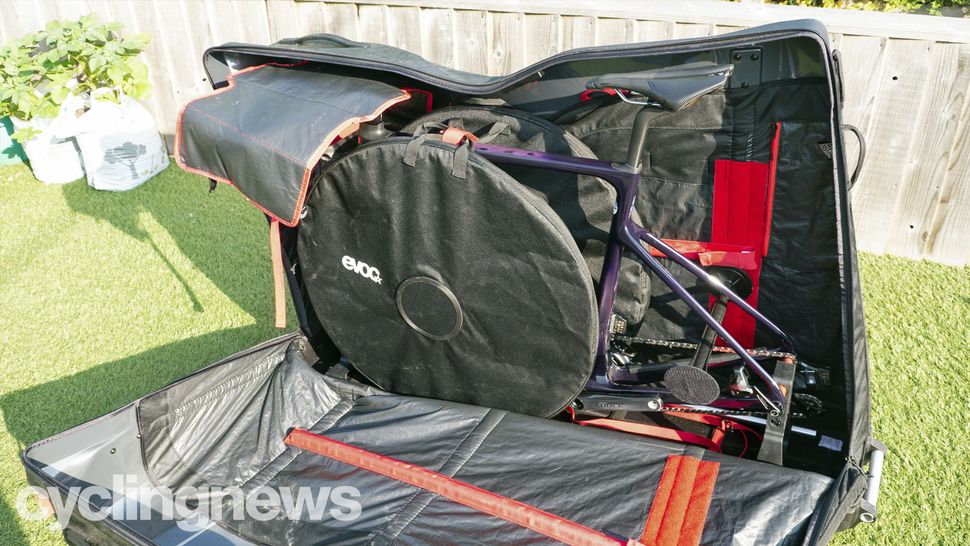 10 tips for boxing a bike for flying
Let some air out of your tyres to avoid overinflation when flying, take a pump to inflate them
If you need to remove your handlebars, put the faceplate back onto your stem to keep it – and the four bolts – together and safe
If you need to remove your stem, refit the top cap and then tie a zip tie around the steerer to keep your fork from rattling loose. If you have spare spacers at home, fit enough of these to fill the gap instead of the zip tie. 
If you have Di2, unplug the battery to avoid a dead battery on arrival.
If you have an internal seatpost wedge clamp and need to remove your seatpost,  remove the wedge and tape it to your bike or saddle. You don't want to spend the first hour of your trip fishing it out of your frame.
Buy – and take with you – a spare derailleur hanger. The last thing you want is to miss a day of riding with a trip to a bike shop because yours is bent. 
Some airlines will let CO2 cartridges through, but others will stop the bike and remove them. If you're going to risk it, make them easy to find so the baggage handler doesn't have to empty your entire bag.
If you use zip ties to secure things into place, pack a small flat-head screwdriver so you can undo them without cutting them, not only does it save you zip ties, it saves the planet of single-use plastic, or invest in a pack of reusable ones. 
Put anything that can damage other things, such as tools that can damage paintwork or gels that can cause a mess, inside your bottles. Put those bottles in your cages where they'll be kept securely in place.
When you're finished, if there's any space left, wrap your cycling kit in plastic bags and fill the gaps. Not only does this leave room in your other bag, it will act as padding.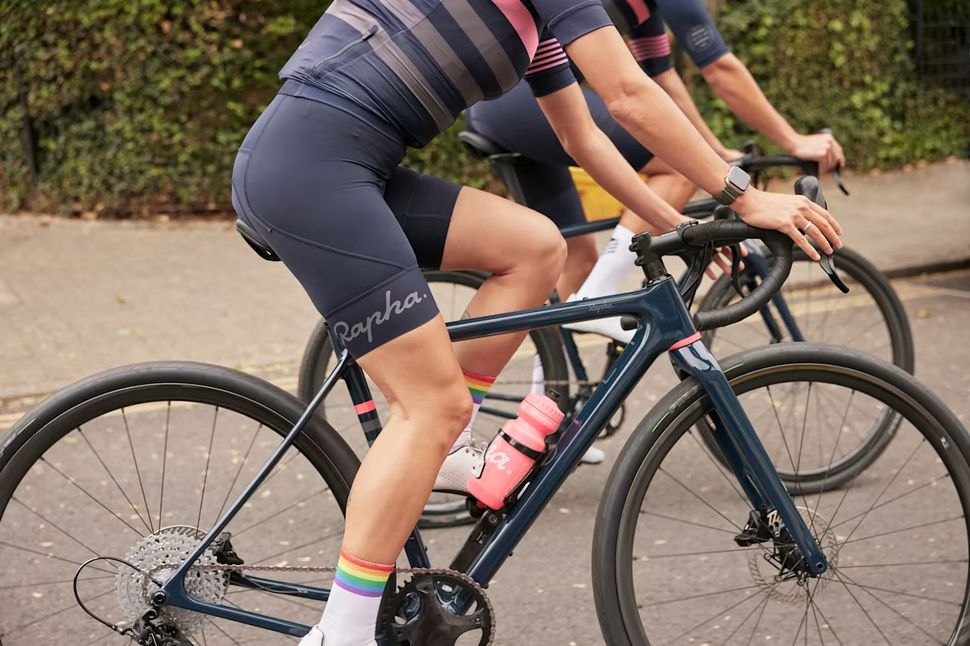 Alternatively, reduce all that effort and risk by hiring a bike
That all sounds like a lot of effort, doesn't it? Well, yes, taking a bike abroad comes with various expenses, logistical headaches and the obvious risk of damage. As a result, for some, the idea of hiring a bike is the preferred route to riding abroad. 
Depending on your chosen airline, taking your own bike could lead to a hefty oversized baggage fee. For some flights, this can even exceed the cost of the plane ticket itself, and that's in addition to the cost of hiring or buying a bike box. When you get there, you'll have to spend time building your bike before you can ride it, and you'll need to re-pack it before you return home. All of that is in addition to the risk of your bike being damaged or lost in transit. 
Opting to hire a bike at your destination can remove all of those headaches. There are bike hire facilities in most cities and even more in popular riding destinations like Mallorca, Girona, near off-road trailheads, Rapha Clubhouses too. 
There is, of course, a cost associated with hiring a bike though, so do your research, weigh up those costs against the alternative, and do the sums to work out whether it's a better option. If you do, you'll certainly be smug when you don't have to lug your bike box around an airport.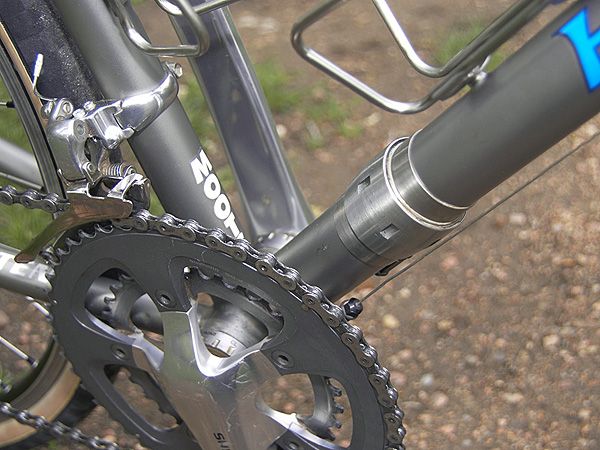 Frequent flyer? Why not cut your bike in half 
Well… not quite in half. This probably won't save anyone much money, even in the long run, but for regular flyers who want to take a full-sized bike without paying excess baggage fees every time, a frame fitted with couplers could be the solution for an easier life. 
Imagine taking your steel or titanium frame and being able to cut it straight down the middle, and then securely fit it back together again; that's what couplers can do. It means you can disassemble your bike, and then all-but fold it in half without damaging it. Done correctly, this means it can fit into a suitcase that fits within airline baggage size limits.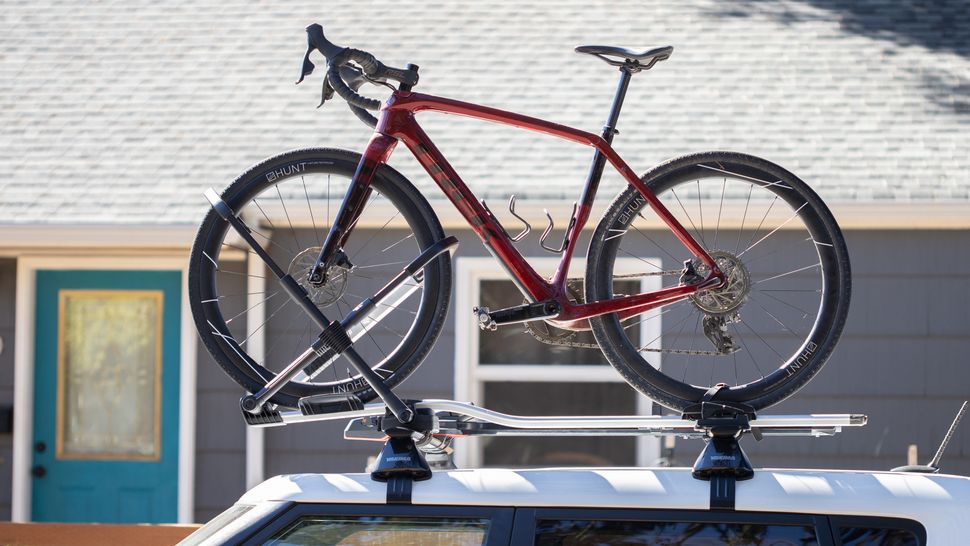 When driving, should you put the bike inside our outside the car?
There are a lot of caveats to this question that will affect your decision. Things like 'will it even fit?' and 'do you have a bike rack?' and 'what's the weather like?' so let's dive into the pros and cons of both. 
If the weather is glorious sunshine on a warm day, then having your bike on the roof won't do much besides cover your bike in a thin layer of dust. Swap that sunshine for a wet day where the roads have been salted and the corrosive liquid being forced into your bike's every crevice at 70mph is a fast-track to problems. 
Separately, if you've got the bike on the back of your car – via one of the best trunk bike racks or hitch racks – your pride and joy is vulnerable to anyone else on the road not paying attention. If you use one of the best roof bike racks, then it's your own inattentiveness you need to worry about, especially when entering multi-storey car parks. Our top tip here is to put some masking tape on your steering wheel and on it write "BIKES ON ROOF". 
Opportunistic thieves are also a reason. Long journeys often mean toilet breaks, coffee stops, and sometimes even an overnight rest for some shut-eye, and any of those can mean time spent away from your vehicle. If your bike catches the eye of an opportunistic thief, you might come back to no bike at all.
Cost is another. Folding the back seats down and keeping the bike inside is entirely free, whereas putting it on the outside will need a rack. If you don't already have one, then buying one will quickly inflate the overall cost of your holiday. 
With all that said, though, before you kick the kids out, keeping bikes inside the car comes with its issues too. Depending on what you drive, or how many passengers you're carrying, there simply might not be enough room. If you're going away with your partner, kids and dogs, then sadly none of those will be willing to swap places so that your bike can have a spot in the warmth. 
While not as damaging as smashing the front of your Tarmac into a car park – we've seen it done – bikes are still at risk when inside the car. This is because they're typically 'loose'; there's rarely anything holding them in place. They might fall or move, or they might have bags leaning or falling onto them, all of which can put undue pressure on delicate components.
What's more, bikes on the outside of the car can leave more room inside, meaning if you're going away in a big group, more people can travel in fewer cars, swinging the cost balance the other way. Fuel prices have rocketed in recent months, so the fewer cars you can take on your road trip, the cheaper it will be. 
The cleanliness of your car's interior might also be the motivator for keeping your bike out. I'm not sure why, but cream-coloured interiors exist, seemingly most often on fancy expensive cars. The arch nemesis of your cream interior is a dirty chainring, and if you're an owner of the former who's prone to the latter, you might prefer to keep the bike out.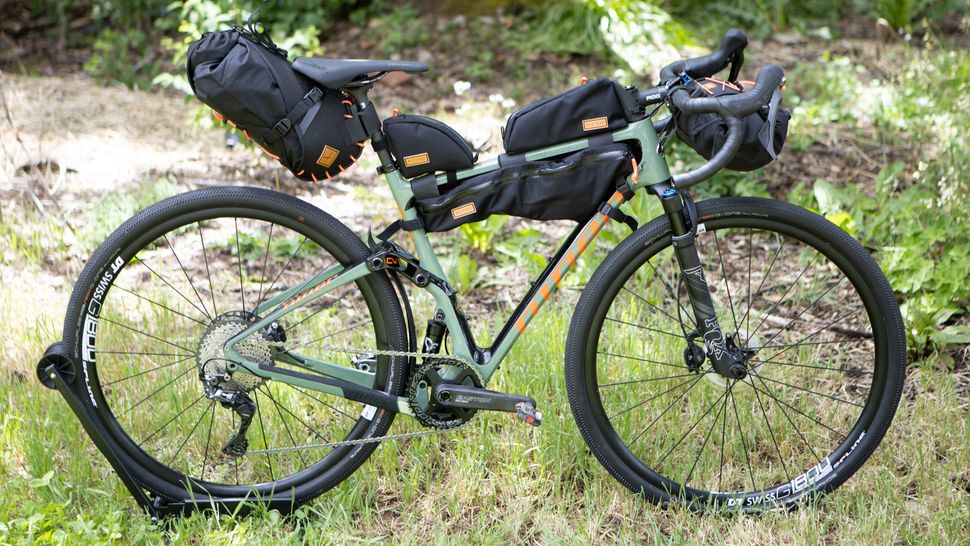 Ride there
Some of you will immediately write this off as a terrible – even impossible – idea. If you're planning on getting from the north of England to Mallorca, from New Jersey to Colorado, or Perth to the Gold Coast, then I'll admit it's a stupid idea. But to a select few, the two words above could spark the beginnings of an adventure. I'm not necessarily talking adventures to the level found in this Rough Stuff book, but an adventure nonetheless. 
If your destination is a rideable distance and the duration of your stay isn't going to be hampered by arriving late, then riding there could save you money and hassle, while giving you a huge mental boost. Sure, it may be that your partner still takes the car with the kids and the dogs, but at least you don't have to buy a bike rack, worry about damaging your paintwork, or suffer the aerodynamic drag to your MPG. 
Perhaps there is no partner and kids, and instead of driving somewhere to enjoy a cycling holiday, the journey becomes the holiday. Maybe the destination becomes the midpoint of a there-and-back trip. 
It's not foolproof and it's not for everyone, but for some, travelling with your bike could be replaced with travelling on your bike.