Not since World War II has Cuban guitarist Pepe Roman's moving number Llévame donde nací ever been so relevant. Once a rallying cry for Gibraltarian communities spread across the globe, the song – a literal translation of 'Take me to where I was born' – was given a new lease of life as the planet went into lockdown and many nationals, including myself, chose to return home. Today, Gibraltar's exemplary vaccine rollout has secured its place on the UK's green list and triggered fresh interest in the British Overseas Territory, so I'm thrilled to be writing about the rocky peninsula I call home.
The Queen once said Gibraltar had long been famous for three things – 'for its inviolable strength as a fortress, for the loyalty of its people and for the important strategic part it has played on so many different occasions.' But life on the Rock is about more than politics or the 'Brits abroad' image often associated with it.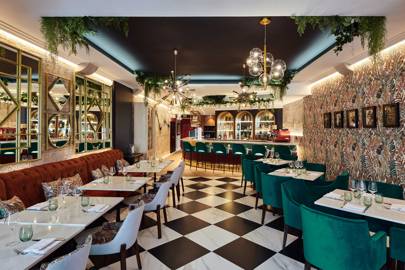 Things to do in Gibraltar

THE BEST RESTAURANTS AND BARS IN GIBRALTAR
Within its city walls, Gibraltar's heritage is showcased in the old town, which features a melange of architectural styles shaped by its Moorish, Spanish and British rulers. Nowadays, it's characterised by a bicultural lifestyle. Here, Llanitos (colloquial for Gibraltarian and the local vernacular) start with churros at the Piccadilly Garden Bar, followed by a light lunch at family-run Sacarello's coffee shop before wrapping up with dinner and a movie at the newly opened Queen's Picturehouse & Eatery in Casemates Vaults.
Dating back to 1817, the British-built bombproof barracks known as Grand Casemates Square (or simply Casemates to locals) has been converted into a hub lined with al-fresco cafés that now double as the entrypoint to town life. Around the corner, the old bastion of Chatham Counterguard – named after the Earl of Chatham, who was Governor from 1821 – has also been turned into a lively strip of open-air restaurants and wine bars. Head here for tapas at La Bodeguiya, a place favoured by locals, and drinks at MyWines, arguably the centre of Gibraltar's nightlife.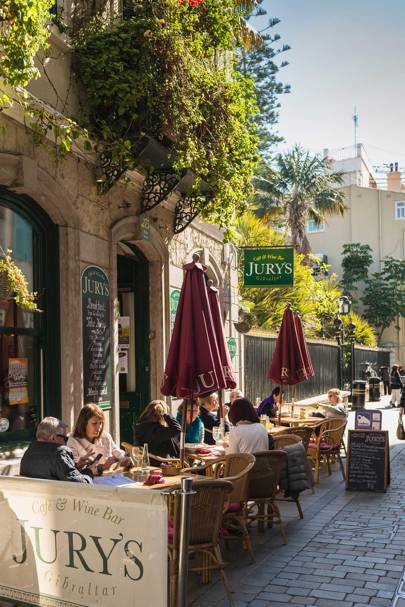 While the old town could be mistaken for that of a nearby Spanish town, Gibraltar also has three marinas. There's Ocean Village and Marina Bay, with the flashy nightclub, late-night casino and hotel of Sunborn, supposedly the world's first five-star superyacht hotel, and Queensway Quay – a more considered and relaxing spot where you can find Casa Pepe, a traditional restaurant offering Spanish classics such as berenjena con miel (thinly sliced fried aubergine drizzled with honey), croquetas de calamares en su tinta (squid croquettes with ink) and jamón serrano carved straight off the leg. It's worth noting that residents tend to order raciones, plates of a single food that are larger than tapas and meant to be shared.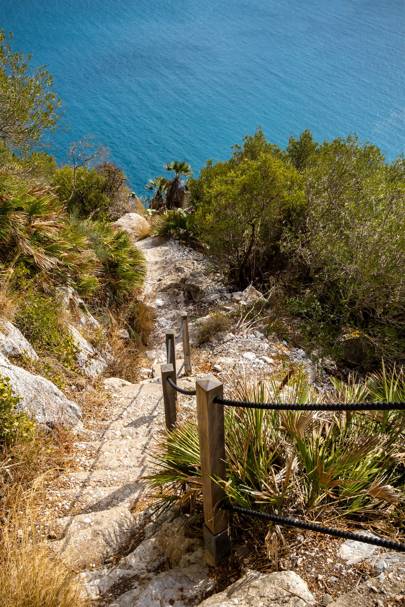 THE BEST GIBRALTAR BEACHES

We're meant to enjoy the little things in life – and Gibraltar's compact beaches won't let you forget it. On the Mediterranean side of the rock is Eastern beach, which is our largest, sandy stretch, the picturesque Sandy Bay and my personal favourite, Catalan Bay… During the 17th and 18th centuries, La Caleta, as it's known by locals, was populated by Genoese fishermen. Today, the families who live in the colourful village (Caleteños) are mostly descendants of the same fishermen, but the beach and its restaurants remain open to everyone. Head here for long seafood lunches at the unpretentious Seawave Bar, where highlights might include almejas al vino blanco (clams in white wine), pulpo a la Gallega (Galician-style octopus) and catches of the day – all to be washed down with every Llanito's favourite drink, a refreshing red-wine spritzer known as tinto de verano.
Of course, the 1,400ft Jurassic limestone promontory eventually blocks the sun, so the more seasoned beachgoers are known to hop their way over to Camp Bay – known as 'el Quari', Llanito for 'the quarry' – a small, rocky sweep with a lido facing the Atlantic. Stay here for spectacular sunsets paired with paella and live music at the boisterous Dolphin restaurant and beach bar.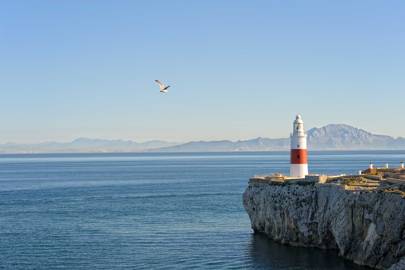 THE GIBRALTAR LANDMARKS TO SEE

Needless to say, some of the more obvious attractions are definitely worth checking out. The famous Barbary macaques are a thrill; the Moorish Castle is legendary (vexillophiles might be keen to know it features on our flag); St Michael's Cave is an unmatched speleological experience, and hikes through the Gibraltar Nature Reserve are a highlight that make LA's Runyon Canyon look like a molehill. Just be sure to pack SPF and sunglasses and download the Gibraltar Upper Rock Paths app (available on iPhone and Android platforms) to plan your route beforehand.
GIBRALTAR LANGUAGE
Interestingly, the territory's heritage of Spanish and British rulers has not only influenced local buildings and food, but also its speech. On arrival, you'll soon be struck by local conversations that include a mix of languages in the same sentence. It's worth noting that Spanish was principally used before English became the official language that is taught in schools. So, while the autochthonous population pronounced new words as heard or read, a new dialect formed. Not only was this reflected in the language of the classroom (for example, tishe for 'teacher'), but it extended to the playground too (meblis for 'marbles'). However, phrase books are not required because most if not all locals can and will speak English nowadays.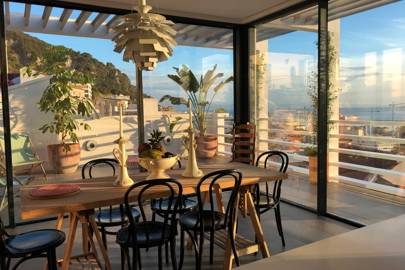 WHERE TO STAY
The Sunborn

The seven-deck Sunborn yacht hotel is permanently moored at Ocean Village, a bustling complex of bars and restaurants. It's also within walking distance of the town and a short taxi ride from the airport. Granted, the Hollywood-style red carpet and cruise-liner interior are less subtle and more glitz and glamour, but the location can't be beaten.
Address: The Sunborn, 35 Ocean Village Promenade, GX11 1AA, Gibraltar
Book your stay
Octopus House

For a more authentically Llanito experience, Octopus House is situated in the Upper Town area. With uninterrupted views towards Morocco and Spain, this sought-after townhouse enables you to live like a well-heeled local.
Address: Octopus House, Upper Town Area, GX11 1AA, Gibraltar
Book your stay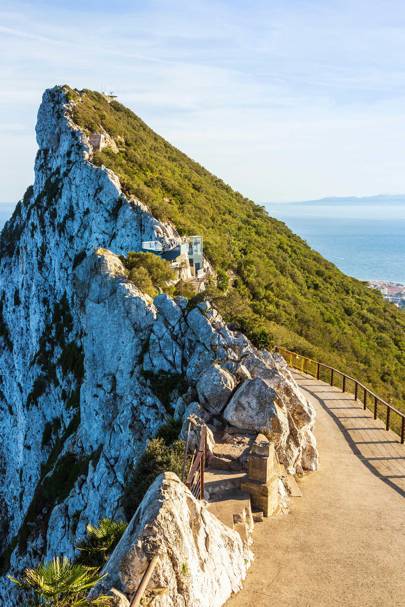 Gibraltar entry requirements
The country is currently on the UK's green list, but there are different requirements depending on which other countries on Gibraltar's own list of green, amber and red destinations you've arrived from – check the list at visitgibraltar.gi before travelling. If you're coming from a green-list country, you do not need to provide evidence of vaccination or self-isolate, but you are required to take a Covid-19 lateral-flow test 24 hours before arrival. And for stays of more than seven days, a second test must be taken on day five. If you're arriving from an amber or red list country and are vaccinated, a Covid-19 lateral-flow rapid test must be booked in advance of arrival (PCR tests are mandatory for unvaccinated travellers), while those who have not been fully vaccinated need to self-isolate in a hotel or private accomodation on arrival for 10 days (you must take a PCR test on the day of arrival and day 10). Passenger locator forms are also compulsory for all visitors.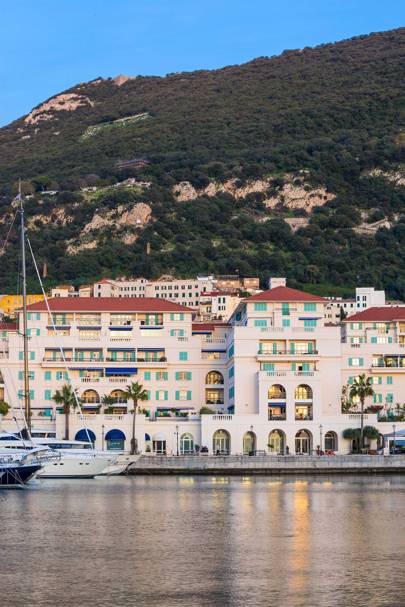 Gibraltar weather

Visit between May and October for warm temperatures and minimal rainfall. Party-loving sun worshippers should put 10 September in their calendars: Gibraltar National Day sees pretty much every local and visitor dressed in the flag's colours for musical performances, fireworks and street parties.
GETTING AROUND
EBike Gibraltar, Ocean Village: whether booking a private tour or rental, e-bikes are an eco-friendly way to get around town.
In2Adventures, Sandy Bay: from hydrofoiling to stand-up paddleboarding, there are plenty of water adventures to sign up for around the Rock.
HOW TO GET HERE
Regular services to Gibraltar operate from the following destinations:
London City Airport, UK, with BA CityFlyer
London Heathrow, UK, with British Airways
London Gatwick, UK, with EasyJet
London Luton, UK, with Wizz Air
Manchester, UK, with EasyJet
Bristol, UK, with EasyJet
Birmingham, UK, with Eastern Airways
Southampton, UK, with Eastern Airways
Edinburgh, Scotland, UK, with EasyJet
Like this? Now read:
The 10 best places to visit in Europe in 2021
The best beaches in Europe for 2021