Any trip that includes a combination of natural and architectural beauty, cultural and historical richness, and five-star accommodation is likely to be a success. And few trips could include a more delicious mix of those essential ingredients than one that takes in three of Switzerland's most remarkable cities – Lausanne, Bern and Lucerne – with stays in each destination at hotels belonging to the Bürgenstock Selection, all of which have recently emerged from a one-billion-Swiss-franc programme of renovation and expansion.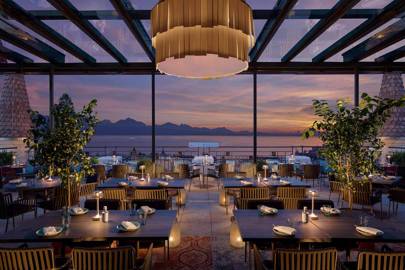 Lausanne
The city of Lausanne, on the northern shore of Lac Léman barely an hour from Geneva, cascades as gracefully as a Champagne tower from the soaring Gothic cathedral at its top, down terraced hillsides to the mansions, parks and gardens at the water's edge. Belle Epoque paddle steamers come and go, making their leisurely circuits of the lake. A cruise aboard one of these charming vessels, perhaps to Château de Chillon, made famous by Lord Byron, is a quintessential Swiss experience not to be missed.
It is difficult to imagine a more elegant lakeside city than this one. Yet far from being stuck in the past, Lausanne has a vibrant, youthful air – thanks in part to its university and highly regarded hospitality school. It also has a thriving cultural scene, much of it concentrated in the newly developed Flon and Platforme 10 arts districts. The hugely popular Olympic Museum is another reminder of the city's role as the headquarters of the International Olympic Committee, shaping the future of the games and global sport at large.
The Royal Savoy Hotel and Spa Lausanne embodies these qualities, combining respect for tradition with dynamic innovation. A landmark since 1909, it retains its original character – the façade is a classic of Art Nouveau hotel design – yet it is also in tune with the tastes and expectations of today's travellers. The Royal Savoy's interiors have been sensitively updated with contemporary flair, not only in its sleekly decorated rooms but also in its much-admired Brasserie du Royal, seasonal Sky Lounge rooftop bar and restaurant (perfect for discovering the joys of Swiss wine), and state-of-the-art spa and wellness facilities.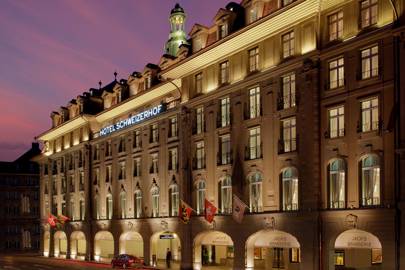 Bern

Heading north-east from Lausanne, you will arrive in little over an hour at Bern, the seat of Switzerland's national government and a perfect jewel of a medieval city entirely deserving of its UNESCO World Heritage listing. Its setting is rather different from the lakeside one you have just left, though no less spectacular. Bern's geography is unusual – it is as if the city has been caught in a cowboy's lasso, tightly encircled within a loop of the River Aare. And if you fancy you can hear a faint ticking, you are not going mad: it is probably coming across the valleys from the nearby Jura, the centre of the Swiss watchmaking industry.
This unique combination of natural and man-made features makes Bern a place of rare enchantment. Its Old Town is a picturesque maze of covered arcades and cobbled streets – and no fewer than 100 fountains. It also contains two of Switzerland's most important art galleries: the Bern Art Museum and the Paul Klee Centre, with its matchless collection of works by the master.
The Hotel Schweizerhof Bern and Spa is another of the city's treasures, having played a central role in local life since it opened in 1859. Its glamour remains as potent as ever – from the vastness of its ballroom to the intimacy of its cigar lounge and the fin-de-siècle style of Jack's Brasserie, which most Bernese agree serves the best Wienerschnitzel in town, and some say in all Switzerland.
As is typical of the Bürgenstock Selection, however, the property has been brought into the 21st century with subtlety and imagination. Its exceptional city spa, for instance, combines the serenity of a Zen garden with the wow factor of a modern art installation.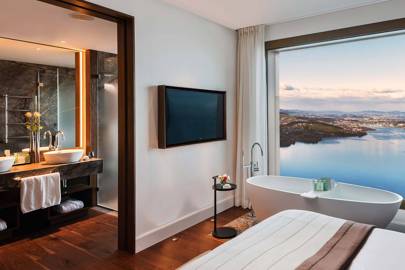 Lucerne

Continue your journey eastwards for another hour to Lucerne, in the heart of Switzerland. Against a backdrop of mountains and the lake that shares its name, the city has a fairy-tale quality, with its colourful buildings, spires, turrets and ancient fortifications, and the extraordinary Chapel Bridge. This 14th-century covered wooden bridge over the River Reuss – so delicate looking and yet so enduring – defies easy description. It must be seen to be believed.
Lucerne's concert hall and summer music festival are world famous. Equally impressive, if less widely known, is the Rosengart Collection of fine art, lovingly assembled by the late Swiss art dealer Siegfried Rosengart and his daughter Angela. It is noted for its many late works by Picasso, with whom the Rosengarts were close friends. Yet it is impossible to be in Lucerne, surrounded by so much natural beauty, and remain indoors for long. Mount Pilatus looms over the city and can be reached by the world's steepest cogwheel railway.
The Bürgenstock Resort – which also has astonishing views of the lake and mountains – is the perfect base for such expeditions. The only question is exactly which part of this multifaceted resort you will choose to make your own. The Bürgenstock Selection's flagship property comprises not one but four hotels, the earliest dating from 1903, and which between them contain 10 restaurants and bars, and two spas – with one of them, the award-winning Alpine Spa, extending over 10,000 square metres.
The Bürgenstock Resort encompasses the best of traditional Swiss hospitality and contemporary style. Audrey Hepburn liked it so much she not only got married there but stayed for years. Should you feel the same way, you are in luck. In 2021, the resort's 67 impeccably designed and chicly decorated Residence Suites and Lakeview Villas will be available to buy.
Like this? Now read: