Despite traveling to over a dozen countries and spending countless hours on buses and trains and in airports and big cities, Sara Dickey still considers herself a country girl at heart.
Already going through workouts to get in shape for her next professional basketball stint this winter in Egypt, she was comfortably barefooted as we sat down to talk about her latest adventure: a 75-day, 4,200 mile bike trek across America that she undertook this summer to, as she says, "…fill my time and teach me something."
Now 26, the former Evansville Aces star started playing professionally in 2017, spending two seasons in Portugal, one in the Czech Republic, and last year's in Romania. She's particularly excited about playing in Egypt this winter because "There's no snow there." But she was also quick to point out that she was glad to be home now too, home being a southwestern Parke County farmhouse surrounded by a sea of steamy green cornfields.
Yet, despite a grueling schedule that keeps her busy from September to May, Dickey decided during some down time last summer to pursue the bike trip. "I was supposed to be in Australia playing basketball, but that was obviously wiped out [due to the COVID outbreak], and I know it sounds funny, but I was at home one day watching 'Forrest Gump,' and it really inspired me. I'm not a runner, but I began watching videos and researching bike trips to learn what I needed to do."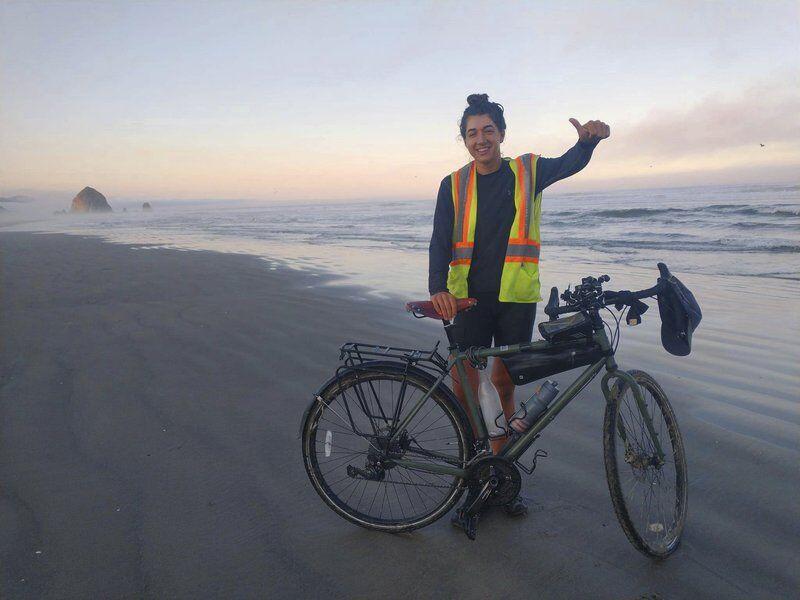 What she did was to take a leap of faith, finding an online ad for the "Adventure Cycling Association," then joining six total strangers for an odyssey that took her from the Atlantic Coast in Yorktown, Virginia, to the Pacific Ocean in Astoria, Oregon. "I didn't know anybody, although we did have online meetings to get organized," she said. And, one of the first things she had to do was to buy a bicycle, which she did locally at Crossroads Cyclery in Terre Haute — a Kona touring bike — as well as a storage bag, a three-season tent, a sleeping bag, and camping gear. It was all mostly a new experience for her.
"We were all in our 20s, except one man who was in his 50s, and I guess we shared a sense of adventure. People would join us for a leg of the trip, and we might lose someone for a while, but they'd catch up, or we'd catch up to them. But, for the most part, we had that seven," Dickey says.
Surprisingly, Sara thought that the toughest leg of the journey for her came at its beginning, not long after they got underway on May 27. "The hardest part was in Virginia. It was really hot and we were just getting started. We really had to push ourselves, and it was very hilly, and I was just adjusting myself to what I had to do. My gear and bike weighed about 76 pounds, and we also rode into a lot of rain, and it seemed as if it was always coming right at us. I never wanted to walk, but I did some then."
But as the group peddled westward, Dickey says that falling into a routine and getting more in biking condition helped her. "We averaged about 60-70 miles a day on a typical day. That usually depended on where towns were and how far we had to go, and, of course, the weather. I was usually up between 5:30 and 6 in the morning, and we mostly slept outside. Toward the end, we didn't really bother to even set up a tent. I sure ate a lot of beans and tortillas, but we began to eat in restaurants a little more as we went," she added.
Although the bikers in her group took the trip at different paces, Dickey tended to team up a with a new friend — a "city girl" from New York named Audrey Love, and the two experienced a "cultural exchange" that helped their days go faster.
"We saw mostly small-town America, and we visited mom-and-pop grocery stores and ate in small cafes," Sara says. "The whole way there we met tons of people who just wanted to help us. They gave us water, and some people even paid for our food. The whole way, we had people asking us what they could do for us. I learned a lot about kindness and generosity, and it was random and without expecting anything in return. Honestly, that doesn't happen often when I'm overseas. I am living there, but on this trip, I was just passing through."
With too many special moments to count, Sara did say her favorite state to bike through proved to be Idaho. "It has a combination of scenery and great people; I guess I was just happiest there." Yet, her best single memory came at Jenny Lake in the Grand Tetons of Wyoming. "We had the best camping spot when we were there."
The worst experience, besides the wilting heat of Missouri and Kansas, came in Wyoming, too. "One day there, it was so windy that we had to peddle downhill just to move three miles an hour. I might have shed a tear that day. I will take the steepest hills over wind any day. Audrey and I were trying to catch up with the group, and we ended sleeping that night behind a bar near a dumpster."
Sara said that despite being on the road and outside every day, she never really felt frightened, apprehensive only as they rode through grizzly bear country. She was not sick a single day, grew to enjoy sleeping on picnic table tops, experienced only two flat tires and one gear shifter issue, and was never hurt. "It was really more of a mental challenge than a physical one," she said. "I knew I could go 70 miles, and it taught me to be tougher. We rested when we felt we needed it, including two days when we did back-to-back 100-mile rides with the wind in our faces."
"I just really enjoyed the evenings," she said. "We would either sit and talk, or maybe go sit in a restaurant and eat. We tried to get to sleep by 9:30 or 10 each night, and we usually didn't even have a campfire. But the stars were usually pretty remarkable."
Dickey says she'll not rule out another trip similar to the one she just completed. "I would do it again, but probably take a different route, perhaps along the Canadian border, or a shorter route through southern Colorado. But it's always kind of refreshing to be home a bit. It's a good time to reset and get ready for my next adventure."
You can contact Mike Lunsford at hickory913@gmail.com; his website is at www.mikelunsford.com. Mike's books are available in many Terre Haute area stores, and on Amazon.