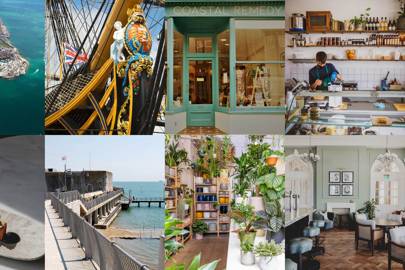 5. Discover Portsmouth's historic dockyard
One of the city's biggest attractions is the Portsmouth Historic Dockyard, home to not one but three famous ships: The Mary Rose, HMS Victory and HMS Warrior. First, there's the Mary Rose Museum, a time capsule of Tudor life with some 19,000 artefacts recovered from the seabed on display alongside the great warship herself (Henry VIII's favourite, it served in his fleet for 34 years) which can be viewed from nine galleries. HMS Victory – best known for her role in the Battle of Trafalgar – has a new under hull walkway so visitors can view the ship from the dry dock below while all areas of the HMS Warrior, from the jetty to the boiler room have been re-imagined to transport visitors back in time to 1863.
6. Visit designer-maker studios
Inspired by the art sales that took place under the arches at Point Battery – part of the city's fortifications against invasion – during the 1950s, Hotwalls Studios opened five years ago and now comprises 13 artists and designer-maker spaces. Creatives include jeweller Laure Bennett, who works with precious metals; artist James Mouland who specialises in the Turkish art of marbling; and textiles artist Alice Hume who makes macramé potholders and boho hand-woven wall hangings. If you're feeling peckish after browsing, drop into deli-style waterfront eatery The Canteen for all-day breakfast, cheese scone or a slice of carrot cake. Note: opening hours of individual studios vary.
Address: Point Battery and Barracks, Broad Street, Old Portsmouth, PO1 2FS
Telephone: no telephone
Website: hotwallsstudios.co.uk