NEIGHBOURHOOD HIT
'Anti-mall' shopping hub Bamboo Lifestyle Centre is dedicated to supporting the local community, serving as both hangout and workshop, without a chain in sight. Downstairs, Kate Rogan's Love Books store sells international fiction and nonfiction as well as a selection of regional authors, while Convoy, a collaboration between six designers, stocks contemporary, mostly women-owned clothing and accessory brands. On the first floor is couple-run jewellery studio Tinsel Gallery and exhibition space Upstairs @Bamboo, plus a café plating up beef-brisket rolls.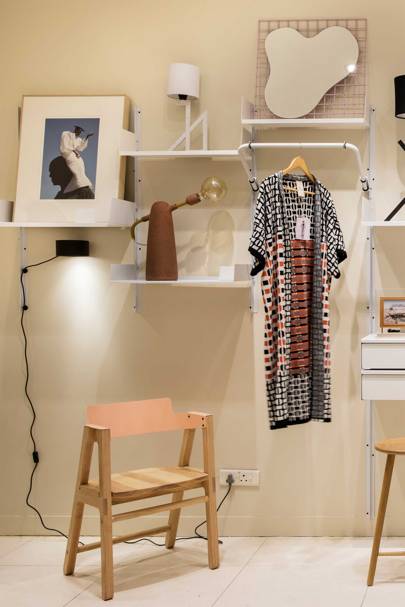 SLICK HOMEWARE

Award-winning duo Greg Gamble and Philippe van der Merwe champion smart custom furniture and emerging artists at Tonic Design. Expressionist paintings by Lucy Jane Turpin and steel sculptures from Michele Mathison are positioned above solid-marble coffee tables, lacquered servers and brushed-stainless-steel and bouclé armchairs. To the north in the affluent Hyde Park area, Always Welcome is a cooperative of South African-designed homeware names. Highlights include Mash T's woven lampshades and The Urbanative's colourful, Ndebele-inspired steel trays.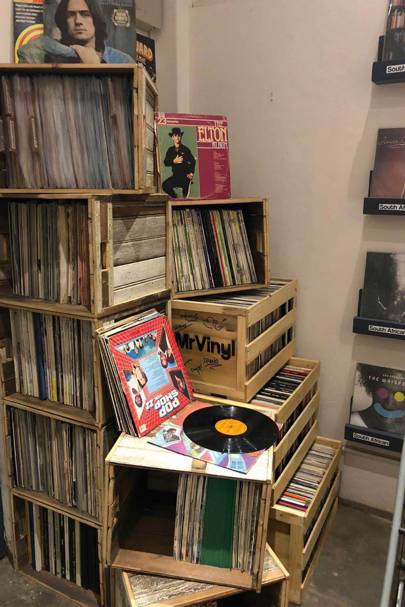 VINTAGE TRACKS

A treasure trove for music lovers, Mr Vinyl has records and mix tapes of all genres and decades from around the world. There are turntables, album artworks, benches piled with recommendations and rows of wooden crates stuffed with pre-owned LPs. The store also hosts test pressings, listening sessions, new launches and live sets from Jo'burg bands Blk Jks and Johnny Cradle, DJ Abby Nurock and owner Bret Dugmore. Sharing the courtyard off Sunnyside's Stanley Avenue is fair-trade coffee shop Bean There and menswear label Odrin.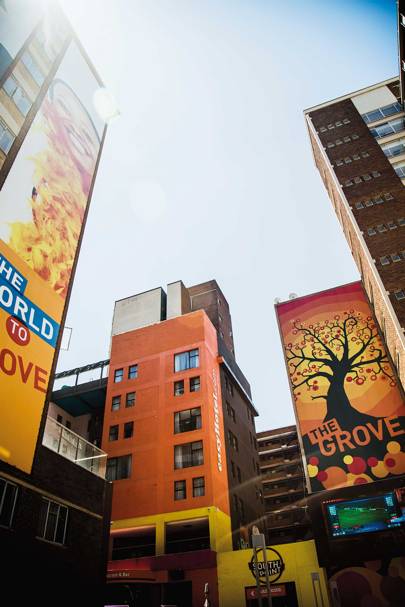 ALL-IN-ONE CONCEPT

Former magazine editor Tiaan Nagel's eponymous boutique in Hyde Park Corner is impressively curated. Alongside Tonic furniture, antiques and art are unisex perfumes by Apartment – designed, developed and produced in the city – coffee- table titles and Rorke's Drift pottery. Then there's Nagel's clothing; trapeze dresses, balloon-sleeve tux jackets and long-line coats, exquisitely tailored and made for layering, in chic greys and neutrals with the occasional hit of yellow and peach.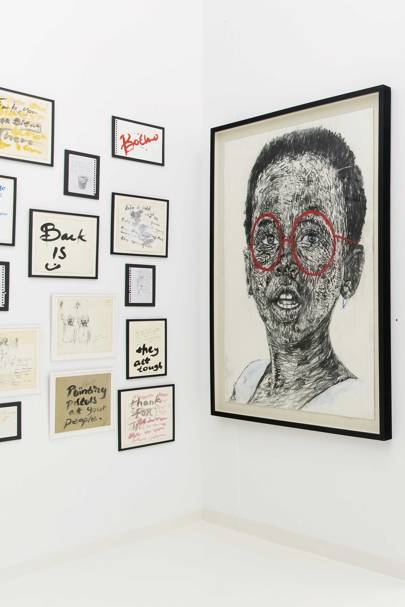 GALLERY FINDS

New artist-run multi-purpose studio Botho Project Space in the industrial Selby suburb aims to keep its remit as agile as possible to help creatives navigate the industry. Its name, which means 'humanity' in Setswana, reflects this people-centred approach. Visits are by appointment only and works range from watercolour line drawings to vivid, large-scale charcoal portraits, with events taking place in the evenings.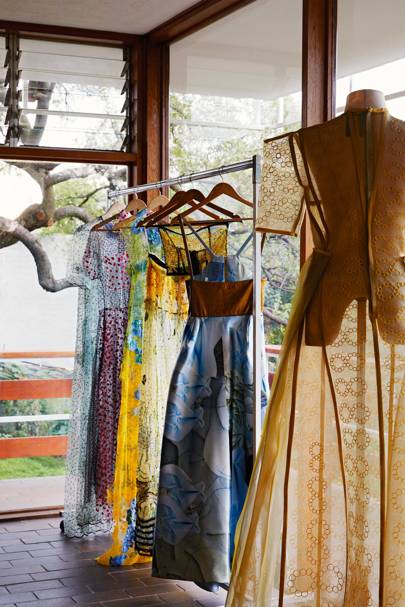 SLOW FASHION

Set inside the striking, mid-century Lotus House in Westcliff is sustainably focused Viviers Studio. Garments are hand-cut from deadstock fabric and unexpected textiles – vintage acetate, ruched pleather, embroidered silks–to minimise waste. Each artisan involved in a piece signs their name on the label to promote transparency. North of the city in Midrand, Laduma Ngxokolo's knitwear draws on his Xhosa heritage. Family-run MaXhosa Africa sells men's and women's clothes in bold prints and patterns, celebrating traditional craft such as beadwork. Laduma owns the production site to maintain authenticity, and his designs have been showcased at New York's MoMA.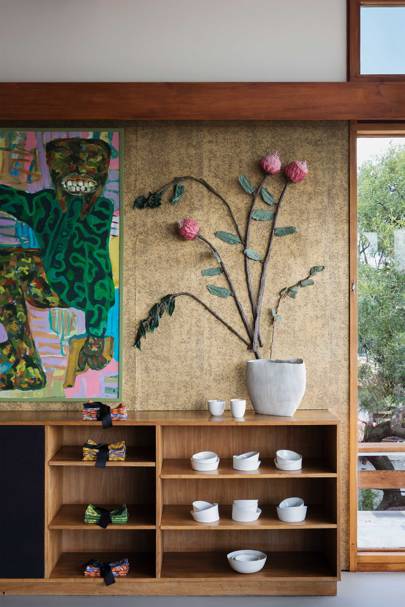 INTERESTING TITLES

Bookshop, café and reference library The Commune opened as a not-for-profit. The stock reflects its progressive philosophy, so expect radical reads covering revolutionary politics, the environment, queer theory and disability studies, plus rare and signed editions. The organisation aims to promote social change through talks and screenings, and hosts launches for authors such as Aaron Kamugisha.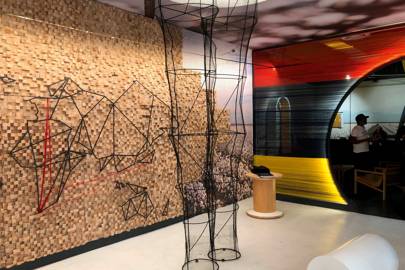 DENIM DESIGN

Tshepo Jeans gained international fame after being visited by Meghan Markle in 2019, and has since collaborated with South African football club Orlando Pirates. The independent denim label has a flagship in Hyde Park Corner, but the heart of the brand is its atelier in arty Victoria Yards. Founder Tshepo Mohlala, known as the Jean Maker, creates his signature indigo line, along with block-colour jackets, washed dungarees, aprons and logo T-shirts, using Zimbabwean cotton.
HOLISTIC BEAUTY
In the Cobbles Centre on Parkhurst's main strip is Goodleaf, which was the country's first CBD-focused wellness store when it opened two years ago after regulations over the sale of CBD were relaxed. Lab-tested skincare products include the bestselling facial Glow Serum and Hand Cream. In addition to the beauty range there are drinks, powder sachets and vapes displayed in whitewashed apothecary-style cabinets.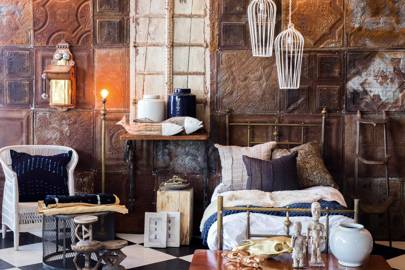 AFRICAN CRAFT

The vast collection of artefacts at Amatuli is organised across three floors and requires a substantial amount of time to walk through. There are Yoruba beaded chairs from Nigeria, Zambian woven baskets, Zimbabwean stone sculptures and Ghanaian masks. Staff reel off details about where each piece is from and how to take care of it, and help sift through the many collectibles (don't miss trinkets such as the carved dolls).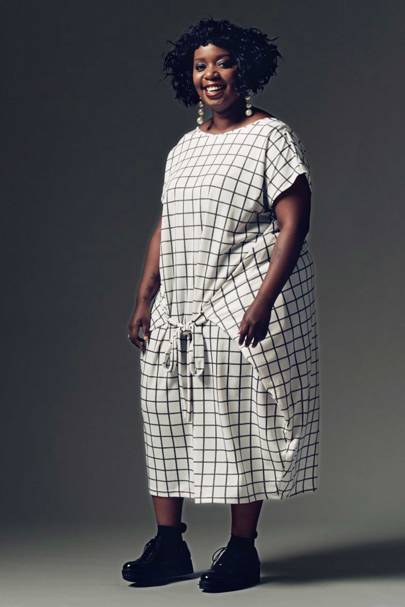 LOCAL KNOW-HOW
Anisa Mpungwe, Founder of The Loin Cloth and Ashes label
'After a long week I love relaxing at rooftop bar The Living Room Jozi in the city centre. Head here for sundowner cocktails and take in the view.'
'Wellness retreat Zau Spa has such character. I am a big spa girl and usually go for a full day to treat myself.'
'I like shopping for brands that have multiple stories to tell. Africa Rise Store, to the south of Fashion District, houses so many design talents.'
'Nirox Sculpture Park is on the outskirts of Johannesburg so I enjoy the road trip to get there. Going for long walks or seeing a live performance is just magical.'
Like this? Now read:
Johannesburg: shape-shifting city
The coolest places in South Africa right now, according to the next generation of creatives