Finding favour as a saltwater healing sojourn in the 1700s and later decreed a decadents' playground due to the Prince Regent's infamous Royal Pavilion parties, Brighton has long been a destination for carefree cavorting. Widely regarded as the gay capital of the UK, it is renowned for its liberal attitudes, weekend-away sauciness and sizeable LGBTQ+ population. And it remains a sanctuary for many – queer or otherwise – who move to the city to find freedom. Alongside its candyfloss, kiss-me-quick and Carry On past – 1971's Carry On at Your Convenience was partly filmed at the long-gone Clarges Hotel – Brighton established itself as a hotspot of LGBTQ+ activism, hosting some of the UK's first Gay Pride demonstrations and vocal anti-Section 28 marches.
Many a theatrical type has succumbed to the city's lure, including Oscar Wilde and Laurence Olivier. Pop pin-up Harry Styles and Hollywood heavyweight Rupert Everett recently filmed scenes for the forthcoming bisexual picture My Policeman here. And gay-disco favourites ABBA found international fame by winning Eurovision with 'Waterloo' at the Brighton Dome in 1974. Brighton and Hove has come far in the past 20 years – perhaps hurried along by gaining city status in 2000 – and is now seemingly more eager than ever to live up to its London-by-the-Sea label. Smart restaurants, drinking dens and places to stay open with regularity. Building work is currently underway on Soho House Brighton, due to open in late 2021.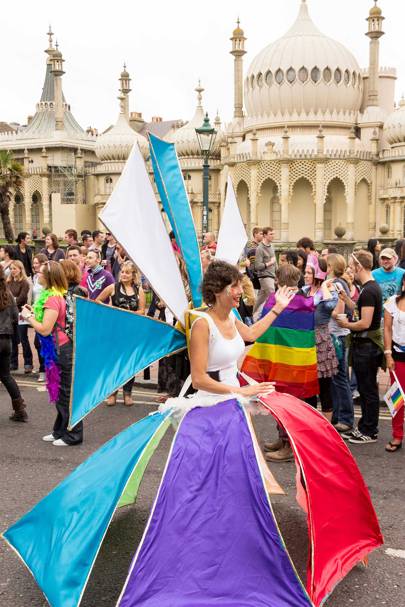 THE QUEER QUARTER
Brighton's gay village is anchored around Kemptown's St James's Street, but in reality the entire city is such. You'd be hard-pressed to find a more LGBTQ+-friendly place, with many venues gay-owned, run or staffed. St James's Street runs parallel to the Kemptown seafront. It's in this area where you'll find the majority of the queer bars and pubs, including on-trend Charles Street Tap, pop-tastic Revenge bar and club, with its newly opened rainbowed rooftop and young crowd, the Amsterdam Bar with its sea-facing terrace, the glittery Queens Arms, karaoke-keen Bulldog and newbie Lé Village. Notable is sleek cocktail favourite Affinity Bar, co-owned by police-officer-turned-bow-tied-publican Mike Gallagher, which draws a friendly mix of people and has a penchant for quality spirits, as well as drag cabaret.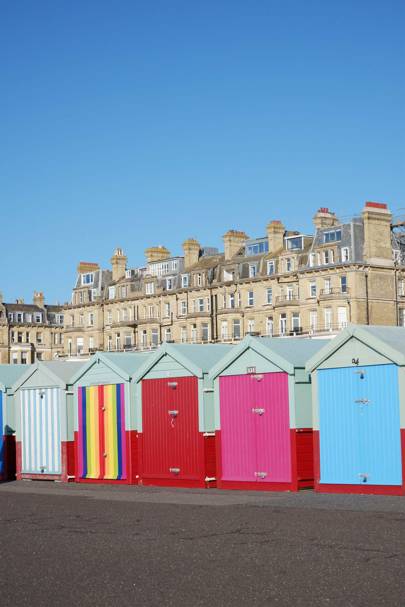 The neighbourhood is also the base of the city's official LGBTQ+ information centre The Rainbow Hub. Plus a fantastic new LGBTQ+ café, cinema and gallery space, The Ledward Centre, opened here earlier in 2021. It's a testament to Brighton's gay-friendliness that the venues opposite its Grade I-listed pier are firmly out and proud and prominently positioned. And there's more just along the coast in Hove, such as the cosy Bedford Tavern, snug drag spot The Grosvenor (cue Sondheim and sequins) and lesbian-oriented Velvet Jacks.
WHERE TO EAT AND DRINK
Plateau

Opposite Brighton's majestic town hall, Plateau is a buzzing small-plates wonder with an ever-changing menu of curated creations, one of the best wine lists in the city and a mixtape of beats to match. Each dish uses fresh, seasonal and sustainable high-quality produce. The barbecue grey mullet with smoked mussels is one to savour. As are the large stained-glass windows when the sun shines.

Amarillo

Set in the seafront Drakes hotel, Amarillo's Michelin-star-securing chef Ian Swainson conjures up a seductive six-course tasting menu in stunning, neutral-colour surroundings. The focus here is on seasonal, top-grade ingredients and canny combinations. At the time of writing, must-orders are the roasted lamb loin with peas and burrata and the oyster panna cotta with caviar.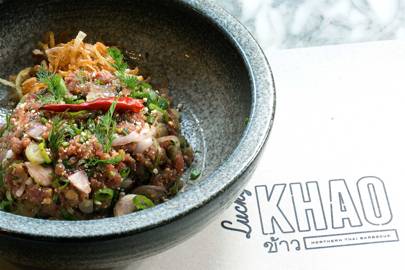 Lucky Khao
The pink neon sign at the foot of the gay village is where you'll find this northern Thai barbecue joint from the eco-conscious and design-led Kemptown Project group, headed up by Mike Palmer. It cooks coal-fired food with authentic flair via its Bangkok-trained team of chefs. The recently zhuzhed, Manhattan-loft-like interior is offset by a microhouse playlist. One go-to dish is the vegan white-corn ribs with coconut cream and prik larb.

The Camelford Arms

Seconds from the sea and serving up exceedingly generous pub-grub comfort food, the Camelford Arms is a bare-brick, double-fireplaced LGBTQ+ joint with a long bar and friendly vibe, plus a quirky Moroccan-inspired nook at the rear. Expect a fun, over-30, mixed-but-mainly-gay-male crowd.

NIGHTLIFE
Legends

A sun-trap bar with a large, sea-view terrace, Legends has colourful murals of gay icons including Marlene Dietrich, Elizabeth Taylor and Joan Crawford, and plays pop-dance remixes to an up-for-it crowd in its basement club after dark. Friday and Saturdays are, unsurprisingly, the busy nights, thanks to local DJs Peter Castle and Claire Fuller.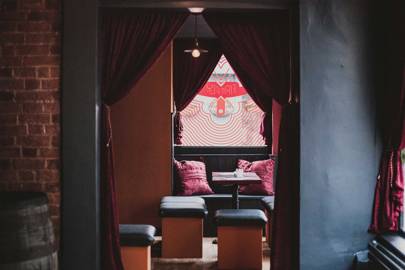 The Bronze
The Art Deco-inspired new kid on the block, The Bronze is Connor Stanford's whisky-focused, artisan-beer-filled, velvet-draped queer venue. The latest, intersex-inclusive Pride flag will soon adorn the exterior, proclaiming the everyone-welcome mantra. Jazz nights mix with regular friends-and-food evenings via Slow and Low Smokehouse's fire-cooked small plates.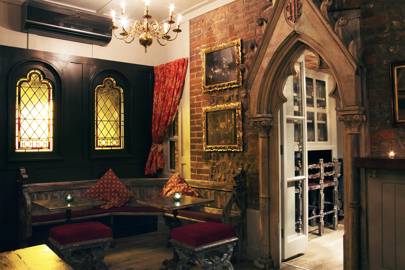 The Plotting Parlour
This atmospheric, Gothic-dream speakeasy-style cocktail bar is neatly placed in a side street near the entrance to the Gay Village. Assistant manager Diego Vaqero says the bar's focus is firmly on the customer and the bespoke cocktails created in-house, including the chocolate-covered-glass Tumi 12 (with pisco and mezcal) and Flight of the Buffalo, which showcases the ageing process of bourbon. The best seats are the vintage cinema chairs at the back. Sister venue Daddy Long Legs is further into Kemptown, adjacent to the beautiful Thomas Cubitt-designed Sussex Square. Named after inventor Magnus Volk's long-derelict in-sea electric railway, it serves winner Sunday roasts and innovative tapas-style dishes.
Polyglamorous

In the run-up to a Polyglamorous event, it's the queer party on everybody's lips. The night evokes a Studio 54, anything-goes approach to clubbing. If you possess a pair of gold lamé hotpants, eyeliner and a penchant for creativity, you'll fit right in with the no-attitude, mixed-age crowd where individual expression is key.
WHAT TO SEE
LGBTQ+ walking tour Piers and Queers

Gender-bending doctors, Regency dandies, drag kings and a host of fabulous fancies spring to life as this 90-minute, time-travelling guided tour immerses you in 200 years of Brighton's colourful LGBTQ+ history. Follow in the footsteps of the early Gay Liberation Front members, stand where some of the first legal civil partnerships took place and explore the often-forgotten stories of figures including author Aubrey Beardsley, early-20th-century trans man Colonel Barker and Anne Lister, known as the first modern lesbian.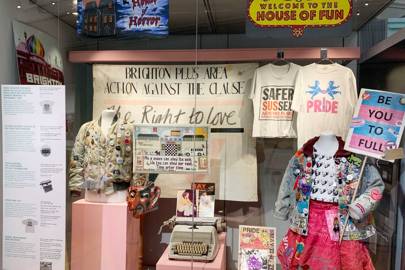 Brighton Museum's Queer the Pier exhibition
Brighton's beautiful museum, housed in the Pavilion's old stables, hosts an array of curated LGBTQ+ memorabilia inspired by the queer writers, artists, performers, activists and everyday people of the town's past. Highlights include the rusty Adler typewriter on which the godfather of gay journalism Peter Burton documented decades of queer history for Gay Times and clothing worn by artist and gender-fluidity trailblazer Gluck. Check out the Queer Looks exhibition too, which gathers together the outfits of LGBTQ+ identities from the 1960s to today.

Ironworks Studios

Just a short hop from the main station and bordering the famous North Laine quarter, Ironworks is the city's swanky new Brighton Pride-owned, 170-seater LGBTQ+ performance space and TV studios. It offers a frankly incredible programme of musicians, comedians, drag queens and poets alongside emerging theatre productions. A host of favourites are on the bill, including vocalist and Jay Brannan support artist Paul Diello, musical bingo Drag Prince Alfie Ordinary and singer-comedian Miss Hope Springs, who won Broadway World's Edinburgh Fringe Best Cabaret Award in 2019. All productions also support LGBTQ+ charities and community groups, including the Brighton Rainbow Fund, the Pride Community Foundation and Pride Cultural Development Fund.
WHERE TO STAY
Drakes of Brighton

Since opening in 2004 across two Georgian townhouses, Drakes has been a consistent favourite in town, conjuring Prince Regent-like living with views of the pier, in-room roll-top baths and fancy curved panelling and stucco cornicing. A short skip from the Gay Village, it's where Kylie stays when she's in town and from where actor Cate Blanchett live-streamed her Oscar acceptance speech in 2005.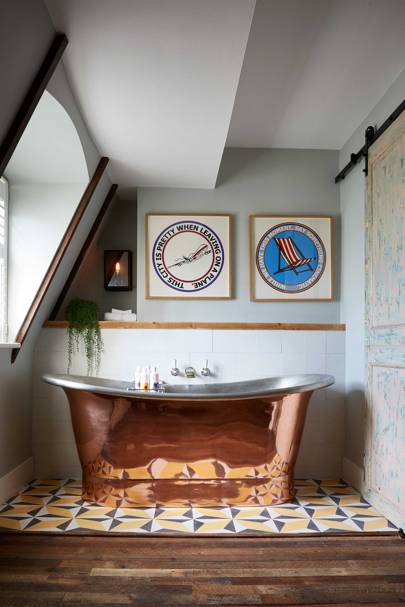 Artist Residence Brighton
Set in Regency Square with views of the derelict West Pier and the British Airways i360 tower, this hotel cleverly condenses the creative, bohemian and eccentric spirit of Brighton into its 24 rooms. It was the first project by founders Charlotte and Justin Salisbury, who have since taken their ethos around the country.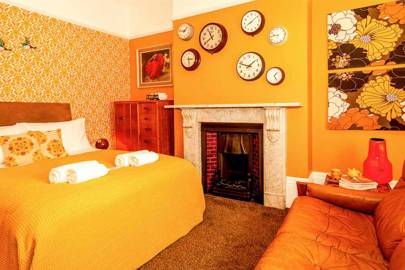 Snooze
A more affordable option, Snooze is a quirky stay about 10 minutes' walk from the Gay Village, with retro-styled rooms ranging from Seventies nostalgia to vintage grandeur. Its Brighton Bollywood room, for example, is a suitably sensory clash of bright colours and rich fabrics.

LGBTQ+ EVENTS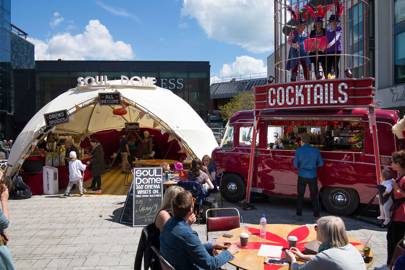 Brighton Fringe (May and June)
Almost every spot in the city becomes a venue for the largest open-access arts festival in England, with more than 1,000 events and a sparklingly large amount of LGBTQ+ content. Recent highlights have included Brighton's Drag Pageant contest – featuring RuPaul's Drag Race star Joe Black (a Brighton local) – country singer Tina C and comedian Simon David's Gaywatch.

Brighton Bear Weekend (July)


Brighton Bear Weekend focuses on our furry friends and their fans. Events include cabaret, garden picnics, a Mr Brighton Bear contest and an UnderBear night, where Y-fronts and hairy chests are king. Or queen.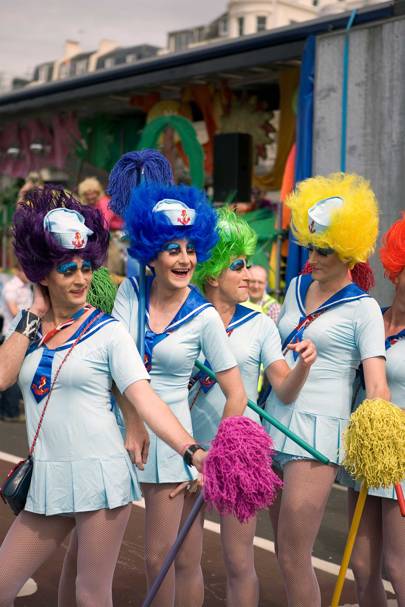 Trans Pride (July)
Now in its ninth year, Trans Pride is where the trans, intersex, gender variant and queer communities come together to celebrate unique histories and promote visibility. Trans activists adding prominence to the event include writer Juno Dawson, historian E-J Scott and children's author Sarah Savage. The seafront march is a colourful, banner-waving highlight.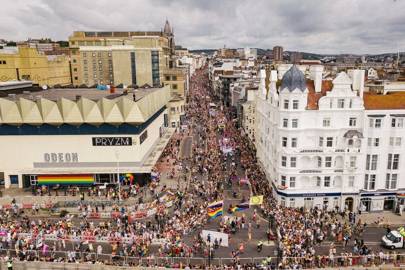 Brighton Pride (August)
The UK's biggest Pride event attracts more than 300,000 people to parade, party and perform. Recent headliners include Britney Spears, Kylie Minogue and Pet Shop Boys. Unmissable.
Like this? Now read:
An insider's LGBTQ+ guide to London
An LGBTQ+ guide to Manchester: The events, venues and areas to visit