In every destination there is always a disconnect between the tourist tea-shop version of the country and the lived reality of the place. Nowhere is this truer than in Cuba, where the postcard clichés are famous the world over – the vintage cars, the revolutionary iconography, the fabled cigars – but the reality is altogether wilder and more brilliant. This, after all, is a place they call Isla del Cocodrilo, an island of great spirit and unexplored depths. To understand this Cuba you need to understand the island's connection to rum, its national drink, and the bedrock of its uniquely welcoming hospitality.
For insights into a nation's character it makes sense to turn to its bartenders as they're the people privy to all the best secrets. As Cedric Diaz of Havana hotspot La Guarida puts it: 'Rum means unity. It means history. Every home must have a bottle of rum. Be it for the santos, be it for personal consumption, be it to be poured on food while cooking. Rum is part of anything and everything Cuban: the culture, the people, not just the locals but also those from other latitudes who feel themselves Cuban.'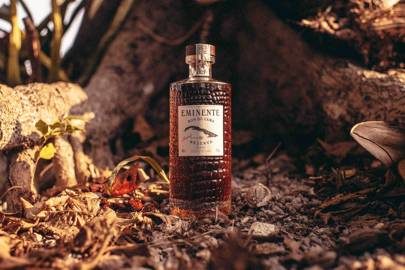 The latest rum to capture the soul of Cuba is Eminente, a spirit conjured from the island's wild interior with its sweet sugar canes and untainted landscape. It has been created by a native of this region, César Martí, the youngest Cuban maestro ronero (rum master), who grew up surrounded by canes 'as far as the eye could see' and learned his trade from the legendary rum-maker José Navarro Campa.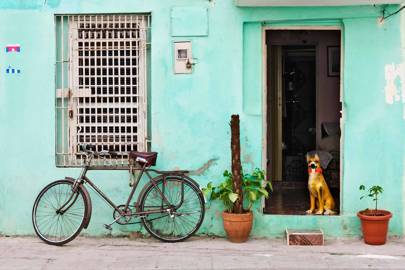 Martí's aim with Eminente was to create a rum that celebrated the island's natural splendour and its deep heritage. As he says: 'In Cuba they used to drink an unrefined rum. It was aggressive, dark, harsh. Preferred by men with hard lives – corsairs, pirates, slaves – who used this concoction to soothe their days of anguish and pain. And it was in Cuba, from this concoction, that a cultural leap was taken, and in 1862 a new rum appeared. A sugar-cane spirit, the soul of Cuban rum, that changed everything, that represented the multicoloured, cheerful, hospitality of the Cuban people. I took inspiration from the sugar-cane spirits born at the end of the 19th century as the basis for the rums that make up the Eminente brand.'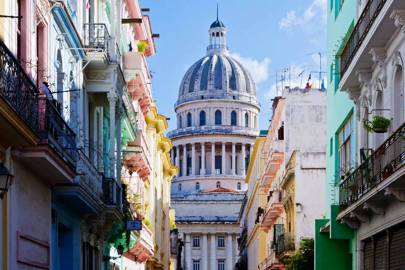 The result is a rich and full-bodied rum; a brilliant blend of aguardientes, the most flavourful and complex eaux-de-vie that the island produces, which is then aged for seven years in white oak barrels that were once used for whisky production. Martí's focus on these aguardientes means there are 70 per cent in the Reserva, the highest proportion among all Cuban rums. Because of this Eminente represents the best of both worlds: having the clarity of a light rum and the complexity and depth of a very old one. Unsurprisingly, it is already one of only a handful of Cuban rums to be classified Denominación de Origen Protegida (DOP Ron de Cuba).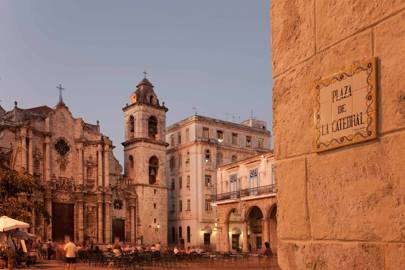 As Diaz puts it: 'Eminente is magnificent. You can find flavours and aromas that cannot be found in any other rum. I recommend that you drink it straight. Some like adding sparkling water to it or an ice cube. That would make it perfect for the flavours to mix.'
The beauty of Eminente is that it is slowly becoming available to buy in bars and exclusive stores in countries around the world, and the UK is one of them – Brits should head to Selfridges. When you next visit the Caribbean we recommend drinking Eminente at the family-run organic farm Finca Tungasuk outside Havana where guests eat four-course farm-to-table dishes on long tables under the trees and the meal always ends with a glass of rum. Or do as the Cubans do and head to the beach. Cook Raulito Bazuk, owner of Grados, one of Havana's finest paladars (small family-run restaurants in a converted house), is a huge fan of Playa Bacuranao, a gorgeous secret spot on the north coast a short drive from the capital. And Diaz's insider tip is to visit Sierra Maestra in the far south of the island where you can get the best cherries in Cuba.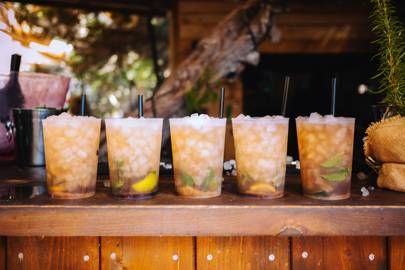 If you're in Havana be sure to visit Diaz at La Guarida and ask him to knock up one of his fabled rum Old Fashioneds. Or those who want a really authentic Cuban experience should ask him to mix them a creation of his own. 'It is pretty simple. It takes hand-made ginger syrup prepared with 100-per-cent brown Cuban sugar, basil, pineapple juice, some lemon juice and a good splash of rum Eminente.' Or, if you're like us, just have it neat so you can savour the way its rich and complex aromas summon the spirit of this rich and complex country.
Visit eminente.com. Over 18s only. Please drink responsibly.

5 Brilliant Havana Bars for Classic Rum Cocktails

El Floridita
Havana's venerable old grande dame is much the same as it was back when Hemingway and Katharine Hepburn graced its tables and while it's occasionally overwhelmed by tourists, it's still worth a visit. This, after all, is the birthplace of the Daiquiri – they still make a mean one – and its interior is timelessly charming, as are the chic little red jackets worn by all the bartenders.
El Floridita, Obispo, +53 78671300
El Chanchullero
Not everyone is so keen to trade on the reputation of the Jazz Age greats. Down in Old Havana, the atmospheric out-of-the-way bar El Chanchullero boldly claims: 'Hemingway was never here.' We think he would have probably liked it though: the food – shrimp enchiladas and heaving plates of roast pork – is classically Cuban, the cocktails are generously boozy and the terrace has great views over the lively nearby square Santo Cristo del Buen Viaje.
El Chanchullero, e/ Bernaza y El Cristo, 457 A bajos Teniente Rey, el-chanchullero.com
El del Frente
When brothers Julio Cesar and José Carlos Imperatori opened a new bar/restaurant across the street from their Havana hotspot O'Reilly 304, they called it El del Frente, 'The One Opposite'. And it has quickly gained a big reputation as one of Cuba's finest cocktail bars. Try the mango Daiquiri with cachucha pepper alongside plates of the super-fresh ceviche that come out of the consistently brilliant kitchen.
El del Frente, O'Reilly 303, +53 78674256
Pazillo
Another Havana newcomer keen to move on from the Cuban clichés is Pazillo, an inside/outside corridor bar in a sleepy residential block where master mixologist Micheal Paz serves up experimental cocktails – there's shrimp and mushroom-infused rum – and the kitchen turns out tapas and excellent burgers.
Pazillo, 6 Vedado, 10400, Calle 5, + 53 78351106
La Guarida
Enrique Núñez's La Guarida is arguably the classiest joint in all Havana. Housed in a faded yet grand early-20th-century former private residence, it serves some of the best food in Cuba – dishes include coconut-glazed tuna and seared grouper – in a charming interior that blends Edwardian ephemera with mid-century furniture. Best of all is the rooftop terrace where you can knock back Mojitos and take in the view that has been a favourite of Hollywood royalty since the bar opened in 1996.
La Guarida , 418 Concordia, laguarida.com