To put beach trips and Glasgow in the same sentence may seem paradoxical. Much of western Scotland has the climate of a temperate rainforest, with mossy woodlands, fern-blanketed ground and lichen-covered branches. However, there are plenty of stunning stretches of sand to discover and, south of the city, the Ayrshire coast picks up the warmth from the Gulf Stream, making for sunnier days. If you're in town and looking for a seaside escape, here are some of the best beaches near Glasgow.
THE SISTERS, SOUTH AYRSHIRE
Driving time from Glasgow: 1 hour
The Isle of Arran – just across the Firth of Clyde – is dotted with hills and forests that are vivid on a clear day. To the left, Ailsa Craig, a 99-hectare uninhabited island whose name loosely translates from Gaelic as 'fairy rock', stands in the mouth of firth. Its steep rise from the water is a reminder of its volcanic origins.
Use The Sisters as a jumping-off point – everything beneath Castle Road (leading to and from 13th-century Dunure Castle, an Outlander shooting location) is magnificent. Parking is easier on the road than in Dunure, where crowds congregate. Take a well-trodden trail down through grass, trees and ferns to the secluded rocky alcoves below.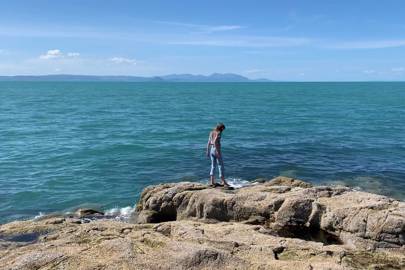 CULZEAN CASTLE BEACH, SOUTH AYRSHIRE
Driving time from Glasgow: 1 hour 15 minutes
Culzean Castle, managed by the National Trust for Scotland, is dominated by an 18th-century turreted cliff-top castle. The surrounding gardens teem with picturesque follies, an aviary, deer park, extensive woodlands (bluebell-filled in spring), a lily pond frequented by swans, pristine rocky coves and a sandy beach. These shores are cosy but not too busy since visitors tend to make the most of what the estate has to offer: the Home Farm Kitchen, an ice-cream parlour, a second-hand bookshop and more.
Spend a few hours spotting marine life in rock pools, skimming stones, or simply taking in the isle-punctuated views.
For more information, visit nts.org.uk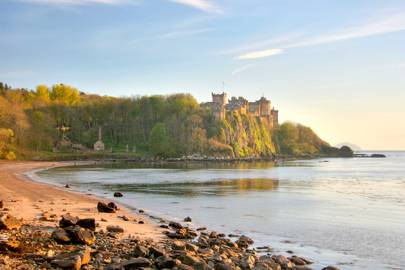 TURNBERRY BAY BEACH, SOUTH AYRSHIRE
Driving time from Glasgow: 1 hour 15 minutes
Trump Turnberry is somewhat surreal. It's strange to think that the former president of the USA still owns the golf course here. The resort is very quiet these days – which means the vast sandy beach behind it is a peaceful escape.
Turnberry Beach's painterly panorama includes Ailsa Craig and the isle of Arran, the latter's distinctive corbett jutting out to the sky. Beachgoers come to paddle bravely in the sea, walk dogs along the wind-whipped sands or cosy up with blankets to watch the burnt-orange sunset. In summer, the sun dips below the horizon as late as 10pm.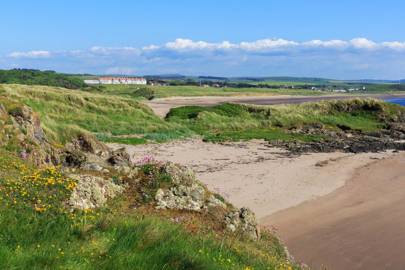 IMACHAR BEACH, ISLE OF ARRAN
Driving time from Glasgow: 2 hours 50 minutes
You'll need to catch the ferry to Arran and drive for another 30 minutes to reach Imachar Beach, but this destination is worth the effort. Scotland's islands have some of the most breathtaking beaches in the UK, and Imachar is one to add to the top of your list. Its transparent blue waters are practically Grecian (though naturally not as warm), with reef-like rock formations and pebbles.
The Isle of Arran, or self-titled Scotland in Miniature, is ideal for a weekend break. At just 166 square miles, it can be easily covered in a few days. Explore its ancient standing stones and countryside and climb the Corbett mountain of Goatfell. Imachar Beach is also the final stop on the Arran Coastal Way, a popular walking route.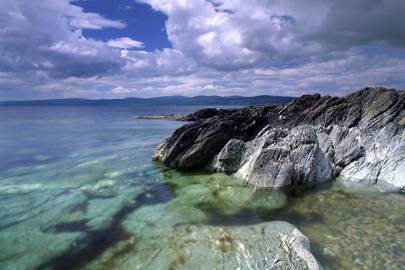 SEAMILL BEACH, NORTH AYRSHIRE
Driving time from Glasgow: 1 hour
Reduce the scale and Seamill could plausibly be compared to California's Monterey. Glass-fronted villas line this beach, with widescreen views across the Firth of Clye towards the Isle of Arran. Other seafront properties are built from local red sandstone dating back to the Victorian period and represent Scottish architecture at its finest – those gothic turrets are definitely un-Californian.
The beach itself is flat: soft, pale, pebble-dotted sand that backs onto grassy banks ideal for a picnic. Whether to cool down or warm up, if you're looking for a sundowner head to the Seamill Hydro Hotel and its terrace overlooking the water.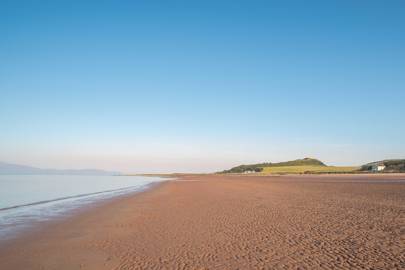 MILARROCHY BAY, LOCH LOMOND, STIRLINGSHIRE
Driving time from Glasgow: 1 hour
Not exactly a beach but a beautiful spot for waterside activities, Milarrochy Bay is on the shore of Loch Lomond, Scotland's largest lake. On a balmy day there are daytrippers sunbathing, barbecuing and swimming – so far, so expected. But Loch Lomond is also known for diverse watersports, from paddle boarding and kayaking to jet skiing and banana-boating. With views of ducks bobbing along the surface, knotted trees dipping their branches into the water and numerous lush islands flecking the lake, it differs hugely from any other destination on this list.
If you fancy an ice cream, drive five minutes to the Oak Tree Inn where you'll also find a car park and can embark on a bracing walk up Conic Hill for far-reaching views of the loch as it disappears into the distance.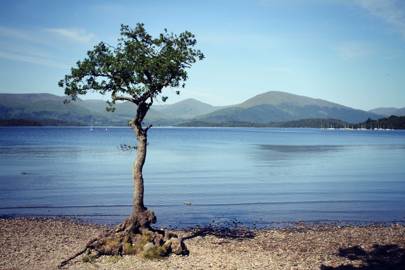 To enjoy any of Scotland's lochs safely, always exercise caution. Additional advice and guidance can be found here.
YELLOWCRAIG BEACH, LOTHIAN
Driving time from Glasgow: 1 hour 20 minutes

Just over an hour from Glasgow, Yellowcraig Beach is a brilliant day trip to the east coast of Scotland. It's huge, soft and sandy – perfect for picnics – and a barbecue space can be booked in advance. The shore is backed by expansive wood- and grasslands, with several marked trails including a designated dog-walking route. The scene-stealer here, though, is Fidra island and its lighthouse half a mile from the coast in the chilly Firth of Forth. Now an RSPB reserve for nesting puffins, it's rumoured to have inspired Robert Louis Stevenson's map of Treasure Island.
Given Yellowcraig's proximity to Edinburgh (it's just a 50-minute drive away), you'll find it relatively busy on a pleasant day – although crowded for Scots may still be considered spacious by visitors.
Like this? Now read: