Before having children it's incredibly easy to think, 'I'll still travel properly with a baby, having a family won't stop me.' And of course it absolutely shouldn't; you can go pretty much anywhere. But there is no denying that there are some phases that make it that little bit trickier. Newborns tend to be a delight to travel with – simply add a travel cot to almost any scenario and you're good to go – but by about 10 months it starts to become more difficult. Then toddler territory kicks in from 18 months to three and the 'escape' will inevitably be more about them than it ever could be for you. That's why it's so important to find the places and hosts that can make this phase as enjoyable as possible for everyone. These are the hotels and experiences in the UK that can turn a break with kids into an actual holiday: the sanctuaries with top-notch childcare, the glossy grande dames that have a solution for everything, the family-run farms and the adventurous camping trips.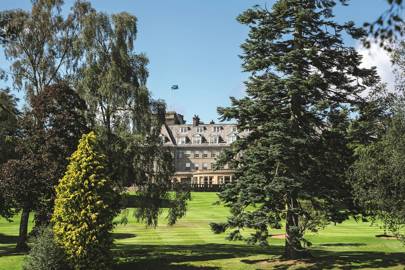 1. Gleneagles, Scotland
Whether you have toddlers, teenagers or none of the above, Gleneagles is one of those high-end, cosseting hotels that you will want to visit at least once in a lifetime. It happens to also be extremely family-friendly, so no need to steel yourself when arriving with a baby – they really are welcomed with open arms. For this specific age range (0-30 months), it's super easy to add a cot to your double room, and they come full-size and with little wooden cars and a ferris-wheel toy. The childcare at The Glen creche is superb (the first hour is free), plus it's a beautifully designed space with an indoor treehouse, toy stables with hobby horses and a Gleneagles steam train.
Read our full Gleneagles review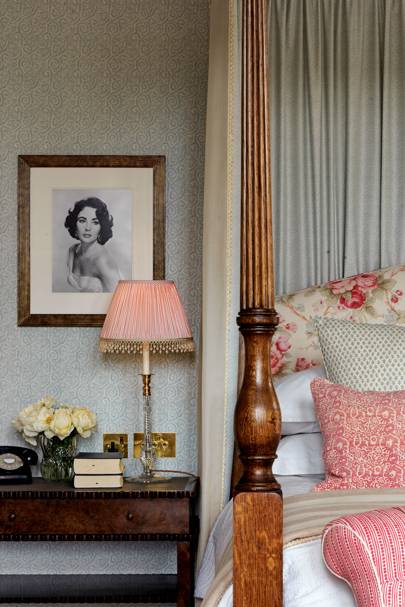 2. Beaverbrook, Surrey
It may be expensive to stay here, but the buttermilk pancakes at the Garden House for breakfast and the Bolognese linguini for lunch are a toddler's dream, and the service (iPads loaded with Hey Duggee or appropriate children's books, pencils, paints, pens, paper delivered to your room/table/picnic spot) make it absolutely worth it. If you're travelling with a toddler and a baby and want interconnecting rooms so you can put them down to sleep with space for yourselves, go for the Coach or the Garden House. To cut down the spend on the activity bill, visit Bocketts Farm Park nearby, a popular attraction for kids.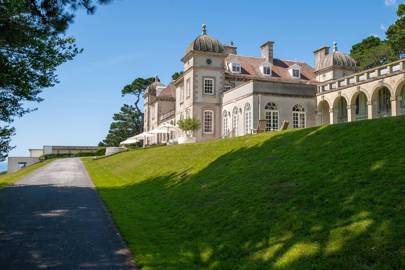 3. Fowey Hall Hotel, Cornwall
This incredibly handsome hotel overlooking the smooth-as-glass Fowey estuary is part of a tiny collection of properties that is geared entirely towards young families. Crucially though, they are still grown-up and aesthetically pleasing, so are a joy for adults too. Ninety minutes of childcare is included for every night of your stay (the service is Ofsted-registered and unusually takes very young babies) and there's even a breakfast club on Sundays when nannies will pick up toddlers from their rooms and whisk them away so that you can enjoy coffee and the papers in bed. It's also now one of very few properties in the UK that still offer a baby-listening service – put your little one to sleep in your room then carry the provided video monitors with you for the evening.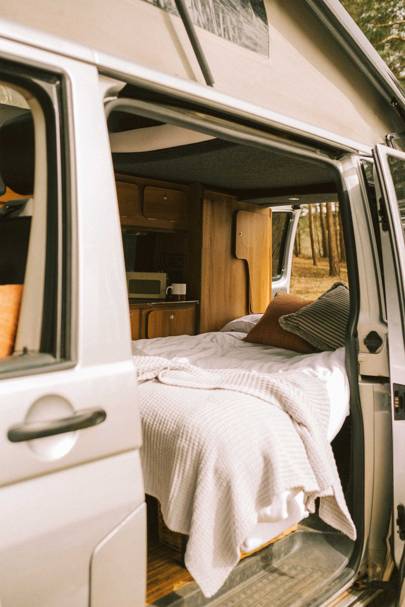 4. Camp Hox, Sussex and Kent
An innovative response to the pandemic, hotel brand The Hoxton has launched a VW campervan itinerary taking in the rolling hills and seaside stops of the South East for summer 2021. Each van is kitted out with goodies you would find at the hotels (Origin coffee and Minor Figures oat milk, Blank bathroom products, Hoxton-curated playlists) and all bedding and kitchen kit is provided, including a barbecue and mini fridge stocked with beers, wines and soft drinks. It's one for adventurous, hardy parents – you can take a baby or a young child along for free as there's an additional cosy bunk up top. Campsites along the way are all pre-booked and paid for and the final night of the trip is spent at one of the group's London hotels (Southwark Hoxton is the latest London addition).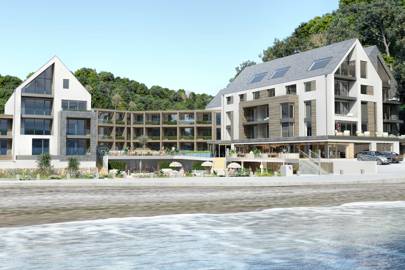 5. Harbour Beach Club and Spa, Devon
The pastel-hued fishing village of Salcombe is a holiday magnet for families who flock from all over the country to squeeze into not nearly enough accommodation. Luckily this 50-room offering, new for summer 2021, blows all the tired self-catering cottages out of the water with its fresh, peppy, Californian style, alongside all the hallmarks of an upmarket hotel. Expect valet parking, lobster rolls and Mojitos enjoyed on bean bags in the Beach Bar, and LA vibes in the enormous gym and spa, where there's also a spa creche for little ones. There's a big focus on wellness here, so while the kids are in the creche (or being cared for by on-site childminders) it's time for a toes-in-the-sand yoga session followed by a green shake at the juice bar.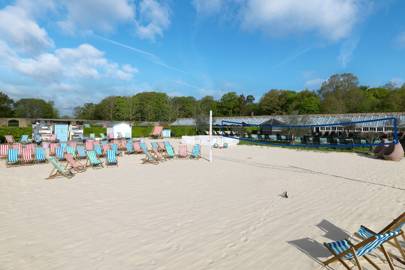 6. The Grove, Hertfordshire, London
It's not especially well-known that The Grove, a place famous for its mega spa and serious treatment plans, also caters superbly to small children. New Anouska's Kids Club is tucked behind the walled garden and is more like a full-blown nursery, open on Saturdays and every day during school holidays for three-hour sessions. There's a dedicated children's pool and splash pool for babies, plus woodland walks, a playground and even a musical trail in the grounds for toddlers. The property just had a major refurb of its rooms and dining spaces, but many come back for Ralph's Beach, a retro-chic sandy set-up around the heated outdoor pool with mini candy-coloured deck chairs and buckets and spades.
Read our full Grove hotel review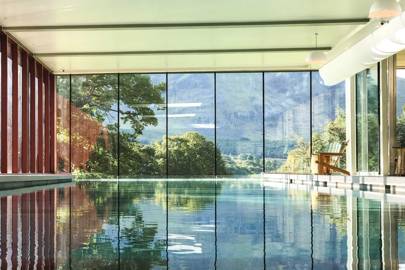 7. Another Place, Lake District
This smart country-house crash pad, one of our Best Hotels in the UK for 2021, is visually uplifting. A contemporary delight with its sleek pool, bold textiles, modernist furniture and exposed light bulbs, it also manages to remain very low-key – nobody cares what you're wearing or blinks an eye when a baby cries or a toddler throws a tantrum. There are cute children's menus in the Living Room (barbecued sticky wings, hummus dipping plates); in more formal restaurant Rampsbeck little ones are also very welcome and most dishes can be tweaked easily – if you want to eat on your own there's a baby-monitoring service. You'll also find clever little pantries dotted about the place with microwaves and fridges for storing or warming milk.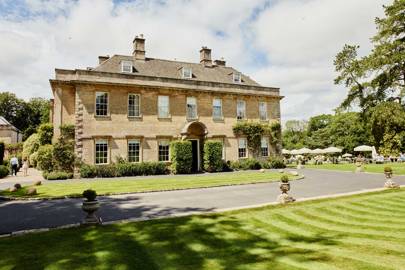 8. Babington House, Somerset
There are certain brands and experiences people don't want to give up when travelling as a family and this collection is likely to be one of them. Babington is arguably the most family-friendly of the Soho House set, with Soho Farmhouse in the Cotswolds perhaps coming a close second. At the latter, it's a few months' wait for a hard-to-come-by family room, or you can book a studio cabin with a crib and bring an under-one-year-old for free. Back at the original country outpost, Babington has fabulous split-level accommodation in the Stable Block, with the children's bedroom downstairs and an adult en-suite upstairs. In the cinema room there are films screened daily for younger guests and the Teeny House kids' club can be used twice, which tots up to a pretty unrivalled four hours of childcare per day.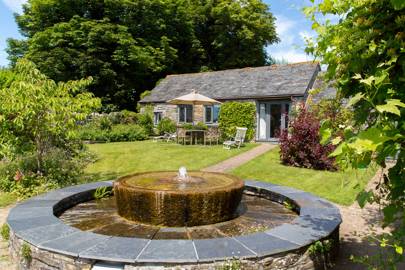 9. Tredethick Farm Cottages, Cornwall
There's a plethora of baby- and toddler-friendly farm stays in the UK, but most are large enterprises with primary-coloured lodges packed tightly together and a million children vying to use the pool/soft play/feed the chickens. This small farm run by Jenny and Ashlyn is none of the above. It has just eight cottages on the land, all designed in calming blues, creams and greys, with everything you could possibly need for babies (blackout blinds, stair gates, bed guards, night lights, sterilisers). All activities, including the indoor playground and the soft play with Lavazza coffee, are concealed behind soothing slate-grey stone walls, and the rest are outdoorsy affairs in small groups – riding Shetland ponies or feeding the pigs. For the adults there's a hot tub and chillout area, and the help-yourself farm shop has local Cornish ciders and wine as well as frozen meals by Cook.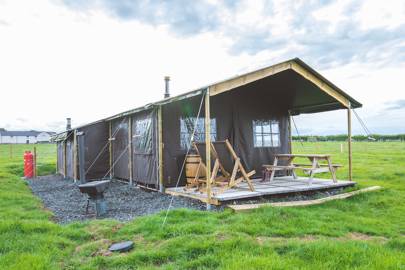 10. Feather Down Farm, Northumberland
The original family glamping company, launched nearly 20 years ago by the founder of Center Parcs, Feather Down has outposts all across the UK that are sought after for their ability to cater to children of all age ranges. From proper solid cots for babes-in-arms to their signature cupboard beds for toddlers (little wooden hidey-holes built into the tent structure), you know just what to expect from each site in terms of quality. And the Northumberland branch run by the Douglas family is really upping its foodie game post-lockdown and will be hosting supper clubs where food miles are at the absolute minimum. Think wild salmon line-caught one mile from the farm or Lindisfarne oysters from down the road, plus there are pizza nights for the kids too.
Keep scrolling for more images of the best places to stay
Like this? Now read:
The best family holidays in Europe to take in 2021
Where to travel with a baby: 4 brilliant baby-friendly hotels to book
Travelling with a baby: 6 things we learned on our first big trip