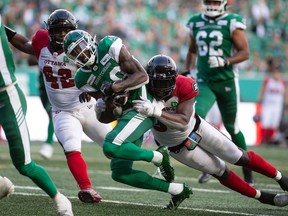 Article content
REGINA — While they're banged up and a few regular starters short, there's no lack of belief for the Ottawa Redblacks, who travel to the land of the Saskatchewan Roughriders and their loud, watermelon-wearing fans for a Friday night game.
Article content
Seems like the oddsmakers are coming around, too. Early this week, the betting line had been set at 10, with the Roughriders, who have a 3-1 record early in the CFL season, heavily favoured against the winless Redblacks, who are at 0-3. The point spread is now hovering around a five- or six-point edge for Saskatchewan.
"It's a long season, we're still near the beginning, things will shake up," said Redblacks defensive back Randall Evans. "We're confident. Every week we come in thinking we're going to be 1-0 that week — that's our goal."
"We feel good, we've faced a couple of tough opponents (two losses to Winnipeg and one to B.C.)," said Redblacks receiver Jaelon Acklin. "We don't have to be spectacular, we just have to make our plays. I don't feel like there's a monkey on our back or anything like that — we just have to execute. That's not up to anyone else, it's up to us — control what we can control."
Article content
The Roughriders, who lost a 37-13 stunner in Montreal a couple of weeks ago, are full of respect for the Redblacks. They won't be caught by surprise.
"They're a pretty good team," said Riders head coach Craig Dickenson Thursday. "The folks that are beating up on them, they're on the wrong course. Ottawa has lost three games, but it's been by a total of 12 points. Our guys know it's going to be a tough out."
Asked if he thought it was a similar circumstance to the road game in Montreal in late June, the coach said: "That's a good comparison. I've told our guys that as well. (The Redblacks have) had eight days rest, it's similar to Montreal which had nine. The Redblacks haven't won a game yet and they're hungry."
There will be some shuffling through the Redblacks lineup. Facing the green Riders, Ottawa's defence will be minus SAM linebacker Patrick Levels (replaced by Douglas Coleman), WILL linebacker Frankie Griffin (Canadian Adam Auclair is listed at the top of the depth chart, with Troy Young as the backup) and defensive back Money Hunter (Hakeem Bailey will step in). There are also a couple of significant offensive changes. Receiver Justin Hardy, who sat out his team's last game with food poisoning, is on the one-game injured list. R.J. Harris will get into his first game of the year, backed up by Terry Williams. Left tackle Ucambre Williams (knee) will be replaced by Randy Richards, who shifts from the right side. Right tackle Dino Boyd returns from a foot injury.
Article content
Richards will have his hands full; he'll be lined up against Saskatchewan defensive end Pete Robertson, who leads the CFL with seven sacks. Robertson isn't the only Rider getting after opposing quarterbacks; the team has a league-leading 21 sacks (next best is Montreal with 13).
"This is the third really good defence we've faced and these guys have made maybe more plays than any defence we've seen," said Redblacks head coach Paul LaPolice. "They take the ball away, they really fly around and make plays. And when their offence can stay on the field — they hold onto the ball well — it's hard to get possessions. You have to be productive on first down, whether that's running or passing the ball."
"They play with confidence," said Redblacks offensive line coach Paul Charbonneau. "Regardless of the front they're facing,  they'll try and get after you. They're very talented; you have to pay attention to what they're doing. Our guys have done a great job of seeing things and getting in front of (defenders)."
Article content
Establishing a run game would  take some heat off the linemen and quarterback Jeremiah Masoli. That's where veteran running back William Powell comes in. Powell, who was a Roughrider for two seasons — 2019 and 2021 (1,093 and 733 rushing yards) — hopes to do some damage with his feet. Playing his first game of the season (Achilles injury) last week against the Lions, the 34-year-old had 11 carries for 55 yards — with a touchdown.
"You don't want to be against the sticks on second down," said Charbonneau. "We have to do a better job on first down, whether it's in quick protection or in the run game. Sustain the blocks longer to get those extra yards. If it's second and short, it's a lot easier for us to play call than if it's second and long."
Article content
There have been plenty of what-ifs and maybes in Ottawa's three games, all of which were winnable. But that was so then … and this is so now.
"We can't dwell on the past," said Evans. "You always have to move forward and on to the next one. You can't play scared because of what happened the game before. It's all about having a next-play mentality. If you messed up the last play, you need to make the next play. That's the way we have to think."
It'll be a sea of green Friday night at Mosaic Stadium. And it'll be loud. The Redblacks played simulated crowd noise during practices this week.
"It's always difficult to play here; they've got a great fan base," said LaPolice.
"I think we're up for the challenge," said Masoli. "Coach has been preparing us for the noise. We're ready. We're not really worried about the past or the future right now. Just stay locked in to the present. Our focus is on playing a full game, putting it all together and realizing our potential."
Article content
THE END AROUND: Coming off a memorable game against B.C. — where he had two interceptions and a fumble recovery — Money Hunter (knee) has been added to the six-game injured list. LB Frankie Griffin, injured (hamstring) against the Lions, is also on the six-game … A welcome return to Ottawa's lineup: RB Jackson Bennett, who should see some touches playing behind starter William Powell … Saskatchewan has some wounded warriors of its own, including left tackle Terran Vaughn. Former Redblacks Jake Harty and Kienan LaFrance are also out … LB Micah Awe, who had 74 tackles and three sacks with the Redblacks last season, has signed with the Montreal Alouettes.