[ad_1]

Kuala Lumpur is one of the most popular cities in Asia to visit, and everyone should spend at least one night in its unique Space Hotel.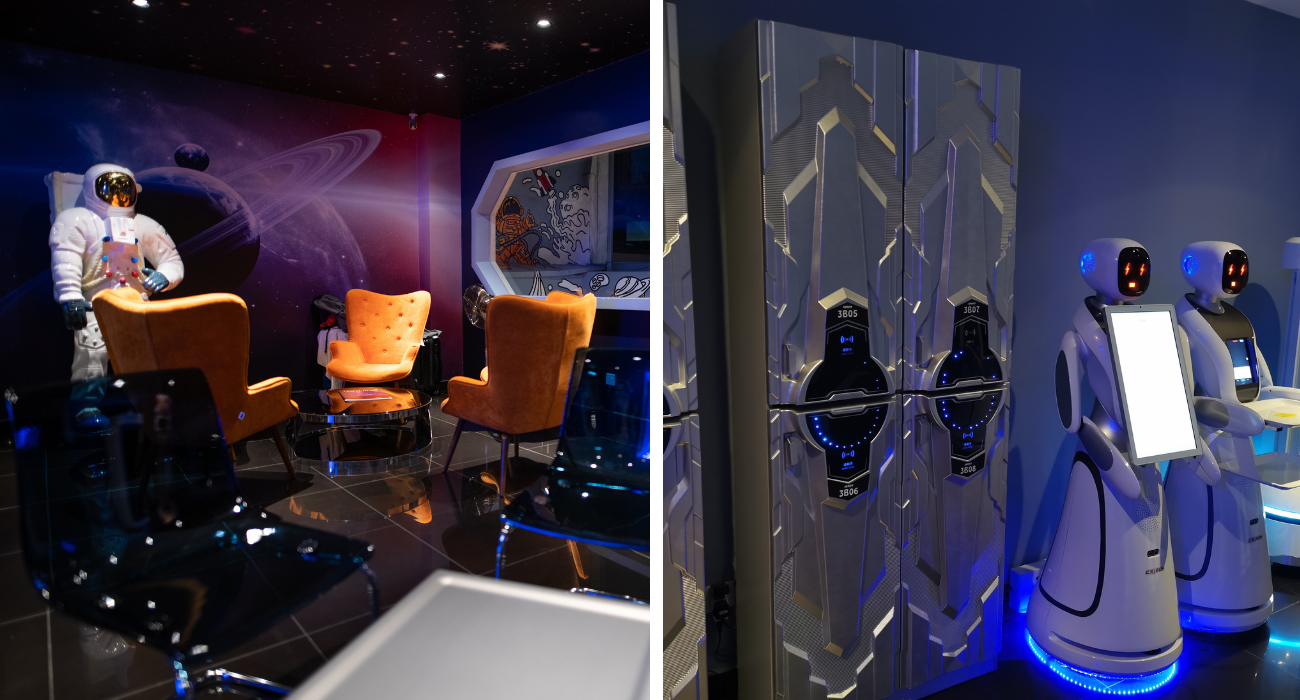 Space Hotel Lounge and Futuristic Robots
Hostels are one of the great ways to travel solo around the world. The vibe and sense of community in hostels set them apart from other accommodation options (like Airbnbs). Many people may think of hostels as just cheap accommodation for penny-counting backpackers – and there's certainly sometimes merit in that. But some hostels go above and beyond and offer unique and intriguing experiences, like Space Hotel in Malaysia and Hostel Celica – a political prison-turned-hostel/museum in Slovenia.
One of the unique hostels in Kuala Lumpur is Space Hotel. It is one of the most original hostels one would hope to find, combining capsule accommodation with space travel and even robots reminiscent of the old cartoon series the Jetsons. Real space tourism may be becoming a thing (even Captain Kirk went to space), but Space Hotel is perhaps the closest one that will come to space on a backpacker's budget.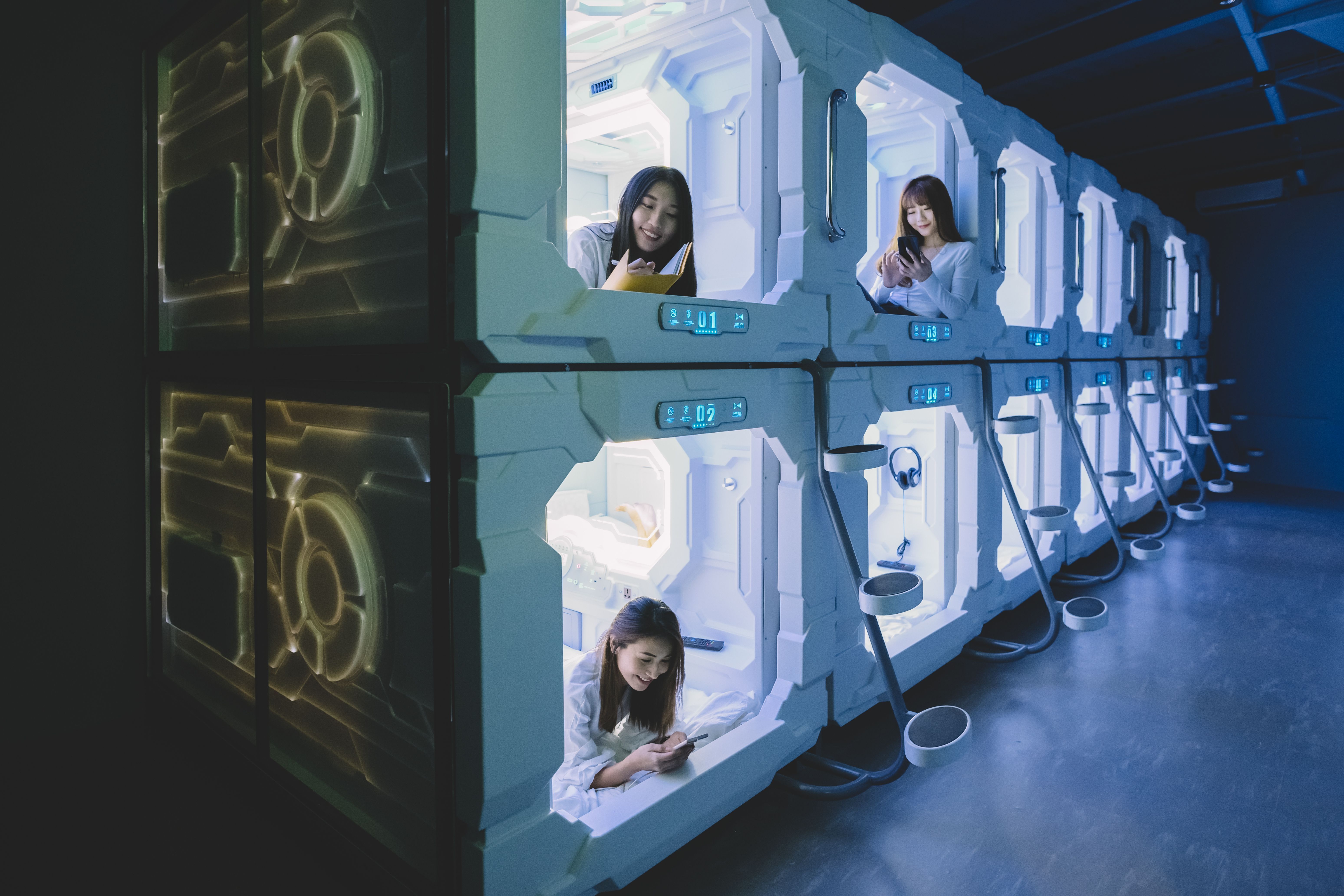 Capsule Dorms At Space Hotel
Space Hotel: The Futuristic Space Hostel In Kuala Lumpur
Space Hotel occupies two floors that are connected with a shoot/slide (like one would expect in a water park). So people can choose to take the stairs, the elevator, or the slide like it's a sci-fi cartoon.
Attention to detail has been taken to adorn the hotel with space and astronaut-related art and paraphernalia. The hostel has space jumpsuits, an astronaut statue, robot vacuum cleaners, and more.
One of the most eye-catching parts of the hostel is its futuristic robots – sort of like a mix of iRobot and the Jetson's Rosey the Robot. They have multiple humanoid robots including entertainment robots, service robots, and others. The robots can even bring food and drink to one's dorm.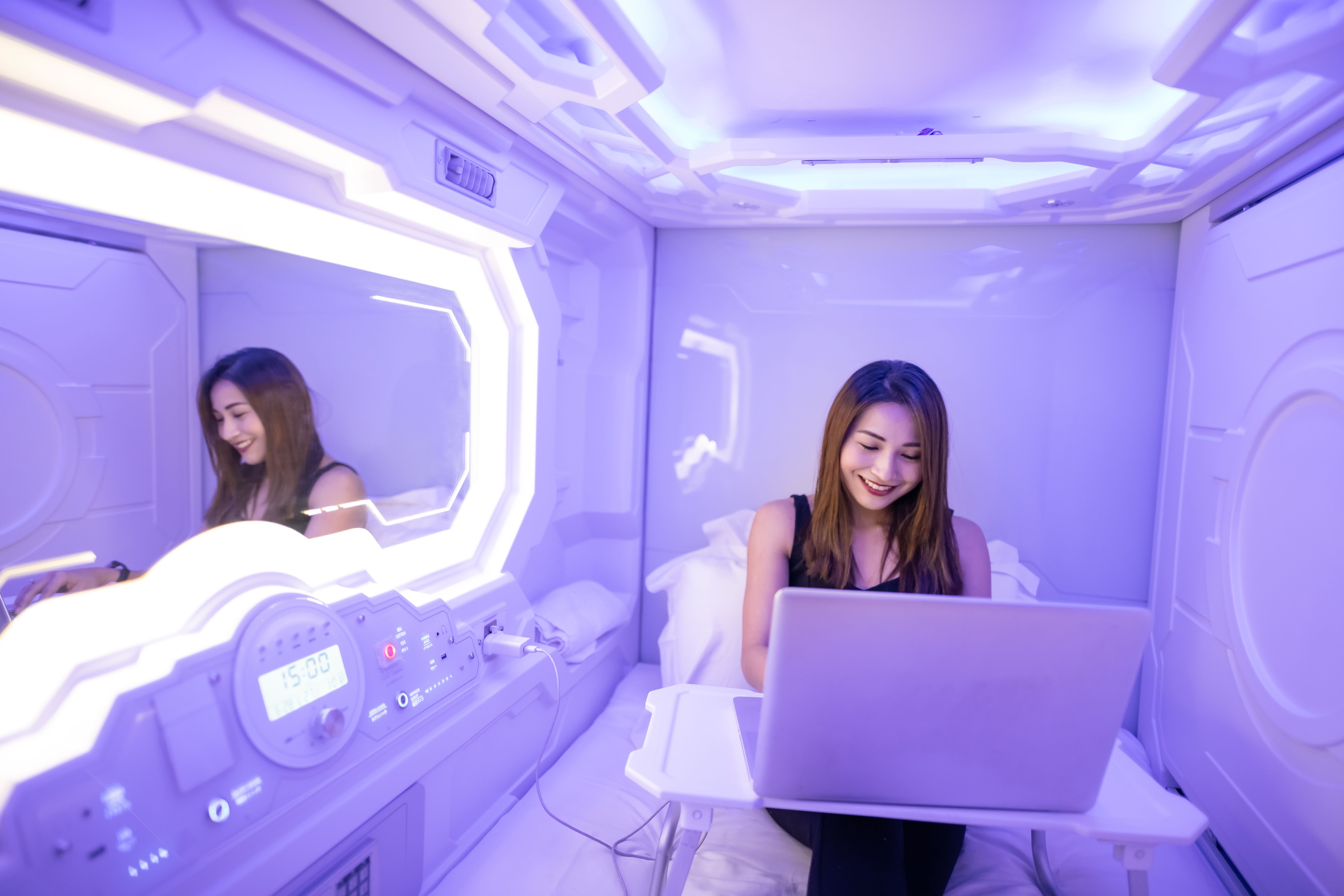 Woman In Space Hotel Capsule 
Space Hotel is great for solo backpackers, couples, and even small families who are looking for a unique experience in Asia.
Related: How This Hostel In Warsaw Gets The Hostel Vibe Right
Space Hotel's Capsules & Accommodation Options
Space Hotel caters to both backpackers and families. Some of their capsule beds are in dormitories with other backpackers, while other rooms are private (including private twin bed capsules and four capsule bedrooms). Most rooms have shared bathrooms, but there are some rooms with private bathrooms.
View Of Space Hotel Lounge
The hostel also has a balcony where people can smoke or just escape the air-conditioned air if they like and gaze out at the city of Kuala Lumpur.
Space Hotel's accommodation is all hi-tech capsules. Many of these capsules come with their own TVs, music players, lighting systems, lockers, and more.
Space Hotel Accommodation Options:
Single Capsule Mixed Dorm: RM 56.00 ($12.50) Weekdays / RM 65.00 ($14.50) Weekends
Single Capsule Female Dorm: RM 59.00 ($13.50) Weekdays / RM 68.00 ($15.50) Weekends
Double Room: RM 148.00 ($33) Weekdays / RM 168.00 ($38) Weekends
Standard Family Room: RM 198.00 ($45) Weekdays / RM 248.00 ($56) Weekends
Deluxe Family Room With Private Bath: RM 238.00 ($54) Weekdays / RM 288.00 ($65) Weekends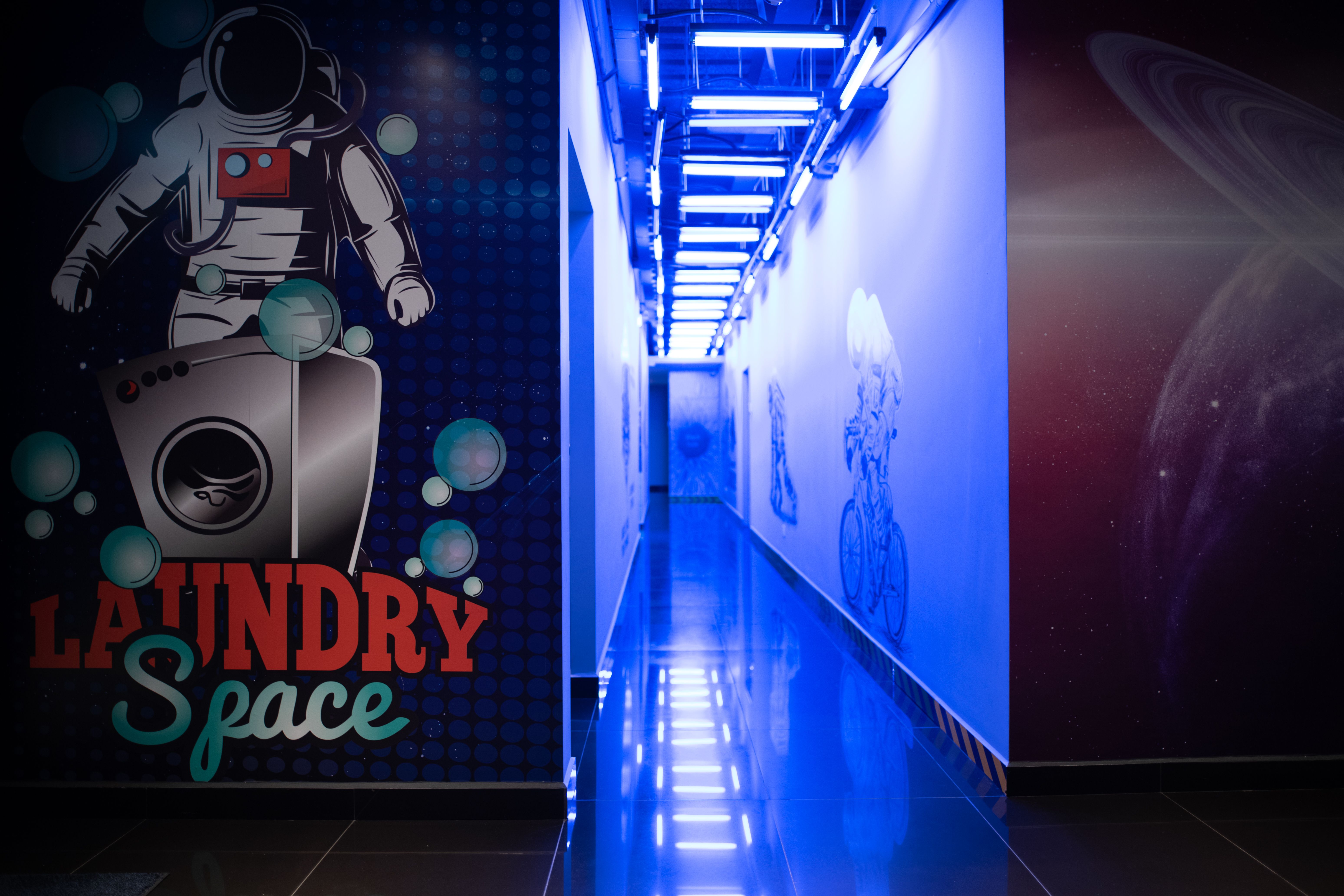 Space Art & Corridor In Space Hotel
Note that prices exclude an 8% tax and the "weekends" are Friday nights, Saturday nights, and public Holidays (Sunday night is a weekday). The family rooms have accommodation for four people.
There are also long-stay discounts for walking guests who stay three nights, seven nights, or a month.
The space-age feel and futuristic-looking capsules make it feel like one is staying on an interplanetary spaceship. Lie back and go to sleep in one's status pod for the night!
Hostelworld has recently released a new app that enables backpackers to network with other travelers staying in the hostel in advance (it's great for solo travelers).
Related: This Tunisian Hostel Is So Beautiful & Old That It Could Be A Museum
Space Hotel's Excellent Location & Chinatown
Space Hotel enjoys one of the best locations in Kuala Lumpur; not only is it adjacent to the historic district of Chinatown is well-connected with public transport. It is easy to get to and from Space Hotel, and to any part of the city there are bus stops just outside the hostel, and the metro station is only five minutes walk. The glitzy new city center (including the famous Petronas Towers) is only a 30-minute walk away or around 10-15 minutes by subway.
Space Art & Corridor In Space Hotel
Chinatown is one of the main attractions in Kuala Lumpur and is a stark contrast to the rest of the city. Visitors can shop for a full range of cheap goods and knock-offs (a Rolex Watch for $20 is probably not a Rolex). In Chinatown, visitors can sample a huge range of Chinese food – it is perhaps the best place to try Chinese food in the city. Chinatown in Kuala Lumpur really feels like stepping into China.
As English is one of the official languages of Malaysia (along with Malay), the language of business, and a de facto language of inter-ethnic communication, one will find just about everyone speaks English.
Compare and contrast Kuala Lumpur's Chinatown with New York's famous Chinatown and see the different fun things to see and do.
Futuristic Robots At Space Hotel
[ad_2]

Source link