Why book?
For proximity to all the parties, Pacha, the port, feasting and treasure-hunting in Ibiza Town – Sir Joan offers five-star style on an intimate scale.
Address: Sir Joan, Passeig Joan Carles I, 1, Ibiza Town, 07800 Eivissa, Ibiza, Balearic Islands, Spain
Website: sirhotels.com
Telephone: +34 871 18 25 25
Price: Doubles from about £130
Book your stay
Set the scene
Rubbing shoulders with Pacha and Marina Botafoch, this city slicker makes a striking contemporary addition to Ibiza Town's rattan-and-tassels bohemia. Arranged around the green-fish-scale-tiled pool at its heart is the signature Peruvian-Japanese restaurant, which inspires the kind of more-is-more glamour that makes you go straight back up to your room to try harder with your look.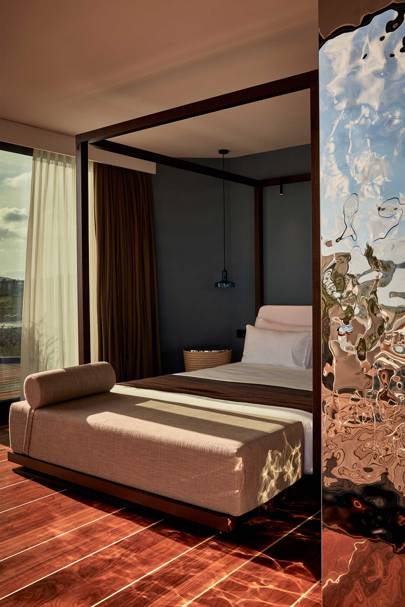 The backstory
Tel Avivian entrepreneur Liran Wizman opened his first hotel nearly a decade ago in Amsterdam – and now he has 13 (with two more in the offing). His boutique Sir hotels are cool, modern and inherently urban, attracting a smart, grown-up, good-time crowd, and Sir Joan brings a dash of the brand's city smarts to Ibiza, merging elements from Amsterdam, Tel Aviv and Spain. Here, Israeli design studio Baranowitz and Kronenberg went on something of a nautical trip, so that walking into the open-plan lobby/lounge/restaurant/terrace space feels like being aboard a luxury sailing boat, from the deck-like wooden floors to the hammered-steel walls that resemble the surface of the sea, reflecting back the ever-shifting light.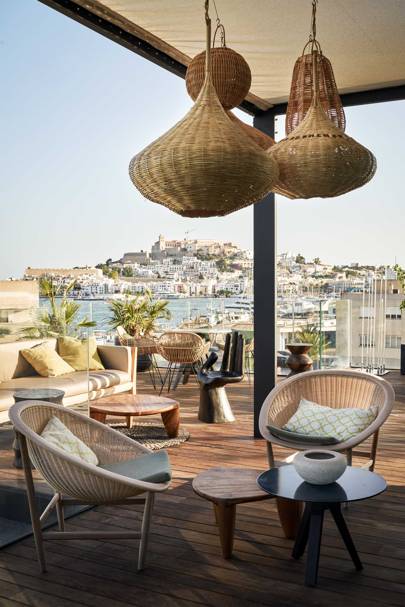 The rooms
The marine motifs run throughout the (mostly fairly standard) 38 rooms and suites: ocean-blue walls; sliding steel panels for privacy between the bed and double sinks; a wall of shelving, uncluttered and curated in the way only a hotel room can be, with locally made products and glossy hardbacks (photography, art, nudes). Ask for a room facing portwards (try 301 or 311); those at the back overlook an Ikea and busy roads. If you really want to go for it – and why not if you're in Ibiza? – there are two penthouse suites with knockout views of the fortified Dalt Vila. Of these, 402 is crying out for an afterparty, with its roof garden with sofas for a big crowd and its own bar.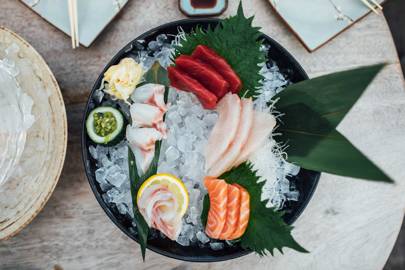 Food and drink
Take two popular cuisines, combine deftly and boom! Instant hottest restaurant in town, if not the entire island. At Sir Joan's signature Japanese-Peruvian restaurant Izakaya, sushi and sashimi work beautifully alongside ceviche and salads. Small, innovative dishes are prepared with a lightness of touch, big on flavour and low on calories – the most delicious grilled octopus tentacle lying on a bed of quinoa, for example – which is just one of the reasons this place is so popular with groups of female friends seated on the poolside terrace. Around the back, a more informal second restaurant, The Butcher, serves award-winning gourmet burgers from noon till midnight.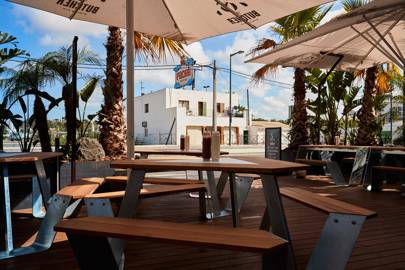 The neighbourhood
Those in the business of selling property might describe the Sir Joan as 'conveniently located'. Its immediate locale is unlovely, on a double roundabout beside the port – but it is indeed just a few minutes' walk from the boho boutiques and steep passageways of the old town, and the designer stores and superyachts of Marina Botafoch, in an increasingly cool area. Talamanca beach is around the corner, while Pacha is practically next door; and it's a great bookender for anyone hopping across to Formentera.
The service
Warm and informal – and, in Ibiza terms at least, mainly efficient. Front-desk staff are happy to help with beach-club and restaurant bookings, but what's particularly lovely is the pride they take in arranging great things to see and do – and not the usual stuff, either, whether that's coordinating a surprise party on a beach, or a pottery workshop with Ibiza Town ceramicist Charlotte de Lantsheere. In the restaurant waitresses waft around in LBDs, attentive and unobtrusive.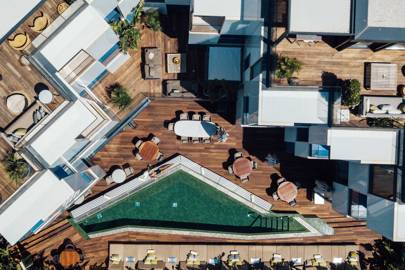 Eco effort
Except for the large bottles of bathroom products, eco efforts are not immediately apparent, but as well as food composting and using energy-saving sensors, the hotel supports the IbizaPreservation fund, which is working towards more sustainable practices.
Accessibility for those with mobility impairments
All rooms have stair-free access and there is one room with a bathroom designed for wheelchair users.
Anything left to mention?
Most guests use the hotel's sunshine-yellow Dutch bicycles for an Instagram backdrop rather than as a means of transport, but they are in fact terrific for exploring the neighbourhood. Nothing like seeing a place on two wheels to make you feel more like a local (once the art of cycling sin frenos has been mastered).
Like this? Now read:
The most chilled-out places to visit in Ibiza
The ultimate Ibiza address book