[ad_1]

Bureau of Meteorology Meteorologist Diana Eadie said the most intense showers will begin to cross Melbourne's western suburbs from 5pm, before moving into the central and eastern suburbs.
Eadie said there had been about 22mm of rain to 9am this morning and said the "ground was already very saturated".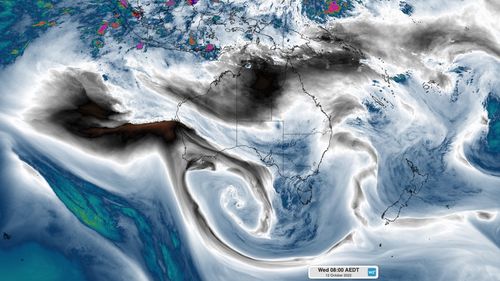 More than 40 schools have been closed and train lines have gone down as multiple watch and act alerts are issued.
Emergency Management Commissioner Andrew Crisp said there were currently 70 warnings in place across the state.
He urged drivers to stay off the roads, to check road closures and be aware that it was a "dynamic situation".
"If you don't need to be on the road today, don't be on the road. What you are doing is you are distracting our emergency services from doing the job we need to be doing," he said.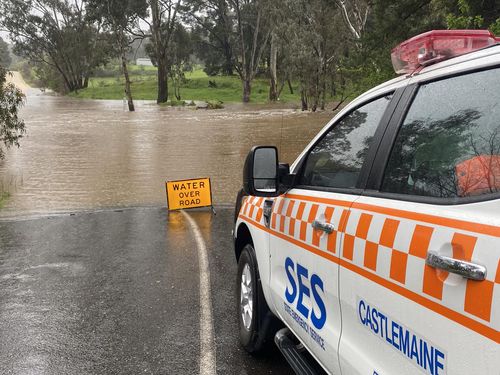 Satellite images published by
Weatherzone
show a massive cloudband stretching 5000km from the Indian Ocean to Australia's south-east.
It's this cloudband that's brought the current wave of extreme weather to that part of the country.
A massive 129mm of rain had already fallen in Strathbogie North in central Victoria by 9am today, while wind gusts overnight reached 109km/hr at Mount Hotham.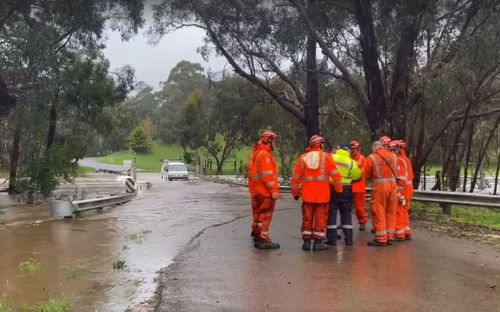 A severe weather warning for damaging winds and heavy rainfall is in place for most of the state.
The SES has already responded to more than 1600 calls for help in Victoria in the 24 hours until 4pm today, with the worst of the weather forecast for the state still yet to come.
Of those calls, 911 were for flooding, 193 for trees down, 153 for building damage and crews carried out 30 floodwater rescues.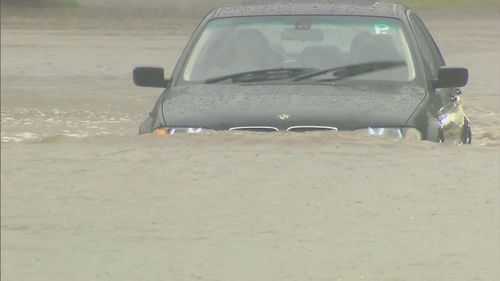 The Department of Transport has described driving conditions as "extremely hazardous", urging drivers to defer non-essential travel.
"As significant rain moves towards metropolitan Melbourne, many roads are likely to close due to flooding or will be impacted by flood waters, fallen trees and debris," the department said.
"Poor conditions and high traffic volumes will result in challenging conditions on major roads like the Monash Freeway, West Gate Freeway, M80 Ring Road and Eastern Freeway."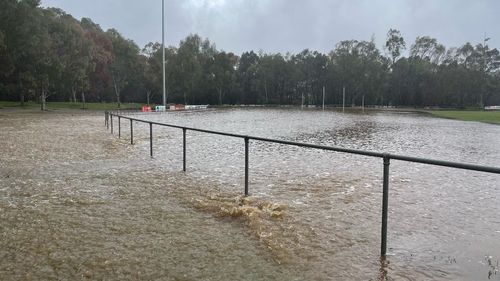 Parts of regional Victoria begin to flood
Already there is water over major roads, including the Melba, Hume, Calder and Maroondah Highways.
Buses are replacing trains on sections of the Shepparton, Albury, Echuca, Swan Hill and Warrnambool lines, due to extreme weather and flooding affecting parts of the rail network.
The Department of Education has advised that a number of schools and kindergartens across the state have closed due to flooding or risk of flooding.
In central Victoria, Broadford High School was closed at lunchtime, with all students sent home on buses to do remote learning for the rest of the week.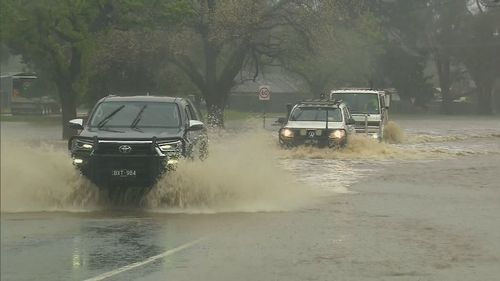 Residents of Rochester, 180km north of Melbourne, have been told waters could potentially rise to 115m above sea level, affecting hundreds of homes.
Thousands of sandbags have been filled and residents have been urged to evacuate after they have done their best to prepare their homes and businesses for a flood.
Up to 80mm of rain is expected in the north and west of Victoria today, with isolated totals of 120mm or higher.
Roads in Castlemaine, Heathcote and Bendigo have also begun flooding, cutting off parts of the town.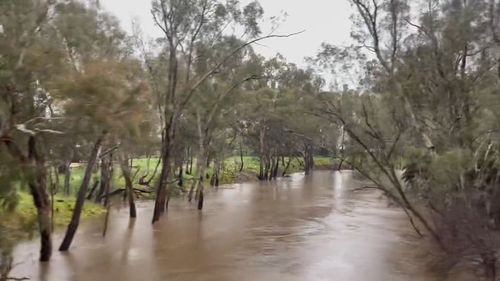 One Heathcote resident has told 9News Melbourne that she had never seen flooding this bad.
In Echuca, residents have been advised to boil their water until further notice after storm water entered a treated water storage tank.
"This may compromise the safety of the drinking water," Coliban Water via Twitter.
More than 1000 people are currently without power in Echuca, according to Powercore.
There are also outages in Bendigo, Daylesford and Rochester.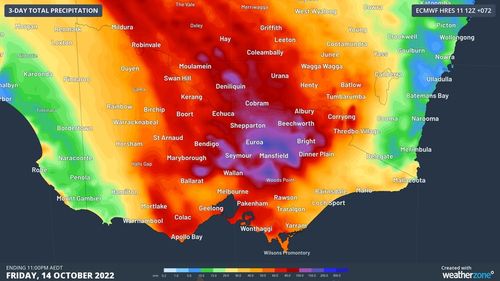 The SES has received over 200 calls for help in the last 24 hours, mostly for minor flooding.
Yesterday, about 100 people were evacuated from Falls Creek due to a slow-moving landslide cutting off the access road.
Victorian Emergency Management Commissioner Andrew Crisp told 3AW that the state will continue to see this cycle over the next six to eight weeks.
"If you don't need to be on the roads today, please don't be on the roads, because it's not just about the floods, it's also about the trees," he told 3AW.
Crisp warned the state would be "in this for a while", with Victorians in for a "campaign flood event".
Tasmania too is expecting an inundation, with up to 300mm of rain to fall in places just today.
By 9am today a total of 185mm had already fallen at Great Lake East and 148mm had fallen at Lake Mackenzie.
There are currently heavy rain and major floods warnings in place for northern Tasmania.
New South Wales is also in the firing line with rivers still swollen from recent rain.
A woman and her daughter had to be rescued from floodwaters at Forbes in the state's Central West.
[ad_2]

Source link