WHAT IS YOUR RELATIONSHIP WITH SEOUL?
'I was born here, though raised in Texas and now based in London, so this is where my roots are. It's a place with a strong mix of tradition, culture and technology, which I find refreshing. It is full of Le Corbusier-style Eighties apartment buildings and futuristic skyrises, and surrounded by rolling blue mountains. There's an almost sci-fi feel – especially at night, when it comes to life in neon.'
WHERE DO YOU STAY?
'I like Bukchon Hanok Village to the north, which is known for its 14th-century Hanok architecture, with curved roofs and central courtyards. Hanok simply means house, but this particular style makes use of natural materials that ensure the buildings stay cool in the summer and warm in the winter. Rakkojae hotel is a typical example, hidden away on a cobbled side street, with all the traditional details such as signature wooden window frames and calligraphy wall hangings, plus a tiny but beautiful rock garden. It also has a yellow-mud sauna, heated by a kiln. The scent of aged wood and cold stone make a stay very special.'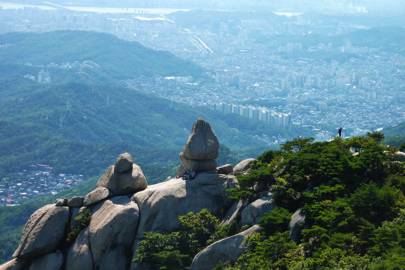 WHICH GREEN SPACES DO YOU VISIT?

'Bukhansan National Park in the north has three major peaks that loom above the city. As soon as I arrive, my mindset is completely detached from the hustle and bustle of everyday life. I go into relax mode. People are free to discover the trails, small lakes and Buddhist temples, including Guknyeongsa, which has an 80ft golden Buddha statue. Many temples are working monasteries, so you can hear chanting in the air.'
WHAT'S THE BEST WAY TO SOAK UP THE ATMOSPHERE?

'I love driving around after dusk. One of my favourite memories is the moonlight tour of Changdeokgung. This is one of the Five Grand Palaces of the Joseon dynasty, sitting in its own giant park in central Jongnogu. It's only open to the public on limited dates, so strolling around at night is not to be missed. Everyone walks through the meticulous gardens and the red and green wooden structure with its hanging lanterns – the scene is mesmerising.'
WHERE DO YOU HEAD FOR SOME CULTURE?

'I usually try to visit the Bukchon Traditional Crafts Centre in Gahoe-dong. Its exhibition hall displays heritage crafts from tailoring to woodwork, and visitors can take a class and try out the methods used to create the pieces for themselves. You can see how unusual colour combinations are applied in items such as dyed scarves and knotted bracelets, and learn different techniques to weave small objects. It offers a real understanding of Korean heritage and is one of many experiences that you can have only here.'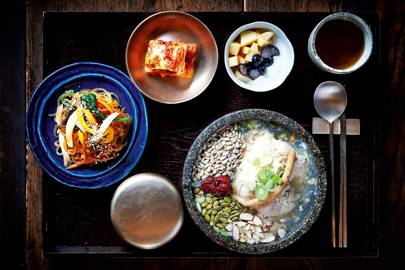 FAVOURITE PLACES TO EAT?

'I keep going back to Jungsik Seoul, on the southern side of the river in Gangnam-gu. The food is incredibly tasty, with the kitchen serving up contemporary, innovative cooking: sea-urchin bibimbap and beef with white kimchi. The space itself is light and open, with blue sofas and minimal linen walls, and the staff are very friendly.'
WHERE IS GOOD FOR A COFFEE BREAK?
'Seoul is famous for its cafés – you can find them on every block across town in all shapes and sizes. I love Earth Us, to the west in Mapo-gu. It's a small space but it was put on the map when it appeared in a YouTube video for K-pop star Chuu. It uses carefully sourced ingredients and offers a very distinctive, earthy selection of coffee, including non-dairy versions, as well as cute little cakes.'
ANY OTHER FOODIE RECOMMENDATIONS?
'Korea is great for new ideas. There's a trend called K-food, which is an inventive spin on classics, such as giant macarons, deep-fried eggs, or – a must-try – tiramisu in a cup. Mangwon-dong Tiramisu in Ikseon-dong village makes fusion versions with green tea, fruit or grain powder, served in a small cup. The tiramisu has a delightful light, fluffy texture, and you can take it with you to eat while walking around the hippie neighbourhood, which has little flower-lined boutiques on every corner.'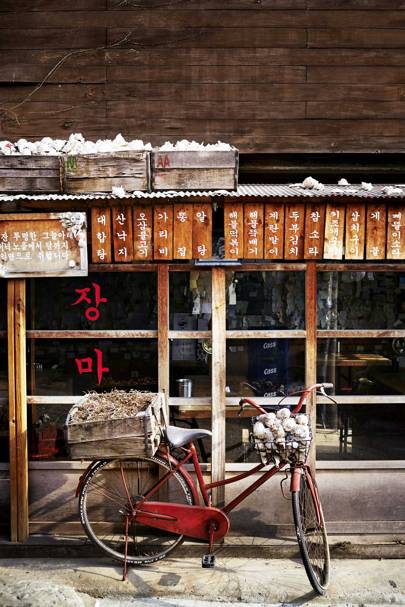 'The Dongmyo flea market in the east is a local spot where people trade and sell vintage items. You can come across rare finds, such as branded products – cassette players, cigarette cases – from the 1970s and 19é0s, antique ceramics, good-quality clothing and original furniture. The items are from a range of eras, so expect old industrial parts from Seoul's automobile industry alongside garments left over from the US military presence. Dongmyo has a very different feel to European markets, and is definitely worth a visit.'
WHAT IS THE BEST THING YOU'VE BOUGHT HERE?
'I like to travel light but try to purchase a scent or candle that's produced in Korea, so I can relive moments from the trip through olfactory memory when I'm home. I once came across a candle called The Raindrops by Korean brand Soohyang at its store in Sinsa-dong – it has the exact scent of rainy days in Seoul.'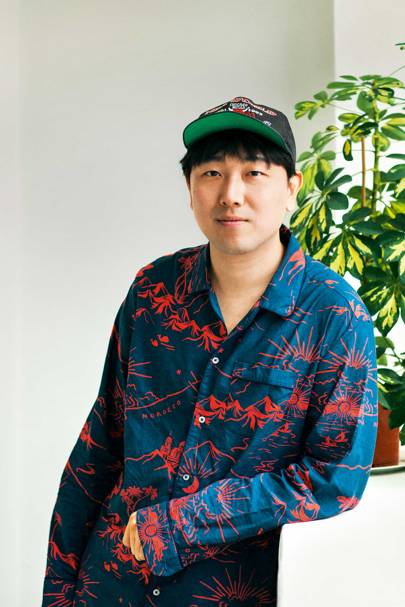 HOW HAS THE CITY INFLUENCED YOUR WORK?

'I can never define my influences exactly as I have had such a multicultural experience living in different cities, but Seoul is a very open-minded and adventurous place that has undoubtedly had an impact on me. From artist Do Ho Suh to film director Bong Joon Ho – and of course the K-Pop phenomenon – there is such a rich experimental creative scene here. I always hope to carry this attitude into my designs.'
Like this? Now read:
Anya Hindmarch's highlights of Seoul
Our expert travel insiders share their favourite places in the world