On the summer day that Elena Rusnjak introduced her parents to the family of her betrothed, on the island of Rab, they set off early from their hilltop town in Istria, in the north-west part of Croatia near the Slovenian border. A place, she told me, as grassy as Ireland. It was her 21st birthday. She was nervous about the meeting. At the ferry port she watched her father look apprehensively across the strait at the lunar landscape of Rab, stripped naked by the ferocious wind known as the bora. On the isle, they drove over karst on which no vegetation could endure and stopped in eastern Barbat, whose name means 'densely green' but is a village as bald as a stone. Finally, her father could contain himself no longer. He began to sob. Elena begged him to tell her what was wrong. 'My child,' he said, 'what is this new home you have chosen? A single goat could eat all that is here in a day.' What she knew and her father didn't was that just over the ridge were beaches, inlets, farmland, vineyards, one of the last oak forests in the Mediterranean and the millennia-old city of Rab, where her future husband was waiting for her. Soon everyone was happy. Elena went on to raise two daughters there before moving to the mainland's seaside city of Zadar. She grew to love life on the north Dalmatian coast, with its archipelagoes, special light and complicated history that has seen nearly every European imperial force, from the Greeks and Romans on, pass through and leave its mark. Its austere beauty cured her homesickness for the soft verdancy of Istria.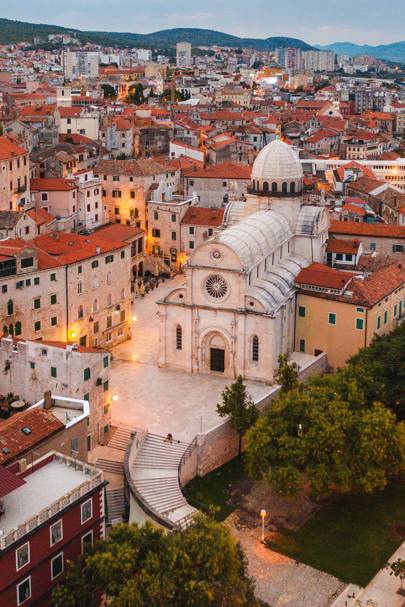 I met Elena when I walked into the lobby of the Almayer hotel in the old part of Zadar; she was behind the desk. The teasing started before I even reached her. Something about my parking skills and inability to find the main entrance to the building. I was reminded of being in Glasgow or Belfast, where roasting is a recreational pastime. In her case it had an appealing combination I've encountered elsewhere in parts of Europe, an alternating current of the acerbic and the passionately enthusiastic. As a teenager Elena was, she says, an introverted punk. In order to overcome her shyness, her mother suggested she study hotel management. This gave her the chance to spend time in the places she loved while also conveying their virtues to others. She blogs about the region and, still the punk, conducts her own alternative tour of Zadar in a dress and Doc Martens, uncovering secret gardens and ruins and monuments that officialdom might not promote. We sat in the hotel's courtyard and she talked about this corner of the country in such a way that when I walked the streets of Zadar and nearby fortified Sibenik, I saw them partly through her eyes.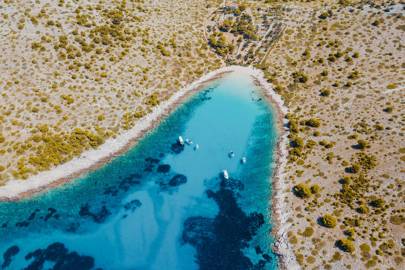 This is northern Dalmatia, which feels quite different to the Dalmatia around Dubrovnik, with its Venetian harbour. The area stretches from the Kvarner Riviera down to the ancient city of Split, and for the most part is harsher, less populated and less visited. The bora defines the vegetation and at times the angle at which people walk. It is more Croat, less Italian, particularly in Sibenik. Those who pass it by miss not only these tiny hubs with their layered stories, but also the nearby lake lands of Prokljansko and Vrana and the glorious Krka National Park, emerald green and blue, with cascades of waterfalls that catch the light.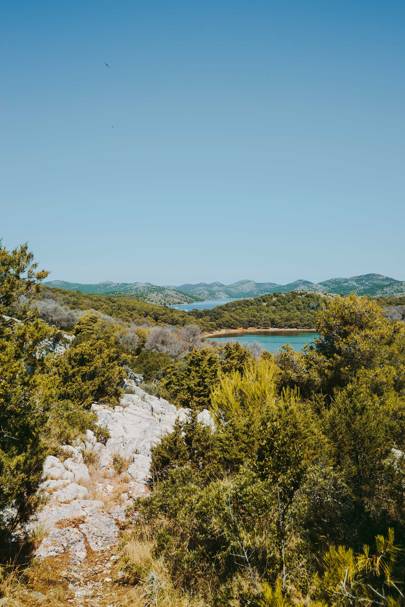 I'd come here to see these things, but above all to sail around the Kornati archipelago. I was to set off the following morning and asked Elena what I might expect. 'Tomorrow you will get relief from the ordinary world because the Kornatis are so starkly empty,' she said. 'Everyone who goes to the islands speaks of this. Out there, you can hardly even get a phone signal.' A substantial fee to enter the national park deters many outsiders, and with the party-boat scene kept further south around Hvar and Brač, the Kornatis are eternally calm; even in the height of August, it's possible to drift around for a week and encounter only a handful of other yachts. This strange, bleached world of scattered islets and reefs is considered one of Europe's last wildernesses. If viewed from above, the Kornatis appear like little craters in the sea, stretching as far as the eye can take in. I set out to glide around them on the Satori, a 136ft schooner that can be chartered for a few days or longer.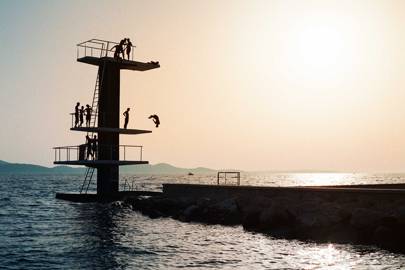 There are certain journeys that feel more like allegories than routes to a destination. Sailing the seas is one. This has to do with the vastness and pitilessness of what you're moving through. You feel infinitely small but also liberated. The senses work in a primal way. Sometimes they are pushed beyond the range normally asked of them. Robert M Pirsig, the author of Zen and the Art of Motorcycle Maintenance, wrote, 'Sailing is not an escape but a return to and a confrontation of a reality from which modern civilisation is itself an escape.'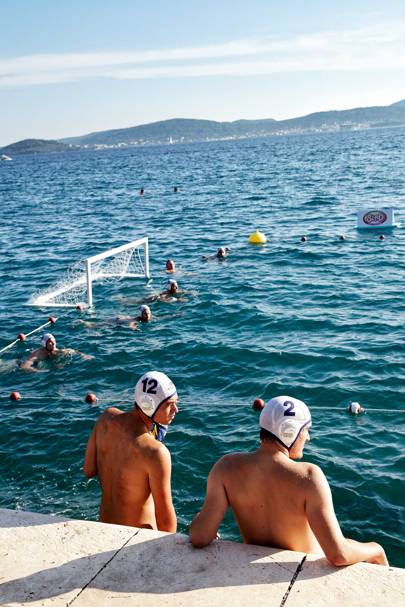 Sailing the open sea is entirely different to sailing between islands. Croatia has hundreds of them, all set in unusually clear water not far from the mainland. Among them the Kornatis are distinct. These 147 isles form the densest group in the Mediterranean. They are pale beige or grey desiccated-limestone karst, covered sparingly with low-lying shrubs, wild herbs and pines. You glimpse orange clay tiles on the roofs of summer houses, an isolated chapel, a donkey, a few olive trees, the occasional tavern where it's possible to order lamb baked in a pot during the warm months. The palette, all the different colours of the water, is restrained. The islands' names are less so – Large Breaking of Wind, Prostitution, Grandma's Hind Quarters, to offer genteel translations of a few of them. It seems the locals entertained themselves with naive 19th-century Austrian cartographers and the names got onto maps and stuck.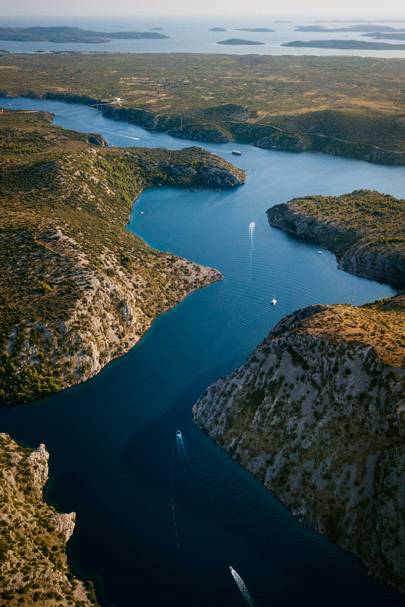 Here you slalom among them through tranquil lagoons and narrow channels. Notable are Levrnaka, with its sandy beach and excellent fish and seafood restaurant; Zut and its complex coastline; and Mana, for its dramatic cliff topped with ruins created for a 1959 film. I stopped at random and followed paths through the pines out to a ridge. The sea shimmered, the islands were dark discs in the glare. I dived into the still waters of a cove. You can almost persuade yourself that no one has ever set foot here before. It is spare, timeless, silent. Of these isles George Bernard Shaw, in an uncharacteristic outbreak of lyricism, wrote, 'The gods wanted to crown their work and on the last day they created the Kornati islands out of tears, stars and breath.' The archipelago's history makes it both enticing and inhospitable. There are signs of habitation that date from the Neolithic era, but now, Elena explained, no one lives here full time. On the one hand, the water is beautiful, there are ample fish, some good pastureland and sheltered bays. On the other hand, the wind has always blown fiercely and good soil is scarce. And, of course, pirate attacks and the kidnapping of shepherds to turn them into galley slaves were once real issues. Remains of stone walls, harbours, olive orchards, forts and sea-salt refineries are vestiges of man's on-again, off-again relationship with the Kornatis.
My journey through them ended in the small city of Sibenik, with its magnificent UNESCO-listed Cathedral of St James. I walked its labyrinthine alleyways but was soon hit by a downpour and took a taxi back to Zadar. In the morning I met Elena for her tour, which was funny and touching, particularly when we arrived at the ninth-century Church of St Donatus. It was constructed in imitation of Charlemagne's court chapel, on a foundation of pillars left over from a Roman forum. After all the devastation visited on this town, the simple church is still intact and hosts concerts. We finished the jaunt in its bell tower.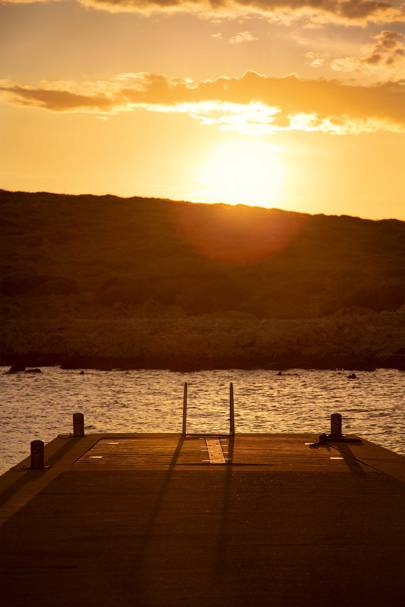 Looking down on the city built on interconnecting islands and out to the sea beyond, Elena recalled her first glimpse of Zadar. 'It was December. The light alone mesmerised me,' she said. This place was totally flattened by Allied bombers late in World War II. Before that, everyone else seems to have been through it and taken a piece while leaving behind a little of their glory – the Huns, Venetians, Hungarians, French, Austrians, Germans, Italians. In the early 1990s, Serbs attacked from air, sea and land. The fact that the locals are hardworking and resourceful, not to mention stubborn, said Elena, is what spurred them to rebuild the home that they love so much. 'And now I love it too,' she adds. 'The shades of orange tiles on the roofs, the a cappella singers who keep on singing, and the people's capacity to survive.'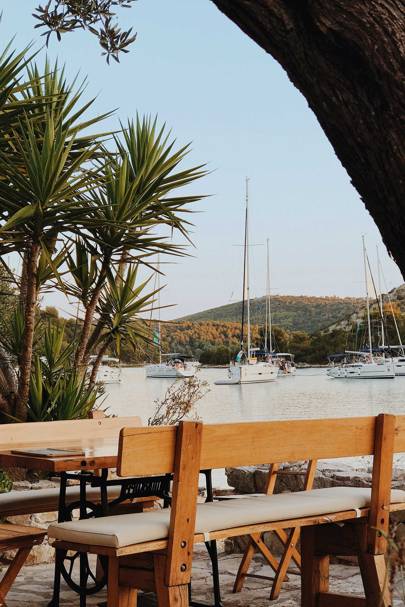 SATORI: THE BEST YACHT FOR SAILING CROATIA'S COAST
The writer sailed the Kornati islands onboard the Satori, a 136ft schooner from Claus Thottrup, who co-owns the Borgo Santo Pietro hotel in Tuscany and has been an astonishing number of things in his life – plumber, ski instructor, mechanical engineer, furniture designer, high-end builder, farmer, cheese– and winemaker and even a purveyor of natural beauty products formulated by his wife Jeanette. Most of these skills, if not all, were brought to bear in one way or another on the creation of the Satori. Cabins have freestanding walnut bathtubs; there's a foldaway cinema screen on the foredeck, a dining area in the middle plus a sunbathing deck. Thottrup used to sail a little boat in competitions of the coast of Denmark when he was a boy and had longed ever since to have one of his own. Now he does. 'I've swapped the North Sea for the Adriatic, but the motive is the same. It's freedom for the mind and spirit, in a way diffcult to find anywhere else. The only sounds you hear are the water against the hull, the lines snapping on the mast, some seabirds. You can stop for a swim in a cove and then move onto another, more beautiful one around the corner.'
Rates start from about £89,400 a week for up to 10 guests (excludes fuel, food and drink). satoriyacht.com
Scroll down for more pictures of Croatia's Dalmatian coast…
Like this? Now read:
The 20 best beaches in Croatia