Now is the time to plot that romantic getaway to somewhere completely knockout, whether it's a long-awaited honeymoon or a loved-up post-lockdown break. One&Only Resorts and Private Homes is known not only for its glamorous style and stellar service, but for always being ahead of the pack when it comes to seeking out some of the most incredible locations. It also deeply roots its resorts in their surroundings, so guests truly experience destinations rather than merely staying in them. From nature-led hideouts to blissed-out beach retreats, here's One&Only's guide to the most romantic destinations to book for a once-in-a-lifetime trip.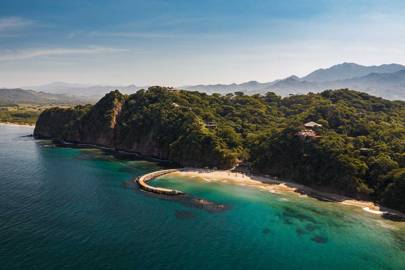 A Pacific Coast two-stop trip: Los Cabos and Riviera Nayarit, Mexico

Mexico's sun-splashed Pacific Coast has been attracting famous couples since Elizabeth Taylor and Richard Burton holed up in Puerto Vallarta in the 1960s. Imbued with an old-school Hollywood glamour, Los Cabos is today's bolthole for A-list lovers and One&Only Palmilla is their hacienda-style hideaway of choice. Tucked away behind its high whitewashed walls are expansive and supremely private suites and villas with views of the Sea of Cortez – the only prying eyes are those of the humpback whales cruising past. Elsewhere the star power is further amped up by restaurants from New York super-chef Jean-Georges Vongerichten and treatments by celebrity French podiatrist Bastien Gonzalez. You'll be walking on air. Hop down the coast to find Riviera Nayarit, a place to slip under the radar. Tucked between the lush Sierra Madre Occidental mountains and the azure ocean, One&Only Mandarina is its latest and most rooted spot to stay, with dreamy oversized treehouses and cliff-top villas, each with its own plunge pool, woven among the untouched tropical rainforest. There's no better place to be seduced by Mexico's magic.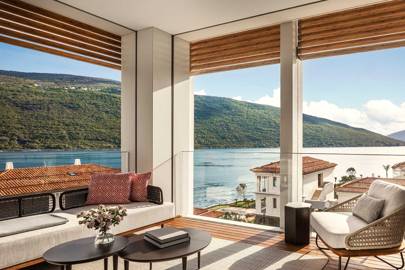 A brand-new away-from-the-crowds European escape: Montenegro

The Mediterranean's latest hotspot, Montenegro is quietly attracting in-the-know sunseekers usually seen docking in St Tropez or island-hopping around the Cyclades. Even more so since One&Only Portonovi opened here at the start of May 2021 – with its own marina if you do arrive by superyacht. The globetrotting brand's first resort in Europe, it's set along the sheltered waters of Boka Bay and takes architectural cues from the nearby Venetian port of Perast and Montenegro's grand Italian palaces. Its colonnades topped with terracotta-tiled roofs are the perfect backdrop for Giorgio Locatelli's refined riff on Italian cooking at his Sabia restaurant. The chef isn't the only head-turning superstar in the mix, with the Chenot Espace, which follows legendary founder Henri Chenot's methods, fusing Western scientific advances and ancient holistic practices. This is a nautical playground where the glitz and glamour is matched by deeply restorative good living – welcome to the new riviera.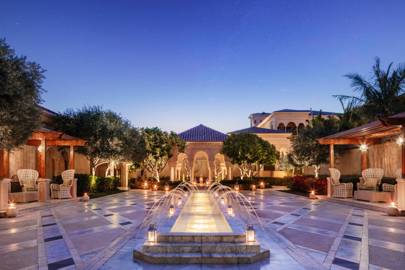 The classic double-hop honeymoon: Dubai and the Maldives

When it comes to perfect matches a Dubai and Maldives twin trip is hard to beat. Kick off with the high-octane glamour of the Middle's East's more-is-more capital. One&Only's two resorts here have been cleverly designed to be among the most intimate in the city and are a refreshing break from its infamous bigger-is-better skyline. Choose from One&Only Royal Mirage's opulent Arabian Nights fantasy on pristine Jumeirah Beach, or the Moorish oasis of One&Only The Palm. Then reset to island time in the Indian Ocean's most lusted-after archipelago. One&Only defined castaway glamour in these parts when it opened One&Only Reethi Rah in 2005 and it's still the go-to for the smartest honeymooners and paradise-loving families who return again and again. Compared to some other sand-ringed specks in these parts, One&Only Reethi Rah (which means 'beautiful island' in the Maldivian language) is one of the biggest in the North Malé atoll, so there's space to find your own deliciously secluded corner between the 12 beaches, three pools, seven restaurants and progressive spa – seek out the over-water couples treatment suite.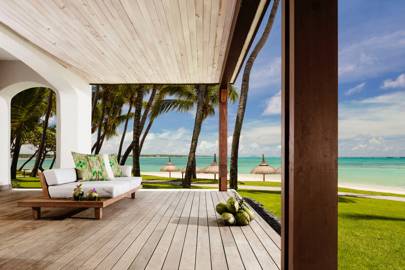 The Indian Ocean idyll: Mauritius

One&Only Le Saint Géran put Mauritius on the holiday map when it opened on the island in 1975. Unsurprisingly, it still has the plumest spot of all, on a private 60-acre white-sand peninsula, drawing fans who return year after year from honeymoon right through to multi-generational trips with the grandkids. The reason? Supremely intuitive service (whether it's your first visit or your 81st), a revitalising renovation in 2017 that pumped a fresh jolt of style into the sea-facing rooms, and a good-life easiness that is almost impossible to replicate. Now those loyal returnees can own a slice of the legend thanks to new One&Only Private Homes set among rustling palms with all the enticement of the main resort. (One&Only Private Homes are also available at One&Only Mandarina, Mexico, and the forthcoming One&Only Kéa Island, Greece.) Start your love story here.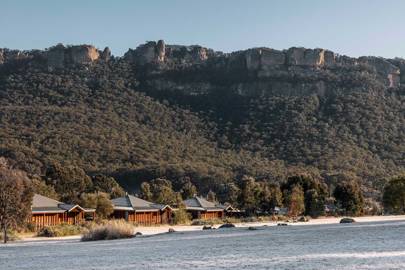 A remote wilderness retreat: Blue Mountains, Australia

Australia plays top trumps with its jaw-dropping landscapes, from epic expanses of rust-red outback to the technicolour Great Barrier Reef. But the Blue Mountains are one of the most accessible – less than a two-hour drive from Sydney – and unique, named after the blue-ish glow given off from the vast eucalyptus forests that run up and down the slopes, so rich with wildlife they even astonished Darwin when he visited in the 19th century. And they are no less breathtaking today. Deep in the heart of it, on a private conservancy, Emirates One&Only Wolgan Valley places its 40 standalone stone-and-wood villas amid the landscape, each wrapped in a verandah from which to sip 1832 Wolgan G&Ts together at sundown while spotting kangaroos, wallabies, possums and koalas. And whether exploring by horseback, star-spotting around a crackling campfire or taking a night safari under the clear, deep indigo night sky, this is an incredibly special place to reconnect with each other as well as nature.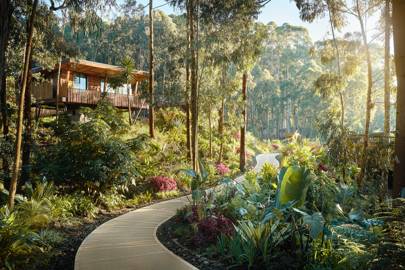 The African safari hit: Rwanda

It is an unmatched privilege to see Africa's majestic animals in their natural habitats, but most remarkable of all is spotting mountain gorillas on the mist-shrouded slopes of Rwanda's Volcanoes National Park. In the foothills of the Virunga Mountains is another rarity, One&Only Gorilla's Nest, a lodge where it's as tempting to stay put – with rose-scented paths leading to cocooning nest-like suites – as use it as a jumping-off point from which to explore the surroundings. But Rwanda's wildlife doesn't stop at gorillas. In the south-west, One&Only Nyungwe House lies next to the green blanket of the Nyungwe forest, teeming with chimpanzees, colobus monkeys and 300 bird species, as well as more than 200 varieties of trees and at least 100 species of orchids. This natural wonderland is a fresh take on the timeless romance of safari.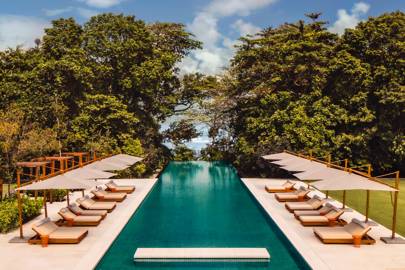 The far-flung feel-good escape: Malaysia

Among the pantheon of classic South-east Asian destinations – Thailand's islands, Bali's beaches and Cambodia's temples – Malaysia is sought out by in-the-know travellers for its tranquil sands, unspoilt rainforests and fascinating fusion of Malay, Chinese, Indian and indigenous cultures. One&Only tapped the late, great architect Kerry Hill – the father of tropical modernism – to create One&Only Desaru Coast, which opened in the country's relatively undiscovered south-eastern corner, not far from Singapore, in September 2020. And it's a masterpiece of its class: a contemporary Malay village tucked between the jungle and the sand, a long infinity pool stretching out towards the glinting South China Sea. Of all the sleek, light-filled rooms, the sensational Villa One is the most coveted to bed down in; a secluded, spacious hideaway with its own spa treatment room. And it's the spa that's caused the biggest ripples through these waters: a heavy-hitting Chenot-based space that perfectly balances out the indulgence of hotspot Ember Beach Club by chef Andrew Walsh down on the shore. This is a next-level beach haven that resets the compass for winter-sun honeymoons.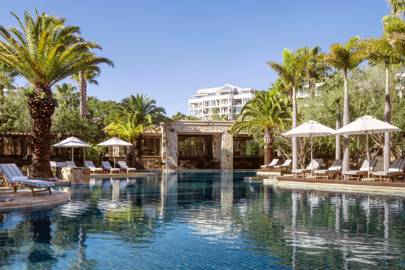 The sunshine city break: Cape Town

At the nexus of Africa's rising design, art and food scenes, and against arguably the most beautiful backdrop of any city on the planet, Cape Town is a sizzling start to any African honeymoon. At the heart of the action on the V&A Waterfront, One&Only Cape Town delivers not only knockout views of Table Mountain, but also a peaceful retreat from which to tap into the energy of the South African Mother City. For the ultimate romantic hideaway, seek out one of the spacious island suites tucked around the palm-fringed waterways that meander through the grounds, steps from the restorative Spa Island. Then start your foodie odyssey at the hotel's outpost of Nobu, or explore the region's wine heritage on a guided tasting of the stellar cellar by head sommelier Luvo Ntezo. Here is unrivalled access to one of the world's most exciting cities right now.
To discover more about the sensational One&Only Resorts and Private Homes in some of the world's most romantic locations, and to book your dream trip now, visit oneandonlyresorts.com. Or look ahead to its next openings: One&Only Aesthesis, Athens, in 2022 and One&Only Kéa Island in Greece and One&Only Za'abeel in Dubai, both set to debut in 2023.
Be sure to check our article 'When will we travel? The latest post-lockdown rules explained' and the UK government website before travelling to find out the latest guidelines. Also check the government website for the country you intend to visit.