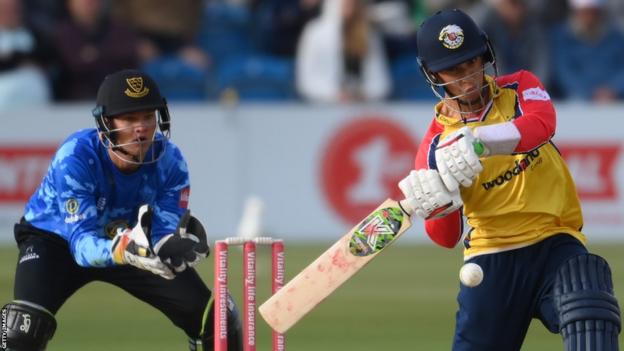 Most 20-year-olds studying for a degree in history are likely to be thinking about a new term of lectures and essay deadlines.
But for Robin Das, the young Essex batter, a totally different experience awaits.
"I couldn't be more excited, not only to play in my first franchise tournament, but also for it to be in Bangladesh," he enthuses.
Das is one of a tiny number of professionals in the English game who has Bangladeshi heritage.
In common with the majority of British Bangladeshis, Robin's family originate from the Sylhet region.
When the chance to play in Bangladesh came along, inevitably he grabbed it with both hands.
"It's obviously of great personal significance to me and my family," says Das, whose brother Jonathan played for Cambridge University and Essex second XI.
"My dad is definitely very proud, it means a lot to him.
"I don't travel to Bangladesh very often so it will be great to see my family who live there, and hopefully for them to watch me play."
Despite only a handful of T20 Blast appearances, Das has been signed by the Dhaka Dominators in the Bangladesh Premier League, which means he'll be juggling his studies during a hectic few weeks.
"It's very challenging," he says. "I think even if I wasn't going away, it would still be challenging because as a professional, you want to be training all the time.
"Fitting in training with having to study can be mentally fatiguing. Sometimes you may not have as much free time as other people but by the end of my degree I'll not only have a sporting career but something else to fall back on."
The east Londoner, who had a small taste of international cricket last year when he appeared as a substitute fielder for England against New Zealand at Lord's, has the full backing of his county.
"Essex were very pleased to hear about this opportunity," said Das. "They definitely encourage young players to go away and get as many experiences as they can, especially early in their careers.
"They know that by going away to a franchise, you'll pick things up from being around great players and playing in new conditions."
The Bangladesh Premier League is an established franchise tournament, although arguably it's been overtaken in prominence by a batch of newer competitions.
One of the virtues of playing in franchise cricket is rubbing shoulders with international stars and garnering advice. The BPL still attracts its fair share of big names and Das is eager to meet them.
"Shan Masood is an incredible player, he had an unbelievable year playing county cricket and he's very experienced in all formats, so it would be great to tap into his knowledge," said Das.
"There are definitely a lot of high-profile players from other teams that it would be great to learn from too; Mohammad Rizwan, Dawid Malan, Shakib Al Hasan are all incredible cricketers."
Das' progress has highlighted the chronic lack of British Bangladeshi cricketers who make it into the professional game.
His own journey towards representing Essex offers an insight into the possible reasons for this.
"The Bangladeshi community is very active in cricket circles, especially where I'm from in east London. But compared to other Asian communities, there aren't as many Bangladeshis making it through to county pathways," explains Das.
"Cricket is probably one of the more difficult sports to get into because there's a lot of travelling involved. Parents need to be very supportive and very committed. I'm very grateful that my parents have been able to do that from my childhood."
Social and economic indicators suggest the average Bangladeshi household is worse off than most other groups. Navigating seemingly impenetrable cricket pathways also compounds the issue.
The racism crisis that continues to engulf English cricket is another vivid illustration of the work required to gain the trust of excluded communities.
By blazing his own unique trail, Das has become a torchbearer for better things to come.