There are sites in Reykjavík and along the Golden Circle where the crush of visitors has become unbearable. But as María Reynisdóttir, tourism specialist for Iceland's Ministry of Industries and Innovation, tells us, these are isolated infrastructure challenges. The country is still big, and there are parts where travellers can drive for miles without encountering another soul.
On 8 June 2019, Iceland unveiled a rebranded Arctic Coast Way, which connects many of these areas. The hope was to draw attention to the 21 villages, 17 communities and four islands located along the 560 miles of northern coastline stretching from Hvammstangi to Bakkafjörður. My mother and I drove a good chunk of this 10 months before it became a thing. Here's how we did it.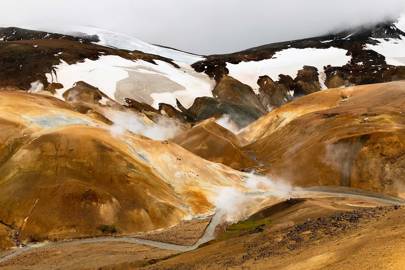 The trip: five days, 470 miles
What to drive

Unless you're off-roading, a compact vehicle will serve you just fine along this route. Being able to drive a manual saves a bundle, as automatics tend to cost more. My mother and I rented a car at Keflavík Airport (KEF) in Reykjavík and drove it all the way to Akureyri Airport in the north. For the return, we booked a one-way flight via Air Iceland Connect back to Reykjavík Airport and preordered a Flybus voucher for transfers between the domestic and international airports.
When to go

This drive is best done between April and September, although budget-minded travellers may appreciate the slightly discounted hotel rates in the shoulder months of March and October. Just bear in mind that some businesses operate seasonally (mid-May through August). Note: the only thing predictable about Iceland's weather is its unpredictability. Check the Icelandic Road and Coastal Administration and Safetravel websites daily for the most up-to-date driving conditions.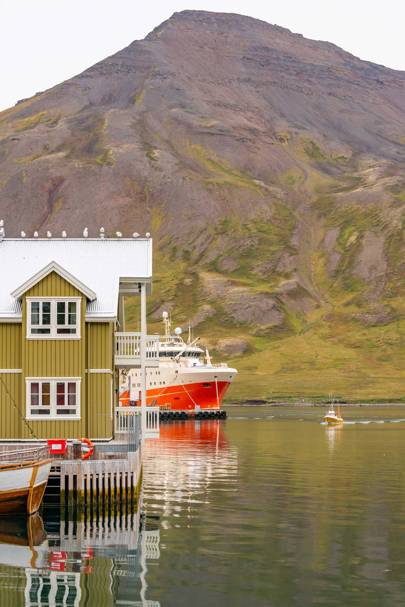 Day 1

My mother and I flew from Stockholm to Reykjavík and rented a small Ford Focus from the Avis at KEF. Having visited the capital numerous times before, we hit the road straight away. It was a 264-mile drive to our first overnight destination, Siglufjörður, where we had booked a cute cottage via Airbnb.
Fortunately, there was plenty to distract us during the nearly six-hour ride. Around the halfway mark, we veered three-and-a-half miles off Route 1, also known as the Ring Road, and down a gravel path toward Kolugljúfur, a gorge where the Víðidalsá river feeds into a tumbling waterfall. Kolufossar isn't the most famous cascade in Iceland, but it still draws the Instagram set; we encountered a dozen people taking photographs and two drone operators, the latter precariously perched on the ragged edges of the canyon cliffs.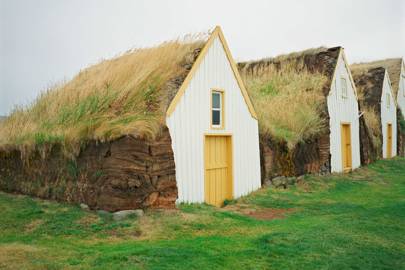 That crowd missed the memo on Blönduóskirkja, though. The striking design of the modernist church, 40 minutes north-west in Blönduós, was inspired by a volcanic crater. Another 36 miles on, we stopped at Glaumbær in Skagafjörður. These historic turf-roofed farmhouses were built during the Age of the Settlements, circa 900 AD, and have been transformed into a living museum. The timber structures were added as recently as the 1870s, and the last inhabitants didn't vacate the premises until 1947. Wandering through the old pantry, storerooms and blacksmith's workshop felt like stepping onto the set of a period film.
Day 2

We used the tiny fishing town of Siglufjörður, with a population of about 1,206, as a base to explore neighbouring villages along the rugged north-western coast of the Troll Peninsula. True to its name, trolls were the first thing we noticed in Olafsfjörður, the town next door. They were everywhere – painted on the sides of houses, a fish-processing plant and an indoor public pool. The murals were created by an American artist who had done a residency here. Now, roadtrippers such as us make a point of stopping in the town purely to hunt trolls.
After lunch, we drove 30 minutes south to Bjórböðin, a spa and restaurant in Arskógssandur. Opened in June 2017, this was the country's first beer spa, where deep, oval soaking tubs made from kambala wood are filled with 100°C young beer, live beer yeast, water and hops. After baking in the outdoor sauna, we slipped into the frothy mixture. For 25 minutes, we scrubbed ourselves with the gritty yeast, which is believed to soften hair follicles and cleanse the skin. Post-soak, we headed up to a darkened relaxation room where a bath concierge swaddled us in towels. We laid in silent meditation and tried not to fall asleep. Weirdest family bonding experience ever? Maybe. But also surprisingly soothing.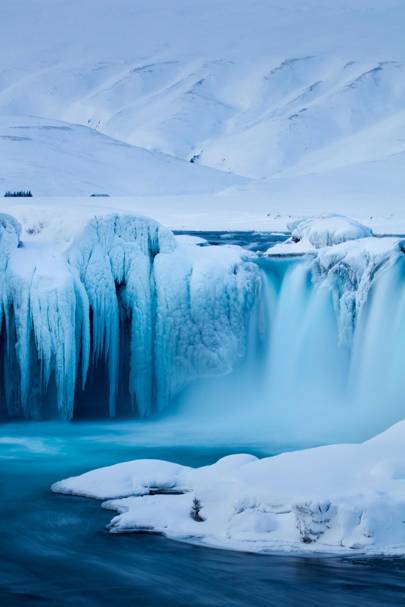 Day 3

After checking out of our Airbnb, we grabbed a quick and tasty lunch at Fish & Chips Siglufjörður (this was one of the few budget-friendly meals we could find in North Iceland, although it still cost about 4,000 krona or £23 for two).
We then stopped for home-baked pastries at the charming Gisli Eirikur Helgi café in Dalvik, 40 minutes south; made a failed attempt to visit Safnasafnið, an Icelandic folk and outsider art museum in Akureyri that keeps strict seasonal hours; and took a leaf-peeping spin through the 742-acre Vaglaskógur national forest in Fnjóskadalur which was staging quite an explosive colour show in late September.
But the highlight of the drive, which ended at the modest Post-Plaza Guesthouse in the port city of Húsavík, was Goðafoss, one of the most epic waterfalls in Iceland. Nicknamed the Waterfall of the Gods, it's where the rushing Skjálfandafljót river drops nearly 40ft across a 98ft expanse.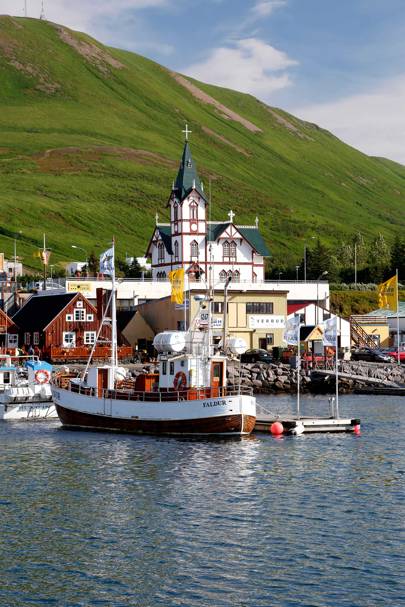 Day 4

We spent the morning strolling the compact streets of downtown Húsavík. We shopped for Scandinavian homeware at Garðarshólmi; loaded up on cream-filled pastries at Heimabakarí Eðalbrauð Ehf; popped by the Húsavík Whale Museum, home to an 82ft-long blue whale skeleton; and photographed the storybook-handsome, 112-year-old Húsavík church.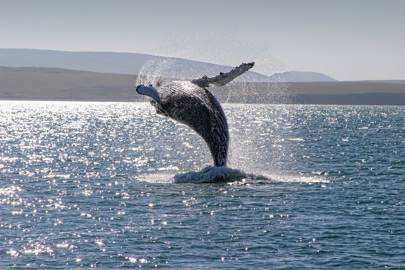 Continuing with the sea-life theme, we joined a three-hour whale-watching tour in the afternoon. Our guide, a Dutch marine biologist from Salka Whale Watching, rated the roughness of the ocean that day as seven out of 10. We wore winter coats plus full-body thermal suits and raincoats and were slip-sliding across the deck, seawater spraying our faces, as the boat flew this way and that. It might have been a miserable experience had we not been lucky enough to spot an astonishing five humpback whales – two of which came within 20ft of our boat. Though the water was choppy, the crew took good care of our small band of determined sightseers.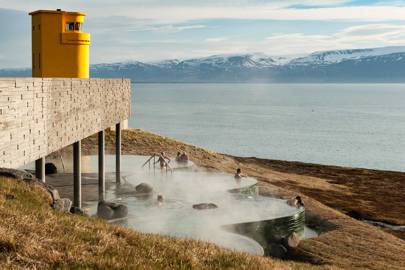 My mum and I ended the day in the best way imaginable – with no-fuss takeaway from Fish & Chips, a favourite of Húsavík's local fishermen, and a long soak at the Geosea Geothermal Sea Baths. The spa has six outdoor pools and sweeping views of Skjálfandaflói, the bay where our whale-watching boat had been mercilessly knocked about like a toy in a bathtub.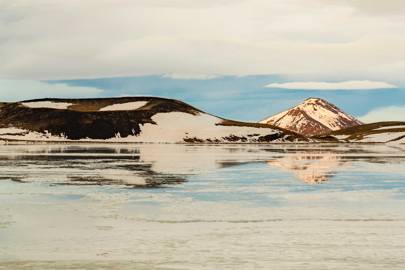 Day 5

We devoted our final day in North Iceland to volcanic Lake Mývatn. After moving to Fosshotel Mývatn, a smarter chain hotel 40 minutes south of Húsavík, we drove to the Namafjall Geothermal Area. We could smell the sulphur before we even parked the car. Located at the foothill of Námafjall mountain, Hverir put on a dazzling display of hissing fumaroles, bubbling mud pots and cracked earth. We watched with awe as one visitor stuck his hand directly in front of a hot vent and then howled in pain when it injured his fingers.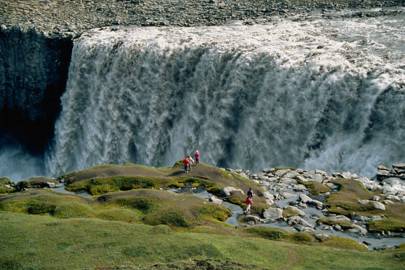 Next we took Highway 862 out to Dettifoss, the most powerful waterfall in Europe. Right as we strolled up, a daredevil tightrope walker was beginning his terrifying crossing high above the furious churn. Three rainbows appeared between the sun and the spray, making for an incredible scene. Another half-mile schlep along the rocky Jökulsárgljúfur canyon and we found Selfoss, Dettifoss' smaller but arguably wilder sister waterfall.
In the afternoon, my mum and I spent an hour riding shaggy Icelandic geldings with Gilli, owner of Safari Horse Rental on the southern side of Lake Mývatn. He taught us how to 'tölt', a trot that is surprisingly smooth when done right. We rode across a beautiful grassy area with mountain and lake views, and up a pseudo crater. The ridges had sheer drop-offs on either side – if one of our boys slipped a horseshoe, we'd both be dead. My mum was terrified of the heights but I told her what I tell myself when I climb into a taxi in Rome or Delhi or New York City: you have to trust the driver.
For our final meal in Iceland, we splashed out at the popular Vogafjós Cow Cafe near Mývatn. The restaurant is attached to a working dairy farm. My mum ordered a burger, which I couldn't stomach given the surroundings; I went with raw lamb and housemade mozzarella and geysir bread. The bill totalled almost £90. Once the shock passed, we shrugged it off. Tomorrow we would be on a plane headed back to the USA. Memories like these are worth every penny.
Like this? Now read: