Portugal has ordered nightclubs and bars to close and told people to work from home for at least two weeks starting this Saturday to control the spread of Covid-19 over the holiday period.
"This still isn't the normal Christmas we are used to," Prime Minister Antonio Costa told a news conference.
"If we do not adopt these measures now, the consequences on everyone's lives will be much worse after Christmas and the New Year."
Mr Costa also announced capacity restrictions at stores and said a negative coronavirus test would now be required to stay at hotels or go to events.
Authorities will also limit outdoor gatherings to 10 people per group on New Year's Eve, when a negative test will be needed to enter restaurants, casinos or attend parties in public spaces, Mr Costa said.
Most of the measures announced today were initially meant to come into force in early January but the current pandemic situation forced the government to implement them ahead of time, he added.
Portugal has one of the world's highest rates of vaccination against Covid-19 with around 87% of its 10 million population fully inoculated.
But it is facing a surge in infections along with the rest of Europe, in part due to the fast-spreading Omicron variant.
Close to 50% of new coronavirus cases in Portugal are from the Omicron variant, the national health institute said in a report today.
Sweden, Germany tighten Covid restrictions as cases mount
Germany today capped private New Year's Eve parties at 10 vaccinated or recovered guests, and announced a ban on spectators at large sporting events from 28 December to slow Omicron's spread.
"This is not the time for parties and cosy evenings with lots of people," Chancellor Olaf Scholz said after talks with Germany's regional leaders.
From 28 December, large organised events "will no longer take place with spectators, this applies in particular to football games," he added. Nightclubs will also be closed.
Sweden, meanwhile, will urge all employees to work from home if possible and impose tighter rules for social distancing, the government said, as it ratchets up restrictions aimed at fighting a surge in new infections of the Covid-19 virus.
---
---
The number of new virus cases in Sweden, which sparked international attention last year for its rejection of hard lockdowns, have shot up in recent weeks after a calm autumn when most restrictions were phased out.
While hospitalisations and the number of patients requiring intensive care are still among the lowest per capita in Europe, these have also begun rising.
"We must now take joint responsibility and we need adapt to the new reality," Prime Minister Magdalena Andersson told a new sconference.
"I understand that many are tired of this – so am I – but we now have a new virus variant, which means we are in a new situation."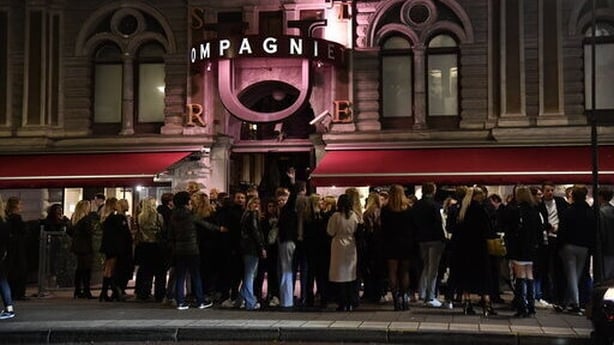 Meanwhile, fresh projections from the Public Health Agency of how the pandemic will develop showed the pace of new infections continuing to increase in the coming weeks and peaking in January.
The latest restrictions – the second stage of the government's plans – also included a limit of 50 people at private gatherings and the need for a vaccination pass for public events where there are more than 500 people.
The new rules also will require seated-only service at bars and restaurants, as well as seated-only participants at larger public events, implying venues such as night clubs may need to close, at least in part.
Earlier this month, the government reintroduced some limited measures, such as the use of masks on public transport, amid concerns about rising infections and worries about the new Omicron variant.
It outlined a three-tier road map for additional measures if the situation deteriorated further with the latest measures marking the second step.
In Denmark, daily coronavirus infections reached a new record, propelled by the Omicron variant, which is now the predominant variant there, Health Minister Magnus Heunicke said.
"SSI deems Omicron to be the dominant variant already now and (it is) still growing," he said on Twitter, citing the country's top infectious disease authority, Statens Serum Institut.
Denmark logged a record 13,558 infections in the last 24 hours, but saw the number of Covid-19 patients in hospitals drop by 27 to 554.
Daily hospital admissions and deaths are still below levels seen in December last year.
The reproduction rate, which estimates how many people one infected person transmits the virus to, is 1.2, Mr Heunicke said, meaning the epidemic is growing.
EU sets binding nine-month validity of vaccinations for Covid-19 travel pass
The European Commission has adopted rules that will make the European Union Covid-19 certificate valid for travel nine months after the completion of the primary vaccination schedule, an EU official told Reuters.
The new rules will be binding on the 27 EU states from 1 February, the official said.
The rule can be blocked by a qualified majority of EU governments or a simple majority of European Parliament members, but officials have said there is sufficient support for it.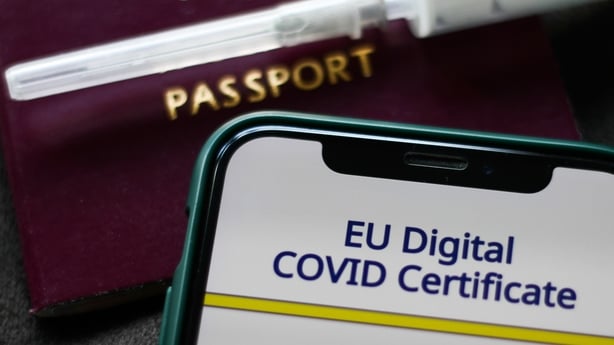 The rule replaces a non-binding recommendation the EU Commission put forward in November.
Once the rule is effective, EU states will be obliged to let fully vaccinated travellers with a valid pass access their territory.
However, as an exception justified by a deteriorating situation, they could still impose further requirements, such as negative tests or quarantines, as long as they are proportionate.
Several EU states, including Italy, Portugal and Greece, are currently requiring fully vaccinated travellers from other EU countries to also show a negative Covid-19 test upon arrival, measures some see as damaging the credibility of the EU pass.
The new rules apply only for international travel.
Governments will be able to have a different duration of the Covid-19 pass for access to events or indoor activities within their territories.
After a booster shot, the validity of the Covid-19 pass will be extended further without a set limit, because at the moment there is not enough information about the duration of protection from boosters, the EU official said.
A primary vaccination schedule for Covid-19 is currently composed in the EU of two shots of vaccines produced by Pfizer-BioNTech , AstraZeneca and Moderna, or a single jab of the Janssen (Johnson & Johnson) vaccine.
Tánaiste Leo Varadkar has said the new EU proposal applies only to international travel and there are no plans to apply it in a domestic context.
He said Ireland is "powering through the third dose" and predicts there could be 2m administered before the end of the year.
Mr Varadkar said Ireland ranks second in Europe for its booster programme.
NZ delays border reopening plans over Omicron concerns
New Zealand has postponed its phased border reopening plans until the end of February over concerns of the rapid global spread of the Omicron variant of the coronavirus.
It had just started easing some of the world's toughest pandemic measures and its international border restrictions were to progressively loosen from January, with all foreign tourists allowed into the country from April.
Non-quarantine travel, which was to have opened for New Zealanders in Australia from 16 January, would be pushed back until the end of February, Covid-19 Response Minister Chris Hipkins said at a press conference in Wellington.
"All of the evidence so far points to Omicron being the most transmissible Covid-19 variant yet.
"There's no doubt this is disappointing and will upset many holiday plans, but it's important to set these changes out clearly today so they can have time to consider those plans."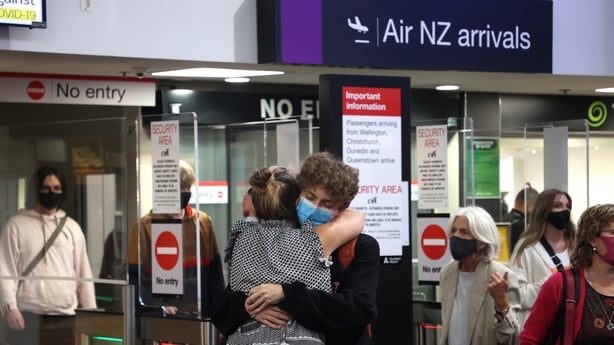 The measures were a precaution as it was still unclear how sick Omicron makes people and the impact it had on health systems was not yet fully understood, he said.
New Zealand also said the length of stay in state quarantine facilities would be increased from a week to ten days. The pre-departure test requirement to enter New Zealand was reduced from 72 hours to 48 hours before travel.
National airline Air New Zealand said it would cancel around 120 services through to the end of February due to the reopening plans being pushed back, affecting about 27,000 customers.
Prime Minister Jacinda Ardern said the decisions were taken to give the government more time to prepare for Omicron.
"It's unfortunately not a case of if (it spreads in New Zealand) but when … it's so easily spread. So we are doing everything we can to make sure we are prepared," Ms Ardern said on Facebook Live.
The Omicron variant was first detected last month in southern Africa and Hong Kong and has spread with lightening speed to at least 89 countries so far.
New Zealand has reported 22 cases with the Omicron variant but all at the border quarantine facilities and there has been no community cases yet.
Omicron now dominant Covid-19 strain in US – health authorities
The Omicron variant is now the main coronavirus strain in the United States, accounting for 73.2% of new cases over the past week for which data is available, health authorities reported.
The spike, which was tallied by the Centers for Disease Control and Prevention, is based on data for the week ending on Saturday. During the prior week period, Omicron accounted for only 12.6% of US cases.
Omicron already constitutes more than 90% of new US cases in the Pacific northwest and much of the US south and parts of the midwest, the CDC indicated.
The news comes ahead of a speech by US President Joe Biden on Covid today.
White House press secretary Jen Psaki has already said he does not plan on "locking the country down" in response to the surge.
"This is a speech outlining and being direct and clear with the American people about the benefits of being vaccinated, the steps we're going to take to increase access and to increase testing."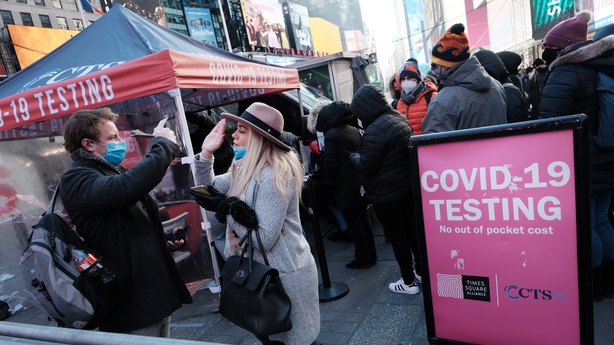 Top US pandemic adviser Anthony Fauci warned on Sunday of a bleak winter ahead as the Omicron coronavirus variant spurs a new wave of infections globally.
"With Omicron," Dr Fauci told NBC News, "it is going to be a tough few weeks to months as we get deeper into the winter."
Despite indications that Omicron is not more severe than the still-dominant Delta variant, early data suggests it could be more infectious and possibly have higher resistance to vaccines.
Across the United States, hospitals are getting busy, testing centres are seeing long lines, and sports and entertainment events are being cancelled.
Getting the virus under control has proven difficult in a country where vaccination and mask-wearing have become divisive political issues, and federal mandates end up in protracted legal battles.