Chef Philli Armitage-Mattin, one of Opihr's spice pioneers, shares three innovative recipes inspired by a different flavour of Opihr's spiced gin range. The spirits company, which draws inspiration from the ancient spice route, has partnered with Armitage-Mattin to create dishes using the spices and flavours found in the London Dry Gin, the Arabian Edition and the Far East Edition.
Each dish can be made individually as a delicious supper, or you could prepare all three to create a feast designed to impress. Picture friends and family gathered around a table groaning beneath richly spiced chutneys and fiery kebabs – and, of course, the perfect accompaniment of an Opihr spiced gin.
Korma-spiced halloumi with coriander chutney inspired by London Dry Gin (original) (v)
Many of the spices used to give Opihr's London Dry Gin its distinctive flavour – cardamom, cumin and coriander – also feature in this recipe.
Armitage-Mattin has a few tips to make sure your spice mix is as delicious as the gin. 'When you're looking for coriander seeds, you want them as green as possible – the browner they are and the darker they are means they've actually been over-roasted.'
Adjusting the heat levels to your own tastes is something Armitage-Mattin believes is key when cooking with spice. 'You always want to check the flavour of the spice blend, which many people don't actually do. You just want to stick your finger in and give it a little taste to make sure that the flavour is your preference.'
Finally, Armitage-Mattin says, sometimes the easiest method really is the best. 'People always remove the skin of ginger, but the skin actually has a load of flavour.' The few moments you've saved by not peeling can be used to pour yourself a London Dry Gin to enjoy as you cook – a much better use of your time, if you ask us.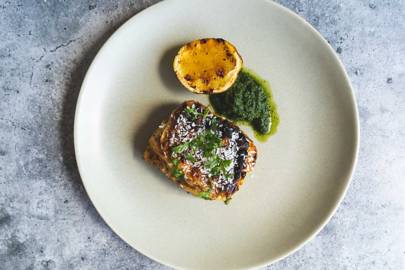 INGREDIENTS
For the halloumi
2 tbsp coriander seeds
4 cardamom pods
1 cinnamon stick
1/2 tsp cloves (4)
2 tsp cumin seeds whole
1 bay leaf
1 star anise
2 tsp fennel seeds
6 black peppercorns
1 whole halloumi
2 tbsp honey
1 tbsp desiccated coconut
For the coriander chutney
2 bunches of coriander
1 green chilli
3 slices of ginger
1/2 tsp cumin
squeeze of lemon / about a 1/4
pinch salt
1 tbsp water
TO GARNISH
METHOD
Blend the spices for the korma mix in a spice blender.
Rub the halloumi and grill on the barbecue whole for 10-15 mins, drizzling with honey at 5 mins intervals.
Blend all the ingredients for the coriander chutney.
Remove the halloumi from the grill and cover in more spice mix, honey and desiccated coconut.
Serve with the coriander chutney and a charred lemon wedge.
Black-lime-roasted aubergine with tahina sauce inspired by the Arabian Edition (ve)
Sometimes known as Persian black lemons, these preserved limes are a key flavour in the Arabian Edition of Opihr. The distinctive taste of the zesty fruit comes through with each sip, and it's ideal in a pre-dinner cocktail to whet the appetite.
The fruit also makes a wonderful cooking ingredient. 'They've got a really intense citrus note to them,' Armitage-Mattin explains, 'but it also comes with a little bit of bitterness. It really goes well with this dish, and it really marries well with a beautiful gin.'
This recipe is perfect for a barbecue, with the heat and the smoke giving the aubergine a charred exterior that's delicious paired with a tahina sauce that the chef describes as 'life-changing'. The result is a dish that's bursting with flavour and texture, with a richness that could convert even a die-hard carnivore to vegan eating. 'You can't believe this dish is plant-based,' Armitage-Mattin says.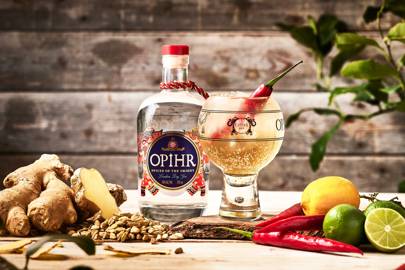 INGREDIENTS


For the roasted aubergine
1 black lime
20g salt
pinch sugar
pinch chilli powder
aubergine (1)
1 tbsp olive oil
1 tbsp pomegranate molasses
pinch Parsley
For the tahina sauce
2 tbsp tahini
1/2 lemon juice
1/2 clove of garlic
2 tbsp water
pinch salt
METHOD
Blend salt, black lime and chilli in a spice grinder until smooth.
Rub the whole aubergine with olive oil and roast on the barbecue for 15-20 mins until fully cooked, sprinkling generously with the black lime salt throughout the cooking time.
Mix the tahini with lemon juice until it becomes thick. it'll become thick. Add pureed garlic and loosen with water until you get the consistency of double cream, and finish with salt.
Remove the aubergine from the barbecue. Drizzle with pomegranate molasses, top with chopped parsley and serve with the tahina sauce.
Szechuan lamb kebabs with chilli oil and black vinegar inspired by the Far East Edition
'I first had this dish in Szechuan in south-west China,' Armitage-Mattin says. 'It was one of the most magical moments; the lamb was so fresh and hot, and I had a cold drink at hand. It's honestly one of my favourite dishes.'
To recreate the chef's magical memory in your own kitchen, she recommends pairing the lamb kebabs with the Far East Edition of Opihr. Flavoured with Szechuan peppercorns, it's the perfect accompaniment to the heat of this dish.
Armitage-Mattin's most important tip for this recipe is to toast the spices. 'As you toast off the spices, they're going to release their oils and beautiful aroma,' she explains. 'All of these flavours are from the Spice Road – there's cumin, there's chilli, there's szechuan, and it all comes together in one beautiful harmony.'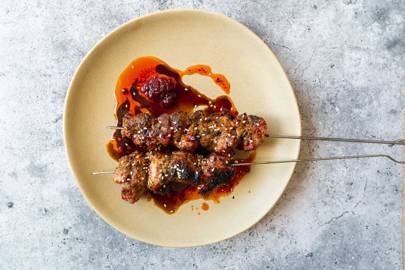 INGREDIENTS
2 tsp cumin seeds
1/2 tsp / 2 chillies
1/2 tsp salt
1/2 szechuan peppercorns
300g lamb leg steak diced into 10cm chunks
1 tbsp red chilli flakes
100ml vegetable oil
TO GARNISH
2 tbsp Chinese black vinegar (or balsamic vinegar)
1 tsp mixed sesame seeds
METHOD
Blend the cumin seeds, chilli, salt and peppercorns in a spice grinder.
Skewer the lamb onto sticks.
Heat oil to 160°C, and carefully pour it over the chilli flakes. Allow to bubble and then leave to come to room temperature. This chilli oil can be stored for a month.
Cook lamb on the direct heat of the barbecue before moving it to the middle of the indirect heat, making sure to keep seasoning the meat with the spice mix as you turn.
Serve with chilli oil and black vinegar and garnish with sesame seeds.
Find out more about Opihr's range of spiced gins, including where they can be purchased, here.
Like this? Now read:
Like this? Now read:
Recipe: how to make kake udon noodles
Recipe: how to cook Lina Stores' famous linguine dish