Seventeen days until the first night of the draft …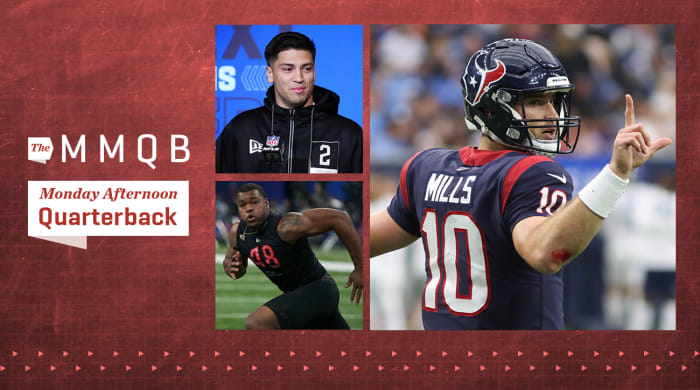 • In most years, quarterbacks get pushed up the board because, well, everyone that doesn't have one is desperate to get one. And maybe that happens again this year, even with what's seen as the shakiest quarterback class to come into the league in almost a decade, because of course, the need is, if anything, even more acute now than it has been in the past.
But here's something to chew on that I've danced around the last few weeks in a few columns—plenty of teams are changing the way they look at the position.
It at least feels like a new consensus has built that just being good at the position might not be good enough, and particularly in an AFC that'll be stocked with Patrick Mahomes, Josh Allen, Lamar Jackson, Joe Burrow, Justin Herbert and Trevor Lawrence, among others, for the foreseeable future.
So the question these teams have to ask themselves looking at this year's class is whether or not you'd be better off treading water, and waiting on a quarterback of the future, than diving in on a prospect you might not be sold on completely who'd be in the way of taking one later on. It's a scary proposition, of course, because there are no guarantees the right one will come along. But it can be worth it if it's handled the right way.
Which brings me to my template, the 2013 Chiefs. Andy Reid and John Dorsey were new that year, and had the first pick in the draft. Matt Cassel was on his way out the door. The quarterback class was seen as worse than this year's was. So rather than forcing anything, Kansas City dealt a couple second-rounders to the Niners to get Alex Smith. Smith, in turn, made the Chiefs competitive right away, and bought Dorsey and Reid time to build the roster up, and gave them the leeway to wait until they found the right quarterback to aggressively pursue.
We now know how that turned out. And that's where I think new staffs in Vegas and Minnesota are with their quarterbacks—looking at Derek Carr and Kirk Cousins as better options than the rookies that'll be available to them in April, and capable of being good starters that keep their teams in contention for the next few years, with the hope that, over time, a Mahomes sort of opportunity will come along like it did for the Chiefs.
Now, history tells us the NFL could be wrong about the class. But I had one exec for a team with quarterback stability tell me last week that it'd be "scary" to need one going into this year's draft. More than a few others have intimated the last few months how happy they are not to be in that position. We'll see, in time, if it's as bleak as teams believe it to be now.
In the present, it doesn't look good. And what's stuck with me the last few months is how all of this kicked off at the Senior Bowl, when I asked around about which quarterback had the best week there.
A couple guys answered Matt Corral. Because Corral was the one who wasn't there.
• While we're there, it's worth trusting what Houston coach Lovie Smith is saying about Davis Mills. Because it's not hard to believe that the Texans would see Mills as a better prospect than any of the quarterbacks in this year's draft class.
Mills's numbers were comparable to Mac Jones's in New England, despite the fact that he lacked the coaching and roster infrastructure Jones had around him, and were better than those of the rest of the class. It's also fair to say that, just from a pure talent perspective, Mills actually is a first-round caliber player, albeit one who had very little luck, health-wise, being able to stay on the field in college.
And if we're grouping Cousins and Carr together, I think it's alright to group Mills with Philly's Jalen Hurts as a young player who's shown enough promise to give his team a good starting option without restricting his team from upgrading in a year or two if it's warranted.
Here, for what it's worth, is what Smith said to me on Mills a few weeks back: "You look at the rookie quarterbacks we played against, [Trevor] Lawrence, [Zach] Wilson with the Jets, we played San Francisco with Trey Lance. Of all those guys we played against, Davis played as well as any of those rookie quarterbacks. So everyone wants to talk about the quarterback—I like him. I like his demeanor, how smart he is, and I like that he and Pep Hamilton have been together for a year already. Those things should help us."
• Where Georgia's Travon Walker lands will be interesting. Yes, he's a freak athlete—in that department, I've heard him compared to Myles Garrett (both were 6'5″, 272 pounds at the combine, with Walker having run a 4.51 50 to Garrett's 4.64, and Garrett having jumped 41″ to Walker's 35.5″). Yes, he's tough, and plays with a strong motor, and has the sort of intangibles all teams look for in draft prospects. Yes, he was part of a generational defense.
So what's the problem? The tape doesn't come close to matching the athleticism. He looks lost at times, and what NFL teams will likely want him to do, work as an edge-rusher, you don't really see in his game at Georgia. In that regard, I've heard him compared to Vikings star Danielle Hunter, who similarly didn't fully tap into his potential at LSU.
But here's the thing—Hunter was a third-round pick, not the first overall pick. And where with Hunter you might be able to point to his struggles in college as a product of the coaching he got, it'd be tough to do that with Walker, given how strong the staff at Georgia, led by Kirby Smart, is, and how many other prospects they've pumped out on defense.
In the end, Walker's a tough one, but also indicative of the class as a whole. Tough to get a read on.
• It's at least interesting that the Commanders aren't bringing any quarterback prospects into Ashburn for a top-30 visit. It could mean one of a few things—either that they're all in on Carson Wentz, they don't like the draft class (which would influence being all-in on Wentz, of course) or they're trying to conceal their interest in someone.
They pick 11th, so most of the top guys should be there when they're picking.
• Rare case of the New York teams working together: The Jets and Giants arranged for both Aidan Hutchinson and Ickey Ekwonu to visit their facilities back-to-back this week. The idea was broached by their agent, Mike McCartney, who wanted to limit the travel on the two, both of whom are solid bets to go in the top five. And with both players being a consideration for both teams (with each holding a top-five pick and two top-10 picks), it made sense to arrange the visits to work for the Michigan and N.C. State standouts.
They'll go back to hating each other after.
• One thing I've definitely gathered is what this draft may lack in home-run prospects, it makes up in guys who might be nice doubles off the wall. Both Hutchinson and Ekwonu, as well as Alabama's Evan Neal and Mississippi State's Charles Cross are seen as high-character guys who may not be "wow" prospects, but figure to be really good NFL players for a long time.
• The XFL working with the NFL Academy to create a developmental pipeline is not only smart, it could wind up being vital to the league's survival—if the NFL sees value in another league creating depth for its teams and failsafes when inevitable waves of injuries hit, then you'd think they'd support its existence. And the NFL's a powerful ally to have.
• It surprised me a little to see Walmart heir Rob Walton bidding on the Broncos, since the family is already in the business of NFL owners (even if it's just by marriage, with the Rams' Stan Kroenke). What didn't surprise me was the bid number that was getting thrown around. I'd been thinking $4 billion was the target for a while. After asking around at the owner meetings, it became clear to me that the owners think the Broncos will fetch more than that, which is pretty astounding.
Forbes' valuations, for what they're worth, had Denver as just the league's 10th most valuable franchise last year. So that the team could go for well north of $4 billion, is pretty good news for a whole bunch of billionaires.
• Next Monday is an interesting checkpoint in the Baker Mayfield saga, with the Browns set to report for their offseason program. If Mayfield wants things expedited, the best thing for him actually might be to show up for it. Not reporting would make it easy for Cleveland to back-burner an effort to trade Mayfield. If he's in there on a daily basis, it could be a little awkward, which might work to Mayfield's advantage.
• Rob Gronkowski said last week he'd only play for the Bucs, and it's fair to say that O.J. Howard's whereabouts may have been a swing factor for him. Had Tampa brought Howard back, it's certainly possible the Bucs would've just moved on from Gronk. And in that case, the Bills wouldn't be getting Howard, which would've left open the possibility Gronk would wind up with the other team he considered this offseason.
Instead, it'll be Dawson Knox and Howard playing tight end for Gronk's hometown team and, probably, Cam Brate and Gronk at that spot for the Bucs.
More NFL Coverage: