Manchester United boss Erik ten Hag hopes Jadon Sancho can return to his best form after making his first appearance since October in Wednesday night's 2-0 victory over Nottingham Forest in the Carabao Cup semi-finals.
United will face Newcastle in the showpiece on February 26 after they beat Forest 2-0 in the semi-final second leg at Old Trafford to seal a 5-0 aggregate win.
The foundations were laid with a 3-0 triumph at the City Ground in last week's first leg and quickfire goals in the second half from Anthony Martial and Fred rubber-stamped their trip to the capital.
Another positive for United was the return of Sancho, who made his first United appearance since October after a lengthy absence.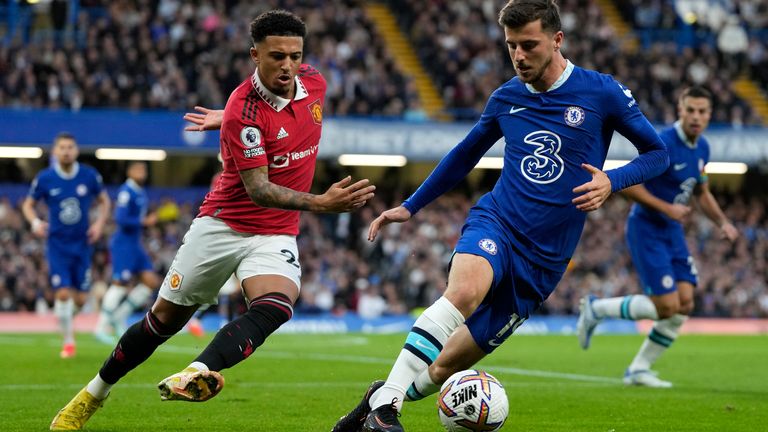 Sancho was "not in the right status or fitness state" having done an individual fitness programme in the Netherlands rather than travel to the squad's winter camp to Spain.
He returned to huge cheers from the Old Trafford crowd and Ten Hag is looking forward to getting the 22-year-old back to his best.
"Most important players (have to) enjoy football, which gives energy, that gives them the motivation to act and to perform," Ten Hag said.
"He has really high standards, he has great capabilities to contribute to our team and the team is improving, we are playing more in the opponent's half and his capabilities are coming more to the fore [then]. He can act on them more and have more touches on the ball and that gives him the best platform to perform.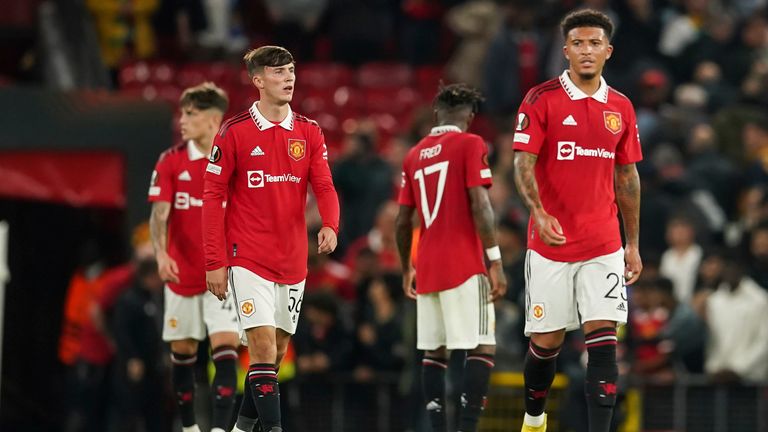 "I think it was great, the reception from the fans to him, and also that will give him even more a push to continue in the way he's now acting.
"He has just started again, he is back in Carrington, and hopefully he can keep that and really contribute to the team because when he is in form he is important to us."
"He already showed his quality this season for instance, the game against Liverpool, a great goal, scored against Leicester, he had some really good games, Spurs, he already showed his great capabilities.
"I hope when you are available all the time and play often together with the players we have now in the midfield and front line, our attacking play will improve and create more chances, then it's a process players enjoy more and better motivated to work together."
Highlights from the Carabao Cup semi-final second leg match between Manchester United and Nottingham Forest

It is United's first domestic final since 2018, when they lost the FA Cup, and puts them one win away from ending a six-year trophy drought, going back to the 2017 Europa League success under Jose Mourinho.
Ten Hag knows it is not job done, adding: "It's good to reach the final, but it's not about reaching the final, it's about winning it that's going to be tough, a great opponent.
"Now the focus is on the Premier League, in two days it will continue. It has to give the motivation in the first place, we want to bring that cup to the fans.
Manchester United manager Erik ten Hag revealed how far away he thinks Jadon Sancho is from playing for the club again

"But in this moment I'm not looking ahead, we're focusing on other things, a big week is coming up, we have Crystal Palace and then two games against Leeds and they are going to be great games, derby games that we are looking forward to."
Ten Hag signed midfielder Marcel Sabitzer from Bayern Munich on loan on transfer deadline day.
The Dutchman said: "We are really happy with that transfer because we need it after Donny van de Beek dropped out [for rest of the season] and now Christian Eriksen for a longer time [up to early May] and also for a short time also Scott McTominay is not available.
"So that gives us a shortage of midfield players and I know the player already from [former clubs] Salzburg and especially Leipzig. Great attitude and the right age: I am sure it [this move] will motivate him strongly."
Shaw: No point being in final if we don't win
Luke Shaw and Bruno Fernandes share their thoughts on Manchester United's victory in the Carabao Cup semi-final second leg against Nottingham Forest.

Manchester United defender Luke Shaw told Sky Sports: "It's very special. It shows where we are at the moment. The boys are in a good moment and we feel the crowd are with us.
"It's a final we can really look forward to but we have a few big games first before we go there.
"It's extremely pleasing but there's no point going to a final if we don't win it. It's where we want to be.
Roy Keane praises Erik Ten Hag for the difference he has made at Manchester United and says the team are better without those players who weren't happy being on the bench

"We want to get this club back to where it should be which is winning trophies. Newcastle are an extremely good team but it's a big moment for us in where we want to go."
Bruno Fernandes added: "It's really good. We reach one final [during my time here] but we unfortunately didn't win that one. Now we have another chance.
"I'm really happy with the performance of the team and the goals we created. We did it, we won and we're into the final so we're really happy."
Cooper: The damage was done last week
Steve Cooper speaking to Sky Sports after his side lost to Manchester United in the Semi-final of the Carabao Cup

Forest boss Steve Cooper knew his side blew any chance they had by losing last week's first leg, but was proud of how far the club have come.
They had chances to make a game of it in the first half but Brennan Johnson and Emmanuel Dennis both missed and they went out with a whimper.
"We are overall disappointed we haven't got through because when you get this far you want to go one step further," he said.
"The damage was done last week and I couldn't say that before because it was a defeatist message. If we score the clear-cut chances in the first half, or even one of them, then it is a different game. United over the two legs have been far better than us.
Following Manchester United's Carabao Cup semi-final win over Nottingham Forest, Roy Keane speaks to Erik ten Hag about the final and whether he can get two complimentary tickets!

"We shouldn't lose sight of the fact we have got to a semi-final and how many clubs would have loved to have been on the stage we have been on in the last couple of games? The first time in 30 years.
"This time last season we were 10th in the Championship, so for us to try and compete in the Premier League and get to semi-finals tells us that the club is on an upward projection."
There was a flashpoint in the second half when Johnson clashed with Alejandro Garnacho after the United winger appeared to say something inflammatory, but Cooper would not be drawn on the matter.
"Yeah, I don't want to comment on that," he said.