Updated 2 hours ago
TAOISEACH MICHEÁL MARTIN has described the situation between Russia and Ukraine as "serious", as he confirmed that Irish people are now advised to avoid non-essential travel to Ukraine. 
Speaking in the Dáil this afternoon, Martin said Ireland was "not politically neutral but militarily neutral" and that Russia's massing of troops on the border with Ukraine was not justified. 
Earlier today, Tánaiste Leo Varadkar said that he was "not aware" of any plans for the use of Irish airspace or airports for transport of troops or weapons to Ukraine.
The United States, Britain and Baltic states have already agreed to send weapons, including anti-tank and anti-aircraft missiles to Ukraine, amid fears that Russia will invade its eastern European neighbour. 
Speaking today, Martin said that Ireland stands for "a rules-based international order".
"The broader issue concerning the situation with Russia and Ukraine a serious. We appeal for a de-escalation of tensions in respect of the massing of thousands and thousands of Russian troops on the Ukrainian border. Fundamental principles that Ireland holds are at stake here, including that of a rules-based international order. That is what Ireland is about," he said. 
I refer as well to principles such as the territorial integrity of states, democracy and peaceful co-operation. Ireland wants a diplomatic resolution to not just this situation but also the illegal annexation of Crimea. This is the Irish position. We have updated our travel advice, and we are recommending that Irish people avoid non-essential travel to Ukraine. 
He added: "Ireland accepts Ukrainian territorial integrity as I said earlier, our principles and approach to the Russian-Ukrainian situation is first of all, accepting of course and adhering to that fundamental rules-based international order, that's the essence of Ireland's independent foreign policy. We're not politically neutral but we're military neutral. It's an important distinction. We're members of the European Union. We work with our European Union colleagues in terms of rules-based multilateral approaches to international disputes."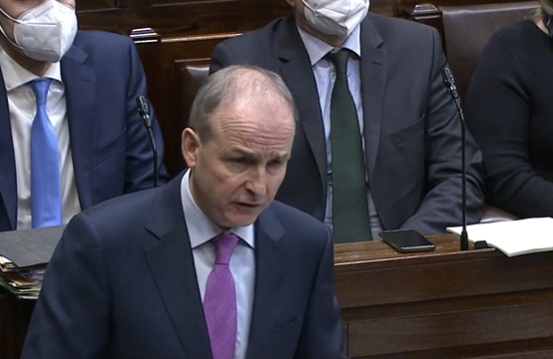 Taoiseach Micheál Martin in the Dáil this afternoon.

Source: Oireachtas.ie
The Journal reported on Saturday that the Irish government had received a warning of a major exercise by the Russian navy and air force in the Atlantic off the south west coast planned for the first week of February.
The area earmarked for the exercises is in international waters but is within Ireland's Exclusive Economic Zone and is patrolled by Irish Naval ships and Air Corps Casa aircraft. 
Since the story broke on Saturday, the Russian ambassador to Ireland, Yury Filatov, has tried to dismiss concerns about the tests, saying such exercises are held on a regular basis.  
However, security experts have said that Russian exercises are the equivalent of Moscow "giving two fingers to Nato, the EU and the US".
Addressing the planned Russian exercises today, An Taoiseach said they were "not welcome" even though they are "legally and technically" permitted. 
Martin also disagreed with Filatov's assessment, saying the planned exercises  are "not a regular occurrence at all, despite what has been said." 
Labour leader Alan Kelly TD raised concerns about plans by Irish fishers to take a flotilla of boats to the area when the Russian exercises are taking place and he asked the Taoiseach whether he would "send the Irish Naval Service to accompany the group". 
People Before Profit TD Richard Boyd-Barrett said the government has rightly condemned Russian actions in eastern Europe but has not criticised "a clear agenda by NATO to expand eastwards". 
He added: "Why does the government correctly condemn Russian military exercises in Irish waters but allow the US military to use Shannon Airport every single day of the week to prosecute wars across the world and kidnap and torture people in its rendition programme? We do not condemn that."
'Not linked'

Source: Sasko Lazarov via RollingNews.ie
Speaking to reporters today, Varadkar said the government does not believe the Russian naval exercises in the Atlantic and the tensions in eastern Europe are linked.   
"We got a very comprehensive briefing at Cabinet today from Minister Coveney in relation to the situation involving Russia, Ukraine. It is very serious. There is a real fear that we could see a land war on the continent of Europe and we haven't seen that for a very long time," he said. 
Today, we're coordinating our response, of course, with our European partners, under UN partners, the Russian exercises off the coast of Cork and Kerry, while not illegal, are not welcome. But we don't believe that they're connected to the events in Russia and Ukraine, but we certainly would prefer that they were not happening and that message is being conveyed to the ambassador.
Varadkar said that he "not aware" of any plans for the use of Irish airspace or airports for transport of troops or weapons to Ukraine.  
An Tánaiste said there has been no discussion of sending Irish troops to the region and that if Ireland took part in any mission the triple-lock system would apply and a UN mandate would likely be required. 
Speaking yesterday, Minister for Foreign Affairs, Simon Coveney, said that the military exercises were not welcome. 
Ambassador Filatov said, despite the fears of the international security community, there was nothing to worry about and that members of the Department of Foreign Affairs had been briefed on the matter. 
#Open journalism
No news is bad news
Support The Journal
Your contributions will help us continue
to deliver the stories that are important to you
The Russian ambassador said that Ireland wasn't the choice for these exercises, but this is the space for naval training for other areas, including Russia. 
"There is no Irish connection here whatsoever," he said. 
He also said he does not believe there will be any harm to infrastructure, marine life, air traffic or maritime traffic as a result of the exercises. 
He added that there is "nothing surprising, nothing sensational" about the military exercises.
– With reporting by Garreth MacNamee