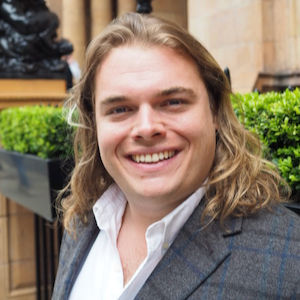 Calum Hawley, global travel manager, Endeavour Mining. Since joining the company, he has managed the consolidation of TMCs, implementation of a new travel policy and overseen the integration of travel programmes following two acquisitions. The organisation has more than 7,500 employees globally.
Calum Hawley, global travel manager at London-headquartered Endeavour Mining, was named Travel Buyer of the Year at the Business Travel Awards Europe 2021. He spoke to Andy Hoskins about his role and the work he did during the height of the pandemic that played no small part in winning the judges' votes.
In part one below, Calum talks about his career to date, the consolidation of TMCs at Endeavour, the peculiarities of travel in the mining industry, and his expectations for 2022. In part two, to be published in January, he discusses the critical work he did to ensure business continuity for Endeavour as the Covid-19 pandemic unfolded. This conversation has been edited for length and clarity.
BTN Europe: Tell us about your career to date. How did you arrive at Endeavour Mining?
Calum Hawley: I studied geology at university and had every intention of going into exploration of oil and gas. But whilst at uni I was working as a tour director during my summer holidays [for inbound travellers to the UK]. When I left uni they approached me about joining them to recruit and train tour directors. So I did that and I got more involved in operations and the creation of programmes. It was a small company and quite easy to forge a path into different areas of the business. I ended up working in America for a couple of years running the ops of the outbound business so that's how I first fell in with airlines although it was all leisure based. Eventually I needed a break and packed it in one July. A couple of months later I was best man at my friend's wedding. He worked for Endeavour and his boss was there. After my speech he approached me… 'you work in travel. Could you build relationships with airlines and figure out why we're spending so much on travel? And our travel policy isn't great so do you think you could look at that?' It was amazing really. I said yes, of course – I needed a job – and three weeks later I was onboard. I went in on a consultancy basis with a remit to save them money. That was September 2018 after I'd spent pretty much seven years doing various leisure travel bits.
BTNE: How was the travel programme looking when you joined?
CH: Well we had 11 agencies around the world and the exploration team had their own local one [in West Africa]. The team in Abidjan used a local office, the team in Ouagadougou used their office, our projects team and buildings team used CWT out of Australia. We had Amex [GBT] in South Africa. We had a UK Amex, a French Amex, a Monaco Amex… it was complicated. It was pretty evident it needed to be figured out and that we needed to start from scratch. My six-month contract was extended and then it pretty quickly became permanent.
BTNE: What's unique to travel management in your industry?
CH: The mining world as a whole is… underrepresented. That's probably the best way of putting it in terms of travel. I remember sitting there in the first four or five weeks and thinking 'I need to understand the life of a miner'. I wanted to know what these people go through and understand the logistical aspect. Many of them are paid very well but it's lonely work. It's hard work – six and a half days a week, for six, seven or eight weeks at a time and then you get your three weeks off. And they're in some of the most dangerous places in the world. We have people that fly from Hong Kong, JFK, Sydney, Singapore… we represent all of the places that lots of major corporates will be traveling to and from. But the difference is that our teams are leaving those places to go to West Africa. We have lots of common goals and lots of common issues [with other corporates], but then we have this big bubble of West Africa which is unlike anything else. Travel would generally sit with procurement in mining but I'm a big advocate for travel sitting under HR. Whilst the buying side obviously has a supply chain and procurement aspect to the role, certainly in the mining world, you look at duty of care and you are moving people, and that is an HR function through and through so I do sit under HR. I think of myself as the last bastion of defense against people trying to take the piss. We spot things daily… 'that doesn't seem right. Why is that happening?'
---
We have continued to travel at pretty much one hundred per cent during the pandemic
---
BTNE: So what was your first priority once you had your feet under the table?
CH: We had to consolidate [our travel agencies]. I made a proposal to the board that as a business we needed to. Whilst our operations are in West Africa, we're a global market business in the sense that we're bringing people in [to Africa] from 124 different towns and cities around the world. We have something like 52 different languages across the business. So it was pretty obvious quite quickly that we needed to try and channel all of that into one place so that we could leverage it more than anything. We're not a BP or a Morgan Stanley that can have multiple different travel offices. It was just me. We went out to tender and ATPI was selected very much on the basis that they came to us with the questions as opposed to us asking the TMC the questions, which I loved. I just thought that's great because we're not a number. We work very closely together.
BTNE: And the upshot of consolidating?
CH: We saved $2 million in the first year. We essentially saved 33 per cent of our travel spend. Our travel spend back then was $6 million. It was a big difference. Right now, we're actually close to getting back to $6 million and we'll probably be beyond ten or eleven as we get fully back to normal and our two recent acquisitions bed down.

BTNE: How have those two acquisitions affected your travel programme?
CH: We've doubled in size in terms of number of employees. Our spend could have more than doubled but through some fairly brutal integration of the travel programmes into ours and some clever ticketing and discussions with airlines based on what we were inheriting, we are saving quite a considerable amount of money on what we might have spent. That's been really good, fun, hard work. Very different. I'd never done an acquisition before. I'd never done a transition – bringing people into your travel policy and programme. So to do two in 12 months… I was just getting over the brow of the hill of the first one when the second one happened. But of course you learn so many things about what to do and what not to do from the first one, so actually the second one was relatively seamless.
Article continues below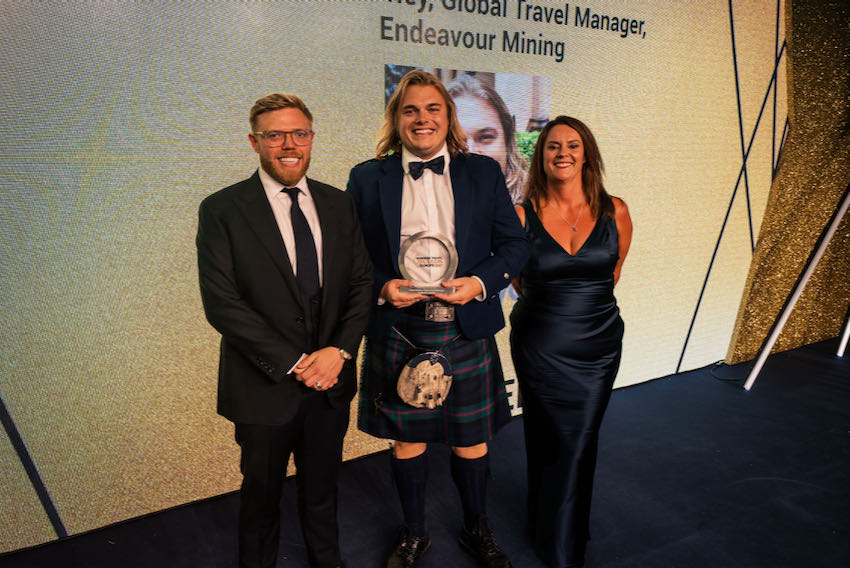 BTNE: Have those acquisitions changed your top routes?
CH: No. That's the easy answer. In the mining world people tend to come from certain places. I suppose it's where mining's in the blood – Australia, South Africa, Canada. That said, we have a great emphasis on ensuring that we promote locally and promote internally. We don't ever want to be seen as a business that just brings in foreigners to do a job. Operating in Francophone countries, we have quite a lot of French [employees] so many of our routes will utilise Paris. The two acquisitions were both Canadian companies so it actually didn't change too much. It probably dropped a couple of per cent on routes from South Africa and Australia.
BTNE: How did the pandemic affect travel for Endeavour?
CH: We have essentially traveled at pretty much one hundred per cent of what we would've done. Schedules haven't always allowed us to travel quite as frequently but ultimately 90 per cent of the business has to travel for the function of their work. It's really only the London office – the regular corporate travel – where it's been down.
[In part two of this interview, to be published in January, he discusses specifically how Endeavour managed to arrange charter flights at the height of the pandemic – and make seats available to other companies – to keep employees travelling and ensure the business operated as usual]
BTNE: What's your expectations of business travel moving into 2022?
CH: I think pricing volatility is going to exist for the next six to 12 months until we get to a point where supply and demand are in equilibrium. At the moment, we're seeing terrible volatility as demand outstrips supply at different points. I could book a flight today and it could be £400 – tomorrow it could be £1,200. Airlines would be fools to put three flights on half empty when they can fill one flight. I'd also like to think we'll be able to fly 'better' in 2022 with more airline schedules returning and countries opening up. Sustainability is the buzzword for 99 per cent of businesses right now and we're no different. I'm conscious that currently we have some people having to make three, four or sometimes even five connections and that's having an effect on sustainability – it's very small in the grand scheme of things but it all counts.
BTNE: You've come a long way in a pretty short time. It must have been a steep learning curve.
CH: I have to say I've learned an inordinate amount of stuff in an industry that I love, and in an industry that actually I learned quite a lot about at university, so I've sort of come full circle. I'm lucky that I work in a world that I really enjoy learning about – the mining world from an operational perspective is really interesting. I enjoy those discussions and trying to understand why this happened and why that's happened. I love the minutiae of knowing routes and being given an origin and destination and being able to say 'well that will be with such and such an airline through there and then there'. I love talking to people, making friends, making contacts and learning from peers. I really find that the most useful thing are events and networking opportunities. So much of the industry is built on relationships. So when I look at everything that we've done in the past two years with Covid, two acquisitions, two transitions, a London listing and fulfilling all the things for the FTSE… That's not bad going. In fact it's bonkers really.