When Marianna Leivaditaki offered to cook me fish soup, I knew it would be good. She is head chef at Morito, the Greco-Moorish mezze bar in Hackney that's one of my favourite restaurants in London. But I didn't expect to be eating her silky, briny broth for breakfast, in a green bay of north-western Crete wedged between a glare of granite cliffs. We had never met before Marianna picked me up earlier that morning in her brother Antonis's motorboat. I squeezed on board beside his young son, Orpheus, his blonde curls floating in the breeze. We glided past the craggy shoreline, pocked with caves and coves, until we found the perfect spot. Antonis tipped a mighty fish he'd caught a few hours earlier onto a cracked white stone. Marianna roughly chopped potatoes and tomatoes into a saucepan and tucked the fish on top. She scraped some salt from the rocks, tossed it in and covered the contents with water and glugs of peppery olive oil, then lit a gas canister and left the soup to bubble vigorously under the sun.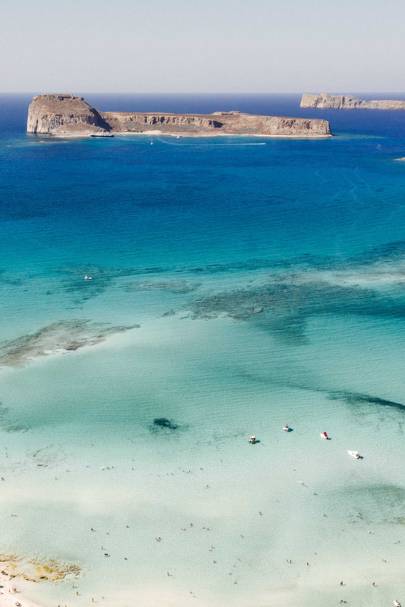 'Cretan food is so simple. There are no recipes or rules, apart from family traditions. What's important is to know exactly where your ingredients come from,' she told me. Marianna grew up gutting fish and waiting tables at the family's taverna outside Chania, the surprisingly metropolitan capital of western Crete. Her father, a fisherman, taught her how to make kakavia, a fortifying soup to eat after a long night at work. While we waited for the kakavia to cook, Antonis and Orpheus prised sea urchins and limpets from the rocks. Knee-deep in the water, we slurped them from their shells to sharpen our appetite. 'What I love most about Crete is that you might be here, in an empty bay, feasting on urchins,' Marianna mused, 'then, half an hour later, you're up in the mountains in a different world, with guys in black shirts and big moustaches talking about hunting and eating game.'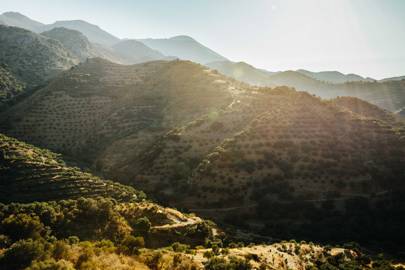 Crete is a vast island of contrasts and contradictions, with a 650-mile coastline rearing up to misty summits more than 8,000ft high. The kindness of strangers is what unites and defines the island for me. I've been coming here since the early 1990s, but I'll be honest: at first it didn't rock my boat. The soulless resorts concentrated on the north-east coast, the slapdash cities and boring motorways were nothing like the Greek islands of my imagination. The corkscrew roads twisting through the highlands made me queasy; driving two hours to find an empty bay felt like too much effort. But that effort brought rich rewards: fiercely hospitable locals, incredible food, powerful landscapes, magnificent beaches for every mood. Slowly, stealthily, Crete got under my skin. Our relationship deepens every time I return, and yet it still feels unknowable, infinite, mysterious.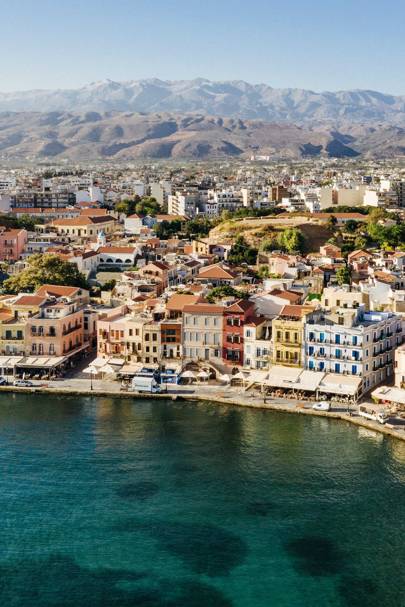 The island was only united with mainland Greece in 1913 – after a bitter and bloody independence struggle – and Cretans often refer to their homeland as a continent. Divided by the snow-flecked White Mountains, the Chania Prefecture, which covers the western quarter, is like a different destination at every turn. The cross-currents of Roman, Byzantine, Venetian and Ottoman rule ripple through the fortified city of Chania, but there's a contemporary edge to this spirited town of merchants and students. Over the past decade, a new generation of ambitious islanders have returned to their roots after studying and working abroad, to refresh tired family businesses, renovate historic properties and set up sustainably minded ventures. Ceramic artist Alexandra Manousakis left a marketing career in Manhattan to take over Manousakis Winery with her Swedish-Iranian sommelier husband Afshin Molavi, who co-owns the phenomenally popular Salis restaurant on the harbourfront. Stylish environmentalist Danai Kindeli returned from Madrid to help her uncle Manolis run Metohi Kindelis, a 400-year-old organic farm and guesthouse. And curator Sofia Mavroudis and artist Antonis Houladakis have built two raw-concrete cabins in the middle of his family's ancestral olive groves for a refreshingly modern immersion into the wilderness.
Beyond the urban chatter of Chania, hillside villages, pink sands and silver olive groves give way to sudden ravines and soaring peaks. Cretan literary giant Nikos Kazantzakis compared the countryside to 'good prose, carefully ordered' in his novel Zorba the Greek: 'It said what it had to say with a manly austerity. But between the severe lines one could discern an unexpected sensitiveness and tenderness; in the sheltered hollows the lemon and orange trees perfumed the air, and from the vastness of the sea emanated an inexhaustible poetry.'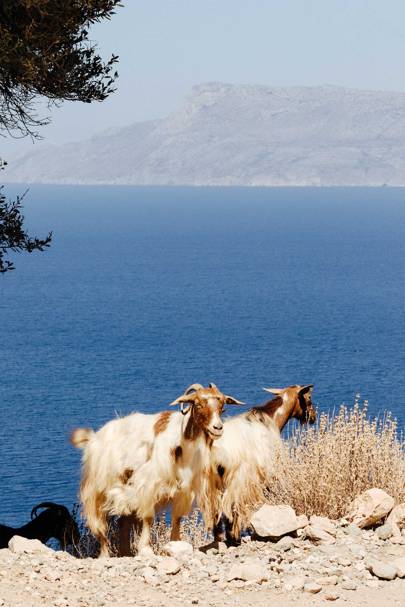 This chafing of rugged machismo and soulful sensibility is embodied in Kazantzakis's anti-hero – an archetypal Cretan, whose defiant, devil-may-care attitude and insatiable appetite for life are irresistible. In many ways, the landscapes and people of western Crete are just as Kazantzakis described them: immense, intense, exhilarating. But you need on-the-ground intel to cut through the noise. My go-to is Nikos Tsepetis, the force of nature behind Ammos, a feel-good hotel on Chania's sandy fringes filled with contemporary art and design. An irreverent perfectionist, he embodies the generosity of spirit that is as essential to the local identity as olive oil and tsikoudia, the fiery eau-de-vie-like brandy downed at every opportunity. You don't say no to a Cretan, and you definitely don't say no to Nikos. When he tells you a place is worth visiting, you don't ask any questions. You just hop in the car and go.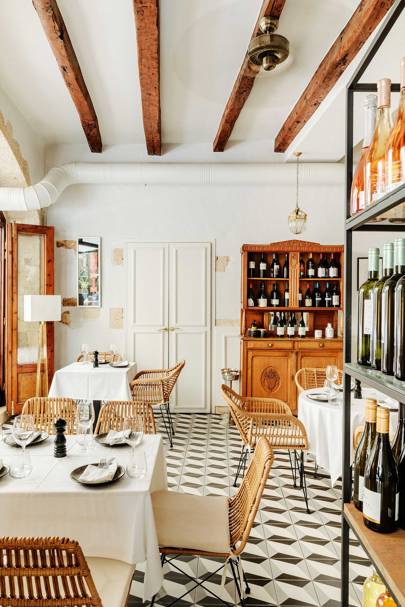 On this trip, Nikos dispatched me to Polirinia, an ancient citadel that has collapsed into the earth, surrounded by silent valleys and ridges. His friend Manousos Chalkiadakis, a ceramic artist with wise hands and gentle eyes, cooked me the most delicious egg and chips at his 17th-century home (the secret: fry them both in olive oil). We hiked from Meskla to Zourva, through a miniature canyon and forests vibrating with birdsong – far less strenuous than the famous Samaria gorge and not a soul in sight. At Kedrodasos – less crowded than the shallow lagoons of Balos and Elafonisi – I floated in the fluorescent sea and snoozed in the shade of a twisted juniper tree.'If California were an island, it would be Crete,' Nikos pronounced as we shared battered courgettes, blush-pink tarama and a little too much rosé on the seaside terrace at Ammos. 'Both have sprawling, imperfect cities, a beautiful coastline, amazing food and great hikes. And you need a car to explore the mountains, which is where you'll find the island's soul.'
In these highlands, road signs are pockmarked with bullets and heavily armed statues of revolutionary heroes dominate village squares where whiskery men in black monitor passing vehicles with a flick of their cigarette or worry beads. The toughest natives are from Sfakia, a hardscrabble mass of peaks cracked by deep gorges that lead to electric-blue bays. Until the islanders laid the hairpin roads, stone by stubborn stone, this isolated region was a perfect refuge for bandits, rustlers and resistance fighters. All of the independence struggles began here.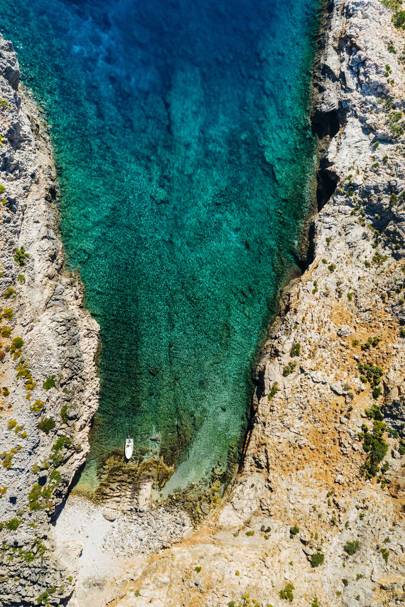 'The locals always had an enemy, whether they were Venetians, Turks, Germans or Greek royalty. If there was nobody else to fight, they turned on each other,' confided Maria Mylonaki, the supremely competent founder of Crete travel specialist Diktynna, as we drove deeper into the bleak White Mountains. Vendettas are still rampant in this unforgiving terrain. An argument over a goat bell was enough to spark a bloody feud in Aradena in the 1950s. After seven people were killed, the remaining residents fled. The village is a beautiful, melancholy relic teetering above the forbidding gorge. Disembodied saints stare from the faded frescoes of the 14th-century church.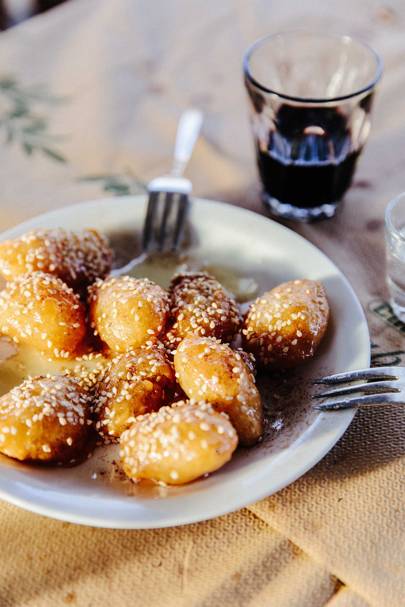 In this lonely wilderness, you could feel the visceral pulse of nature – rasping cicadas, circling eagles, chanting bees – but the only human presence were two tiny figures walking along the rocky bed of the gorge below. Several hours later, they would emerge at the shingle cove of Marmara. It was there that I feasted on slow-roast lamb, freshly churned goat's cheese and puffy little doughnuts drenched in thyme honey at Chrisostomos, a heavenly taverna on a headland jutting into the Libyan Sea. Gazing at the horizon, I had an epiphany, just like the narrator of Zorba the Greek: 'Where shall I go? I thought. I'm all right here. May this minute last for years.'
WHERE TO STAY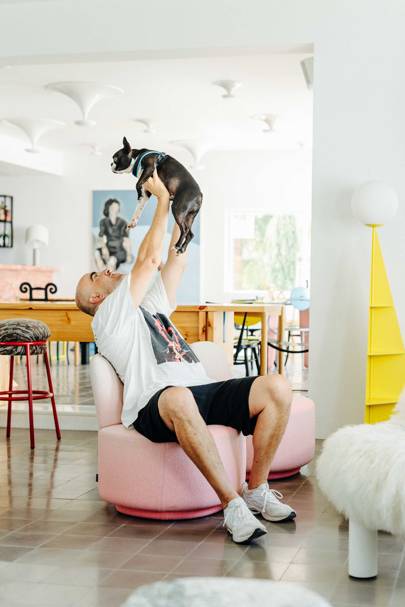 AMMOS
Like jazz improv, the elements of this seaside hotel come together in wonderfully clashing harmony: uplifting interiors, great food, punchy cocktails and good-humoured staff who won't flinch when a toddler smears tomato sauce over one of the designer chairs – all delivered with a dash of humour and lashings of genuine Cretan hospitality.
Doubles from about £110. ammoshotel.com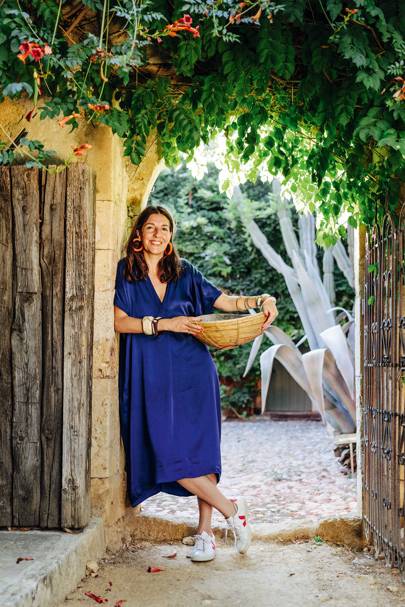 METOHI KINDELIS
Stories of Venetian dukes and Ottoman pashas rustle in the avocado and mango trees of this magnificent 17th-century estate on the outskirts of Chania. Behind the rose-pink walls there's an organic farm, a family home and three self-contained guesthouses. Each has a private pool, garden and dining terrace for sampling home-grown produce and delicacies that are replenished daily – figs, persimmons, lychees and strawberries, nutty graviera cheese and smoky heather honey.
Guesthouses from about £170 for up to four. metohi-kindelis.gr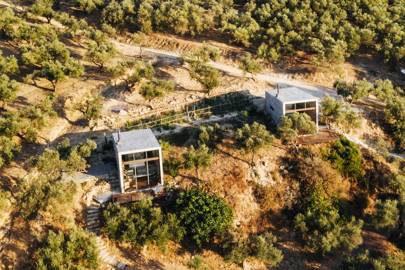 CABANON CONCRETE RETREAT
Two tiny cabins with glass façades peep out of a silver haze of olive groves here. Mid-century furniture, raw-concrete walls and a modular, minimal living space with maximum comfort pay homage to Le Corbusier's ideal of Mediterranean balance. A proper immersion in nature for those with a sharp eye for modern design.
Cabins from about £80 for two. cabanonconcreteretreat.com
THE BEST TABLES IN CHANIA
EVGONIA

Bright-eyed Nektarios Chalakatevakis and his wife Sofia make running the best taverna in town look easy. Order fish and chips, Cretan-style: whole grilled cod, chunky chips fried in olive oil and the crunchy, colourful house salad. Set in a residential neighbourhood, this is where the locals eat for a fraction of what you'd pay on the waterfront. +30 28210 59420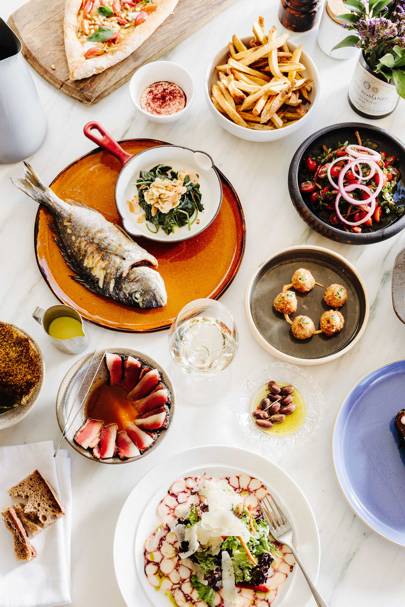 SALIS
This harbourside restaurant pulls off a tricky balancing act, combining a distinct sense of place with an of-the-moment vibe. Sommelier-turned-chef Afshin Molavi's seasonal menu free-ranges between reimagined Greek standards (taramosalata blended with avocado and topped with bottarga crumbs) and avant-garde flourishes (tuna belly with burnt-grape molasses and pickled watermelon rind). Many ingredients come from their own organic orchards and an exceptional wine list invites slow drinking with a parade of sharing plates. salischania.com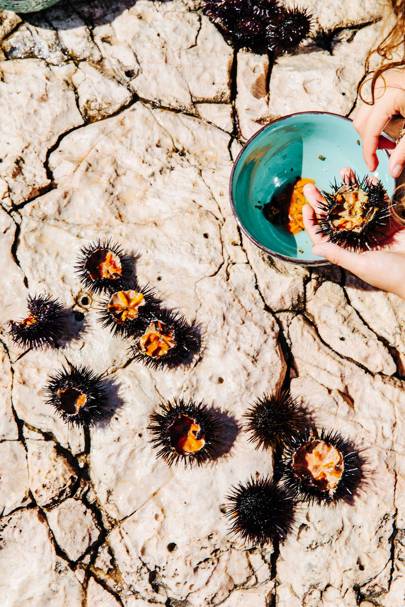 GINGER CONCEPT

For brunch, an early-evening spritz or a relaxed dinner date, this Bali-inspired bistro on a pedestrian alley in the Splantzia quarter hits the spot. There's nothing traditional about the pick-and-mix menu (tuna tartare, chicken and mozzarella coxinha croquettes, burrata with toasted almonds and asparagus) or the interior (rattan armchairs, retro tiles, Amazonian headdresses). Be careful with your cocktail consumption or you'll leave witha Ghanaian basket full of kaftans from the on-site store – Renata Leitão, the glamorous Brazilian owner, is also behind Just Brazil, the best boutique in town. gingerconcept.gr
PERIPLOUS
Fresh seafood and pasta are prepared with finesse at this smart new restaurant, a harbinger of the revival of Tabakaria, the crumbling leather tanneries on the eastern outskirts of the city. +30 28210 43300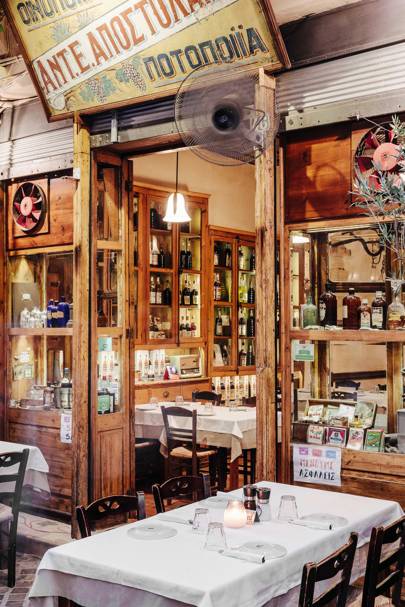 OFF-GRID KITCHENS
EMILIA'S

A winding drive up to the high-altitude hamlet of Zourva, in the foothills of the White Mountains, leads to this lovely lunch spot with wraparound mountain views. It serves hearty hunter's fare: braised goat, fried eggs in an oozy puddle of staka (clarified sheep's milk butter) and marathopita, wild-fennel pie that's more like an anise-flavoured pancake – a perfect foil for ice-cold shots of tsikoudia. +30 28210 67060
ACROPOLIS
A flower-filled shack wedged into the walls of ancient Polirinia, up in the olive-green hills of Kissamos, is where Vasiliki Sfakianaki and her daughter turn out humble classics, while the sheep-rearing patriarch Yannis delivers a running commentary on Greek politics. This is the place to try dakos (grated tomato, capers, olives and a fluffy cloud of goat's cheese piled onto brittle barley rusk), boureki (a baked stack of minty courgette, potatoes and cheese) and stamnagathi, bitter greens dressed in bright olive oil. Simple but sublime. +30 69494 76236
MILIA
Crete's first eco-lodge has been around since 1994, long before farm-to-fork dining became fashionable. Everything served at this mountain retreat (once a seasonal lodgings for chestnut farmers) is organic, but familiar ingredients become complex, sophisticated flavours: there's beef brisket in a Greek-coffee crust, courgette flowers filled with bulgur, cheese mousse and onion oil, and snails with vinegar, rosemary and bee pollen. For pudding, order the satisfyingly sticky goat's-milk ice cream. milia.gr
O DRIS
Kostas Boundourakis's kafenion in the scrappy village of Maza, in the White Mountains, is one of those insider secrets you can hardly bear to share. There's no menu, just a few dishes of the day to be savoured beneath a sprawling bougainvillaea. In the evening, Kostas grills pork chops on a barbecue in the square, fragrant smoke wafting over the 13th-century chapel of Saint Nicholas. Always, always get the Greek salad. +30 28250 51615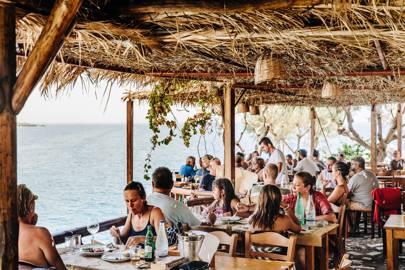 CHRISOSTOMOS
Only accessible by boat or on foot, this taverna, also known as Dialiskari, on a thatched terrace above a turquoise cove is simply perfect. Waiters bring dish after dish of deliciousness: warm bread, lamb that drips off the bone, roast potatoes, courgettes and aubergines with a feta crust, all slow-cooked in a wood-fired oven. Finish with sfakiani pita, bubbly dough stuffed with cheese and drizzled in honey. +30 28257 72299
Keep scrolling for more images of Chania
Like this? Now read:
EXPLORE CRETE: 10 Things to do this Summer