Cocktail Club
"If a blender is not on hand, it can still be made with smashed ice."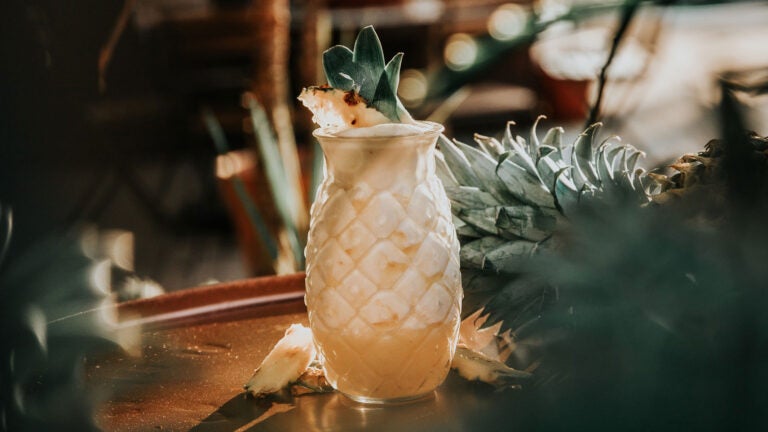 Prolific musician and songwriter Rupert Holmes is mostly a beer drinker, although his last minute lyrical substitution in the refrain of "Escape (The Piña Colada Song)" perfectly taps into the special spot in our brains where refreshing tropical drinks symbolize relief from our daily routines.
The original chorus of this pop chestnut, the last Billboard no. 1 hit of the 1970s, started, "If you like Humphrey Bogart," but the writer thought that "too noir" and settled on the tropical drink he thought best fit the mood of longing to inhabit a different life. Vacations do give us that opportunity, if not to be someone else at least to be somewhere else, and when we return we are somewhat changed and like the protagonist in "Escape" find depth again where we started.
Like travel, departing from our usual food and drink can be an invigorating journey worth the ride. Even if we don't stay regular tropical drinkers, our beer, wine, and stirred cocktails can seem richer when we return to them from an imbibing getaway to all things blended, frozen, and adorned with kitschy umbrellas. 
The piña colada is the perfect, classic recipe for this benevolent escapism. It's simple, an inevitable blunt variation of a daiquiri which uses pineapple as citrus combined with sweet coconut for a creamy and delightfully rich drink. If a blender is not on hand, it can still be made with smashed ice, and although there are many complicated ways to arrive at this drink and subtle variations that are also good, the simple three-ingredient version may be the most sublime.
Don't let the obviously bogus story of pirate Roberto Cofresí, boosting his crew's morale, with a drink of coconut, pineapple and rum and then taking the recipe to his grave in 1825 distract you, The piña colada was created in San Juan, Puerto Rico by Ramón "Monchito" Marrero at the Caribe Hilton in 1954, where he personally mixed them to the delight of his guests for the next 35 years. In 1978 the drink was proclaimed the official drink of Puerto Rico and in 2004 the Caribe Hilton was presented with a plaque honoring them as the birthplace of this cocktail on its 50th anniversary.
The original recipe did blend in heavy cream with the coconut milk, and this was something we loved to do at my now-closed cocktail bar, The Hawthorne, to create luxurious layers of texture and flavor. With dairy an issue for so many, that step is easy to skip, especially if you use Coco Lopez cream of coconut which can provide all of the texture and sweetness needed to balance the prickly acid of fresh pineapple juice.
Whether you've made it to your favorite beach or just looking for a departure from your usual drink at O'Malley's, try the piña colada — it's a great escape!
What you'll need
Piña Colada
Ingredients
2 oz. light rum
1 oz. pineapple juice
1 oz. coconut cream (either Coco Lopez or 2 parts coconut milk with 1 part heavy cream)
Directions
Slowly mix in a blender adding crushed ice to desired texture
Garnish with pineapple frond of cherry flag
---
Join our next virtual cocktail class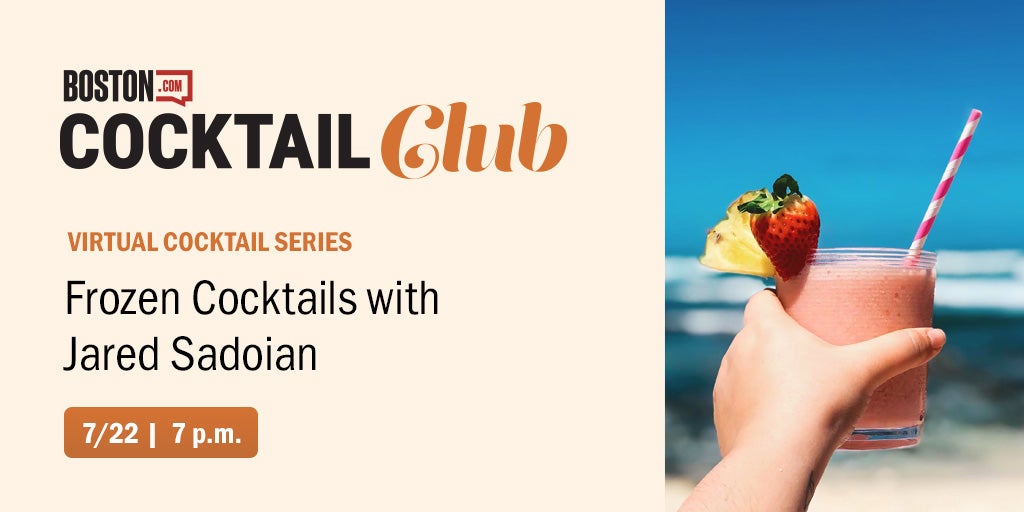 Join us Thursday, July 22 at 7 p.m. for Boston.com's Cocktail Club with host Jackson Cannon and his special guest Jared Sadoian, curriculum manager at Offsite Event Co. This week they'll be making frozen cocktails, catching up about the Boston restaurant and bar scene, and sharing tips the pros use to make great drinks at home. They'll be spinning the classic strawberry margarita and piña colada. Everything you need is in the shopping list here.
Newsletter Signup
Stay up to date on all the latest news from Boston.com