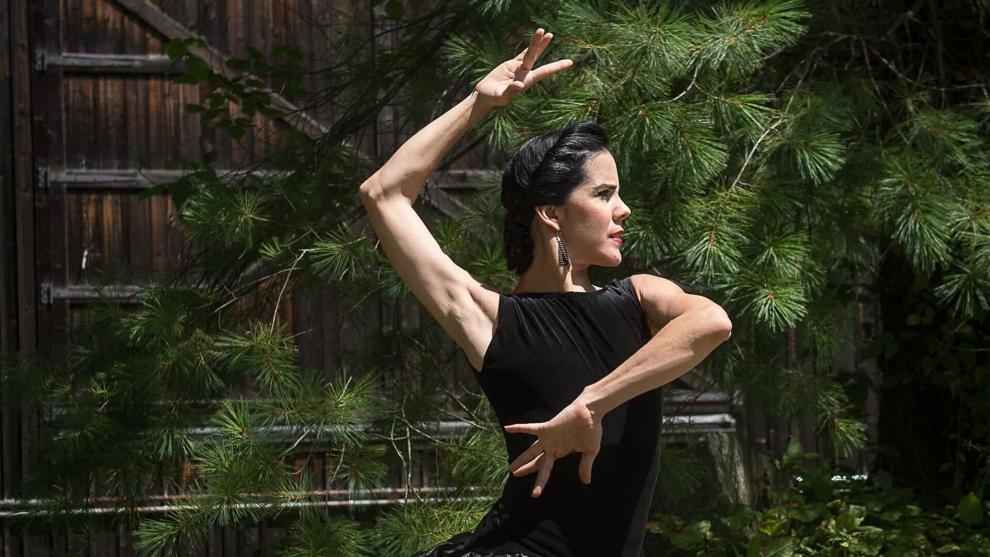 GREAT BARRINGTON — A dark-haired dancer stands tall with arched back, intense concentration on her face. When she moves, gestures and footwork are precise, sometimes fluid, often staccato. Voluminous skirts swirl around her; a shawl becomes her partner on stage. Flamenco and Spanish dance virtuoso Irene Rodriguez has arrived in America.
The Cuban native brings her artistry to "Musica Latina," a gala concert presented by Close Encounters With Music, the culmination of its 30th year, at the Mahaiwe Performing Arts Center, 4 p.m., Sunday, June 12.
Rodriguez will dance to music performed by cellist Yehuda Hanani, pianist Max Levinson and violinist Giora Schmidt, plus guest flamenco guitarist and singer Cristian Puig. A broad spectrum of classical Spanish and Latin American composers will include Manuel de Falla, Enrique Granados, Pablo de Sarasate and Astor Piazzolla, among others, plus a premiere by fellow Cuban Jorge Martin.
This will be Rodriguez' first evening-length performance since defecting from Cuba in 2019, she said during a interview by phone from her new home in Tampa, Fla.
"I will be alone as a dancer, partnering with the amazing music of Yehuda, Max and Giora," she said. "They are all stars, musicians of the first level. They [have] invited Cristian, so it will be a marriage of classical and flamenco music."
Spanish dance has four different styles, she explained. One is bolero, which is very close to classical ballet. Another is the folk styles danced in each town in Spain. The third is flamenco, a folk style from Andalusia in the south that is powerful by itself. The fourth one blends all three forms into the classic Spanish style, which Rodriguez will dance at this performance.
"It puts together classical ballet technique with contemporary and Spanish expressions," she said. "In my family, all my grandparents came from Spain, so this culture runs in my blood."
Rodriguez will dance 10 pieces throughout the evening, with five different outfits. For Ernesto Lecuona's "Malaguena" she wears the 'bata de cola' dress with an extra-long tail, along with a fringed shawl. "You can't imagine how heavy they are," she said. In Sarasate's "Zapateado" she will dress as a male.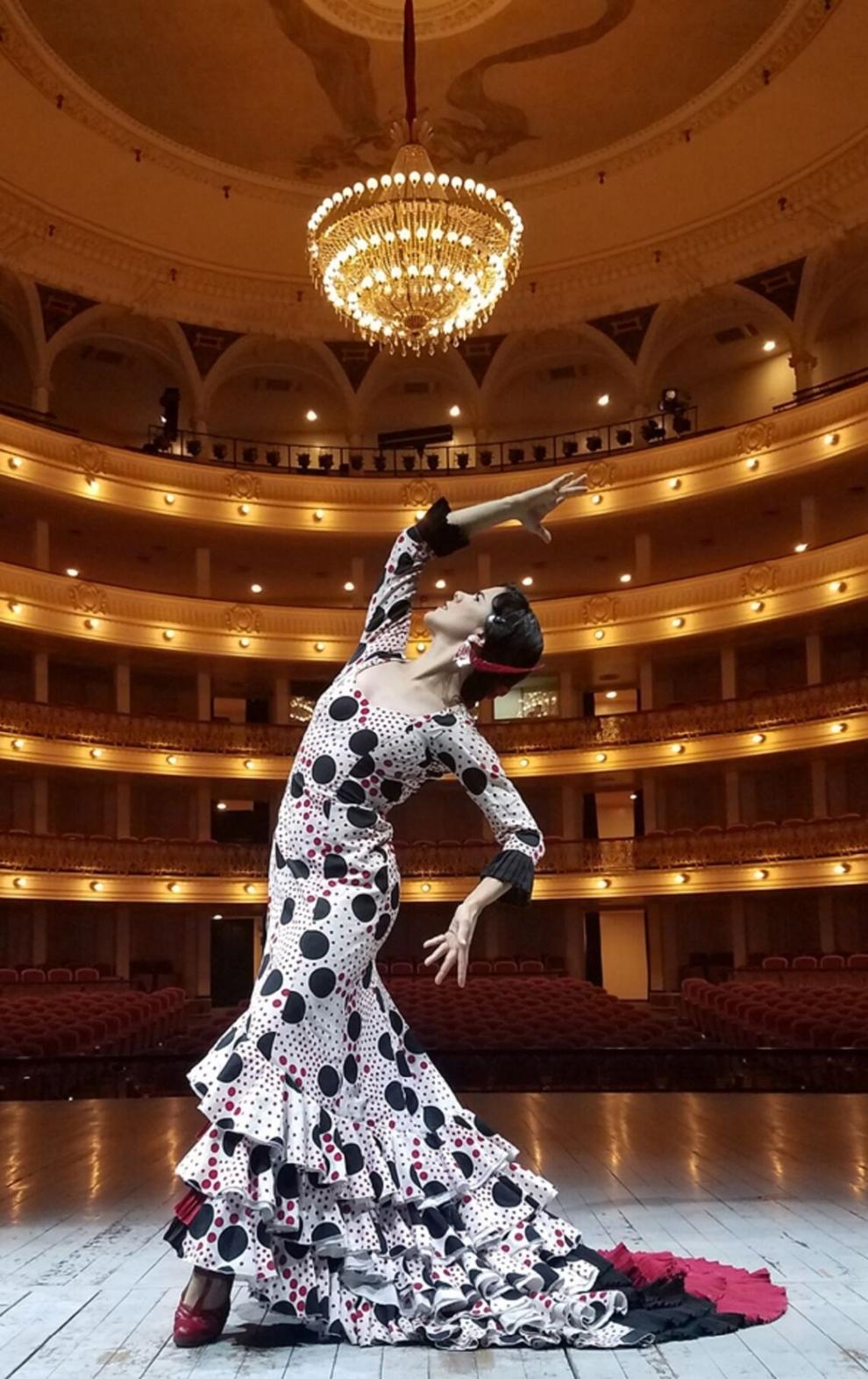 For de Falla's "Suite Populaire Espagnole" she will interpret the culture of six Spanish regions using traditional dance accessories: castanets, shawls, canes, fans.
To close the evening, she will perform the famed "Fire Dance" from de Falla's ballet "El amor brujo" (The Bewitched Love).
"It's played with the piano and the music is stunning," she said. "It has very powerful acting, and is one of my most-loved choreographies of all. Except for this, all the others will be world premieres made for this program."
From Cuba, Rodriguez first moved to California, then relocated to Tampa a year ago with her mother (her brother lives in Spain).
"Tampa has a lot of Hispanic and Latin American roots and heritage, and a big Latin, Spanish and Cuban population. Cuba has a lot of history in common with Tampa. And the cultural movement is going up a lot so I want to be part of this process," she said.
In Cuba, Rodriguez left behind a distinguished career, a professional dance company and a dance studio with 400 students.
"I was following my dream to develop my career at another level," she said.
In Tampa she teaches at a conservatory and the University of South Florida. Students come from as far as Orlando for her flamenco lessons, she said.
Rodriguez is no stranger to the Berkshires. On a visit to Cuba, Pamela Tatge, then incoming director of Jacob's Pillow, invited Rodriguez to participate in the Pillow's 2017 season. Returning in 2019, Rodriguez directed the Advancement Program of Flamenco & Spanish Dance at The School at Jacob's Pillow and was featured on the festival program cover.
"It was such an honor for me," she said.
On Saturday, June 11, she will perform on the Henry J. Leir Outdoor Stage during Jacob Pillow's Community Day, and close out its season opening Gala on June 18. "I couldn't be more proud," she said, "I will share the stage with such amazing dancers."
Over the years she has appeared at New York City's Joyce Theater and the Kennedy Center in Washington, D.C. Regulations made it very complicated for Cubans to travel to the U.S, she recalled; "but I was able to do that, sometimes alone, sometimes with my Cuban company."
"I'm looking forward to being on stage, performing and having again this contact with the audience," she said. "As artists we have missed this so much during the pandemic."
At the Mahaiwe she will perform with musicians arranged in a semi-circle behind her.
"I will be reacting and in communication with them the whole time," she said. "I am a musician as well, because what I do with my footwork is percussion. And when the musicians play, they are dancing too."
"It's our gala closing concert for the season," said Hanani, director of Close Encounters, during a phone interview. "It's a celebration of rich Latin American music and dance, a fusion of many cultures which makes it so fascinating."
"Because it's a musical party, the offerings will be tapas, smallish representatives of various countries — Mexico, Argentina, Brazil, Cuba — and the whole Spanish influence."
At the turn of the 20th century, he noted, there was a constant flow of culture and art between Spain, Portugal and Latin America.
"The tango, for example, started out with European sailors in Buenos Aires bordellos and resurfaced in the most elegant style in the salons of Paris. Manuel de Falla was born in Spain and died in Argentina. In French composer Bizet's Spanish opera, 'Carmen,' the famous 'Habanera' comes from Havana."
The program includes two longer pieces: one by Granados inspired by Goya's paintings, the other a world premiere for solo cello by Cuban composer Martin.
"It's called 'Recuerda,' which means remembering," Hanani said. "It's the one piece that's not idiomatically Latin American. It soars above any distinction of nationality or ethnic style, and aspires towards a universal archetype of music. Because of its drone, there's a certain Tibetan feel to it, with some mysterious percussion on the bridge of the cello."
Many Close Encounters concerts contain visual elements as well as music. "We live in a visual society, people look before they listen," Hanani explained.
He built this program around Rodriguez.
"We're playing music non-stop, and she comes and goes between the pieces with dances that she choreographed."
"She is a very intense dancer," he added. "When she does the 'Fire Dance' by de Falla, I think we should alert the fire department, she may set the house on fire!"
In an otherwise all-classical music program, there will be one burst of pure flamenco when Rodriguez is accompanied by Puig, an Argentinian guitarist and singer.
"She's coming with suitcases full of very dramatic dresses," Hanani said. "Flamenco is all about colorful, exquisite dresses [that] become part of the choreography."
Schmidt is making his Close Encounters debut. "He is really a virtuoso, and will play Sarasate's 'Carmen Fantasie' which is a devilishly difficult piece," Hanani said of the violinist. Returning is pianist Levinson, "a superb chamber musician," Hanani said.
Hanani hopes people will leave with a sense of the complexity of Latin American culture.
"This brew — it's like good Brazilian coffee, you mix the beans. This culture is indebted to so many sources; and, unlike the world of business, culturally the more indebted you are, the richer you become," he said.