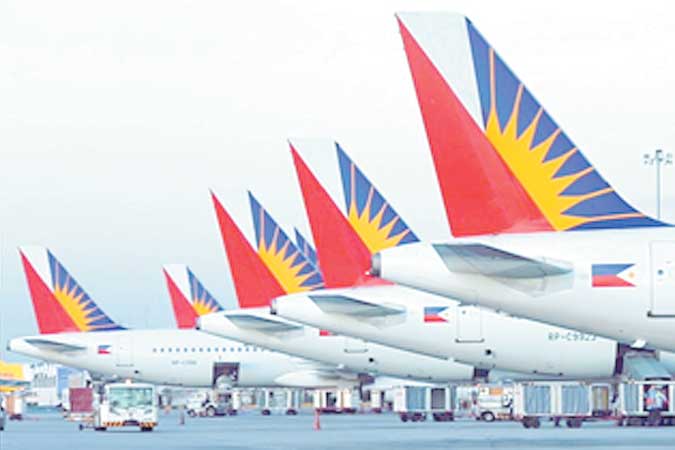 Zapanta says restart hinges on filing of bankruptcy protection
By Arjay L. Balinbin, Senior Reporter
AVELINO D.L. Zapanta, former Philippine Airlines (PAL) president and chief executive officer, is confident that the flag carrier will be able to return to its pre-pandemic size of operations in two to three years if the filing for Chapter 11 bankruptcy protection pushes through.
"PAL need not restart with a big bang. Like in its 1999 rehabilitation, it can start small and gradually restore capacity as money resources ease up. It should be able to get back to the current level of operation in 2-3 years, provided the pandemic is resolved," Mr. Zapanta told BusinessWorld in an e-mail interview on Tuesday.
Chapter 11 bankruptcy protection allows a company to propose a reorganization plan, which may include downsizing of business operations.
Citing three of PAL's lessors, data and analytics provider Cirium said in a June 11 report posted on FlightGlobal, an aviation news and information website, that the flag carrier is seeking to raise debtor-in-possession financing of $505 million.
"Chapter 11 will require a rehabilitation plan. The borrowings, etc. is to cover that rehabilitation plan, e.g. the current liabilities particularly to the aircraft lessors for PAL to retain the fleet. Without the fleet, PAL will have nowhere to go," Mr. Zapanta explained.
Asked if lenders will have to exercise extreme caution, he said: "Forbes lists LTan (Lucio C. Tan, Sr.) as one of the top five Filipinos with at least $2 billion in net worth. That should give lenders a measure of confidence in lending him the money."
Philstocks Financial, Inc. Senior Research Analyst Japhet Louis O. Tantiangco said in a phone message that the $505-million borrowing will boost PAL's liquidity and help the company in its financial restructuring plan.
"The added liquidity can be used to service obligations while PAL's operations cannot be expected to deliver much yet due to the ongoing circumstances in the airlines sector amid the pandemic," he added.
He also noted that investing in PAL is seen to be risky given the lingering uncertainties in the airlines industry.
"While there have been improvements in said sector amid the ongoing vaccination campaign and easing of traveling restrictions, on a macro scale, disposable incomes are still seen to be weighed by the quarantine measures that have been implemented in the country, especially the stringent ones. This in turn is seen to limit air traveling for households. Add that there is still a degree of fear in terms of traveling since the pandemic is still ongoing. Given these, yes lenders should exercise caution," he said.
On how PAL can make it through the turbulence, Mr. Tantiangco said: "Improvements are needed both external and internal for PAL to make it through. Externally, the airline industry should recover. Now this is hinged on further progress of the vaccination campaign, further easing of restrictions, and a recovery on households' disposable incomes. Internally, improvements on operational efficiency are needed."
In a phone interview, Astro C. del Castillo, managing director at First Grade Finance, Inc., said the risk remains for the lenders, but they may consider that PAL remains the country's primary carrier.
"Also, given the reopening of economies, there are opportunities for carriers to fly back into profits or at least minimize their losses," he added.
"Given that the Philippines is an archipelago, not to mention the so many overseas Filipino workers we have, PAL can greatly benefit from the surge in air travel demand once restrictions are further relaxed."
They may also take into account the lower taxes due to the retroactive impact of Republic Act No. 11534 or the Corporate Recovery and Tax Incentives law, Mr. del Castillo also noted.
PAL said in a statement last month that its "management and stakeholders continue to work on a comprehensive restructuring plan that will enable it to emerge financially stronger from the current global crisis."
"As the work is ongoing, we will make the necessary disclosures at the proper time, once details are finalized," PAL added.