Mako sharks can swim up to 60 miles an hour, possibly the fastest of any shark on Earth. They're famously feisty and can leap 20 feet above the water's surface, according to National Geographic.
Greenland sharks are on the other end of the speed scale, with a top travel time of less than 2 miles an hour.
Insurance claims submitted to payers by MUSC Health need to move more like Makos, according to one of three winning teams at the Medical University of South Carolina's "Shark Tank" competition. Well, they used the comparison of driving a car versus walking, but the intent was the same.
"Currently, MUSC is walking to all of our destinations. We send claims manually to our payers. What that means is we might send them via paper, via mail, however it might be. And the delays getting to the payer are impacting us from a revenue standpoint," said Franco Cardillo, a member of the winning group in the Care Delivery category and director of patient financial services at MUSC.
"So what we're trying to do and show you here today is essentially there's automation available within this space to help us bring us, bring our claims and our payers up into the new generation."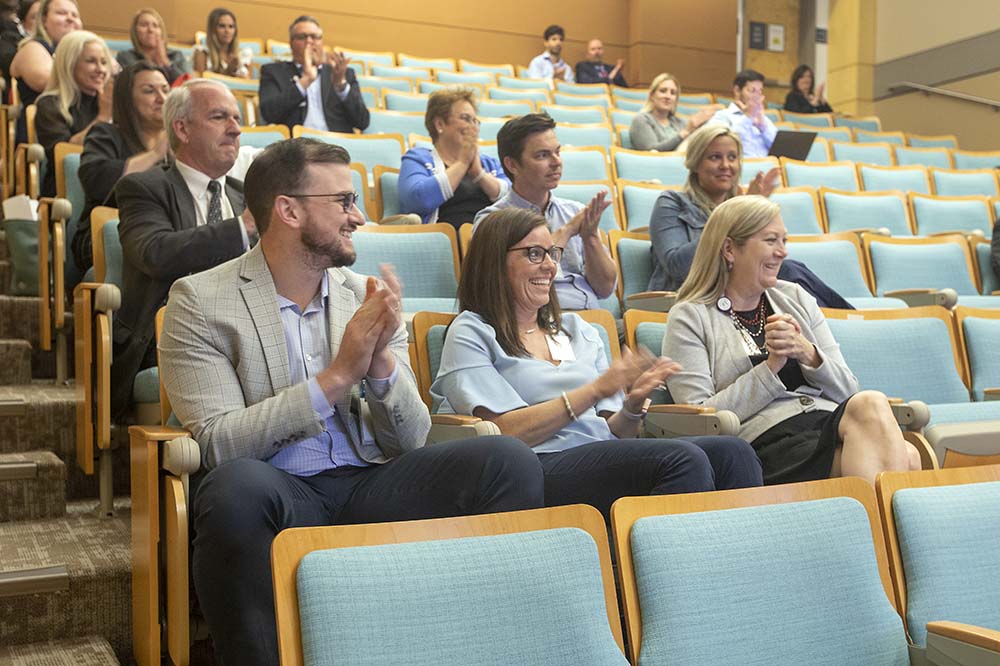 The plan is to build the automation into the existing electronic health records system – and bring in a lot more money. "The delays in getting claims to the payer are impacting us from a revenue standpoint," Cardillo said. "This automation can help us reduce nearly 40,000 denials annually."
The Sharks were sold. They awarded that team $15,000 to help it achieve its goal. The judges included:
MUSC President David Cole, M.D.
Executive Vice President for Academic Affairs & Provost Lisa Saladin, Ph.D.
MUSC Health CEO and Vice President for Health Affairs, University, Patrick Cawley, M.D.
Chief innovation officer Jesse Goodwin, Ph.D.
Chief physician executive Eugene Hong, M.D.  
In the Shark Tank's Education category, the winning team pitched a virtual global health program for nursing students. Suparna Qanungo, Ph.D., director of global health in the College of Nursing, said the pandemic helped this innovation along.
"We did a pilot in November 2021 with the nursing students. It was a 10-day program. The students virtually visited Ecuador in week one and Nicaragua in week two. The training was delivered through online modules in the Canvas platform," she said.
They also virtually visited Costa Rica. The students not only read about health care in those places and discussed it but also observed clinical consultations and, in the case of Costa Rica, learned about mental health in migrants.
Student Kate Ague-Kneeland told the Sharks it gave her a greater appreciation for communities around the world without having to travel. "We gained exposure to all of these different sites with really unique social, cultural, even political and geographical influences on health. And we were able to take all of the concepts that we learned in didactic courses and combine them into real world experience."
The Sharks bit, awarding the program $15,000 to help support it.
The final winner in the competition was in the Research category. Jessica Chandler, Ph.D., an assistant professor in the College of Nursing, and Bernie Jansen, application development manager in biomedical informatics, made that pitch. 
"Our idea is called AppBuilder. It's a novel content management system that is designed to help innovators and investigators. So researchers will be able to reach a final product, such as a mobile health app, quicker and with less hours and less money," Chandler said.
"It cuts the normal app building time by a third, maybe even 50%, depending on how much or what you want. If we're talking a simple app, we're cutting 50% of the developer time off," Jansen said.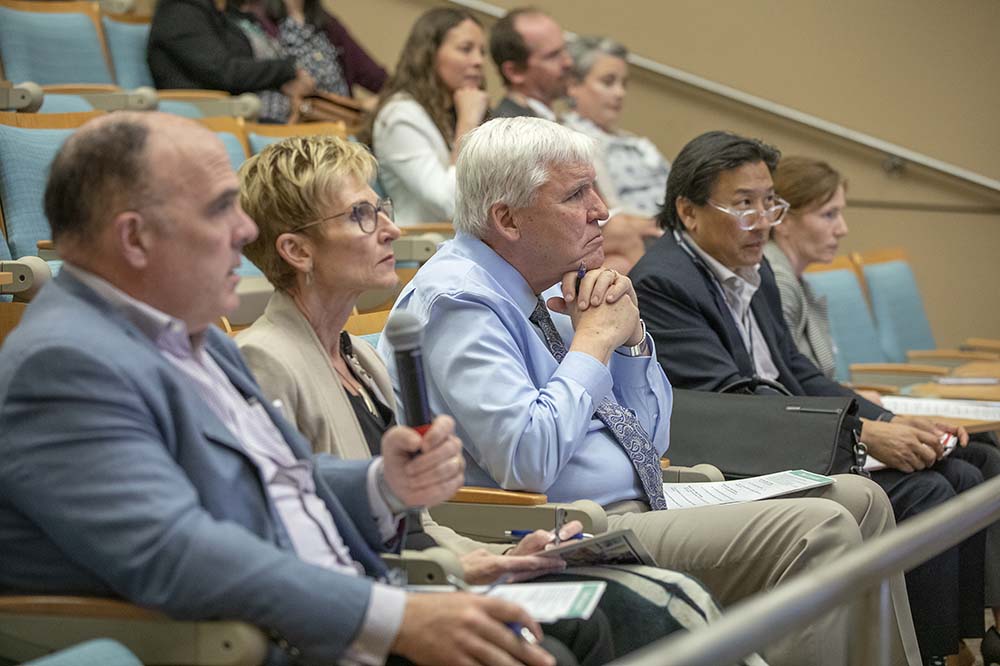 "There are hundreds and hundreds of other drag-and-drop app builders, but the significant difference is, one:  We are using native coding language. What that means is we can take full advantage of everything inside the phone," he said.
"The second part is, their gear is not aimed at medical research. Their gear has the normal person on the street doing this. One of the highest rated ones doesn't even have a survey. As far as a researcher goes, that's a mandatory thing. This is ours, we do this and we can do it well. We're already ahead of these hundreds of other companies that you can consider competitors."
The $15,000 they won will go toward pilot projects that will look at how well AppBuilder works for real-world users.
All of the projects pitched at Shark Tank, not just the winners, will get a close look from MUSC leaders. That includes projects proposed at two other MUSC Health sites, its Florence and. Marion divisions.
Chief innovation officer Jesse Goodwin called it good to see the innovators in person this year after a few years of virtual presentations because of the pandemic. "I think it's really important to build the culture where we're not feeling stuck with problems, but one in which we're saying, well, let's look at this as an opportunity to really problem solve," she said.
Innovation Week, which ran from April 25-29, included multiple events, with tracks focusing on ideas, the ways health care is changing, ensuring everyone has access to good health care, creating and collaborating and wellness. There were not only live Shark Tank events but also poster sessions, on-demand events and information about campus resources for innovators.
"We actually awarded over half a million dollars of investment into the ideas that you guys are bringing forward. And I think that that is truly outstanding," Goodwin said.
You can find a list of all winning Shark Tank team members on the event's online program.