Start every business day with our analyses of the most pressing developments affecting markets today, alongside a curated selection of our latest and most important insights on the global economy.

The unevenness of the global economic recovery and the rising threat of the delta variant of the coronavirus has called into question how mobility will evolve in a post-pandemic world.
This week began with major market moves as investors' concerns over the delta variant's risks to the global economy's rebound led to a drop in equities alongside a surge in demand for government bonds and a rally for the U.S. dollar. Despite the real risk of this more-infectious COVID-19 variant, mobility in advanced regions is increasing and analysts interviewed by S&P Global Market Intelligence believe any negative impact on the market will be short-lived. 
"As glib as this may sound, so many things with the markets are like this," Paul Schatz, president of the investment management firm Heritage Capital, said. "It doesn't matter until it matters and then it really matters. [COVID-19] was around for several months, but the stock market kept marching to new highs. And then it really mattered."
As European nations have lifted the majority of their lockdown measures, mobility has soared to the highest levels since the crisis took hold in March 2020— approximately 12% below pre-pandemic levels in Germany, France, Italy, Spain, and the U.K., according to an S&P Global Platts analysis of Google data. With regional and international travel restrictions still in place, the potential for a slower-than-expected recovery in regional jet fuel demand remains. But S&P Global Platts Analytics anticipates European oil demand will likely grow by 650,000 barrels per day over the year and nearly reach pre-pandemic levels of 12.3 million barrels per day in Western Europe by year-end.
In the U.S., slowing vaccination rates and the expanding threat of the delta variant didn't prevent mobility from trending upward in the second quarter. In June and early July, mobility hovered just 4% below pre-pandemic levels. The realities of post-pandemic life—including the potential loss of travelers and commuters, the shift toward remote and hybrid working, and preferences for online shopping over brick-and-mortar experiences—have the potential to transform mass transit, according to S&P Global Ratings. In the immediate term, airline bookings are growing week-over-week despite the expanding number of delta coronavirus cases in the country, United Airlines CEO Scott Kirby said during the company's July 21 second-quarter results call.  
"We think that the most likely outcome is that the continued recovery in demand continues largely unabated … That's the most likely and logical outcome because the evidence is overwhelming that someone who is vaccinated is highly protected against severe disease, hospitalization, and death," Mr. Kirby said about the possible effect of the delta variant on air travel, according to S&P Global Platts. "With the robust demand trends that we see and our return to profitability, we don't just see the light at the end of the tunnel. We're exiting the tunnel.
In Australia, the possibility of new lockdowns is unlikely to derail the country's gasoline demand recovery. S&P Global Platts Analytics expects demand to grow by 10% this year and finish 2021 just 4% below pre-pandemic levels. Market participants expect domestic demand for motor fuels to weaken in Vietnam as the country battles a new wave of COVID-19 cases and implements indefinite social distancing measures.
"Compared to the Southeast Asian lockdowns, Australia's lockdowns seem to be quite short term. Cases are still generally low. Once the cases come down again, we would see demand picking up," a market source told S&P Global Platts.
"This new wave in Vietnam is very serious. It has spread quickly, and the government is doing all it can to contain it," one market source based in Vietnam told S&P Global Platts. "Travel has come to a standstill. [Gasoline] demand has plunged, while stocks continue to pile up."
In China, the delta variant may keep both international travel restrictions in place and appetite for travel low in the second half of the year, which would threaten the country's jet and kerosene fuel production. In Indonesia, mobility has the potential to decline 30% below normal levels over the next two months and recover slowly to 5% below normal levels by the end  of January 2022, according to S&P Global Ratings.
"The transmission of the delta variant remains a concerning trend in countries which are now seeing an uptick in cases," S&P Global Platts Analytics said in a recent note. "Effectiveness of vaccines against such variants is deemed significant… we still believe that coronavirus will increasingly be viewed as a chronic, but largely controlled phenomenon, of which society will continue to adapt and respond. As such, the direct impacts on the global economies and energy consumption patterns are seen as diminishing over time."
Today is Friday, July 23, 2021, and here is today's essential intelligence.
The Credit Cycle
---
U.S. Public Finance Mid-Year Outlook: Beyond COVID?
To start 2021, the key question for U.S. public finance was: Will the pandemic be contained and the economy and credit conditions get back on track? 
—Read the full report from S&P Global Ratings
Market Dynamics
---
U.S. Dollar Bests Global Peers as Delta Fears Mount, Fed Turns Hawkish
Growing fears of the coronavirus delta variant's potential to derail a global economic recovery have triggered a U.S. dollar rally, pushing the greenback to beat out its G-10 currency peers since June.
—Read the full article from S&P Global Market Intelligence
Fed May Delay Tapering of $120B Monthly Bond Buys as Jobs, Inflation Goals Shift
Inflation is soaring and unemployment rates are falling to pre-pandemic levels, but analysts believe that Federal Reserve officials have moved their labor and price stability goalposts, potentially extending the timeframe for its ultra-loose monetary policy well beyond expectations.
—Read the full article from S&P Global Market Intelligence
The S&P 500 and DJIA: Divergent Paths to Similar Results
The S&P 500® and the Dow Jones Industrial Average® (DJIA) are two of the best known and most used indices in the world. However, when we look under the hood, we can see that these iconic indices followed different paths to achieve similar results.
—Read the full article from S&P Dow Jones Indices
Banking Industry Under Pressure
---
Global Banking Country Outlook Midyear 2021: Tantalizing Signs of Stability
The global banking sector is clawing its way back to normalcy. Rebounding economies, vaccinations, and state measures are likely to help banks bounce back much more quickly than was conceivable in the dark days of 2020. For 11 of the top 20 banking jurisdictions, S&P Global Ratings estimates a return to pre-COVID-19 levels of financial strength won't occur until 2023 or beyond. For the other nine, S&P Global Ratings believe recovery may occur by year-end 2022.
—Read the full report from S&P Global Ratings
ESG in the Time of COVID-19
---
Understanding the Basics of Sustainability Part 2: Focusing on Net Zero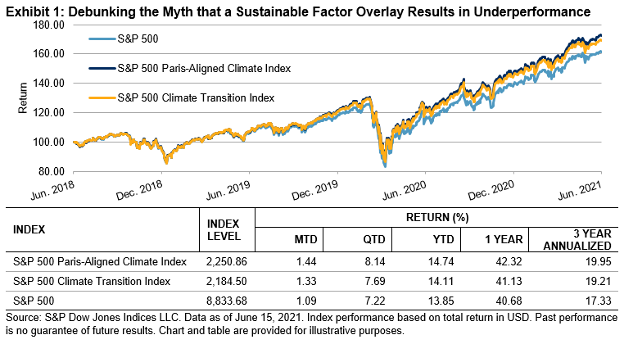 The increasing focus on sustainability inclusion is being reflected through the markets' growing recognition of the financial materiality and impact of ESG issues on corporate balance sheets. Therefore, the range of ESG offerings has expanded to include indices that focus on climate change, carbon efficiency, fossil fuel free, and thematics, which include clean energy and water indices.
—Read the full article from S&P Dow Jones Indices
Latam Steelmakers Push for Firm Decarbonization Agenda After Years of Planning
Latin American steel producers are evaluating decarbonization strategies to embark on a more declaratory sustainable agenda after decades of just making plans, the new executive director for the regional steel association, Alacero, said.
—Read the full article from S&P Global Platts
As Heat Wave Looms, ERCOT and Texas Regulators Emphasize Grid Readiness
Texas regulators and the Electric Reliability Council of Texas sought on July 22 to reassure Texas power consumers that they are doing what is necessary to ensure the power system remains reliable for the rest of the summer, as August is typically the hottest period of the Texas summer.
—Read the full article from S&P Global Platts
The Future of Energy & Commodities 
---
China Imports More U.S. LNG but Is Still Poised to Miss 2020 Trade Pact Goals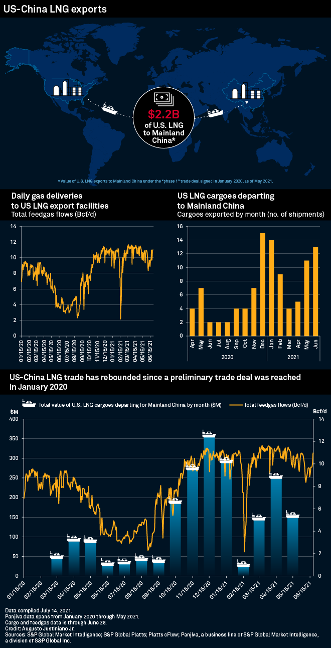 Chinese imports of U.S. LNG have surged in recent months, helping to keep U.S. export facilities running close to full bore. But the purchases are short of the levels called for under the truce that ended a year-long freeze in the LNG trade between the two countries.
—Read the full article from S&P Global Market Intelligence
Written and compiled by Molly Mintz.