While many travellers to Greece are drawn to its islands, the mainland harbours a couple of beautiful under-the-radar destinations. The Peloponnese – a secluded, unspoilt peninsula at the southern tip of the country – might just be the best-kept secret of them all. It's here that Captain Vassilis C Constantakopoulos founded Costa Navarino, a vast 1,000-hectare-plus getaway made up of two smart hotels, a slick spa and more than 20 elegant restaurants, with new hotel and golf course openings to come within the next year. But while this pioneering estate could have dominated the raw landscape, instead the team has made commitments to protect the environment, conserve the delicate ecosystems and preserve the 4,500-year-old culture the region is known for.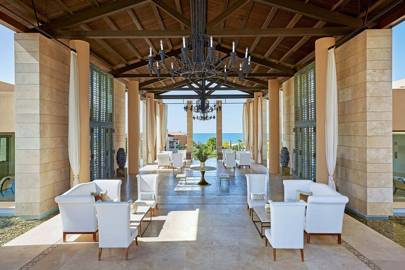 Greek architects took inspiration from local villages to create a space that blends cleverly into its surroundings. They designed low-rise buildings carved out of Peloponnese stone (with 5,000 square metres of planted roof) that sprawl across rugged dunes and look out to the inky Ionian. The result is a beautiful, unhurried retreat where you can slow down, leaning into the impeccable service. At The Romanos, one of the two fabulous hotels, some rooms have widescreen sea views or private plunge pools, while low-lying villas are set right on the beach. Families gravitate instead to The Westin, Costa Navarino's other property, where kids go wild for the waterpark, climbing walls, outdoor pools and an extensive list of activities.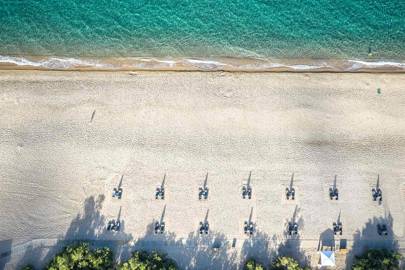 Guests can spend laidback days taking traditional cooking lessons in the nearby village, lending a hand in the rambling olive groves, tasting wine from the ancient vineyards and touring local historic complexes. Across the business, about a quarter of the associates and partners have been hired from Messinia, and more than 80 per cent from Greece, so staff here really know the ins and outs of the landscape and history – the Peloponnese is a place of legend which dates back to the Ancient Greeks. Cultural experiences of Herculean proportions are at the heart of Costa Navarino's dedication to not only protect the region's heritage, but to show it off at its full advantage.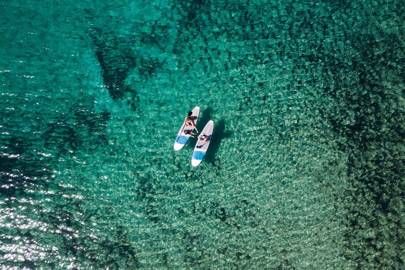 Rather than over-developing the land, the team has leaned in favour of constructing a place that pivots around the area's natural beauty. Buildings have been spread out, leaving wide open spaces for exploring – only 10 per cent of the land is covered by development. Nothing is cramped or crowded; there's a sense of privacy and seclusion throughout. This eco-minded approach to tourism focuses on saving rugged landscapes – craggy mountains, pretty bays, turquoise waters – in innovative ways. The big-hitting golf courses are kept deep green by three specifically designed irrigation systems that funnel 1,128,000 cubic metres of water – that's more than enough to cover the irrigation requirements for a whole summer season. Energy consumption has been significantly reduced thanks to Europe's biggest geothermal system of underground pipes – the first of this scale to be installed beneath a golf course anywhere in the world.
Costa Navarino is also part of the Global Tourism Plastics Initiative, which requires participants to commit to goals such as eliminating unnecessary packaging by 2025. Caster-sugar-fine beaches are fully protected because of the loggerhead sea turtles that reside here. Produce is grown on-site or procured from nearby farms, seafood for the many excellent restaurants is caught just a few miles away by local fishermen. But this is about building the local community too. Among European countries, Greece has the biggest percentage of population directly employed in the tourism industry, after all.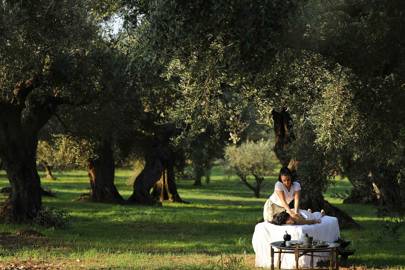 For all its green philosophies and meticulously thought-through cultural programmes, Costa Navarino never sacrifices its spoiling ethos. Filoxenía is the Greek word for hospitality, meaning to show kindness to a stranger. Here, days can be spent in the award-winning Anazoe Spa, where signature oleotherapy treatments using homegrown olive oil (more than 6,600 olive trees have been replanted, while 900,000 endemic shrubs have already been planted across the landscapes) are based on ancient practices inscribed on clay tablets at the nearby Palace of Nestor, and body scrubs are concocted using local salt and honey. Those preferring a get-stuck-in holiday over a fly-and-flop can arrange water sports such as diving in the gin-clear sea (marine biodiversity is protected through a specific action plan to enhance life underwater, including a ban on plastic bags, a reduction in single-use plastics and careful cleaning of the beaches), kayaking, windsurfing and sailing.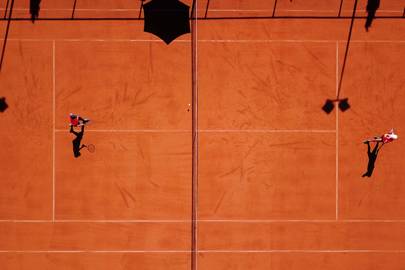 Back on firmer land, guests can try walking or mountain biking, or private tennis lessons (there are 16 tennis courts, where coaches teach the tried and tested Mouratoglou method). Global tournaments are often held at the two golf courses – soon to become four in 2022, including the first International Olympic Academy Golf Course. It's all part of the team's master plan to turn Costa Navarino – and Messinia – into a year-round destination rather than just a summer hotspot, creating jobs, enhancing local communities and allowing them to funnel money and resources back into protecting the landscape. The onsite Navarino Environmental Observatory – a centre dedicated to climate-change research and education – has been leading the way on frontline research into protecting the Mediterranean environment since 2010.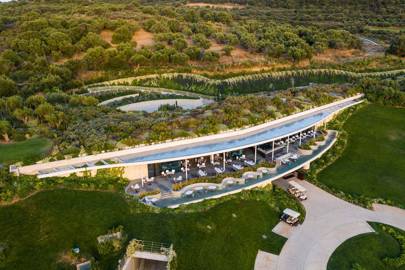 And while environmental awareness and eco action plans have firmly entered the zeitgeist of the world's best hotels over the past few years, Costa Navarino has been dedicated to sustainability since long before many other big players caught up. Everything here is rooted in respect for the region – and a commitment to breathing new life into this astonishing area. Those charmed by the ethos can even own a home at the retreat. Up next: two new hotels will open across the estate – Navarino Bay will be earth-sheltered to further reduce carbon footprint, while Navarino Waterfront will be made up of beachfront bungalows and lagoon pools – providing ever-more dizzying choice for those wanting a hit of authentic Greek life.