So, it's August 1968. I go to this full-moon party on Formentera with two gay friends of mine and it's incredible – there are sheep roasting and drummers going, and everyone's in chiffon and bells and beads. I heard that Lester Waldman sold the pictures to Vogue. As dawn was breaking, I looked up to the roof of this little finca and there was this amazing-looking man – like King Charles, with the sun rising behind him. I just said, "Wow, who's he?"'
Patsy Tilbury, mother of the make-up artist Charlotte, had just met her husband for the first time. Along with many others of her generation, she had been seduced by the tiny Balearic island's reputation as a hotbed of freewheeling bohemianism. Like Ibiza, Formentera has long attracted free spirits, from counterculture refugees Pink Floyd and Joni Mitchell in the 1960s to Kate Moss and Jade Jagger in the 1990s.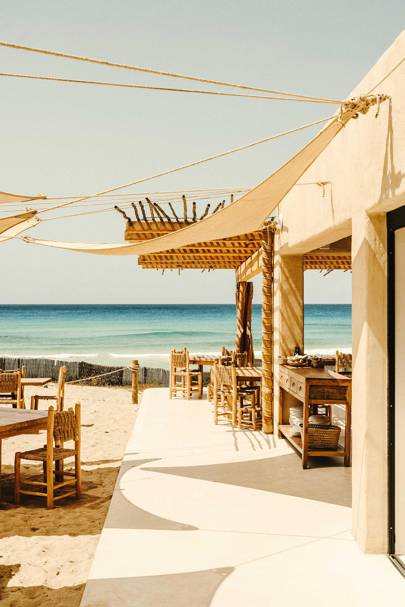 Unlike Ibiza, however, the itty-bitty isle has resisted the lure of the VIP. Flashy hotels are almost non-existent. Both locals and devotees are fiercely suspicious of development. Casa Pacha, the latest outpost from the ever-evolving lifestyle brand, opened in May 2021 with less of a fanfare and more of a flutter. The group had been hankering after a foothold here for decades and its island roots run deep. In the early 1970s, the club's first afterparties were held on the neighbouring islet of Espalmador, where wide-eyed flower children tripped out at dawn and piled into fishing boats laden with baskets of food and wine. Those were the glory days of naked, nut-brown bodies and abundant marijuana, and Pacha founder Ricardo Urgell often said that without Formentera there would be no Ibiza.
Renovations of the formerly gloomy Apartamentos Es Arenals, decked out in gingham and pine, began in 2019, and the transformation has been deft and thorough. The makeover is right on, with acres of creamy micro-cement and subtle curves – and it is a makeover: the building is on a long lease from its Formenterenc owners and the notoriously rigorous Costas department forbids construction close to the dunes. The 14 suites are all named after giants of Pacha history: Pachacha (the club's Latin-vibe backroom), Parrish (the exotic dancer synonymous with Ibiza) and Paula's (the epoch-defining Seventies boutique in Ibiza Town).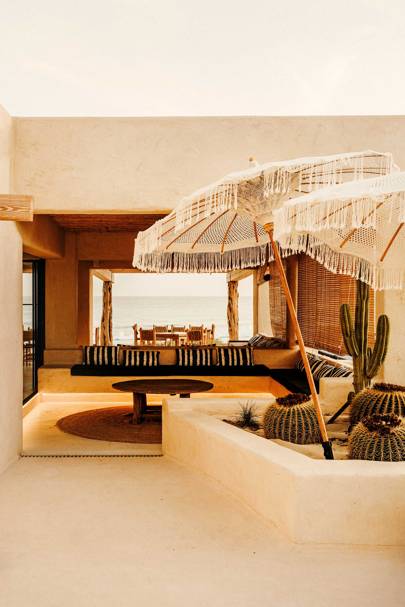 Patricia Galdón, the interior designer, tells me that she began the project by anchoring each bed to the sea view then working backwards from there. Her vision is an astounding success: poured-concrete islands slice the rooms in two, acting as desk and bar on one side and headboard with bedside nooks on the other. Showers are big enough for five. Beds are vast, floaty, with puffy pillows and the lightest duvets (is there a greater pleasure than crisp white cotton on sun-ravaged skin?). Aside from a pair of Pierre Jeanneret-style armchairs and some primitive wooden stools, there's no free-standing furniture to speak of. Instead, rooms have huge sliding doors edged by pebble-coloured linen and lovely terraces from which to gape at the intense blue of the sea.
The opening was delayed a year by the pandemic, and then there were no fireworks, no flashy party. The closest thing to a launch was when Serena Cook – epicentre of Ibiza high society – brought a gaggle of pals over for her birthday. In fact, far from being a disruptor, Casa Pacha appears to have just slithered into place, with a discreet wink and one finger held to its lips.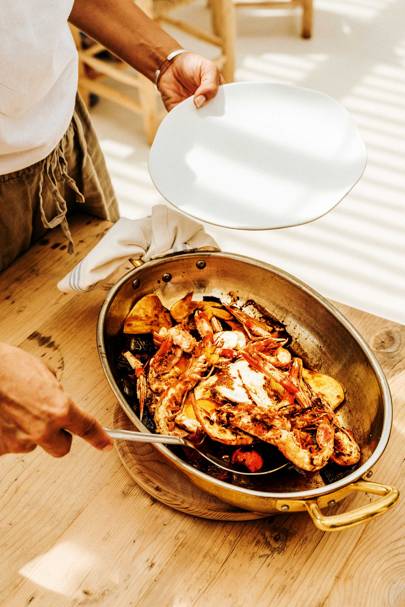 On the beach, unequivocally the finest slice of sand on the isle, the famous cherry flag is conspicuous in its absence. There are no signs on the road. Cook thinks that this spot will quietly come to define the hotel scene on Formentera, where polished addresses are few and far between and the new mood is barefoot and low impact.
The main contender is the smart Gecko Hotel and Beach Club at the opposite end of Migjorn. But while Gecko is all liveried staff, emerald lawns and cushions with contrasting piping, Casa Pacha is more primal and rootsy. At the outdoor restaurant, where a glossy oil slick of artichokes and sea cucumbers has me licking my fingers, blue-green Sargantana lizards run riot across the sandy floor. Rough canvas sail shades and esparto-grass rugs lend a touch of desert encampment. Nobody seems to wear any shoes. It is hard to conceive of a spot more in tune with its surroundings. Oleguer, a Catalonian waiter with 20 years' experience in the business, was formerly at the legendary Macondo pizzeria. Like all his cohorts, he's affable, multi-lingual and just the right side of attentive. He remembers my afternoon drink (Virgin Colada with a slice of lime – I'm sober yet tropical) and draws cartoons for my daughter when she cries. In the winter, like many of the staff, he will head off to work in the haciendas and cocktail bars of Mexico, Cuba and Brazil, then return to Formentera fresh-faced and full of stories, ready to chase the endless summer once more.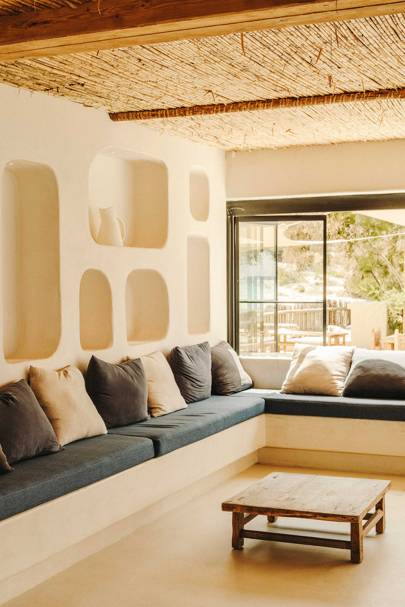 A silvery boardwalk from Casa Pacha cuts through the island's singular scrubby dunes. It is dry out here and fantastically bright, with cuboid buildings and flattened rosemary bushes. Even the ladybirds on the prickly pears are bone-blonde, bleached by the sun. The pier ends at Chiringuito Bartolo, a cobalt-blue shack on stilts where tawny couples play Scrabble and sip Fanta Limón. Restaurant and strolls aside, there is little to do at Casa Pacha but loll on the shady grey loungers, poke around the pretty shop or swim, swim, swim in the most luminous water I've seen in Europe. There's no spa, lobby bar, yoga deck or pool; no beach service and no real supper menu. Of course, much can (and should) be arranged in the spacious rooms, from massages to reiki to private yoga lessons, but there's also a sense that the hotel is shunning amenities in favour of a lighter footprint. Will this rankle with guests paying the admittedly toppy room rates? I doubt it, because what they'll find here is a place entirely at peace with its wild windswept setting and the brutal heat. It is all deeply elemental. I've known the Pacha group for many years: first as a wide-eyed club kid, later as editor of Pacha magazine.
I even did the guestlist in my 20s. With this stripped-back return to nature, to simplicity – indeed, to Formentera itself – I get the feeling that the brand has come full circle in its half-century of existence.
Address: Casa Pacha, Camí es Arenals, Km.11, 07872 Es Caló, Balearic Islands, Spain
Telephone: +34 971 31 35 35
Prices: From £1,035 a night
Book your stay
Like this? Now read:
Formentera – Ibiza's hippy sister
The best hotels on Ibiza and Formentera