Such is the relentless nature of life as a football manager, even the Women's Super League 'Winter Break' did not give Aston Villa head coach Carla Ward a moment's respite, not that the self-confessed workaholic would afford herself one anyway.
While she freely admits the month-long league breather provided her players with a mental and physical break, Ward's hard and fast approach to work of "no day being off limits" even saw her squeeze in some pre-festive transfer dealings.
"I won't say which player, but at 5pm on Christmas Eve I was on the phone trying to convince someone to come in during the transfer window in the summer. Whether that works, we'll see when that window opens. It doesn't matter what day of the year it is, this job is 365 days a year," Ward said in an exclusive interview with Sky Sports.
"I really struggle not to work. I'm usually 24/7, even when my teams are good, I'm constantly wanting more and struggle to switch off. Although I have an unbelievable little three-year-old daughter who keeps me entertained and we had a good Christmas.
"I know I've got to learn to switch off because I'm constantly thinking about the next thing, how we can improve, who's going to come in – it's probably my downside."
Ward's exhaustive commitment to her position at Villa, coupled with the club's strategy of planning for the next transfer window, has allowed supporters to see the fruits of labour with the arrival of a handful of star-studded players over the last two windows.
While Rachel Daly was a big-name arrival last September for an undisclosed fee, fresh from winning the European Championship with the Lionesses, a red carpet of a welcome mat was rolled out this month with another two England internationals in Jordan Nobbs and Lucy Staniforth becoming two of the standout transfers of this January window so far.
Nobbs says it was not a difficult decision to make the move from Arsenal to Aston Villa and she believes the future is promising at the club

Daly, in her preferred attacking role, has been scoring at will since her move from Houston Dash and tops the goalscoring charts with Manchester City's Bunny Shaw, both scoring nine from 10 league games and they go up against each other this weekend when Villa travel to an in-form City side in Saturday's lunchtime kick-off, live on Sky.
Nobbs and Staniforth, meanwhile, made their Villa debuts last Saturday in a 2-1 come-from-behind win over Tottenham at home in the first match since the winter break, with the latter only completing her switch from Manchester United five days beforehand and a mere few weeks after her Christmas wedding to partner Laura Wilson, where Nobbs was one of her bridesmaids.
Highlights of the Women's Super League match between Aston Villa and Tottenham Hotspur

"At half-time, I actually said to the group, two players have come into a team that's been very much set and to pick up the way that they did shows their quality and shows their experience," Ward said.
"They are two great characters, they drive standards, they walk around the building with a smile on their faces which is really important."
Nobbs has made no secret of her desire to claim back her England spot and add to her 69 international caps having made the heart-wrenching decision to leave her beloved Arsenal in order for regular football at Villa after suffering long-term injuries that ruled her out of the Euros last summer and a place in England's 2019 World Cup squad.
Staniforth, meanwhile, was a part of the Lionesses last World Cup squad but has not featured since, although the 30-year-old midfielder harbours ambitions too of forcing her way back into the spotlight ahead of this summer's Finals in Australia and New Zealand.
Villa provided Jill Scott a haven of putting herself back in the shop window and an opportunity to secure a place in Sarina Wiegman's Euros squad when she joined the club last January and Ward believes it will only be a matter of time before England scouts cast their eyes over Nobbs and Staniforth again, with the Arnold Clark Cup on the horizon in mid-February.
"They both put in performances [against Spurs] which will make people stand up and realise these two players are exceptionally good," Ward said.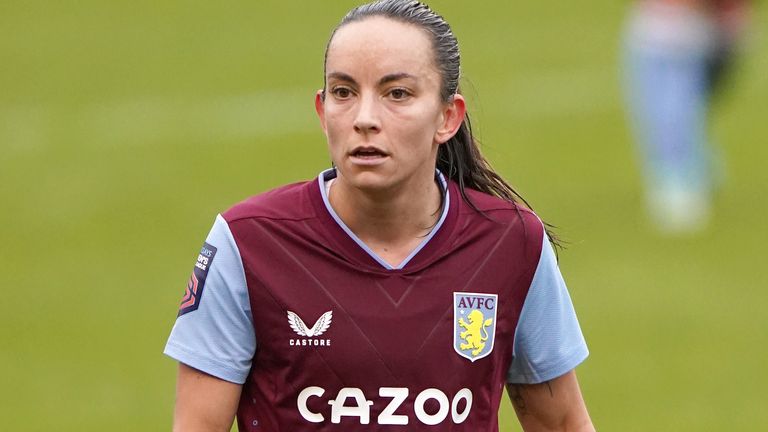 "They are very good WSL players, and no doubt there will be people looking at them, in terms of camps coming up. I hope they will because I'm delighted for them, they both had exceptional debuts."
It is clear that Ward's warm nature and ability to allow players freedom to express themselves on and off the pitch has harnessed a welcoming culture. Upon her arrival at the club, Nobbs spoke of having asked both Daly and Scott about Villa and was told of "what a great place it is".
The buzzword that cropped up on many occasions during this interview was 'smile'. Whether that was talking about players playing with 'a smile on their face' or putting 'smiles on the fans' faces' with the calibre of player coming through the door. It is a feelgood philosophy that sees Villa, currently in seventh spot, striving for a top-five WSL finish this season, having only gained promotion to the top flight in the Covid-affected 2019/20 campaign.
"I very much pride myself on people," Ward said. "I pride myself on providing an environment where people enjoy coming to work because I'm a believer that if you can get people playing with a smile on their faces, we usually get the extra per cent out of them.
"The big thing is to keep creating a togetherness and a culture where everyone wants to look after each other."
It is in stark contrast to the challenges she encountered in her previous managerial role at Birmingham in 2020/21, where she worked on a shoestring budget, with a limited playing squad and with players complaining to the club board over a lack of support.
The FA launched an investigation following the players' complaints that included players earning less than the minimum wage, delays over treatment for injured players, a lack of access to the training-ground gym and changing rooms, and travel arrangements for away fixtures.
Despite all the hurdles, Ward helped steer her side to an unlikely escape from relegation before she handed in her resignation.
"I'll always be forever grateful to Birmingham," she said. "It taught me an awful lot.
"It gave me an opportunity to settle into the WSL when some would argue that I wasn't ready. You find a way, you sink or swim, you face challenges, you have to find solutions. And being at Birmingham in that period, really helped me develop as a coach, as a manager, as a leader and that was really important.
"Here [Villa] is very different, you've got every single department in the football club pulling together, no matter where you are in the football club. No matter where you are in the club, everyone wants to talk about the women and there's a massive focus on the women. It's certainly a different place and, we're growing together."
'Taylor has taken more stick than he's deserved'
That development will be put to the test again as Villa face a Man City side who have hit their stride after a hectic transfer period in the summer – albeit one that saw a number of high-profile players, including Lucy Bronze and Caroline Weir, depart.
City are unbeaten in their last 12 and on the fringes of the top three as they look to mount a late title bid with Ward feeling manager Gareth Taylor has not been given the credit he deserves.
Manchester City Women's manager Gareth Taylor says he is keen to extend his contract at the club

"I'm not surprised at the form Man City are in. Gareth Taylor is an exceptional coach and a good manager. He's probably taken a bit more stick than he's deserved this last year.
"They've got a squad of full internationals, have a lot of quality and it will be a fascinating game."
The reverse fixture at Villa Park back in September produced a seven-goal thriller with Villa letting slip a two-goal lead to recover from 3-2 down, with Daly scoring the winner.
Victory on Saturday would see Villa close the gap on City to four points and with it raise fans' expectations this season.
One of those excitable supporters lies closer to home in the form of Ward's young daughter Hartley.
"She loves it, she knows all the Aston Villa songs and tells everyone who we're playing and who will score the goals," the 39-year-old said.
Watch all of Rachel Daly's WSL goals from the start of the 2022-23 season as she continues her superb form following the Euros

"She's a big fan of the players so she talks about them a lot. She's got quite a few shirts, her first shirt was Jill Scott's 100th game at the Keepmoat, Jill gave her that shirt and I think soon enough, she'll be asking for Rachel Daly's shirt!"
But Ward will not sit on her laurels and is not prepared to be content with what she has built so far.
"When I came in, I said I wanted us to be an exciting team to watch, but most of all an exciting team to play in. I think we're giving the fans that. They want to watch us.
"It's important that we keep playing the way we want to build for the future. We'll make mistakes along the way, but that's part and parcel of being on the journey."
Watch Man City vs Aston Villa live on Sky Sports Football on Saturday from 10:30am, kick-off 11:30am