In a game that was dull for long stretches but found life in the third, the Canucks found enough offence after suffering from some tough bounces along the way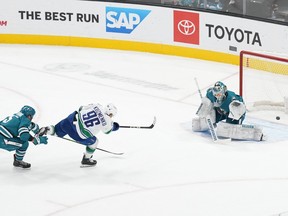 Article content
SAN JOSE — In the Vancouver Canucks' dressing room, minutes after he scored the winning goal in overtime, sealing a 4-3 win for the Vancouver Canucks, Andrei Kuzmenko leaned in close to Thatcher Demko.
Article content
Wearing his now-familiar enormous smile, a smile so big it touches each side of the room, he babbled excitedly about his goalie's performance, one that Kuzmenko and his teammates knew the netminder needed.
Article content
---
NEXT GAME
Tuesday
Washington Capitals vs. Vancouver Canucks
7 p.m., Rogers Arena. TV: Sportsnet. Radio: AM650
---
Especially after two goals went in on the flukiest of bounces. Demko was the story, putting in his steadiest performance of the season. He made 32 saves on the night, including 19 in the third period as the Sharks pressed hard against a tired Vancouver team, who had played the night before in Las Vegas and only got to their hotel at 2 a.m. because of air-travel restrictions in the Bay Area.
It would have been cruel if the hockey gods had made the two goals — one that popped high in the air and Demko never saw come back to the earth, the other a cruel deflection off his own defenceman's stick that wrong-footed Demko — the difference in the game.
Article content
Kuzmenko got close in on his goalie, sharing his thoughts in a way that meant the surrounding media were merely bystanders, not witnesses. Whatever it was he said was between teammates.
But it definitely brought a smile to his goalie's face.
"He's a funny guy. I mean, I always try to put myself in his shoes and I'm like, if I was over there like I wouldn't be saying a word — and this guy doesn't shut up," Demko said. "it's a good thing you know? It's something that brings a smile to a guy's face. And half the time when he leaves the room, we don't know what he said, but it still makes us laugh. Obviously he's trying to adjust, not just on the ice but culturally too. And the language thing is something that he's working on. He's been great."
Article content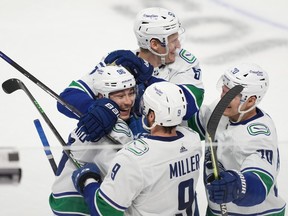 Demko was pleased to get the win. The team went 3-0 on the road trip and are starting to prove themselves to be the team they thought they were.
"I think kind of at that point, you're just laughing a little bit. Like what are you supposed to do? I try to stop as many as I can. Sometimes there's nothing you can do about it. So yeah, stuck with it," Demko said about the bounces going against him a couple times.
"It's a big win. That's one of the ones that we probably haven't gotten yet this year. You know, maybe did some things wrong but stuck together as a group and found a way to win."
For Demko, he was ready to admit it was another important milestone as he works to get back to the form he had last season. Thank goodness for Spencer Martin, the Canucks' other goalie, he said.
Article content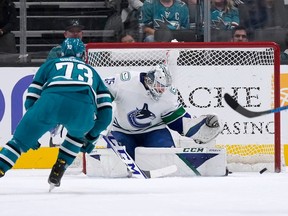 And he was very thankful for his teammates mobbing him at the end of the game like they did, a clear sign of how happy they were for Demko to get his third win of the season.
"It's not a secret: I've been fighting it this year," he said. "Marty's been playing awesome. And guys have been rallying around him for sure. I've been trying to help him out as much as I can. And you know, at the end of the day, I want to help out as much as I can. I got to get my game going too. Obviously, the guys in this room know that I'm working hard every day, they see it on the ice."
After two impressive wins in Colorado and Vegas, the Canucks hoped to go 3-for-3 on their weeklong road trip.
And while there were hiccups, including those two blown leads, it was to be in the end.
Article content
Post-game, head coach Bruce Boudreau was as ecstatic as he's been all season.
"It's a great win. It's a great road trip. And that was courage and character. We were obviously tired. We were obviously getting outplayed in third period. But, you know, we found ways to bounce back twice. It was great," he said.
And he was delighted for his goalie, too.
"He was so good. The only pucks that beat him were tips or the stupid head-butt puck. But I thought he was really, really sharp and that's two or three games he has been really, really sharp. So I think he's coming back into the fold," he said.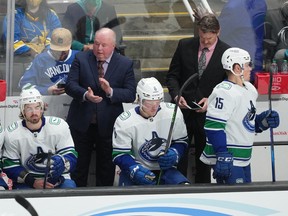 Thank goodness for Demko, captain Bo Horvat said.
"Demmer stood on his head tonight," he said.
"That was a hard fought win, (but) I'm not gonna lie, obviously it wasn't our best," he said. "We know we got to be better. The way we played the first two games and the way we came up with tonight, obviously it's a tough back-to-back, but we hold ourselves to a higher standard. It wasn't our best but we found a way to get it done."
Article content
In a game that was dull for long stretches but found life in the third, the Canucks found enough offence after suffering from those tough bounces along the way.
"It was a little bit loose I think by both teams structure-wise. They have a pretty good player in (Erik) Karlsson back there, that kind of likes to roam around the offensive zone that gives teams trouble," Kyle Burroughs said after the game.
It was a big confidence-booster, the defenceman said.
"I think for us to pull through and get that one in overtime and to come back especially, I think it means a lot to us," he said.
Article content
Kuzmenko scored the winner in overtime — after a precision pass from J.T. Miller — clinching the win for the Canucks.
Asked if he got exactly the shot off he wanted, the Russian winger smiled.
"Yes! Thank you!"
---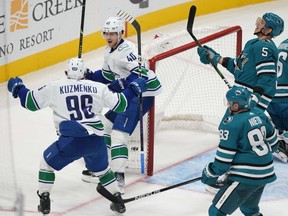 Getting it done
Be ready to shoot.
Ilya Mikheyev went to the slot and the puck came to him and suddenly the Canucks had tied the game back up at two midway through the third period.
That they got the go-ahead goal in the third off Elias Pettersson's stick was no surprise either. And Kuzmenko's form since he was a healthy scratch has been so hot, it wasn't a surprise that he tallied the winner either.
Article content
This line has been playing incredible hockey all season — and they're only playing better as the season wears on.
"Obviously they came to play there in the third period. Different guys are stepping up at different times and that's what we need in order to win and they were the line tonight," Horvat said.
---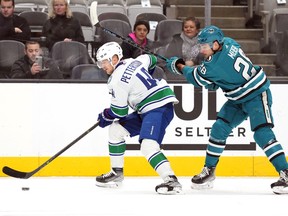 Not getting it done
It was rather surprising to see Pettersson make a poor puck-management decision a shift later, as he tried to deke his way out of the Canucks' end only to be checked and knocked off the puck.
Tiredness perhaps was a factor, though you'd never get Pettersson to admit that. He'd just want the sequence back.
---
But good defence
The Canucks maintained another good shooting environment in front of Demko again, something that has become a trend of late.
Article content
The Sharks struggled to penetrate the areas in front of the net.

In terms of matchups, Karlsson faced up a lot against the Horvat line on Sunday night and when he was on the ice the Sharks out-shot-attempted the Canucks by five.
It was a tough night for Burroughs and Tyler Myers too, a big turnaround from Saturday when they dominated Jack Eichel's line.
Myers and Burroughs played against just about everyone and got out-shot-attempted by eight shots.
The rest thing
So San Jose International Airport has a curfew: no takeoffs or landings of commercial aircraft louder than 89 decibels between 11:30 p.m. and 6:30 a.m.
Which meant the Canucks' charter flight from Las Vegas Saturday night couldn't land in San Jose and instead had to land in Oakland. It's about a 40 minute drive from Oakland airport to downtown San Jose.
Article content
The Canucks then wouldn't have been in their hotel rooms until almost 2 a.m., which isn't terrible, but the faceoff time was 5 p.m., which didn't help matters.
The Canucks aren't going to complain, but that's not easy on the body and you could see the team fade somewhat in the third period.
"I mean, everyone's got to do at some point or another in the season so it's not an excuse for us. We just got to try and get as much rest as we can and come out ready to play," Demko said.
---
Follow the bouncing puck
The Sharks' first goal was a weird one, with a pop fly deflection off Luke Kunin leading to Demko losing sight of the puck and the floating disc gliding back down to earth and into the net.
Demko said he and his teammates could only laugh about the absurdity of the goal in the dressing room during the first intermission.
Article content
"Shaking our heads a little bit," he smiled. "(But) we found a way to win."
Logan Couture's goal early in the third was another strange bounc, which gave the Sharks a momentary 2-1 lead, with his point shot cruelly deflecting off Ethan Bear's stick and flipping over Demko's shoulder.
---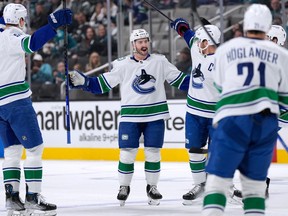 The Burroughs chip shot
Kyle Burroughs scored the opening goal of the game, a looping shot that eluded the gaze of Sharks goalie Kaapo Kahkonen.
"I don't think I have an A-shot," Burroughs said with a laugh. "I think I just close my eyes and hope for the best every time."
A bit like putting the ball on the green from the fairway?
"A pitching wedge from 150. Maybe a little bump and run? I'm not really sure," he replied. "Get a little eight iron around the green. A little chip. Some days they just got eyes for them."
Article content
---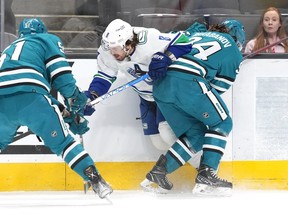 Make the call
Nils Aman turned the puck over at the blue line and was set to race away from the Canucks' zone but instead was tripped up by a flailing Timo Meier.
For no obvious reason, neither referee put their hand in the air.
It was ridiculous.
Post-game, asked about whether he thought it was a trip, Aman cast a knowing smile but wouldn't say one way or another.
---
Special teams
Article content
The Canucks came into the game with the league's second-best power play after scoring three times on Saturday night in Vegas.
But the counter point was San Jose' excellent PK, the league's best.
Then of course there was Couture's go-ahead power play goal early in the third to give the Sharks a momentary lead.
---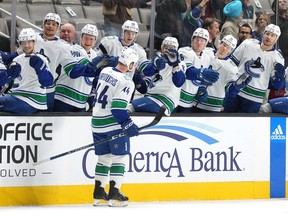 Rough attendance
There was a claim for a while that sports fans in the Bay Area were still COVID-nervous.
That's why the Sharks' crowds haven't recovered, they said.
That's a hard claim now.
The Sharks just aren't good and fans just aren't interested.
---
Finding a way
A 3-0 week, a 5-wins-out-of-6 stretch has the Canucks just one point off a playoff spot in the Western Conference wild card race.
This is where the team thought it would be, and most pundits agreed.
Article content
The question is, will they keep this going?
Article content
---
More news, fewer ads: Our in-depth journalism is possible thanks to the support of our subscribers. For just $3.50 per week, you can get unlimited, ad-lite access to The Vancouver Sun, The Province, National Post and 13 other Canadian news sites. Support us by subscribing today: The Vancouver Sun | The Province.