The UK's traffic light system for travel was updated on Wednesday 4 August, with a handful of destinations moving between the green, amber and red lists. Mexico moved from the amber list to the red list, and the change will come into effect from 4am on Sunday 8 August. What does this mean for travel to Mexico over the coming weeks and UK travellers already in Mexico? Here's what you need to know about the rules and restrictions.
IS MEXICO ON THE RED LIST?
Yes – from Sunday 8 August 2021, Mexico will be on the red list. This means any UK citizen or resident who arrives back in the UK from Mexico after 4am on Sunday 8 August will have to quarantine in a government-approved hotel for 10 days. For those who book before 4am on Thursday 12 August, the cost of hotel self-isolation is £1,750 for one person, with extra adults having to pay £650 per person and children aged five to 11 being charged £325. For those booking on or after 4am on Thursday 12 August, the price will increase to £2,285 for one person. For extra adults the rate will be £1,430 per person. Children aged five to 11 will still be billed at £325.
The UK quarantine package, which includes PCR tests taken on days two and eight after arrival, should be booked via the government's portal. Once completed, you can fill in your passenger locator form and make the return journey to the UK.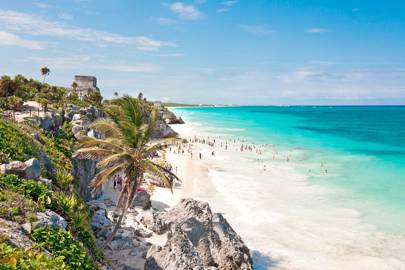 WHAT IF I'M ALREADY IN MEXICO?

Up to 6,000 British tourists are currently on holiday in Mexico. After the country officially joins the red list, only UK citizens and residents travelling from the country will be allowed to enter the UK, as long as they have booked an appropriate quarantine hotel. Those who are on holiday in Mexico face a choice – land in the UK before 4am on Sunday 8 August and avoid having to quarantine in a hotel, or finish their holiday and return after 4am on Sunday 8 August to complete 10 days of hotel self-isolation.
WHAT IF I HAVE A HOLIDAY TO MEXICO BOOKED FOR LATER IN THE SUMMER?
For as long as Mexico remains on the red list, you shouldn't be travelling there. The government advises against travelling to any red list country. We recommend always booking travel insurance that's relevant to the country you're visiting. If possible, try to postpone rather than cancel your trip – read our sustainability expert Juliet Kinsman's piece on why you shouldn't cancel your holiday.
WILL MEXICO MOVE BACK TO THE AMBER LIST?
It's possible – destinations are moved between the lists roughly every three weeks. The next government review will happen in late August.
Like this? now read:
Red list countries: Which destinations are on the travel ban list?
Which countries are on the green list? Full list of confirmed destinations
When will we travel? What the latest post-lockdown rules mean