Where have you just returned from?
'I recently got back from London – I went for the BRIT Awards. Despite the weather, it is one of my favourite places on earth. There's a palpable sense of respect for the arts. I love being able to show up and feel like what I do is honoured in a way that America is still coming to terms with a little bit.'
Your ultimate touring pit stop?
'I've done a Mediterranean cruise about four times now. Getting to visit Rome, Barcelona and Crete was so special.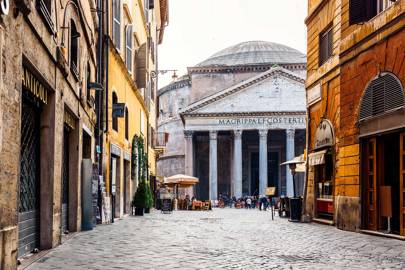 Every time I just marvel at the history of our world. To head to Greece and see the ruins of what they built without any of the technology we have today – how did they do that? It's incredible. The USA is a pretty young country in the larger scheme of things. I'm always so moved by the history of the European places I've been to.'
Describe a holiday disaster
'There was one time when I was travelling from Club Med at Playa Blanca in Mexico – it was a whole gaggle of gays on a charter and we'd blocked out the entire place for a week. On the plane back, as we were lifting off a crane flew into the engine and we came crashing back down onto the tarmac. If it had happened 10 seconds later, we would have been dead. Ten seconds! In the blink of an eye it could all go away. I think about it all the time. It was terrifying, but we escaped death that day so ultimately it was joyous.'
Where in the world have you felt happiest?
'At home in Long Island. My husband and I purchased our house – the first I've ever owned – last year. It's a 10-minute walk from the beach and it's on an acre of land. I'm sitting on the porch right now, completely in nature.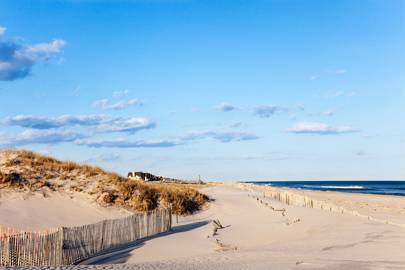 I never used to realise how much I needed space and peaceful surroundings. I moved to New York City in 1990 and at the end of 2020 we finally gave up our apartment. Covid happened – I am at greater risk because of my type-2 diabetes and my HIV-positive status, as the world now knows.
We lost two friends within two days at the start of lockdown and my husband suggested we get out of the city. We decided to live here for a while then ended up buying a house. I never in a million years thought I would be married with a cockapoo, living in the country by the sea. Even when I was in London, I was looking forward to coming home and just being with my hubby and the dog.'
A memorable view?
'We live out by Fire Island, and when you're there facing the ocean you realise how small we are. I like to look out and remind myself that we're all here for just a time. I can breathe better when I'm at the beach;
I can take everything in, I can see infinite possibilities within that expanse. Every day we have to reconnect to being present and living the best version of our lives that we can, in every single moment.'
Sun-lounger or sightseeing?
'A couple of friends of ours have a little spot in St Tropez. There's something about St Tropez which is very elevated and, you know, I like to be high class so that was a fun trip for me. I'm in show business and a lot of what I do for a living is what people do on holiday – it looks like a party, but it's actually work. So when I'm on vacation, all I want to do is sit still and be quiet with a great view. The house where we stayed was five minutes from the beach. I just walked around in a see-through kaftan and sipped Champagne all day.'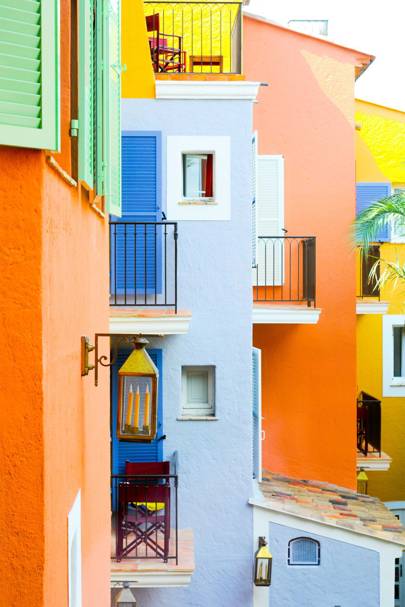 Your fantasy travel companion?
'My husband. When we first started going out back in 2009, we took a trip to Niagara Falls and that was when I knew. We were together in a car for seven hours and it was just so relaxed. It's not always easy to travel with somebody, but he's my travel buddy – he's the one I want.'
What do you pack first?
'I'm an old Broadway gypsy and when you're touring, you have to learn how to pack light. I try to think of a theme I can wear every day. If I'm going somewhere for the summer, is it shorts and T-shirts? Last year I discovered the kaftan thing. Whatever it is, I'll bring five of them. I try to be as minimal as possible. I'll have two, maybe three dress-up outfits for dinner or an event. Then it's toiletries and essentials, a hat or two, and I'm done. I'm not fussy at all. When there's a theme across the board, you always look good.'
I lost my heart in…
'JackieO' beach club on Mykonos. In the past I've got there at noon and not left until midnight – it's just so fabulous. Even 20 years ago this was a destination where we could go as gay people and just be ourselves and not have to worry about hiding our affections for one another.
There's the sea views and then there's the music – it's DJ culture: dance music, house music, disco, funk. They play everything from all over the globe and it's astonishing. Music is a universal language and it brings people together. You get such a mixed crowd but it's very arms open and embracing, and I love it.'
Most regrettable souvenir?
'I don't really get souvenirs. I'm not a big tchotchke person and I never had a whole lot of money, so I didn't buy much. Now, with this newfound financial ability that I have, I'd like to go back and buy some art, but I don't need the fridge magnets.'
One thing you've taken from a hotel?
'I have been known – before they started charging you – to take a robe. I think everybody has taken a robe or two. I don't really do that any more. I now have a name, so people will shit on me if I do that.'
Tell us about a great little place you know
'One of the most amazing spots is Santorini. I'd never seen anything like it, a beautiful little village on the side of a mountain. You just walk up and up and up; you get your exercise, you do your glutes walking higher. It feels like you're on a Hollywood set. The view of the Aegean just takes your breath away.'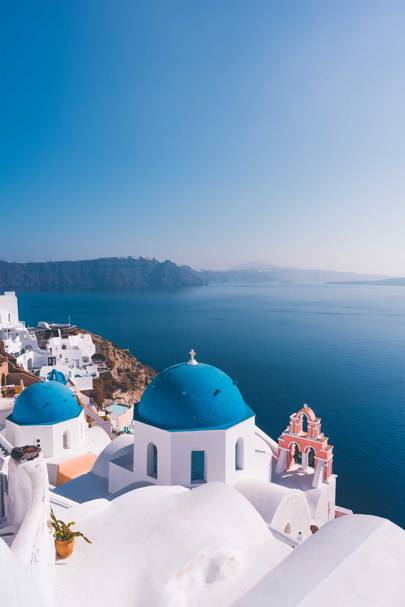 'Cinderella' is released on Amazon Prime in September. Billy spoke to Shannon Mahanty.
Like this? Now read:
13 questions with… Arizona Muse
Wolf Alice Singer Ellie Rowsell on her favourite places in the world
Singer-songwriter Arlo Parks on her favourite places in the world