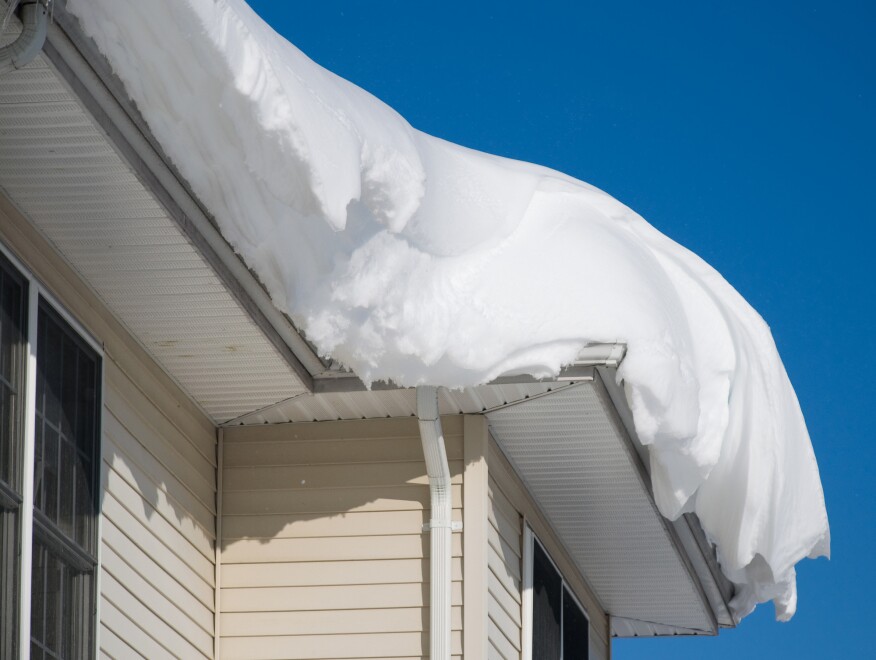 Home building in cold climate regions presents builders with challenges related to planning, design, construction details, and product specification. Incorrect selection or processes can result in poorly insulated homes, roof ice dams, and heavy snow loads.
In Minneapolis, where temperatures can reach well below 30 degrees Fahrenheit and snowfall averages about 52 inches per year, the entire construction process—including the timing of land acquisition, land development, and design of the home—requires careful consideration to ensure costs are minimized and homes can perform against the elements. Joe Flynn, the Minneapolis/St. Paul division president of David Weekley Homes, ranked No. 18 on the 2022 BUILDER 100 list, says the freeze and thaw cycle of the ground presents problems for heavy equipment delivery and construction timelines in the region, both of which are essential to the construction process.
"When the ground is thawing, they don't want any heavy equipment on the roads—anything from sheet rock delivery, concrete, [or] gravel. [As a result], your foundation work is limited and you're not going to get any land development done," Flynn says of the challenges building in the Minneapolis region. He notes that the road restrictions add "a complexity to everything so the timing of your due diligence process, your land acquisition, and land development are all focused around the weather cycle."
For Holt Homes, No. 85 on the 2022 BUILDER 100 with operations in Washington and Oregon, in addition to cold temperatures, heavy rainfall in the region means the company must take preventative measures to combat potential site erosion. Best practices include taking the time to develop contractor awareness of processes to minimize negative effects during the winter and storm season.
"When we start talking about cold, rainy climates, we are talking about erosion control. When the rail falls, it disturbs the dirt," says David Templeton, senior vice president of home building for The Holt Group. "We invest a lot in preventative measures, including seeding and ground cover installation to prevent or slow groundwater runoff, utilizing silt fences and straw wattle damning practices, and increasing street sweeping."
To help homes perform against the harsh elements of the cold Minneapolis climate, Flynn says David Weekley Homes doesn't run plumbing pipes through exterior walls. Instead, the builder runs pipes through interior walls to ensure water lines are at least 12 inches from the exterior wall. Flynn says it is paramount to keep air around water pipes to prevent freezing. Concrete, commonly used for the foundation of the home, also requires special attention due to freeze risks, Templeton says. Adding hot water, calcium, or entrained air help guard against freeze and shatter while warming blankets keep already-hot concrete hot longer so it can cure properly over time.
"We usually think about this three months of our year, but for some builders it's a majority of their year," Templeton says. "Concrete is something you want to get right the first time."
Additionally, David Weekley designs homes in the Minneapolis region so that bathrooms are not positioned over unconditioned spaces.
"We try to design our homes by putting our bathrooms over conditioned spaces. We definitely don't want to design our homes with plumbing fixtures over unconditioned space," Flynn explains. "We also want to design our homes so that the roof systems can be elevated off of the conditioned space."
Flynn says it is important to ensure the roof system is elevated to keep the roof system the same temperature as the outside air. 2×6 wall systems, roof trusses with extended heels, and ice and water shields, and metal valleys are recommended for best performance and to avoid the risk of ice dams. Flynn recommends at least a 10-inch heel on the roof truss.
Ice dams occur when melting snow on a roof reaches the eaves or a portion of the roof that is heated from the conditioned area below it, causing snowmelt to pool up and seep under the shingles or the perimeter wall cavity. The resulting moisture-related issues from ice dams are numerous and most are long-term and costly problems.
"You want to limit the heat transfer as much as possible because you don't want a warm attic. A warm attic is going to give you a warm roof, which will melt the snow, and the snow will travel down to the overhang and freeze," Flynn says. "Wherever you have a wall connection, a vertical wall intersection with a roof system, it's paramount to run the ice and water shield up the wall 24 inches [to] prohibit any water infiltration [and] to have your housewrap installed over the ice and water shield that is running up the wall."
Templeton says snow loads "differ drastically geographically and increase" with elevational heights. Specific local building codes can inform builders of performance mandates, engineering requirements, and product selections to help homes best perform against regional hazards.
Prefinished exteriors are "a top priority" to fortify homes against winter climates, Flynn says. Prefinished products also reduce the installation time in cold temperatures, increasing safety and efficiency. Prefinished vinyl siding, prefinished concrete siding, aluminum soffit, and aluminum gutters are among the prefinished materials that can provide strong performance against the elements and the fastest installation within a short weather window.
"With [pre-cut, pre-labeled materials for every plan we build], we reduce our cycle times, increase the quality, and improve craftsmanship, which are all important to a home meant to withstand varying weather conditions," Templeton says.
A rainscreen, which helps promote drying of the cladding assembly, is recommended for cold climates, allowing for good management of vapor and rainwater. The additional step enhances insulation, and rainscreens allow for the circulation of air behind the siding, supplying the requisite drying capacity to keep walls that get wet from staying wet. Holt favors the use of fiber cement cladding, noting its lasting quality for the temperature range in the Northwest.
"You want to [also] take into consideration the freeze-thaw process when selecting your materials because it will affect the durability and longevity of the material," Flynn says. "If you've got a porous material, it may not be the best exterior material because it gets wet, it freezes, [and] it can only handle that for so long, which limits the longevity of the product."
Gutters, an important consideration in snow-prone climates, are also important for fortifying homes in the rainy climates of certain markets in Washington and Oregon. Templeton recommends increased gutter sizing, downspout sizing, and rain drain pipe sizing to mitigate any moisture-related issues from heavy rainfall.
"Heavy rain equals an increased volume of water that needs to be managed," Templeton says. "You'll want to think about stormwater management for the water coming from your roof and your whole lot."
Beyond the materials and construction process, builders should account for longer timelines when building in cold climates. Flynn says it is common to budget two to three weeks of additional time to ensure that processes, such as completing the exterior envelope and tenting areas, are not rushed and that homes are positioned to best perform against the harsher elements of a climate. Templeton says capturing best practices in writing can ensure mistakes are avoided, especially when timelines are tight in cold climates.
"It seems obvious, but if something needs to be installed exactly to manufacture recommendations, we state that. If we need specific materials used in certain situations, such as special concrete for freezing temperatures, we build it in," Templeton says. "With cold climates, you'll want to account for your contingency costs and make them part of the budget."