So sand-starved is the UK's Second City it seems almost absurd to put beaches and Birmingham in the same sentence. But if anything, it makes us crave the bracing air and colourful promenades of the UK's coastal towns more than most. And with travel abroad still uncertain, the temptation to escape the Midlands for the revitalising embrace of the British coast is proving seductive. Whether you're looking for rugged wind-whipped shores or a traditional seaside town, here are a few of the best beaches near Birmingham.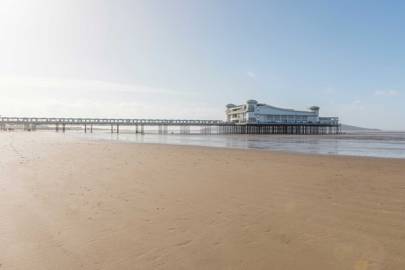 Weston-super-Mare, Somerset
Driving time from Birmingham: two hours
Clocking in at just under two hours away, Weston-super-Mare is the nearest significant beach to Birmingham and provides all of the charming British seaside imagery that a hopelessly landlocked Brummie could want. Penny-slot amusements, sticks of rock and a cavalcade of fish and chip shops all vie for attention, while the gently arcing promenade is also home to one of the UK's longest natural stretches of sand.
For some spectacular views and a more peaceful setting, make the short drive north to Sand Point and its craggy coastal scenes. Back on the main drag, walk away from the Grand Pier to find fish and chips from local institution Papa's on Waterloo Street and pitch up on the promenade.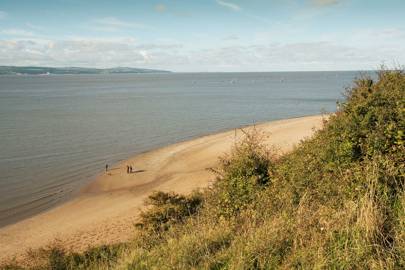 Thurstaston, Wirral Peninsula
Driving time from Birmingham: two hours
Although it's a similar distance to drive, Wirral Peninsula's Thurstaston beach is a world away from jaunty Weston. With tranquil views across the Dee Estuary towards the hazy North Welsh coast, this long stretch of sand and shingle is ideal for a calming escape from the hum of the city.
The quiet shore is also overlooked by Wirral Country Park, a lush green expanse that's home to an array of wildlife. On a clear day, you might even see the rising cast-iron form of Blackpool Tower in the distance. Take it all in with an ice cream from cosy Flissy's Coffee Shop.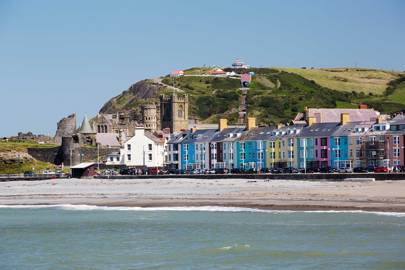 Aberystwyth, Ceredigion, Wales
Driving time from Birmingham: two hours 45 minutes
With the arrival of the railway in the 19th century, Aberystwyth attracted the attention of excitable Victorian holidaymakers. It was even once optimistically billed the Biarritz of Wales. While that flattering moniker has long since departed, the town still retains a faded grandeur – with its pastel-coloured terrace flanked by the towering Constitution Hill to the north and the ruins of the 13th-century Aberystwyth Castle to the south, the sand and shingle North Beach is set within a cinematic and weather-worn landscape.
For more widescreen views, take the Aberystwyth Electric Railway to the top of Constitution Hill – on a clear day a splendid coastal panorama stretches out with the rugged peaks of Snowdonia to the north. Or soak up the views from the Royal Pier where you'll find seaside favourites such as ice cream or fish and chips.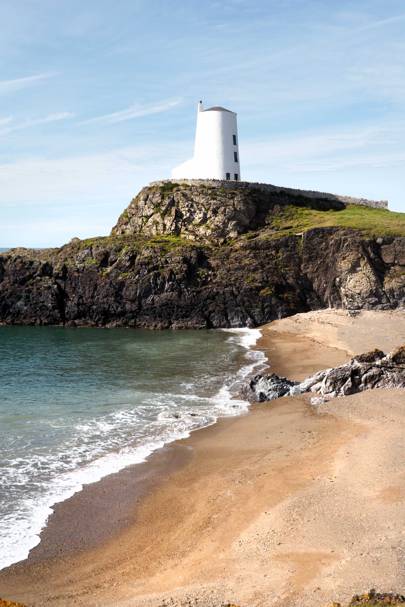 Llanddwyn beach, Anglesey, Wales
Driving time from Birmingham: three hours
With 125 miles of coastline to choose from, Anglesey is worth the long drive from the West Midlands. And what finer reward for your travels than to cross the Britannia Bridge and head south to one of the UK's most spectacular sweeps of sand?
Wander through the bucolic calm of Newborough Forest before reaching the golden arc of Llanddwyn beach. With Snowdonia's jagged outline and the Llŷn peninsula forming a majestic backdrop, the network of footpaths and historic lighthouses create an irresistible temptation to explore – though nobody would blame you for simply sunbathing and taking in Llanddwyn Bay's glorious views.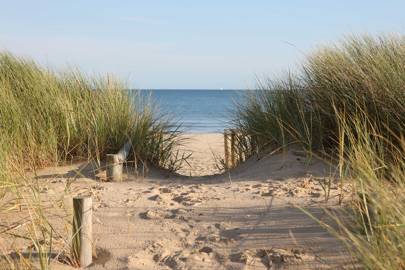 Poole, Dorset
Driving time from Birmingham: three hours 15 minutes
A spit of honey-coloured sand crossing the mouth of Poole Harbour and continuing for around three miles to Bournemouth, Sandbanks beach is a fine Blue Flag stretch on the south coast. Though dubiously dubbed Britain's answer to Palm Beach due to its plethora of expensive houses and hotels, it's still a great day out for those looking for a family trip beside the sea.
The soft sand is perfect for children and there's plenty more to keep them occupied including crazy golf, table tennis and a play area. Head to Sandbanks Beach Café for fish and chips, though if you want to play up to the local reputation then booking a spot at Rick Stein's restaurant is a more extravagant option.
Like this? Now read:
The best restaurants in Birmingham right now