[ad_1]

Only a handful of UK towns can lay claim to being culinary centres. Over the years we've had hype as well as hearty reviews for Bray in Berkshire – care of the Roux brothers and Heston Blumenthal. There is also Padstow thanks to Rick Stein and posh fish and chips; Ludlow; Abergavenny with its farmers' market and popular festival; and Malton, dubbed "Yorkshire's food capital" by the late Antonio Carluccio.
Now Clitheroe in Lancashire has joined the exclusive little set. Well, I say Clitheroe, but really I mean satellites of the market town, three of which now feature in the new Top 50 Gastropubs list from the team that produces the influential World's 50 Best Restaurants and other hit parades. A fourth local pub just misses the premier division, coming in at number 56.
The top-ranked venue, the Parkers Arms, is in Newton-in-Bowland, a village with a population of about 300. Seven miles north of Clitheroe, along a winding country road, it's on the edge of the Forest of Bowland, a designated area of outstanding natural beauty.
The pub has been owned since 2007 by Senegal-born chef Stosie Madi and manager Kathy Smith, since when it's picked up plenty of regional prizes and been a regular fixture in the top 50 gastropubs. The food looks gorgeous and there are vegan and plant-based options, all very hip and cool for this sheep-rearing, grouse-shooting region. But it's not a pretentious fine dining or experimental experience, and the prices are similar to those in a chicken-and-chips pub.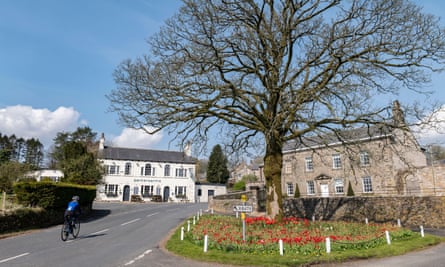 "We serve three courses for £45, and I'm not talking about three plates with tiny bits of food," says Madi. "You don't have to order side dishes or add-ons to make up your carbohydrates. We want to cook food that is delicious, modern with a light touch, but hearty and honest.
"We're known for our signature dishes – our mutton and lamb pies. The Ribble Valley is excellent for meat. We source the lamb from Burholme Farm, just three miles away. Local game is also important in the Bowland area, and it's extremely low in fat and high in protein. The pigs at Bowland Pork, our supplier, are outdoor hand-reared and free range, and the meat is superb."
Depending on the season and availability, Madi also uses Morecambe Bay oysters, fish from Fleetwood and Formby asparagus. "We should use – and celebrate – local produce, because it's only available for a few weeks a year. The supply chain is wonderful in Lancashire, though we do venture into Yorkshire for some items, such as rhubarb."
Lovers of real ale and trad pubs lovers will often muse about what constitutes an authentic local, but Stosie is a realist. "We can't rely on local customers. The only way for a rural pub to survive, with all the energy costs and expenses, is to welcome everybody. We are a food-led pub for people from all over, including from Australia, Japan and America. We couldn't survive if we served beers and a bowl of soup for two walkers to share between them."
The Ribble Valley is relatively well-heeled but lots of local pubs and restaurants did go bust during the pandemic. Madi mentions the closure of two local cheese houses. "People need to put their money where their mouth is and buy good, local food."
I've eaten twice in the third-placed restaurant, the Freemasons. It's in Wiswell, also a tiny village but closer to Clitheroe and the A59, the main road between Preston and York. Once I had the tasting menu; the second time I tried the roast. The former was an elaborate, multi-sensory affair that tripped through plates of fish and meat and veg, aromas and textures and elegant compositions, and it all tasted delicious. The Sunday roast was smaller than your classic pub slap-up but, as usually happens with good food, the rich flavours made up for it. I did enjoy watching a burly farmer-type trying to make his delicate-looking starter of scallops with lobster knuckle last longer than a single bite.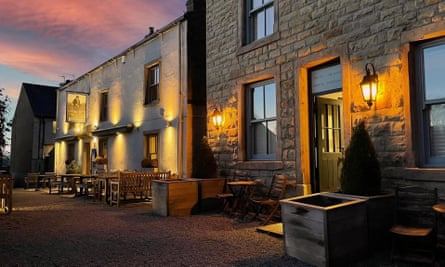 Blackburn-born chef-owner Steven Smith concurs that being a drink-led pub doesn't cut it any more. "So the natural thing to do is expand your offering, and if you have amazing food, you have a better chance of surviving. At the Freemasons we have our loyal locals but we also have some luxury rooms attached to the pub, which entices those from further afield."
Competition, he says, is driving quality. "The wealth of residents in the area certainly helped the Ribble Valley secure three gastropubs in the top 10. But more importantly, pubs is what the north-west does best. When we were driving down to the awards [in Suffolk], we couldn't find a top-end food pub for 100 miles. When you come here there are 20 of them and we're all fighting against each other.
"Around here, the public want top-end food, and brilliant service, wine and beer, and a vast amount of people around here feel at home within a pub environment. This is why the Ribble Valley has such a high proportion of incredible gastropubs."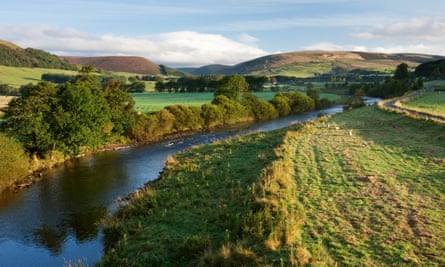 The number seven pub, the White Swan is in Fence, south-east of Clitheroe. Locally born chef Tom Parker worked with Lisa Allen at Michelin-starred Northcote hotel near Blackburn, and in 2011, at 21, was awarded Young Chef of the Year. After a stint cooking in Mexico, he moved back to Burnley and took the helm at the White Swan, which now has a Michelin star. It's the only Timothy Taylors pub in Lancashire, and is still known as the Mucky Duck after the miners who once supped here.
With the Higher Buck in Waddington also featuring in the top 100 (at 56), there's plenty to entertain foodies around Clitheroe. But, for those who want to explore further, the Angel in Hetton (sixth) just north of Skipton, Shibden Mill Inn in Halifax (14th) and the Butchers Arms in Hepworth (49th) are just across the Pennines.
Sadly, the Moorcock in Norland, near Sowerby Bridge, which came 21st in the list, has just closed its doors. Being brilliant and scooping prizes is no safety net for local pubs, posh or otherwise, right now. Drive around this region and, like barns, chapels, post offices and churches before them, you'll see lots of once-cherished pubs being turned into "character" homes. Even if you prefer pubs to be about beer and pork scratchings rather than aged beef and emulsions, you have to give credit to rural chefs and their partners for keeping local businesses up and running.
This gourmet road skims the southern tip of the Dales, gobbles its way through the Calder Valley (AKA Happy Valley) and then curves round towards Last of the Summer Wine Country and the Peak District – where the hills have always been more of a bond than a barrier. Of course, there are more award-winning, food-oriented boozers in the flat, sunny part of Yorkshire, but out there – as locals will happily boast – you may as well be in Berkshire or Wiltshire, which also have heaps of gastropubs.
For the full list see top50gastropubs.com
Five great gastropubs to try
The Parkers Arms, Newton-in-Bowland, Lancashire
Cosy, classy and great value, the Parkers Arms is a labour of love and total professionalism. Good luck getting a booking after the gong and all the media attention. This year's Valentine's Day menu (£130 for two) is typical, featuring smoked Tarleton beetroot carpaccio, charcoal-grilled 60-day-aged fillet of Bowland beef and a parfait of Yorkshire rhubarb and white chocolate. A visit can be combined with a drive/cycle/walk through the Trough of Bowland.
The White Swan, Fence, Lancashire
A handsome and proper pub bar welcomes diners to this locally loved venue, where a small team turns out a seasonally changing set menu. Tom Parker's kitchen alternates between winter-friendly plates of game Wellington, Whitewell partridge and wagyu beef and Japanese-themed evenings and fish nights. Dinner is about £45 plus drinks. Fence is on the south side of Pendle Hill, just below Newchurch and Sabden Fold. This is witch territory: check outAlice Nutter's tomb at Newchurch.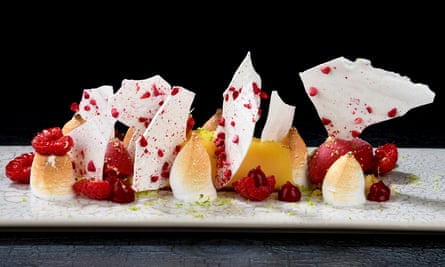 The Freemasons, Wiswell, Lancashire
Great front-of-house care and chef Steven Smith's attention to detail have made this one of the most successful food ventures in the Ribble Valley. The pub is tucked up a ginnel between two country roads and has a small boutique hotel attached. A typical Sunday roast menu (£45 for three courses) features a wild rabbit starter, slow-cooked pork belly and egg custard with raspberries. There's a great walk along lanes and ridges to the Nick of Pendle Hill.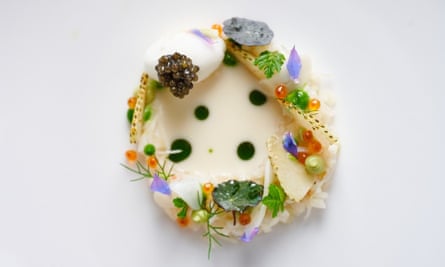 The Angel, Hetton, North Yorkshire
This Michelin-starred pub with rooms is unashamedly sophisticated and the menu matches the decor, with rarities such as hare loin, venison ragout with smoked maitake mushrooms, Anjou pigeon and the kind of pudding you might have seen at El Bulli. I imagine few other places around Skipton serve malt loaf with "styrofoam" and a tokaji and medjool parfait. The winter menu is £80. There's a nice 7½-mile circular walk to Winterburn reservoir to burn off all that good living.
The Butchers Arms, Hepworth, West Yorkshire
Stone floors, an open fire, wooden tables, dogs: this place is about as pubby as a gastropub can be. Roast pigeon, giant toad in the hole, Whitby crab and big steaks are all on the menu, and there are fine ales and well-chosen wines. Dinner is £40-£50 plus drinks. Even the sandwich menu is quite haute, with hot roast beef and skinny fries and gravy or brie and cranberry available for £8. Fries can be upgraded to either beef dripping or truffle and parmesan. There are easy country walks off the local lanes, and the Peak District is just a few miles away.
[ad_2]

Source link