ANA Holdings swung to an operating profit of Y31.4 billion ($212 million) in the first half of its 2022 financial year from an operating loss of Y116 billion a year earlier, with revenues jumping 83% to Y791 billion.
The six months to 30 September also saw ANA Holdings swing to a net profit of Y19.5 billion, compared with a net loss of Y98.8 billion a year earlier, according to a company financial release.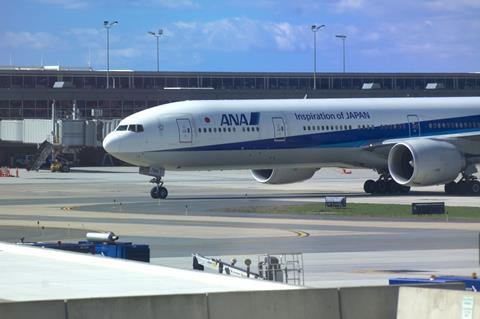 ANA Holdings attributed its rebound to Japan's economic recovery, rising personal consumption, and rapidly growing passenger demand owing to this year's easing of government travel restrictions related to the coronavirus pandemic.
"The positive results of the first half of the fiscal year demonstrate the progress we have made since the pandemic began and the determination and effort of our employees to help put the ANA Group in a favourable financial and operational position", says chief financial officer Kimihiro Nakahori.
"The perseverance and dedication of our employees is propelling ANA Group to overcome the challenging times and we look forward to seeing the continued increase as customers once again visit Japan."
International passenger revenues grow fivefold to Y161 billion, with 1.7 million international passengers carried in the six months to 30 September, compared with just 327,000 a year earlier.
International ASKs rose 55.9% and international RPKs rose nearly fivefold. International load factors rose 49 percentage points to 72.8%.
ANA observes strong demand between Asia and North America, as well as demand for international travel in Japan itself.
Domestic passenger revenue was also up, doubling to Y243 billion, with domestic passengers carried jumping to 15 million from 7 million a year earlier. Domestic ASKs rose 57.7% and RPKs doubled. Domestic load factors improved 15.2 percentage points to 58.9%.
ANA adds that the completion of engine refurbishment work on Boeing 777s in June has allowed it to start boosting capacity to meet demand.
Cargo continued to be a strong area, with international cargo revenues rising 32.6% to Y184 billion, even though freight carried fell 10.8%.
It says that Russia's invasion of Ukraine and reduced demand for automotive parts hurt air cargo demand, but that this was offset by profitable North American routes and high-yield cargo such as over-sized commercial products.
ANA's low-cost unit Peach also joined in on the recovery, with revenues tripling to Y40.8 billion, with the number of passengers carried in the six months to 30 September doubling to 3.7 million. Peach's ASKs rose 85% year on year and RPKs doubled. Load factors rose 15.2 percentage points to 69.8%.
As of 30 September, cash and cash equivalents stood at Y610 billion, up from Y482 billion a year earlier.
Given the strength of the air travel recovery, ANA Holdings has upped its full-year revenue and profit forecasts. It now expects a full-year operating profit of Y65 billion, up from its previous forecast of Y50 billion, and revenues of Y1.7 trillion, up from 1.66 trillion.