The restaurant plays to a rural theme, with corrugated iron roofing and recycled timbers. Out front, there's a cute red tractor. In the kitchen, Laurie prepares rustic Italian dishes with super-fresh produce from the kitchen garden and farm, on view through the restaurant's floor-to-ceiling glass.
Typical are handmade tagliatelle in pomodoro sauce, scallops and bottarga, a cured fish roe, and Ravens Creek pork cutlet with frittedda – accompanied by a Domaine Ostertag Les Jardins pinot blanc from Alsace, Hanser's hometown.
Also bringing French flair to Geelong is La Cachette, a 25-seat bistro hidden away in a cul-de-sac off the waterfront, where I have lunch the next day. It's the dream project of Geelong native Matt Podbury, home from abroad with a CV boasting stints at Michelin-starred restaurants in the UK and France.
From his time in Lyon, Podbury has brought the culinary craft of bistronomy, which focuses on food made with love and eaten without fuss in welcoming surrounds. His partner, sister and father all work in the restaurant, adding familial warmth.
"Bistronomy is an attitude," explains Podbury. "It's about making people happy."
He delivers this – and a meal to remember. The Spanish mackerel, brined, blowtorched and served with violet artichoke and poutargue (cured fish roe), is sublime. The potato tortelli and baked tarragon cream with blackberries and cacao aren't far behind.
Everything leaves his kitchen cooked that minute (there's no cool room to keep food), and his wine selections are impeccable. A 2016 Clos Lapeyre Jurançon Sec with his turbot in vin jaune cream sauce is inspired.
But it's not just solo establishments wooing diners in Geelong.
Little Malop Street, a couple of blocks back from the waterfront, has matured into a bustling restaurant and bar district, thanks to venues like The Hot Chicken Project, Tacos y Liquor and Ok. Smash – three casual outfits from Aaron Turner, owner of the city's acclaimed Igni restaurant.
Down a laneway off Little Malop, one new restaurant is proving particularly popular. Felix, from the owners of South American restaurant Alma, has opted for a modern European menu emphasising seafood and vegetables, served in a breezy space that was one home to a car audio shop.
Further afield, in North Geelong, 1915 Restaurant in the heritage-listed Federal Mills redevelopment is both stopover and destination. The cavernous space retains the industrial feel of the old woollen mills (opened in 1915). With a kitchen on the ground floor, a dedicated wine room and cocktail bars on two levels, 1915 can accommodate 370 people.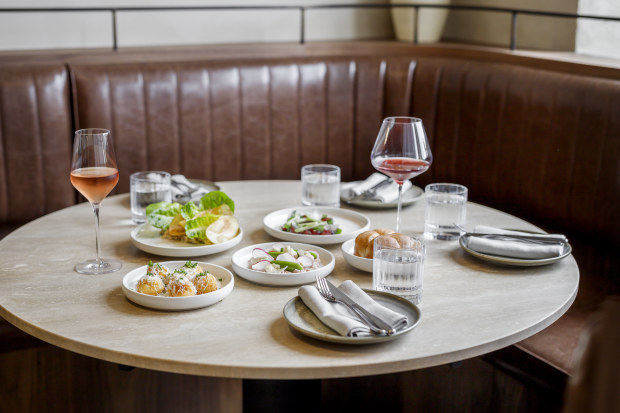 Chef Andy Symeonakis plays to the easy-going, fun-times vibe with big flavours and crowd-pleasers.
Sure to bring boatloads of customers to 1915 is The Spirit of Tasmania ferry service, which is moving from Melbourne to the Corio Quay, less than a kilometre away. "We could be the perfect boarding lounge," says general manager Rob Macafee.
In the same building as 1915 is boutique gin distiller Anther. Several gins are available to taste, including new release Fluorescence, its collaboration with Victoria's Royal Botanic Gardens, Geelong Dry and a limited-edition barrel-aged cherry gin. Co-owner and distiller Dervilla McGowan's true love, however, is Goddess Strength, Anther's version of navy-strength gin and her homage to the remarkable women hidden in history.
Anther is just one of several distillers in the area. If you want to skip the 250-kilometre round-trip required to visit them all, they are showcased at the Geelong Chamber of Gin in Black Sheep, a restaurant in the National Wool Museum, in the heart of the city. The Chamber also stocks drops from around the world.
"It's a great way to get into gin," says manager Paul West.
If vino is more your thing, across town is Provenance Wines, in the 1870s-built Paper Mills, where visitors can crack into a wide range of award-winning drops under a 10-metre gabled roof and original wall art by Geelong-born artist Rone. Paired tastings are offered, with a contemporary menu from chef Nathan McIver.
That many of these places are in renovated historical buildings adds to the enjoyment. Not only are they magnificent settings, they are a reminder of Geelong's proud industrial past.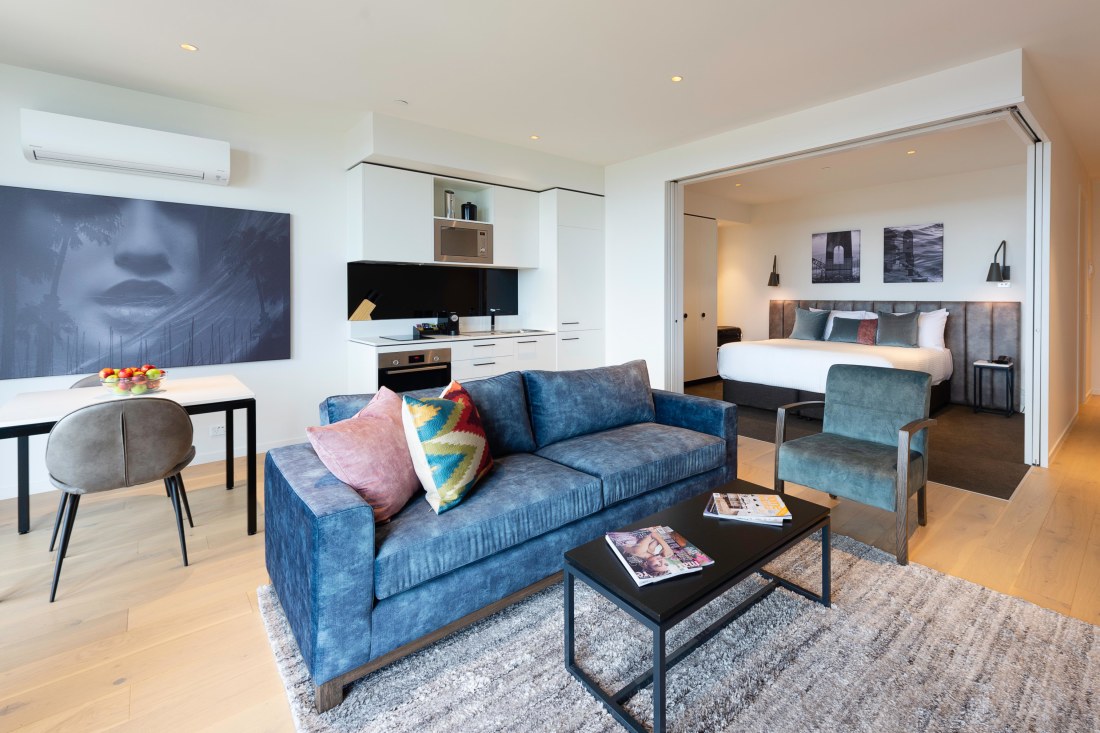 The swish new R Hotel, where I'm staying, is an example. In its latest guise, as a serviced apartment hotel, a modern tower soars behind the 1860s facade. It was previously the Bay-view Temperance Hotel and Ritz Flats, but "Ritz" was dropped for "R" after its luxe Parisienne namesake objected.
From the balcony of my apartment, there are sweeping views of waterfront landmarks including the rejuvenated Cunningham Pier, Giant Sky Wheel and figurative bollards along esplanade, beach and gardens.
The Geelong Gallery, too, is housed in a blend of old and new, with various expansions and renovations added to the original 1915 building. Now in its 125th year, the gallery is at the heart of the city's cultural rebirth (the Geelong Arts Centre is undergoing major redevelopment across the road).
Recent exhibitions include jeweller Blanche Tilden, Rone and, until February, Australian impressionist artist Fredrick McCubbin and Archie 100: A Century of the Archibald Prize.
"There has been a lot of master planning in Geelong over the years," says gallery director Jason Smith. "We're seeing that come to fruition."
The skies remain stubbornly grey as I head back to Melbourne via the 12-seater Moonah, another vaunted, produce-driven restaurant, this time in the Connewarre wetlands.
Here Ex-Brae chef Tobin Kent creates a set 10-course menu of intricately composed dishes that embrace the organic, homegrown, naturally farmed, wild-foraged, local and seasonal – all the things that let ingredients do the heavy lifting, with Kent left to apply deft light touches. "I'm inspired by the way things grow in nature," he says as sunlight momentarily breaks through the gloom, across the adjacent billabong and farmlands.
NEED TO KNOW
DINE
La Cantina at Common Ground Project 675 Anglesea Road,
Freshwater Creek, (03) 5264 5082.
La Cachette Bistrot, Steampacket Place, Geelong Waterfront, 0478 522996.
Moonah 95 Minya Lane, Connewarre.
Felix 9 Downes Lane, Geelong, 0447 288 454.
1915 Restaurant PH2, 33 Mackey Street, North Geelong, 0499 33 1915.
DRINK
Anther PH3 Federal Mills, 33 Mackey Street, North Geelong, 0424 781 543.
Chamber of Gin at Black Sheep Ground Level, 66 Brougham Street, Geelong, 03 5223 2536.
Provenance Wines 100 Lower Paper Mills Road, Fyansford, (03) 5222 3422.
STAY
R Hotel Geelong 10 Bellerine Street, (03) 4206 0500. Rates from $200 a night for a room, $245 for an apartment.
VISIT
Geelong Gallery Little Malop Street (03) 5229 3645. Archie 100: A Century of the Archibald Prize is on until February 20. Frederick McCubbin –Whisperings in wattle boughs is until February 13.
The writer travelled as a guest of Tourism Geelong and the Bellarine.