[ad_1]

These routes cover all experience and ability levels.

By Amber P. Lewis Nov 11, 2022 • 3 minutes read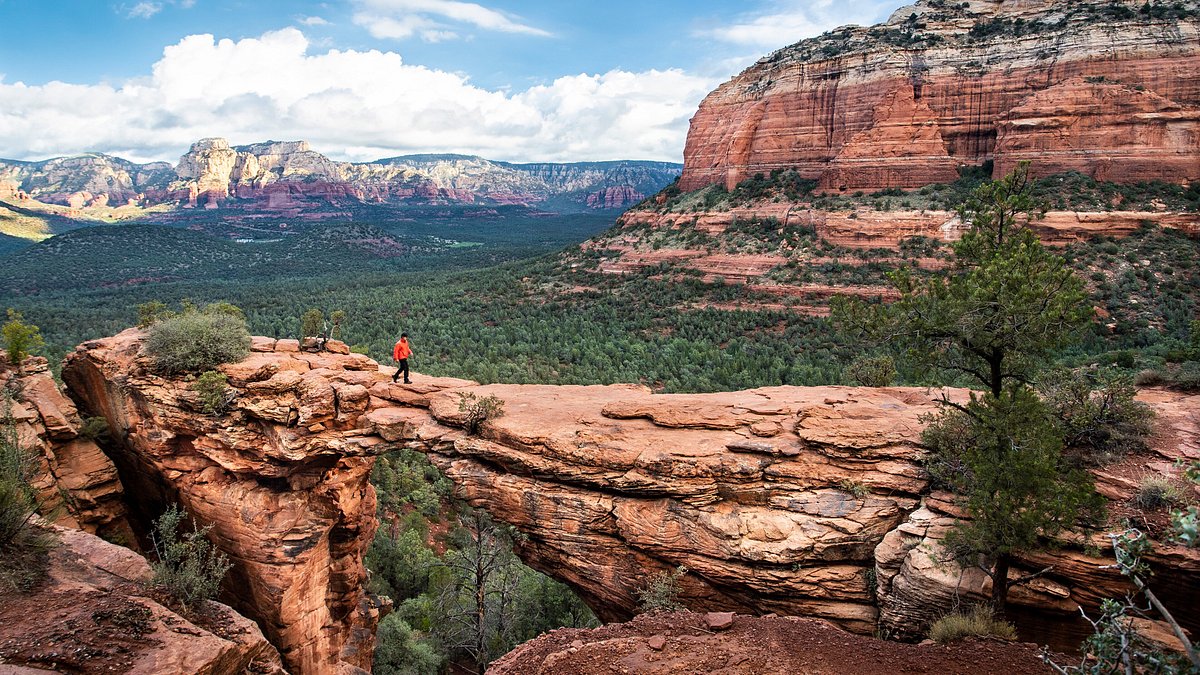 Two hours north of Phoenix, Sedona, AZ, offers spectacular weather, small town charm and—best of all—surreal hiking views. The city boasts miles of natural red rock formations, sandstone buttes, and pine forests, setting the scene for a lifetime of hiking adventures. Whether you're interested in a more casual walk or looking for a challenging trek, Sedona offers it all. We've curated a list of five of the best routes in order of difficulty, starting with beginner-friendly first.
Easy: Kisva Trail
Sedona offers quite a few wheelchair accessible trails, too, including the 1.8-mile Kisva Trail. Visit Red Rock State Park to travel along this partially paved, scenic trail that takes a little over 30 minutes to complete. Starting from the visitor center, the wide Kisva Trail takes you through a beautiful meadow where you can take in the views of the stunning red rock formations while passing a peaceful creek. Before heading on the trail, take advantage of the amenities near the visitor center, like the accessible restrooms and numerous picnic tables. Note that there is a fee to enter Red Rock State Park.
Easy: Devil's Bridge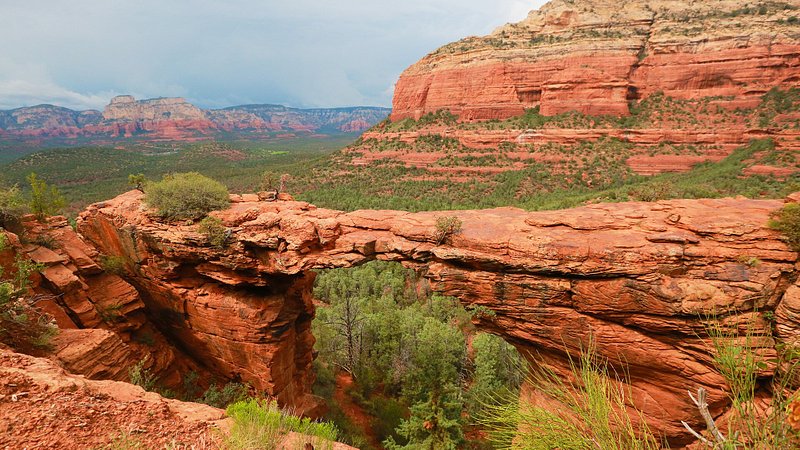 Looking for a beginner-friendly hike? The 1.8-mile Devil's Bridge trail is one of Sedona's most popular hikes for good reason. It offers incredible views of red rock formations, yucca plants, and lush greenery extending for miles in the distance. Even better, the trail is well-marked and suitable for children, beginning from the main parking lot. One thing to keep in mind: Dry Creek Road leads to the parking area, but it only allows high-clearance vehicles with 4WD to access. There are plenty of other parking options in the area, if your car doesn't have 4WD, you'll just have to hike a bit farther. Once on the trail, the route gains between 400 and 500 feet of elevation; expect to spend a couple of hours taking in the sights. When you reach the trail pinnacle, don't miss taking a picture on the namesake Devils Bridge—it's one of the largest sandstone arches in Sedona. You will need a Red Rock Pass to park in the designated lots, or you can pay the $5 day-long parking fee.
Easy-to-moderate: The Birthing Cave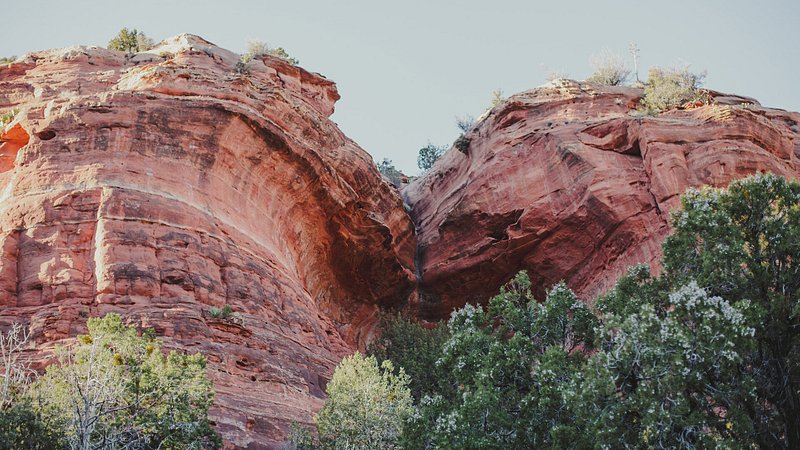 The two-mile The Birthing Cave trail is a popular hike that brings trekkers to a cave with incredible views. Though the wide, sandy path is mostly flat, there's about 250 feet of elevation as you near the cave. To kick off this hike, start on the Long Canyon Trailhead, where there's a small parking lot, but no bathroom facilities. (Another option for parking is to head to the nearby Mescal Trailhead, which adds half a mile to the route.) To find the cave, look for the trail that veers left as you approach the bluffs; the cave itself will appear as a heart-shaped depression in the red cliffs. Follow that path to the entrance of the Birthing Cave, where you'll be rewarded with panoramic views of the red mountains and Sedona greenery, high above the tree line. You don't need a pass to park or hike this path.
Moderate: Fay Canyon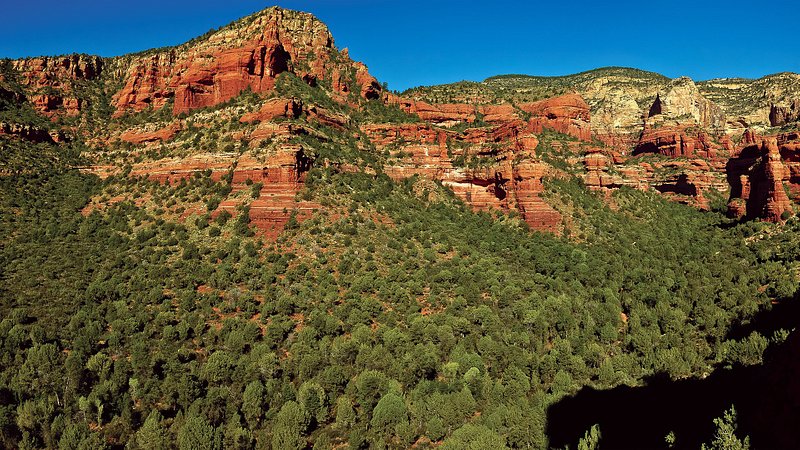 Fay Canyon is a moderate 2.3-mile hike that offers an excellent mix of cacti, flowers, stunning cliffs, and gorgeous waterfalls. A short but picturesque trail, Fay Canyon takes about 50 minutes to fully complete, if you're moving at a steady pace. This trail is home to the Fay Canyon Arch, a mesmerizing natural rock formation stretching well over 100 feet wide, best viewed from right underneath. Most of the trail is made of loose, red powder and there is a bit of shade from a canopy of cottonwood trees overhead. The best part: Dogs are allowed on a leash on the trail. Make sure and get here early if you want to avoid larger crowds on the trail and at the arch. You will need a Red Rock Pass to park in the designated lots, or you can pay the $5 day-long parking fee.
Challenging: Bear Mountain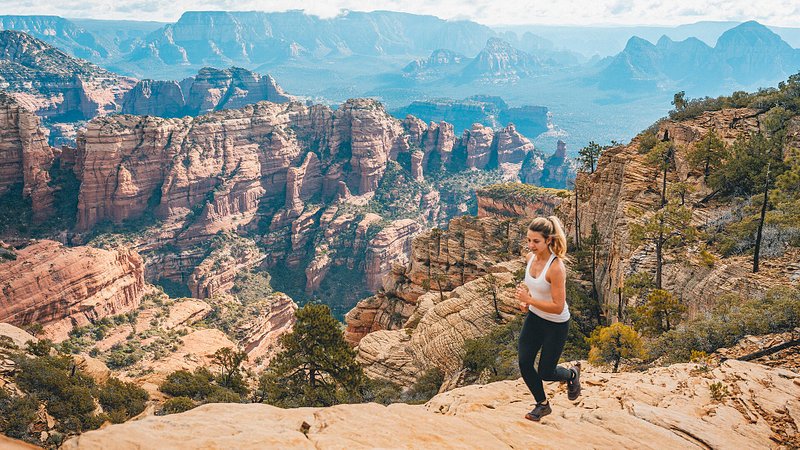 For those who consider themselves experienced hikers, the five-mile Bear Mountain hike is known to be both challenging and rewarding. This trek takes you to the top of Bear Mountain, through unshaded, often steep paths for over two miles before you see the peak. Getting to the top is quite a workout, thanks to a steep, rocky climb on an uneven trail with a sharp elevation spike—but it's worth it. The path boasts non-stop panoramic views throughout, and you'll often find hikers occasionally stepping aside to take pictures of the landscape mid-hike. You will need a Red Rock Pass to park in the designated lots, or you can pay the $5 day-long parking fee.
[ad_2]

Source link