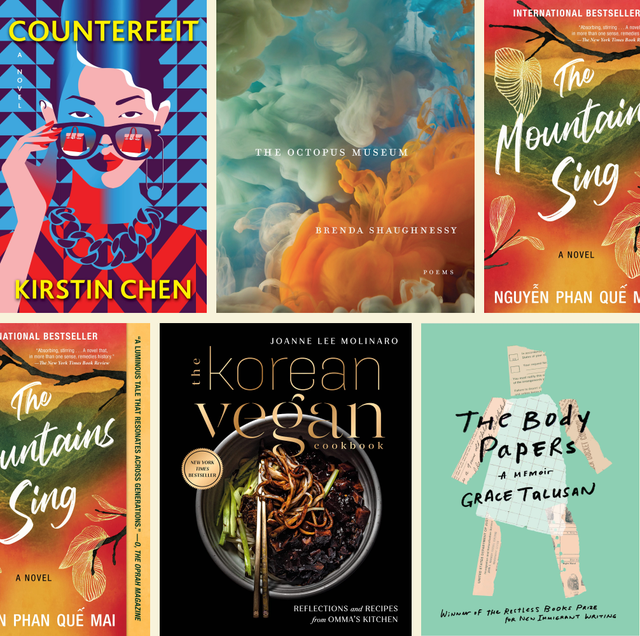 Avery, Algonquin, Knopf, Restless Books, William Morrow
The lovely month of May is Asian American and Pacific Islander Heritage Month. Asian Americans are a thoroughly American group, having been part of this country since the 18th century, when Filipino sailors working on Spanish galleons jumped ship and established a permanent Asian settlement in Louisiana (St. Malo, whose history and legacy is currently in danger of being washed away by climate change).
Thirty years ago this year, Christina Chiu, Bino Realuyo, Curtis Chin, and I cofounded the Asian American Writers Workshop, a national nonprofit dedicated to "the creation, development, publication, and dissemination of Asian American literature." During the AAWW's earliest incarnation, when we were just a group of friends and not a nonprofit, the Committee Against Anti-Asian Violence (CAAAV) generously shared their Lower East Side space with us. The four of us, by supporting and nurturing each other as well as hundreds of other writers, have all fulfilled our dreams of becoming published authors since that time, though the road was long and rocky. My forthcoming novel, The Evening Hero, about two generations of Korean American doctors who have very different takes on medicine and life, took 18 years to research and write; it was then deemed unsalable by my beloved longtime agent—who thought the book was too long. After a new agent took it on and finally placed it with a publishing house, another 10 years passed while I revised the book, and tried to figure out how to weave in how the landscape has changed for Asian Americans (and not) since the 2016 election and post-Covid. Now the novel's publication date is around the corner, and the long wait only makes that all the sweeter.
But the larger picture is that discrimination against Asian Americans takes various forms, including stereotypes that Asians and Asian Americans are "all alike" and thus our literature must be, too. That means AAPI Heritage month provides a time to showcase the varied, deep, and exciting richness and diversity of voices within our literary community. We should have a thriving literature dating from when the first Filipino sailors settled in Louisiana, or Chinese Americans worked to build a railroad, or when Asians were brought over to Hawaii to work on the sugar plantations.
If reading can help develop empathy and understanding—and I'm certain it can—we are fortunate to have these works and others by Asian American writers who have persisted and represent a broad spectrum of voices within a diverse community, including classic works rightly rescued from oblivion. Here is a small sampling, by no means meant to be complete, of offerings from various genres and time periods, the contributions of talented artists adding to the cultural and political richness of American literature past and present, as well as setting the stage for the future.
Advertisement – Continue Reading Below
1
Thank You, Mr. Nixon, by Gish Jen
Gish Jen's gift is to be able to write about culture, human foibles, and generation gaps with a kind of lacerating humor that you don't even know is creeping up on you. She inspired me as a young writer, and continues to enthrall. In her recent short-story collection, Thank You, Mr. Nixon, Jen trains her trademark smart humor on a series of powerful tales that pack a wallop. Jen has a straightforward, easy-reading style that at first obscures the complexity of her subjects—from a letter penned from heaven by a Chinese girl to Richard Nixon (in hell), to a hilarious and heart-rending take on a mixed-race family bringing their matriarch to China on a "homeland" trip.
The collection as a whole is meant to be read carefully (or maybe twice); once you sink into the shiny, bright layers, you'll find a darker, interconnected network of profound meaning underneath.
2
The Korean Vegan Cookbook, by Joanne Lee Molinaro
I learned about Joanne Lee via social media—her unsparing stories about growing up in a Korean household where expectations for everything from how a girl should look and body image to what grades she should earn in school were impossibly high. And she shares the pain she felt when her first marriage crumbled.
I eat Korean food daily and am not a vegan but was pleasantly surprised by how tasty her vegan interpretations are (not to mention some terrific fusion dishes like a lasagna spiced with Korean gochujang hot pepper paste). And the photography is yummy, too. I'm classifying this as a memoir as well as a cookbook, because in ways it's a Korean immigration story, told through food.
3
The Mountains Sing, by Nguyễn Phan Quế Mai
Popular depictions of war rarely leave space for stories of the civilians it uproots and devastates—the bodies it ruins, the families it tears apart. Such narratives that center women and girls are even rarer. But in Nguyễn Phan Quế Mai's beautiful The Mountains Sing, the author's background as a celebrated poet in Vietnam couples with the "mountains" of research, including extensive oral histories from survivors, to produce an enthralling story populated by characters at once tender and brutal.
4
America Is in the Heart, by Carlos Bulosan
I am so thankful this novel has been reissued, acknowledging it as the classic that it is. First published in 1946, much of this harrowing story is informed by author Carlos Bulosan's experiences, beginning in a small farming village in Luzon, Philippines. When he immigrates to the U.S., his hardships are compounded by the Depression and anti-Asian racism. The protagonist is forced to take work as an itinerant laborer following the seasonal harvest in California. Unlike Steinbeckian characters of this era, Bulosan's characters had to contend with extreme poverty and laws outlawing immigration from Asia to the U.S. As Bulosan writes, "It was a crime to be a Filipino…the public streets were not free to my people: we were stopped each time these vigilant patrolmen saw us driving a car. We were suspect each time we were seen with a white woman. And perhaps it was this narrowing of our life into an island, into a filthy segment of American society, that had driven Filipinos like Doro inward, hating everyone and despising all positive urgencies toward freedom."
This gripping work is one of hardship and sporadic joy (both in the Philippines and in America) and holds its own with the best of immigrant literature of this period, such as Henry Roth's Call It Sleep. Read it to discover an America that you might not know but deserves to be remembered.
5
Rise, by Jeff Yang, Phil Yu, and Philip Wang and illustrated by Julia Kuo
Jeff Yang
The dedication to this accessible, illustrated compendium of Asian American cultural objects, artists, and events reads: "…to the ones who come next." Illustrations, graphs, and text make this tour of history and Asian American excellence a book I didn't know I needed but was glad to discover, and a welcome counterpoint to "explainer" nonfiction. Here in these pages, you'll imbibe the history of the Quick Kick GI Joe and glean essential info on Asian American blogs, food, and music, the history of "yellowface" in Hollywood, and much more. All charmingly and engagingly illustrated.
6
Counterfeit, by Kirstin Chen
Singapore-born and -raised and currently a San Francisco resident, Chen has written a fast-paced, character-forward story of two very different Asian American women seemingly inadvertently falling into a collaboration to build a global counterfeit handbag empire. Ava, the protagonist, is a former hotshot lawyer turned somewhat dissatisfied stay-at-home mom. She has low-level chronic anxiety over whether she's made the right choices in her life and, for one, wonders if her marriage to a successful doctor is on the skids. Her handily coincidental reunion with glamorous globe-trotter Winnie, a former Stanford classmate, launches her on a new adventure. Ingeniously constructed, this cinematic novel of friendship, ambition, and wanting more out of life will leave you guessing until the end.
7
Minor Feelings, by Cathy Park Hong
Poet, essayist, and academic Cathy Park Hong trains her poetic and intellectual acumen on an Asian America emotional condition termed "minor feelings." The feelings themselves are not inconsequential: They have to do with how the larger culture often uses Asians as a wedge against other minorities, being told everything is fine, better than fine, and that any anger or melancholy or awareness of racism or other "negative" emotions are pure self-indulgence. Eye-opening, formidable essays that, true to the book's subtitle, force a "reckoning."
8
Made in Korea, by Jeremy Holt, illustrated by George Schall and Adam Wollet
In this graphic novel set in an indeterminate future where wealthy, infertile parents can buy unnervingly realistic child facsimiles, Holt, who is himself part of a triplet of sons from Korea adopted by a white family, limns questions of identity, race, and privilege. The story begins with a middle-class mixed-race couple who, after experiencing a rich family's facsimile child (called a "proxy"), decide to try a cut-rate, affordable model for themselves. What they don't know is that the Korean creator has been tricking the algorithm to make the proxy capable of independent thought. When things go awry, the creator flies to America to try to get the proxy back. In the tradition of classic sci-fi comics, there are also small, related "short stories" interspersed throughout.
9
The Octopus Museum, by Brenda Shaughnessy
Shaughnessy was born in Okinawa and grew up in California as a hapa, a half-Asian person. Her poetry has a lovely in-betweenness, toggling back and forth between beauty and abruptness, humor and pathos. The work encapsulates thoughts of travel one minute, and the next veers into, say, a Japanese folk tale or a rumination on identity and disability. Taken together, they offer a strikingly original meditation on what it means to be a human with moving parts and contradictions.
10
The Body Papers, by Grace Talusan
Winner of the Restless Books Prize for immigrant writing, The Body Papers' title refers to various ways paper documents (citizenship papers, medical records, etc.) affected the author's life. Born in the Philippines, Talusan grows up in suburban New England in the '70s, finding it hard to fit in in the majority white milieu while not knowing various family secrets—for instance, that her family is undocumented. Other secrets include her grandfather's sexual abuse of her and how she deals with it to protect her siblings but is also careful not to rock the boat or threaten their immigration status. No one could leave such a childhood unscathed. The book also limns how it has affected her relationships, mental health, family, and views on the Catholic religion she grew up with. In her 30s, a health crisis and a trip back to the Philippines sends her further on her journey to find love, success, and a way if not to overcome, then to acknowledge and face trauma.
This content is created and maintained by a third party, and imported onto this page to help users provide their email addresses. You may be able to find more information about this and similar content at piano.io
Advertisement – Continue Reading Below